Crowdtap Review: Pros, Cons, and How It Stacks Up to Other Sites
Advertiser Disclosure
Our readers always come first
The content on DollarSprout includes links to our advertising partners. When you read our content and click on one of our partners' links, and then decide to complete an offer — whether it's downloading an app, opening an account, or some other action — we may earn a commission from that advertiser, at no extra cost to you.
Our ultimate goal is to educate and inform, not lure you into signing up for certain offers. Compensation from our partners may impact what products we cover and where they appear on the site, but does not have any impact on the objectivity of our reviews or advice.

If you're looking for a way to boost your income, paid surveys can be a great side hustle.
Answering online surveys for money isn't a new concept. Over the years, countless sites have started paying users for sharing their opinion.
Crowdtap takes it to the next level.
Crowdtap makes it easy to earn extra money from home by allowing users to take part in more than just surveys.
If you're ready for a new opportunity to earn additional cash, Crowdtap can make it happen without requiring a big commitment from you.
What is Crowdtap?
Founded in 2009, Crowdtap is an online community that rewards consumers for sharing their views and opinions. They work with well-known brands, such as Verizon, Kraft, eBay, and Sony.
Crowdtap allows users to earn points in multiple ways, which sets them apart from other paid online survey sites. The activities include answering survey questions, participating in discussions and product testing. Then you redeem the points for gift cards from your favorite stores.
Crowdtap revamped their site in 2018 to make earning points easier. They also introduced a referral program that gives you bonus points for referring friends who sign up for Crowdtap.
Is Crowdtap Legitimate and Safe to Use?
With all of the sites out there that promise online surveys for money, knowing which are legit and safe to use isn't easy. Crowdtap offers some great perks, so it's normal to question if the site is a scam.
Crowdtap is a reputable company. They have positive reviews on Trustpilot and earned 4.5 out of 5 stars and have an 88% "excellent" rating.
How Does Crowdtap Work?
Crowdtap is an online community that rewards you for sharing your views and helps you make extra money online.
When you log in, the home screen lists all the opportunities you have to earn points. Click on a square to answer the question and watch the points add up. You earn 10 points for sharing your reason for signing up.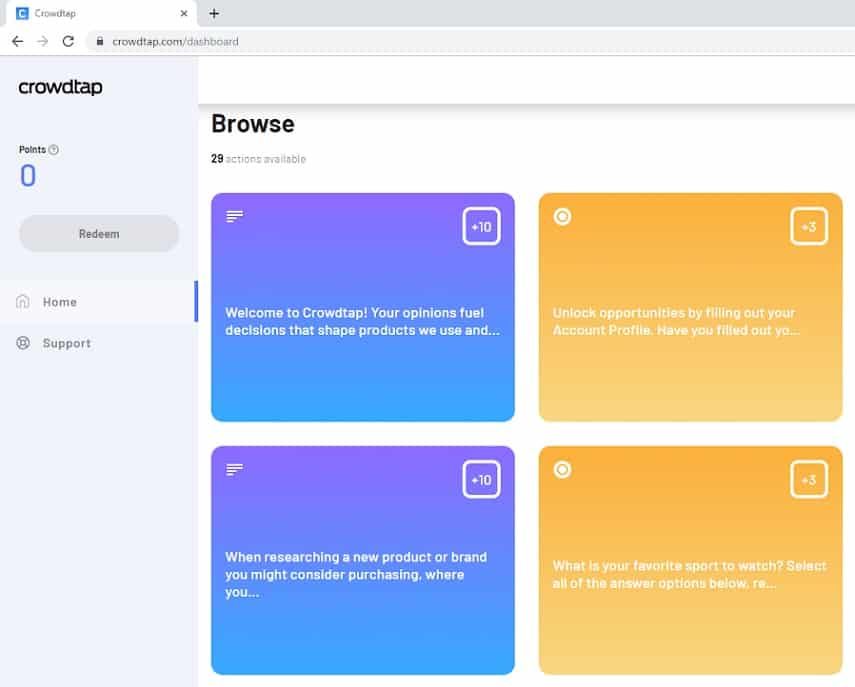 The information in your profile helps determine which opportunities are available to you. Each brand has different requirements, and you might not qualify for every opportunity. If you're not selected for a specific survey, don't worry. Brands are looking for new opinions all the time, and you could have a better chance the next time around.
Most of the questions that brands ask are open-ended or multiple choice; some are there to make sure you're paying attention. For example, this question asks for your favorite color but tells you to pick "yellow" as your answer. If you pick anything besides yellow, the site knows you didn't read the instructions.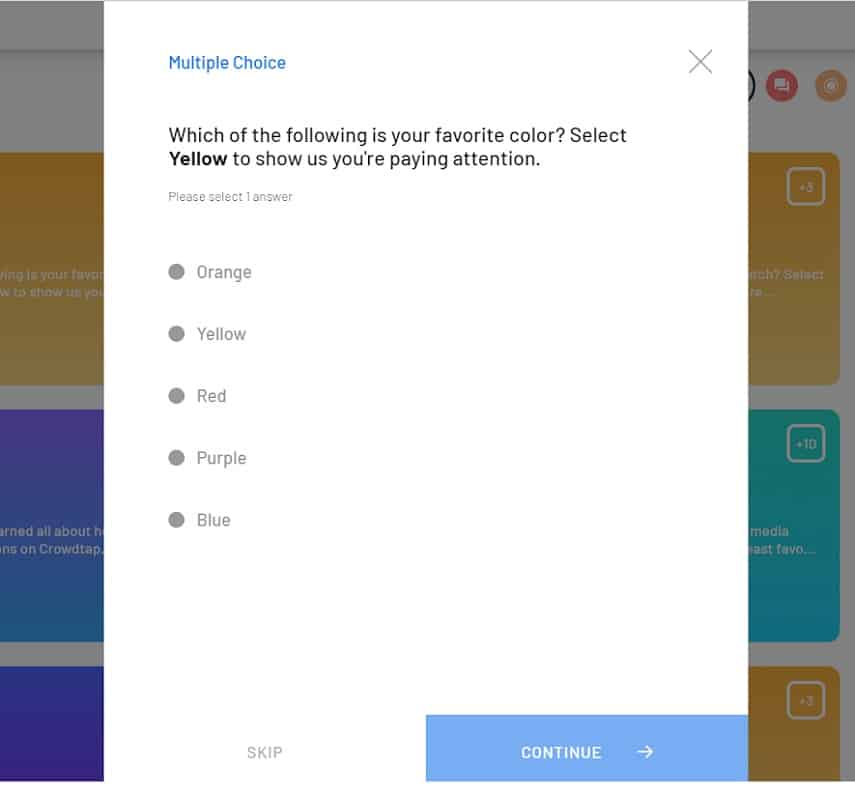 The site is easy to navigate, and it displays the points in the upper-left corner of your screen. As you complete missions, the next one automatically pops up to help you earn points more quickly.
You can redeem points for retail gift cards once you hit 1,000 points. Points are only good for one year after you get them so you should trade them in before they expire.
Crowdtap Pros
Simple to earn points and redeem gift cards
Easy to get free products from reputable brands
Flexible schedule to make money during downtime
Crowdtap Cons
Can't redeem rewards until you reach 1,000 points
Points expire after one year
1. Join Crowdtap for Free
Creating a Crowdtap account is simple and takes less than a minute.
You can sign up with an email address or a Facebook account. They also ask for your full name, city, state, zip code, gender, and birth date.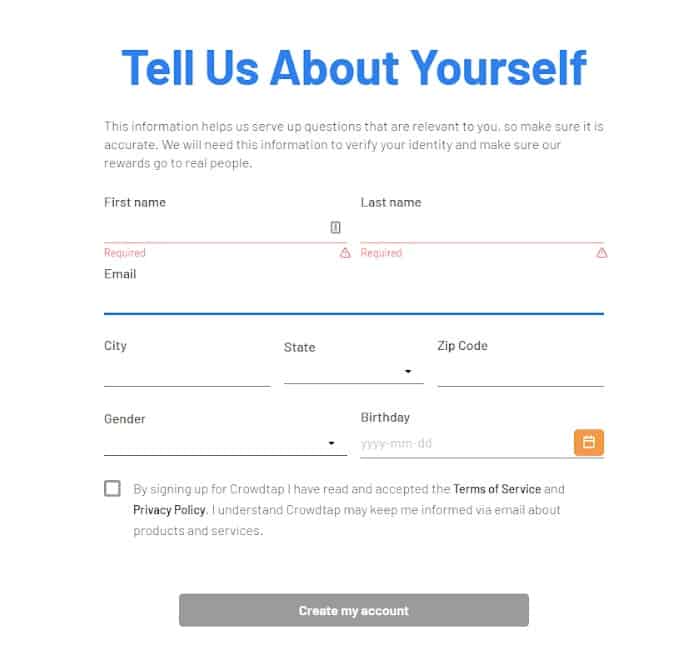 After verifying your phone number, you're sent to the home screen dashboard where you can start to accrue points.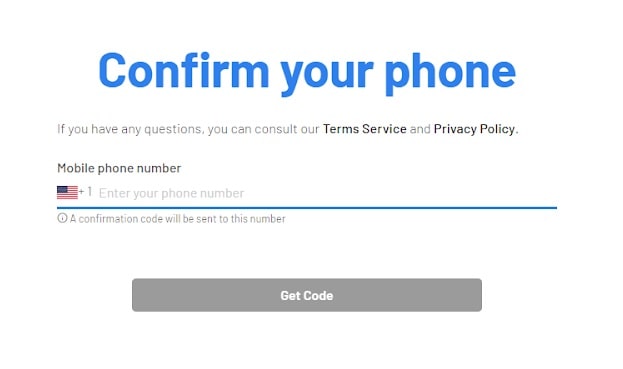 2. Choose Your Mission
The quickest way to get points is to answer the survey questions on your dashboard. During my Crowdtap test, I earned my first 62 points in less than three minutes on the site.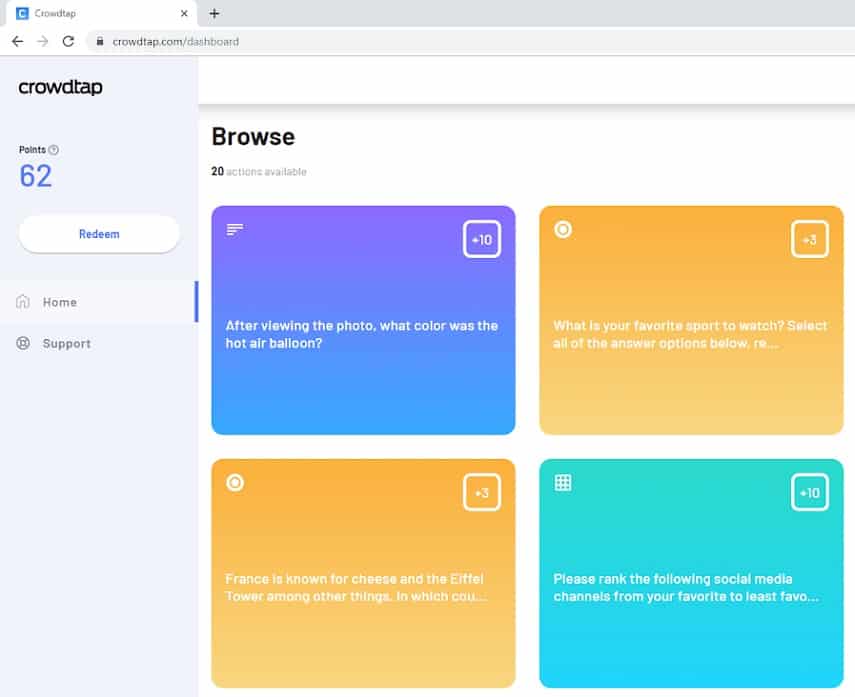 With Crowdtap, you can earn money through:
Online discussions
Survey Q&A
Reviews or polls
Joining programs
Submitting drawings or photos
Sample product testing
The sample product testing missions are more involved than other options because they require you to test a product before sharing your opinion. Crowdtap can send a sample to you by mail or give you a coupon to use in stores.
3. Collect Your Rewards
While users can earn points with the Crowdtap app on their phone, you can only redeem rewards on the website. Keep track of your current point balance on your dashboard to cash them in for a $5 gift card as soon as you reach 1,000 points.
Before the company's relaunch in 2018, Crowdtap automatically redeemed points for a $5 Amazon gift card every time you hit the 1,000-point threshold. Now, users can control when and how they cash out rewards, including saving points to redeem for a higher value payout.
How to Earn the Most on Crowdtap
How much you earn on Crowdtap depends on several factors. The time you spend completing missions mostly determines how many points you earn. Plus, every mission is worth a different amount of points so that will impact your progress.
To make the most money on Crowdtap, make sure to:
Set aside time every day to complete surveys
Apply for as many missions as possible
Select missions with high points values
Limit sample product testing
Product sample testing might sound fun, but the process might slow down your earnings since it takes longer to complete.
Crowdtap Review: FAQs
Crowdtap is a reputable site and can let you earn additional money on the side. Remember, you won't get rich using the site.
What Makes Crowdtap Different from Other Survey Sites?
Although Crowdtap has some of the same features as other paid survey sites, they have a few distinguishing factors. You'll find similar multiple-choice formats that are commonly used on other survey sites, but Crowdtap will also ask open-ended questions that let you share your opinion in depth.
What also sets Crowdtap apart is the option to test sample products. You get a free sample in the mail by applying to test products. You can earn points for sharing your opinion after testing the products.
Can You Get Paid Cash with Crowdtap?
Crowdtap doesn't pay you in cash. Instead, the site lets you trade your points for gift cards. Once you have 1,000 points, you can redeem them for a $5 gift card from the store of your choice. You can also save your points to redeem for a higher value later on.
Gift cards can be sent to your email or as a physical card to your mailing address.
Can You Earn a Good Hourly Rate with Crowdtap?
Although there are several ways to make a living while working from home, taking online surveys aren't meant to replace your full-time income.
You won't make enough to quit your day job, but paid survey sites are a good side hustle to make a little extra each month. If you have a job with a lot of downtime, you can use Crowdtap to add to your income and reach your financial goals faster.
Consider combining Crowdtap with other sites such as Survey Junkie to maximize your earnings from paid surveys.
Is it Hard to Earn and Redeem Rewards on Crowdtap?
Crowdtap has a streamlined interface that's easy to use. You can set up an account in under a minute, and you're eligible to earn points right away. The amount of points you accumulate and redeem is different for everyone.
Your points will add up quickly if you log in frequently to answer surveys, respond to questions, and apply to test products at home.
Ultimately, your experience will depend on the time you spend and the missions you choose.
Crowdtap Review Summary
If you have extra hours in your day, Crowdtap can help you make money in your spare time. The ease of use and variety of gift cards to choose from when redeeming points makes the company stand out from other survey sites. The app is really easy to use too.
Doing paid online surveys won't make you rich, but using Crowdtap can help you earn extra income to support your financial goals.
It also gives you a chance to test out new products and share your opinion about them. If you like getting free stuff, Crowdtap might be worth exploring.