5 Ways Postmates Helps Drivers Out-Earn Other Delivery Gigs
Advertiser Disclosure
Our readers always come first
The content on DollarSprout includes links to our advertising partners. When you read our content and click on one of our partners' links, and then decide to complete an offer — whether it's downloading an app, opening an account, or some other action — we may earn a commission from that advertiser, at no extra cost to you.
Our ultimate goal is to educate and inform, not lure you into signing up for certain offers. Compensation from our partners may impact what products we cover and where they appear on the site, but does not have any impact on the objectivity of our reviews or advice.
The competition for drivers among food delivery companies is intense. Here's how Postmates stands out and why this company might be the best choice for you.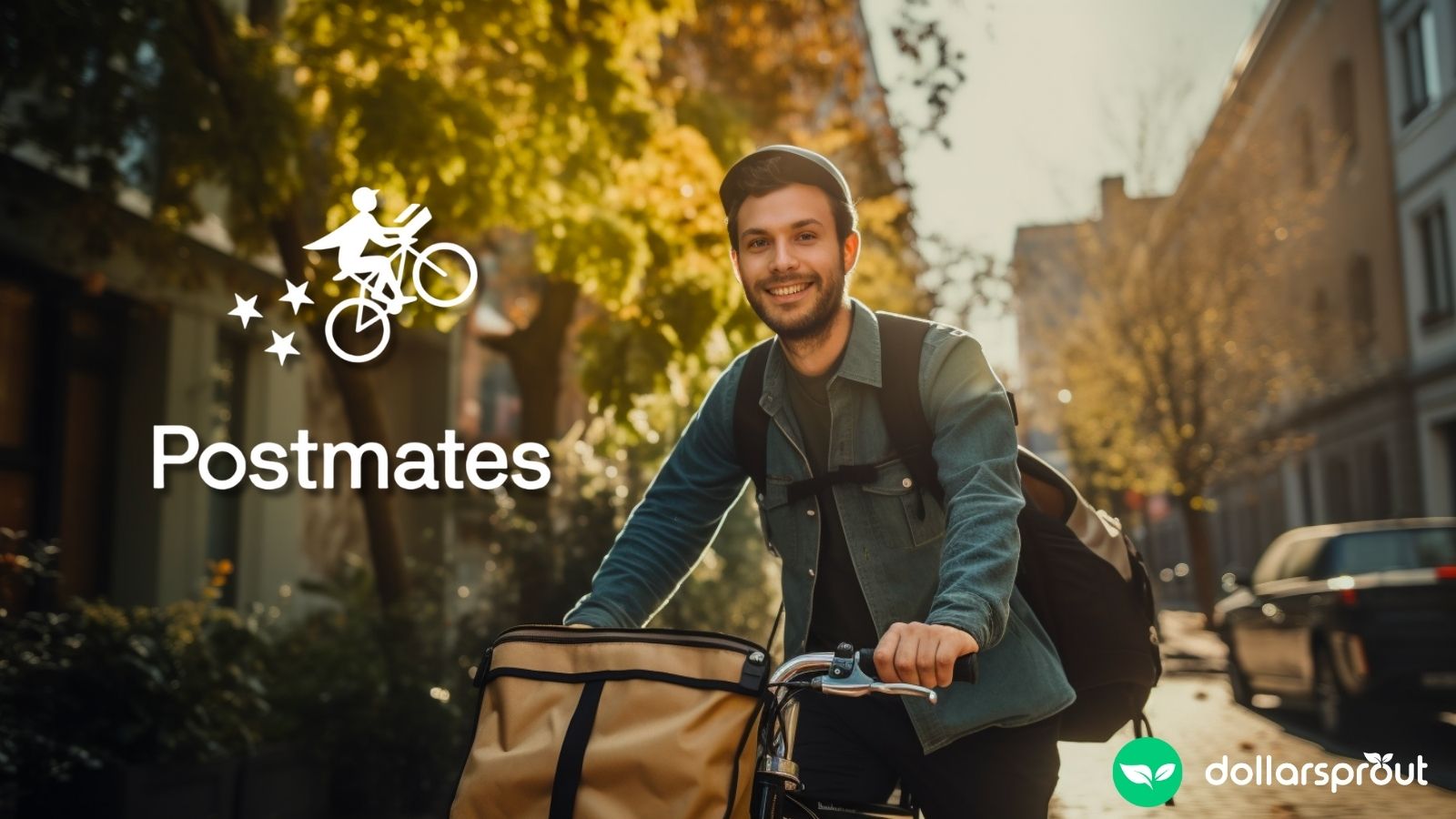 Editor's Note:
Postmates was acquired by Uber in November 2020, and the Postmates Fleet App for delivery drivers was permanently shut down in August 2021. See our list of
ways to make money delivering
for similar gigs.
Looking for a delivery side hustle that could put cash in your pocket quickly? If you've got transportation and some spare time, you could get paid to deliver food, groceries, and other items as a Postmates Fleet member.
Established in 2011, Postmates is the largest on-demand delivery and pickup platform in the country, partnering with over 600,000 merchants nationwide and serving 80% of U.S. households. While it's available in fewer cities than other delivery services like Instacart or Uber Eats, Postmates offers far more variety when it comes to what customers can have delivered right to their door.
That was part of the appeal for Michael Lowe, CEO of Car Passionate, when he was looking for a side gig.
"I'm no stranger to delivery jobs as a side hustle and after using Postmates, I realized it was something I could do," Lowe says. "I used to deliver food but since Postmates isn't all about food, I didn't have to worry too much if I took a wrong turn and the food going cold."
Postmates offers the potential for consistent side hustle earnings with hours that can be molded to your schedule. Here's a closer look at the perks of becoming a Postmates Fleet member.
How Postmates Does Things Differently
Brett Prentiss, co-founder of Instinct Marketing, decided to become a Postmates driver to make extra money while building his company. He loves the flexibility it offers and is happy with the cash it brings in.
"Because I'm so busy, I'll only do it for four hours at a time, and typically, I earn between $80 and $110 per shift, which is not including gas," Prentiss says.
That's not bad for four hours of work.
As a Postmates Fleet member, you get paid for your miles, time spent waiting to pick up orders, and the number of orders you complete per hour. Plus, you get to keep 100% of your tips.
But just how much can you make, and what are the ways you can earn even more?
1. Offers incentive programs for drivers to earn more
Aside from paying you for your miles and time, you can qualify for incentives to help you boost your earnings. The incentives are based on the number of deliveries you make and once you're eligible for an incentive, you'll get a notification from Postmates letting you know what kind of bonus is available.
Here are the bonus incentives Postmates offers:
Bonus per delivery. Earn an additional payout bonus for every delivery you accept within a specific time frame and completed within a specified zone.
Guaranteed earnings. Earn a guaranteed minimum payout when you complete a certain number of deliveries within a set time period.
Crushers. Earn an additional payout bonus when you complete a certain number of deliveries within a set period of time (Example: earn an extra $30 for completing 10 deliveries on a weekend).
Invites. Earn a guaranteed amount for each friend you invite to drive for Postmates that accepts and completes minimum delivery requirements.
The main thing to know about most of these bonuses is that they hinge on timing. You have to complete the required number of deliveries and you have to do it during the time window specified by the bonus. So that means speed counts for earning incentives.
Related: 9 Ways to Turn Your Car Into a Passive Income Stream
2. Prompts customers to tip you after each delivery
With just about any delivery side hustle, tips can account for a sizable share of your earnings. Postmates encourages customers to reward you for good service by automatically calculating a tip amount.
The automatic suggested tip is 20%, though customers can increase or decrease the tip before finalizing an order. Tips show up in your Fleet dashboard so you know in advance what you'll earn per delivery.
Customers can choose to zero out the tip and tip in cash when you deliver. In that case, Prentiss says the faster and more courteous you are, the more likely you are to pocket bigger tips.
"It doesn't hurt to send a text message that you're on your way," he says.
3. Lets you deliver (almost) anything
Postmates is unique because it goes above and beyond in terms of what Fleet members can deliver.
While Instacart is primarily for groceries and pharmacy items and DoorDash is strictly for takeout, Postmates aims to make life more convenient for its customers by delivering just about anything they need.
There are restrictions, of course. For example, you can't deliver live animals and some states restrict the delivery of alcohol and tobacco.
But, given how broad the Postmates merchant network is, there are still plenty of opportunities to earn money for deliveries. And the larger the order, the larger your tip might be.
Related: 13 Ways to Make Money Delivering Food, Packages, and More
4. Offers a free unlimited trial to new customers
One way Postmates encourages people to use its services is by offering a free trial of its Unlimited plan.
Postmates Unlimited is a membership that offers free delivery on qualifying orders from all merchants. The fee is $9.99/month or $99.99/year but the free trial gives customers a chance to try out the service.
Telling people about the free trial could increase your Postmates earnings as more people sign up to use the service using your unique referral code you can share with friends and family. Once they sign up and complete their first Postmates order, you become eligible for a credit offer.
5. Other ways Postmates increases Fleet member earnings
Aside from these ways to make more money with Postmates, you've got a few other options for earning extra cash.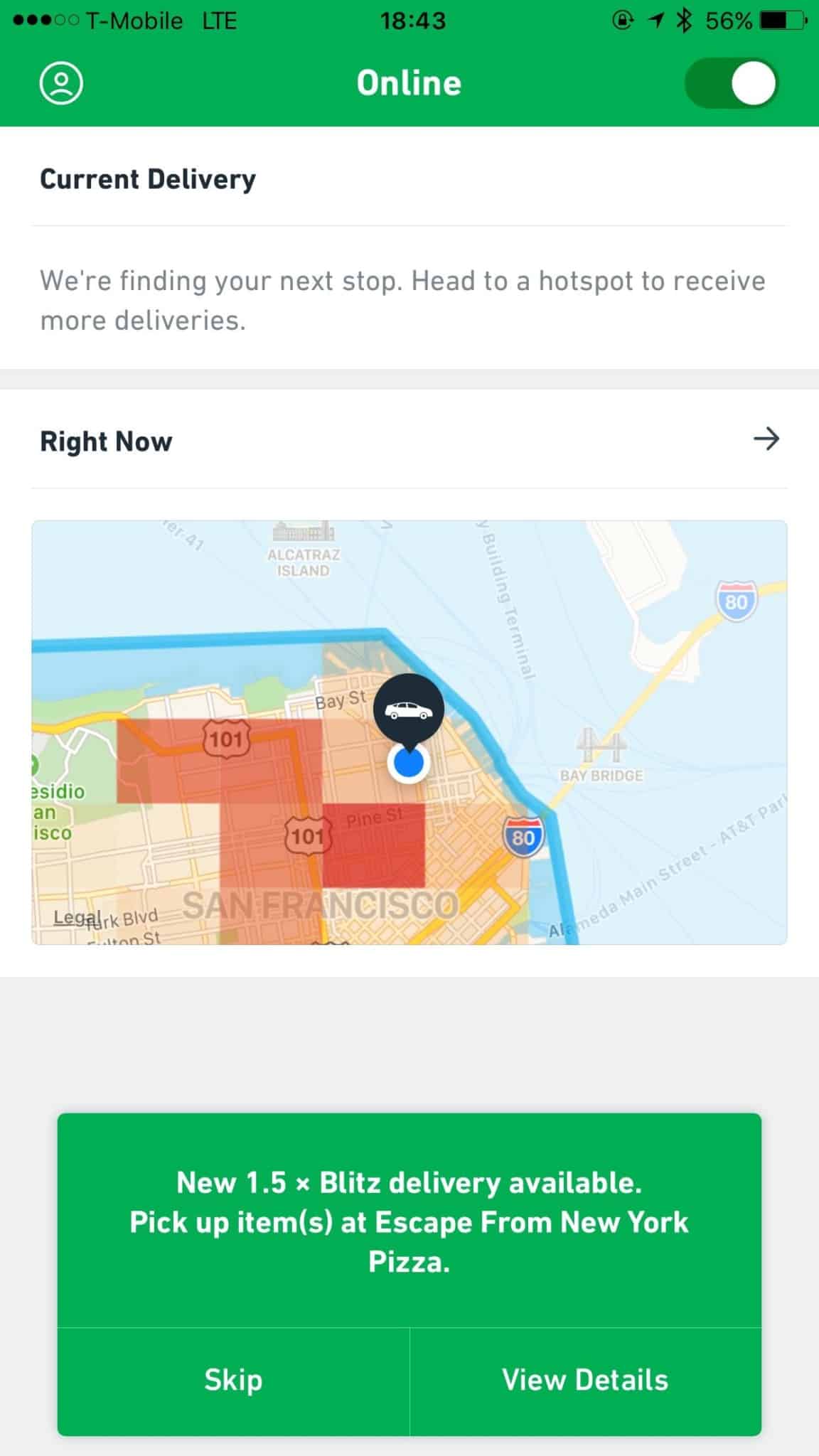 For example, Postmates Blitz pricing is an easy way to earn more per delivery. Blitz pricing occurs when delivery demand is high, which means you can get a higher payout for each delivery you make during busy times.
Postmates also allows you to stack deliveries and make multiple deliveries at once to increase earnings. The key is making sure you can manage multiple deliveries to get them where they need to go on time. The Postmates app makes this easier by highlighting hotspots so you can group and accept multiple deliveries together.
Finally, though it doesn't necessarily make you money, you can use PerkSpot to save money. PerkSpot gives eligible Fleet members access to perks and benefits, including discounts from local and national retailers.
Related: 50 Best Side Hustles for Earning Extra Money
More Benefits Means More Money
Both Lowe and Prentiss agree that Postmates is an easy delivery side job option.
"It's better than most delivery jobs I've worked at," Lowe says. And Prentiss says you can't beat it if you want a passive side gig that can help you earn $100 or so a day without a huge time commitment.
Postmates makes working in the gig economy more rewarding since Fleet members have so many different ways to increase their earnings. If you're making deliveries consistently to take advantage of incentive bonuses, inviting new members to the Fleet, and referring friends and family to use the service, being part of the Postmates Fleet could pay off when it's time to collect your earnings.
Related: Postmates Driver Review: 4 Tips for Earning the Most