6 Companies That Will Pay You to Advertise on Your Car
Advertiser Disclosure
Our readers always come first
The content on DollarSprout includes links to our advertising partners. When you read our content and click on one of our partners' links, and then decide to complete an offer — whether it's downloading an app, opening an account, or some other action — we may earn a commission from that advertiser, at no extra cost to you.
Our ultimate goal is to educate and inform, not lure you into signing up for certain offers. Compensation from our partners may impact what products we cover and where they appear on the site, but does not have any impact on the objectivity of our reviews or advice.

Unless you live in a city or somewhere with good public transit, you probably spend a lot of time in your car.
With all that driving — to and from work, running errands, visiting friends, going to the gym — the cost of gas and car maintenance can start to add up. But what if there was a way you could offset those costs?
If you're in search of some extra cash, consider adding a unique passive income stream.
Get Paid to Advertise on Your Car with These Six Companies
If you don't mind putting stickers or wraps on your vehicle, there are a number of companies that will pay you to advertise on your car.
Related: 13 Ways to Make Money Delivering Food, Packages, and More
1. StickerRide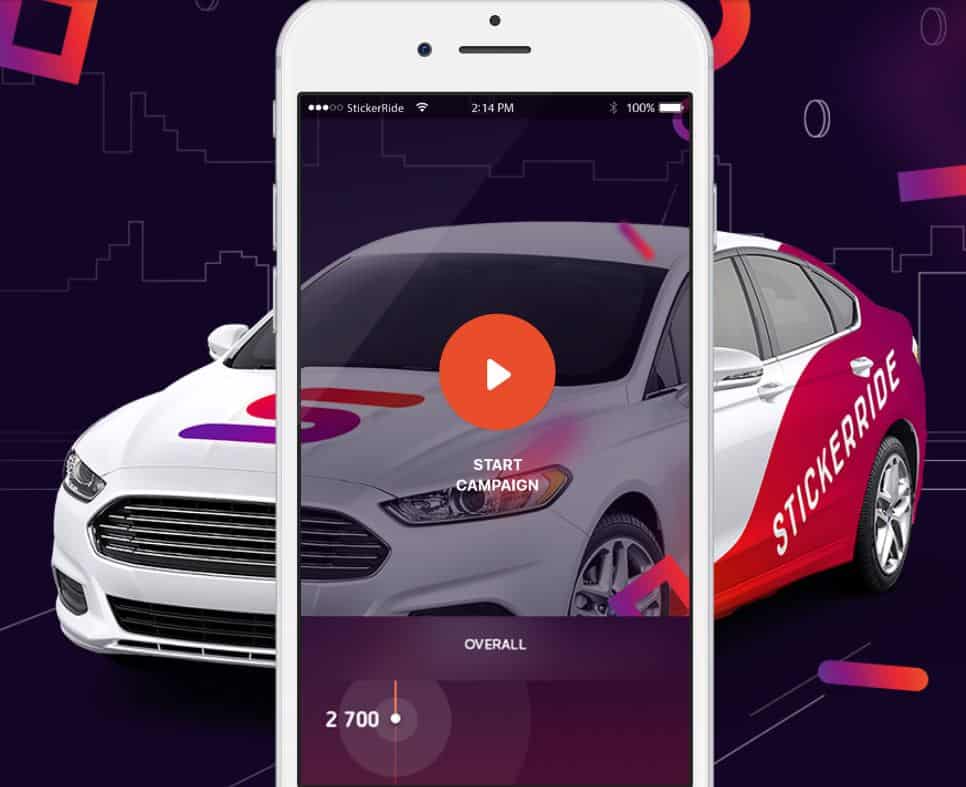 StickerRide connects brands with drivers to deliver advertising solutions that entice their target audience. It was founded in 2013 in Europe and is now used in the United States by over 40,000 drivers and big-name brands.
How the Program Works:
To drive for StickerRide, download the app on your Apple or Android phone. Then register your car, choose an active ad campaign, visit a StickerRide location, and wait for their staff to wash your car and install the sticker ads.
Once the ads are applied, you can start driving and earning money. You need to turn on the app every time you drive so StickerRide can calculate your miles driven and compensate you appropriately. Each mile you drive times your tariff will equal one point. Your tariff will depend on four factors: location, time, car class, and stickers displayed.
Pros:
Freedom to select your ads: StickerRide allows you to sort through a number of ad campaigns so you can select one that matches your style and personality.
Optional tasks that allow you to earn more: You can make more money by participating in "flashmobs" and "quests" which require you to perform certain tasks like taking a photo of your car in a popular location.
Cons:
App must be on at all times: If you forget to launch your app before you start driving, you won't earn any money for that trip.
Car requirements vary: Each ad campaign has its own set of requirements, and you won't know whether you're eligible for it until you apply.
How Much You Can Expect to Earn:
Payments vary greatly and are based on the car you drive, your location, and how many miles you drive.
2. Wrapify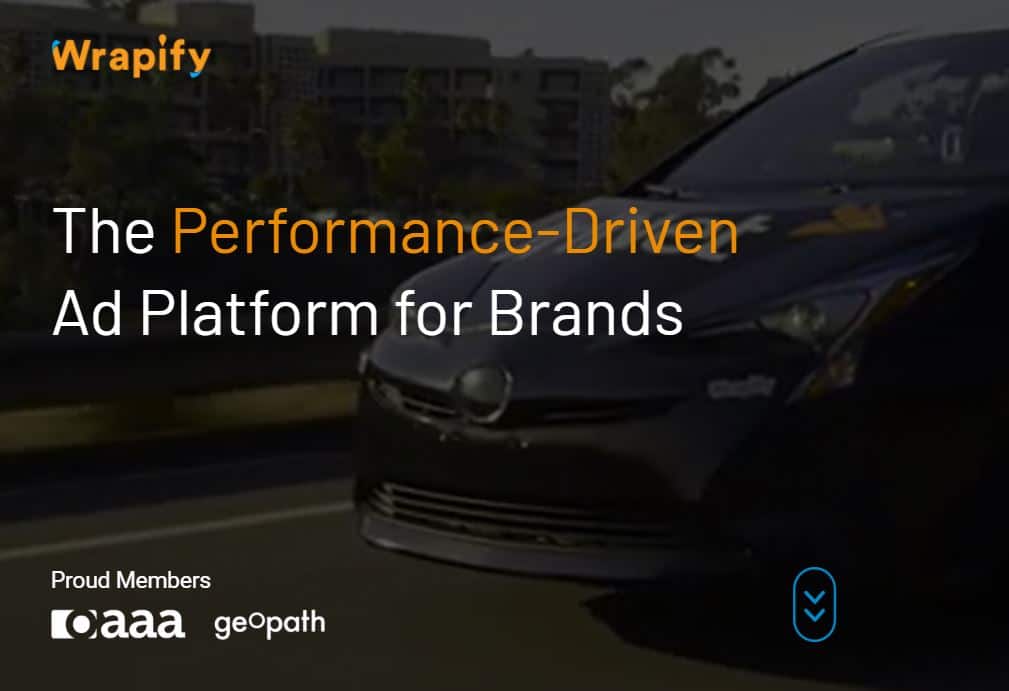 Founded in 2015, Wrapify partners with advertisers who are interested in rolling billboards. They hire drivers who don't mind placing ads on their car and pay them based on how far they drive.
How the Program Works:
To work with Wrapify, download the app and sign up to become a driver. Then, drive to the places you normally go to and receive offers for campaigns. Your offers will be based on your driving habits, which the app will track.
Once you see a campaign that piques your interest, you'll register, get the advertisement placed on your car, and start to earn money. The miles you drive within a campaign zone, which is usually 50 miles of the advertiser's location, will determine your earnings.
Pros:
Easy, consistent payments: Wrapify will pay you every other week via direct deposit.
No long-term commitments: Most campaigns are between 1 and 3 months long, so you don't have to make any long-term commitments.
Cons:
Must pass a background check: To drive for Wrapify, you'll need to pass a background check, which requires no more than two accidents in the past three years.
Newer model required: You must have a 2010 or newer vehicle without any major body damage to qualify for Wrapify.
Early termination fees: If you break a contract before its end date and remove the wrapping, you'll be charged with early termination fees.
How Much You Can Expect to Earn
Wrapify drivers report earning $196 to $452 per month, depending on mileage driven.
Related: 24 Best Work From Home Jobs for 2020
3. Carvertise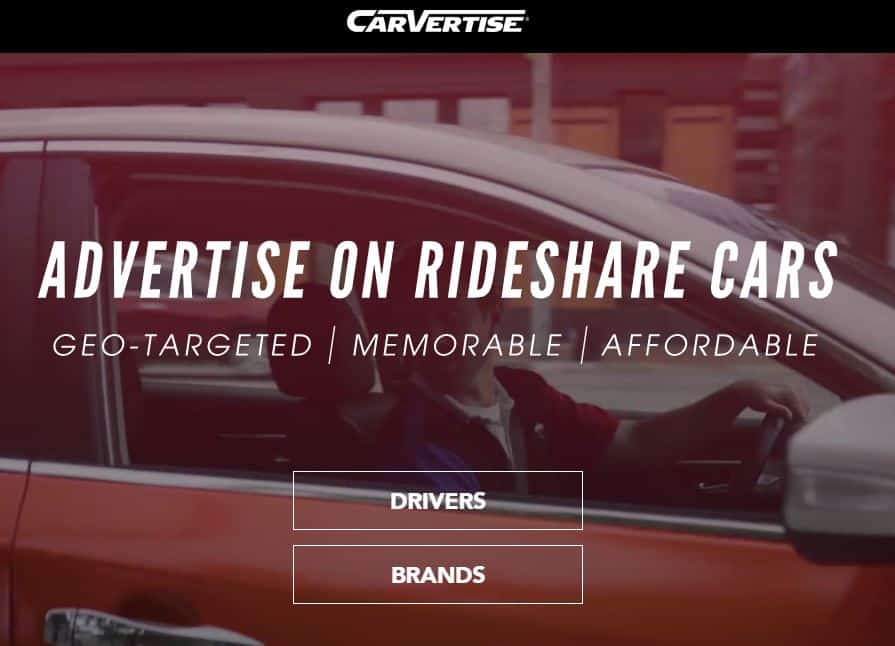 Carvertise is a Delaware-based advertising company. It was founded in 2012 and hires thousands of drivers throughout the country.
How the Program Works:
To apply to Carvertise, you enter your name, phone number, and email on a short form on their website. The company will match you to a brand that targets the areas you normally drive to.
After you are approved to become a driver, they put car wrap advertising on your car and pay you via direct deposit. The company pays $100 per month for the duration of the campaign. If you participate in a three-month campaign, for example, you'll earn a total of $300. At the end of the campaign, they'll remove the ad.
Pros:
Opportunities to earn more by parking: If you park your car in certain locations during a set time frame, you may be able to boost your earnings.
Can accept or decline campaigns: You don't have to commit to a certain number of campaigns and can participate as much or as little as you'd like.
Cons:
Must drive 30 miles per day: If you drive less than 30 miles per day, Carvertise won't hire you as a driver.
Newer car requirement: Your car must be a 2008 or newer model.
How Much You Can Expect to Earn
Pay ranges from about $300 to $1,200 per campaign.
4. Pay Me for Driving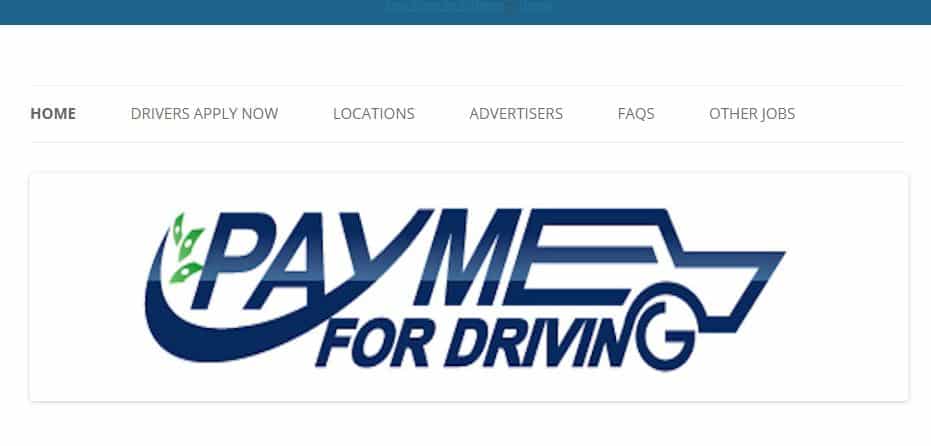 Pay Me for Driving is an affiliate marketing agency in St. Louis that pays drivers or "mobile marketers" to put small ads for local companies on their cars.
How the Program Works:
To become a mobile marketer for Pay Me for Driving, you submit a short online application and provide details about your car. You must also have a clean driving record. Upon approval, the company will schedule a time to professionally install the ad on your car. Once you fill out the driver agreement and agree to the terms, you'll be able to make money.
Pros:
Commission-based programs: With the company's commission-based programs, you can earn more than just a flat fee.
Quick approvals: Pay Me for Driving may accept you to be a mobile marketer in as little as three days so you can get started immediately.
Cons:
Must live in the St. Louis area: You can only drive for Pay Me for Driving if you live or work in St. Louis City, St. Charles, or St. Louis County.
Can't choose the ad design or color: The advertisers will select the designs and color scheme of their ads so you won't have a say in them.
How Much You Can Expect to Earn
Pay depends on the advertiser and whether they offer a flat fee, commission, or recurring rate.
Related: 25 Online Jobs That are Legitimate, Easy, and Flexible
5. Free Car Media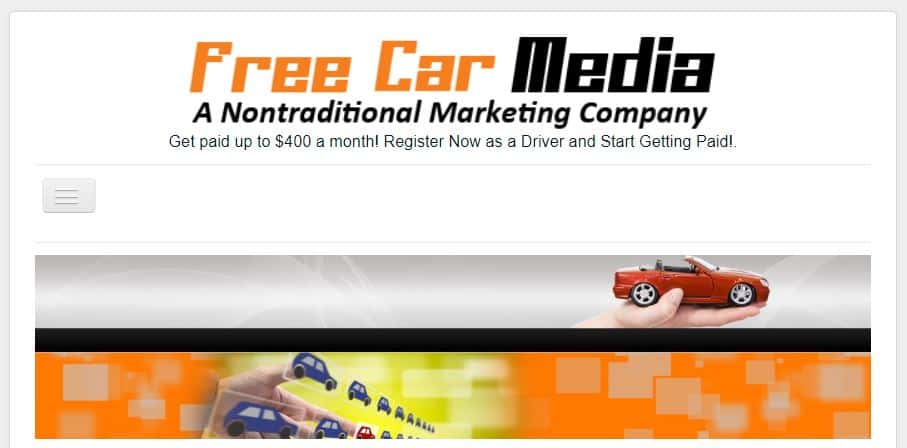 Free Car Media partners with advertisers and pays drivers to place ads on their rear windows or entire cars.
How the Program Works:
If you want to drive for Free Car Media, you need to fill out an online application. If you're accepted, the company will reach out to you via email and explain the program details. Then they'll send you an ad for your rear window as well as directions on how to apply it to your car.
If you agree to place an ad on your entire car, they'll tell you where to go to get it professionally installed. As soon as the ad is placed on your car, you can drive and earn money.
Pros:
Options for ad placement: If you want to earn money in a more discreet way, you can choose to apply the ad on your rear window rather than on your entire car.
Ability to reject programs: You can reject any program you're not interested in or aren't comfortable with and still qualify for future programs.
Cons:
Must apply your own rear window ad: Free Car Media will send you directions and ask you to apply the rear window ad on your car yourself.
Lengthy programs: If you agree to participate in a program, you'll have to drive around with the ad on your car for anywhere between 6 and 24 months.
How Much You Can Expect to Earn
Expect to earn around $50 to $400 per month depending on the size of the ad.
6. ReferralCars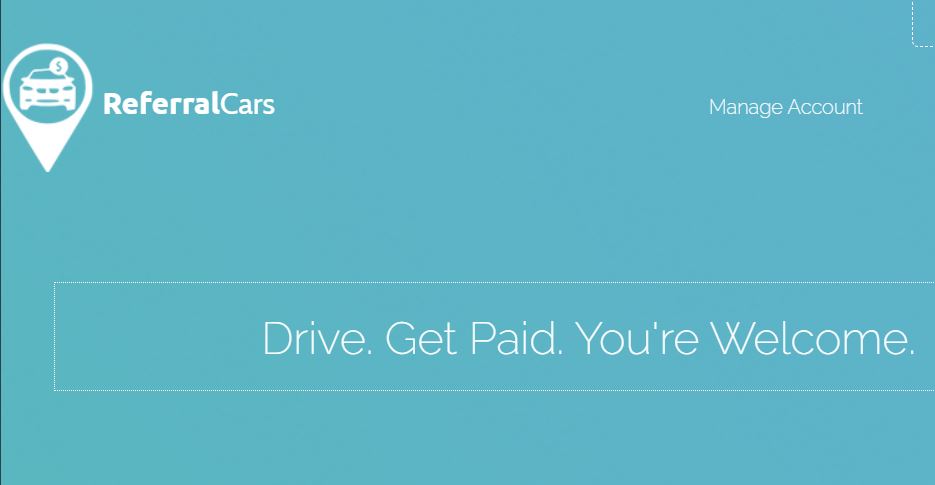 ReferralCars is a vehicle advertising program that matches drivers with two types of campaigns: commission-based and non-commission based.
How the Program Works:
To make money with ReferralCars, you enter your ZIP Code and view campaigns in your local area. Next, you go through a quick online application process where you state how many miles you drive per year, the age of your car, whether you have insurance, and if you drive for Uber or Lyft.
If you're a good fit, an account manager will reach out and provide you with details on a campaign. If you choose to move forward, you'll pay a shipping fee and receive a decal.
To activate the decal, you'll go to the ReferralCars website and enter the unique keyword you see. This will allow the company to track sales back to you. Then, you'll place the decal on your car, send a picture for proof, and be ready to make money. You'll need to send additional pictures to show that the decal is still on your car by the first of each month.
Pros:
Only small decals: Since the majority of decals are small, you don't have to worry about driving around with large, obvious ads on your car.
Earnings guarantee: ReferralCars claims that you can earn money within 90 days of accepting a campaign or you'll get a $100 gift card.
Cons:
Decal shipping fee: To receive the ad decal for your car, you'll be on the hook for a shipping fee.
Must place your own decal: Once the decal arrives at your home, you'll need to apply it to your car on your own.
How Much You Can Expect to Earn
Earnings depend on the campaign and whether or not you receive a commission.
What Kinds of Ads Will be Placed on Your Car
Each company has its own strategy for placing ads on cars. While some companies use simple decal stickers, many of them opt for vinyl car wrapping. The wrapping option makes it look like the ads were actually painted onto the cars.
Depending on the size of the ad, the wrapping may cover your entire vehicle or a small part of it. Car wrapping isn't permanent, so the car advertising company can easily remove it from your car if and when you decide to stop working for them. It's unlikely that vinyl wrapping will cause any damage to your car, so you shouldn't have to worry about expensive repairs or new paint.
Related: How to Make Money as an Airbnb Host
How to Find Legitimate Car Advertising Companies
The reality is that some car advertising companies are scams. Do your due diligence and vet a company to make sure it's legitimate before you agree to work with them.
Application Process: A legitimate car advertising company typically has a formal application process and evaluates your car's make, model, and year as well as your driving history. If a company isn't asking those kinds of questions, it might be best to go in a different direction.
No Application Fee: You shouldn't be charged any application or annual fees to work with car advertising companies.
Insurance Requirements: If a company is reputable, they'll require you to show proof of car insurance coverage. They won't hire you to drive with their ads unless you meet the minimum car insurance requirements in your state.
They Pay for Your Car Wrapping: If a car advertising company asks you to cover the cost of applying or removing car wraps, or states that they'll reimburse you, it may be a scam. A legitimate company will pay for this process.
Good Customer Service: Make sure the company you choose offers a customer service phone number or email address you can use to contact them when you have a question or concern. If there's no customer service information, consider looking elsewhere.
Other Ways to Make Money with Your Car
There are a number of other ways to make money with your car. You can deliver packages for Amazon Flex or restaurant meals via Uber Eats or DoorDash. If you're a stay-at-home mom, live in a city, or work from home, you can also rent out your car with a company like Getaround to make money when you're not using your vehicle.
To maximize the earning potential, try combining a few of these options. With just a little time and effort, you can turn your car into a money-making machine.
Related: DoorDash Driver Review: How to Make Money Driving for DoorDash