How to Make Money with VIPKid While Working at Home
Advertiser Disclosure
Our readers always come first
The content on DollarSprout includes links to our advertising partners. When you read our content and click on one of our partners' links, and then decide to complete an offer — whether it's downloading an app, opening an account, or some other action — we may earn a commission from that advertiser, at no extra cost to you.
Our ultimate goal is to educate and inform, not lure you into signing up for certain offers. Compensation from our partners may impact what products we cover and where they appear on the site, but does not have any impact on the objectivity of our reviews or advice.

Teachers are some of the hardest working people out there.
So, it makes sense that when VIPKid came on the scene in 2013, offering teachers a way to make extra money through teaching English abroad, the business took off.
If you want to learn how to make money with VIPKid by flexing your teaching muscles, read ahead for a full overview of the job, from application to the classroom.
What is VIPKid?
VIPKid is an English language tutoring service for children in China ages 4-12. Teachers from the U.S. and Canada provide one-on-one tutoring classes, from home and on their own schedule. It's one of the best online tutoring jobs for teachers.
How much money can you earn?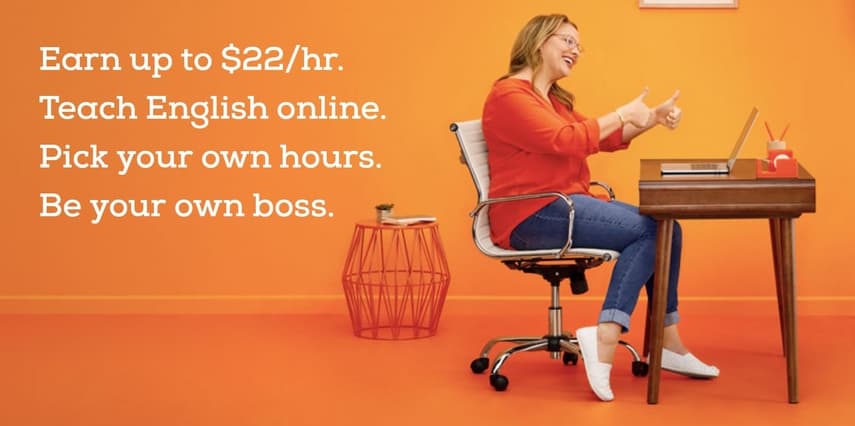 The company claims you can earn up to $22 an hour teaching English through their online classrooms.
But how common is that pay rate?
According to the site, the minimum pay is $7-$9 U.S. dollars per 30 minutes, or $14-$18 per hour if you teach two sessions in a row. Your minimum is based on your credentials and performance in the interview demo lesson.
There are added incentives for showing up on time to lessons, teaching the lesson according to schedule, and for teaching a large number of classes per month. Incentives are up to $1 per 30-minute class. While it's very possible to make $22 per hour, it's important to remember that you're also an independent contractor. That means you'll want to set aside around 25% of your income for taxes.
On the bright side, you do have the opportunity to write off any products or services you use for your VIPKID business, including props and portions of your internet and computer depreciation.
Who should teach on VIPKid?
Katie Timmins, a full-time freelance photographer and former dance and drama teacher found VIPKID while looking to make extra money with online tutoring. With her background in education and love for the performing arts, she was a prime candidate for VIPKid.
After nine months with the company, she still recommends it to all her friends. "The kids are so fun," she said. "Most of them are very interactive. You can be as "big" as you want and they love that."
Personality
You don't need to have a big personality to teach on VIPKid. Timmins says anyone who enjoys kids and can use their imagination will make a great teacher.
When parent books classes for their children, they'll look at what VIPKid calls "personality tags" on your teacher bio. Tags include outgoing, enthusiastic, body language and facial expression, speaking and discussion, and more.
Some parents care about a high level of enthusiasm and others care more about technical qualities. The most important thing is to be yourself and remember you're teaching kids.
Education
VIPKid requires all teachers to have at least a Bachelor's degree and one year of teaching – or equivalent – experience. You don't need any special or up-to-date certifications.
VIPKid offers TESOL certification for new teachers and short courses within the platform to help teachers advance.
"I made sure to get all the certifications I could have," Timmins recalled. That was about four short tests which made her familiar with more curriculum and allowed her to start taking multiple levels of students immediately.
Tech requirements
The basic tech requirements include a desktop, laptop, Mac, or Surface device with an HD external or HD integrated camera, and a headset with a microphone. The minimum operating systems are Windows 7 and Mac OS 10.x with a memory of at least 4GB RAM.
VIPKid has its own video platform, so you won't need to download your own. You will need to be using at least a Chrome Version 51 or Firefox Version 47 browser, and have the latest version of Adobe Flash Player installed.
Other requirements
Teachers must be legally able to work in the U.S. or Canada, but there are no location requirements. You can work for VIPKID from anywhere, as long as you have a stable internet connection of at least 20 Mbps.
While not required, Timmins has found that props like puppets, gold stars, and other fun visuals are helpful for engaging and keeping a student's attention.
"Some of them will bring dolls to the class and when I have my little stuffed animal dinosaur, they'll interact with me with their stuffed animal," Timmins said.

How to Make Money with VIPKid
Signing up for your new VIPKid job can be a little confusing, so it helps to know what the stages are and the significance of each.
Application process
The application process is broken up into five stages:
Fill out an online application with your teaching experience and to make sure you meet all the basic requirements.
Participate in a one-on-one interview with a VIPKid recruiter or record yourself teaching a demo lesson so a recruiter can evaluate you.
Take the introduction to teaching, where you'll review slides and watch videos to learn about VIPKid technology, standards, and curriculum.
Perform a mock class using what you learned in the teacher training. This will be with a current VIPKid teacher and can be taken multiple times.
Sign your contract, upload some documents, complete a background check and you're a full-fledged VIPKid teacher.
VIPKid offers support and guidance for each stage, as well as Facebook and Reddit groups for applicants to have their questions answered.
Demo lesson & interview process
The VIPKid interview and demo class not only determines if you get the job, but also how much you'll be paid.
You'll mainly be evaluated on your ESL teaching skills and ability to explain lessons to a young English learner. The recruiter will also take note of your time management and preparedness, so reviewing the curriculum ahead of time can give you an edge.
There are two ways to complete your demo lesson:
Book an interview by picking a time slot up to three days in advance from the calendar on the interview page.
Record an interview if there are no time slots available and you don't want to wait. Instructions on how to record your interview are on the interview page.
One-on-one interviews are 30 minutes long with 10 minutes of teaching. In addition to your teaching skills, the recruiter is also checking to see if your equipment and internet connection will allow for a smooth full-length lesson with a child in China. If you choose to record a demo lesson, you'll only need to record the teaching portion.
For the inside scoop on how to have a stellar interview, VIPKid has put together a cheat sheet called the Applicant Performance Indicators that covers everything their recruiters look for.
Teacher training & mock class
If you pass the demo class, you're in! Now you'll get access to the certification center where you can review slides, teacher instructions, and practice mock classes with an experienced teacher.
Mock classes are 30 minutes long with 10 minutes devoted to beginner level and 10 minutes devoted to intermediate. You can do as many mock classes as you need, but you must pass one before moving on.
Setting your schedule
Once you've completed all the stages and signed on the dotted line, you're ready to fill your schedule.
For the best schedule, VIPKid recommends teachers keep their weekly availability updated one month out. Parents can schedule at any time within that availability window, with no less than 24 hours of advance notice.
Be realistic about what you can handle. Working five hours a day might seem doable now, but after the first week, your students might be suffering through your classes as much as you are.
"I teach five [classes] a morning, for five days a week on average," Timmins said. "Sometimes I'll add more if I have more energy, but that's mostly my capacity with also doing photography full-time."
Referring friends to teach
VIPKID has a tiered referral program for teachers to recruit their friends. Timmins said she makes an extra $100 for each new teacher who uses her referral link after they teach their first class.
VIPKid FAQ
Now that you know the nuts and bolts of VIPKid, here are the answers to the questions you're not going to find on the site's FAQ.
How do I know if I would make a good teacher for VIPKid?
Timmins says the best teachers are more like tour guides.
"You're really just guiding through each slide, making sure they understand the content on the slide rather than teaching it," she said. "Most of it is laid out for you and tells you exactly what you need to do."
How would you describe the VIPKid job and interview process?
Instead of a live interview, Timmins opted to record her VIPKid interview demo lesson.
"I liked doing that because I was able to do it at my own pace and get used to myself on a camera, even though nobody else was there," she said. "I just acted as if there was a kid there and they were doing a good job."
In fact, she said the whole process went much quicker than what's advertised on the website.
What are some expert tips to make more money with VIPKid?
VIPKid blocks open slots in your schedule 24-hours in advance to make sure there are no surprises. If you are available for a booking within 24 hours, you can manually open those time slots for "short notice bookings," where you'll earn an extra $2 for any class booked within that period.
When time blocks are left unbooked, Timmins will reopen for short notice bookings. Those slots typically get booked with trial classes by the time she wakes up the next day. For every trial class she converts to a regular student, she earns a $5 bonus.
Occasionally, VIPKid will offer incentives ranging from $15 to $40 for teachers with open slots and get bookings at certain peak time blocks.
Peak booking times are Monday-Friday 6-10 p.m. and Saturday-Sunday 9 a.m.-10 p.m. Beijing time, with 7-9 p.m. being the busiest hours every day. VIPKid recommends teachers be available for at least 7.5 hours, or 15 times slots, during these peak times.
VIPKid Review: Is it Right for You?
Whether you're a freelancer, stay-at-home mom, or teacher looking to make some extra money, VIPKid is a legitimate option to consider. You don't have to leave your house and you can make a decent hourly rate. To learn more, visit VIPKid's Official Website.
If you'd like to check out other options, be sure to read our list the best work from home jobs.