10 Common Resume Mistakes That Make Employers Cringe
Advertiser Disclosure
Our readers always come first
The content on DollarSprout includes links to our advertising partners. When you read our content and click on one of our partners' links, and then decide to complete an offer — whether it's downloading an app, opening an account, or some other action — we may earn a commission from that advertiser, at no extra cost to you.
Our ultimate goal is to educate and inform, not lure you into signing up for certain offers. Compensation from our partners may impact what products we cover and where they appear on the site, but does not have any impact on the objectivity of our reviews or advice.
A concise, accurate depiction of your education and prior work experience seems simple enough, but very few people get it right. Don't have your resume immediately discarded because of one of these easy-to-avoid mistakes.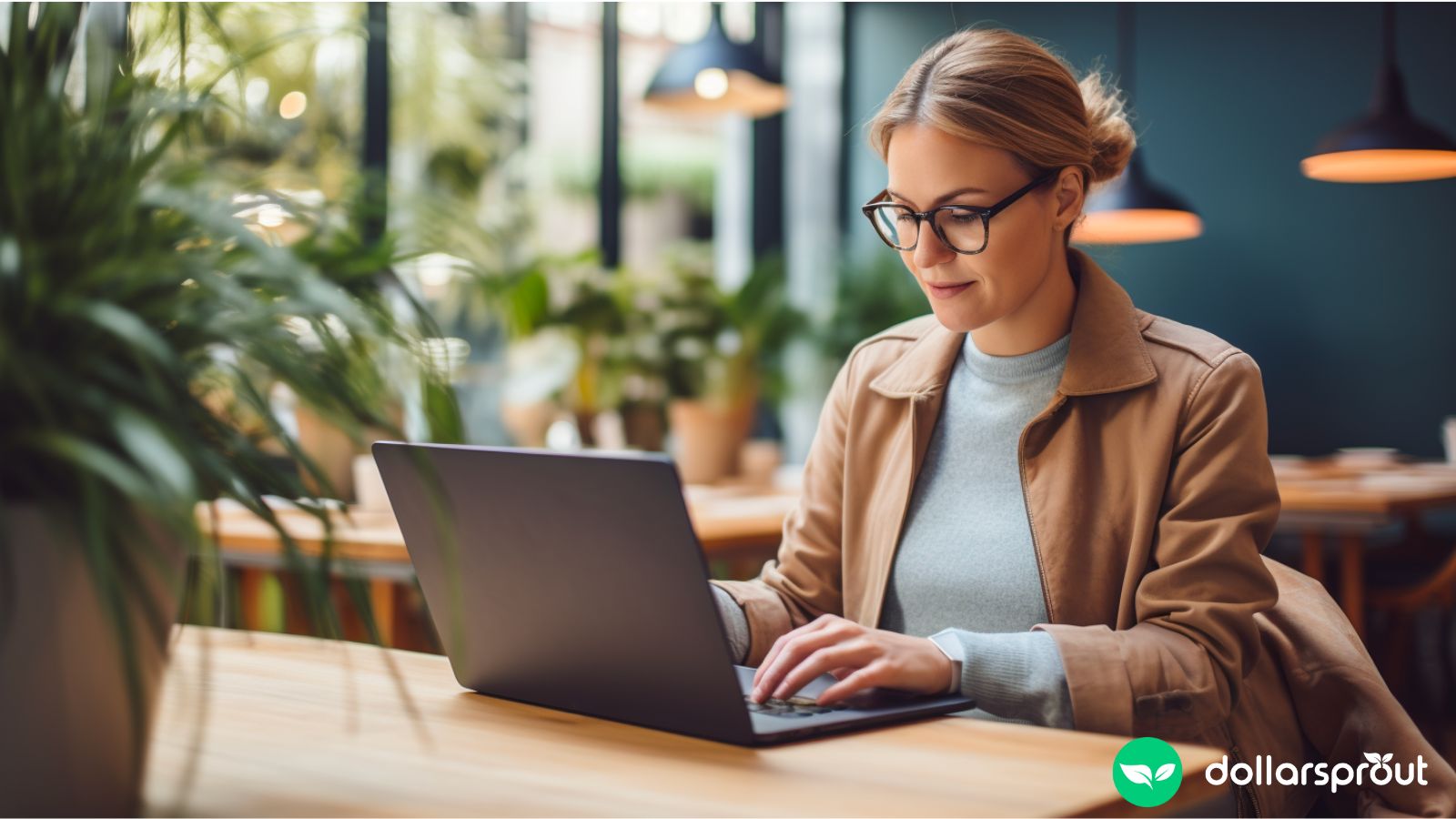 Writing the perfect resume is challenging. Most people only write or update their resumes when searching for a job. Unless you're a recruiter, hiring manager, or resume writing professional, you wouldn't know how to craft the perfect resume without research.
When I first started writing my resume, I made some of these common resume mistakes. In particular, I didn't do a good job of giving specific information about my job duties or customize my resume for each job posting I applied to. Had I corrected these errors, I may have ended up taking a much different career path.
When you're competing for a job, you don't want your resume to stand out for the wrong reasons. Here are some common resume mistakes to avoid.
1. Spelling and grammar mistakes.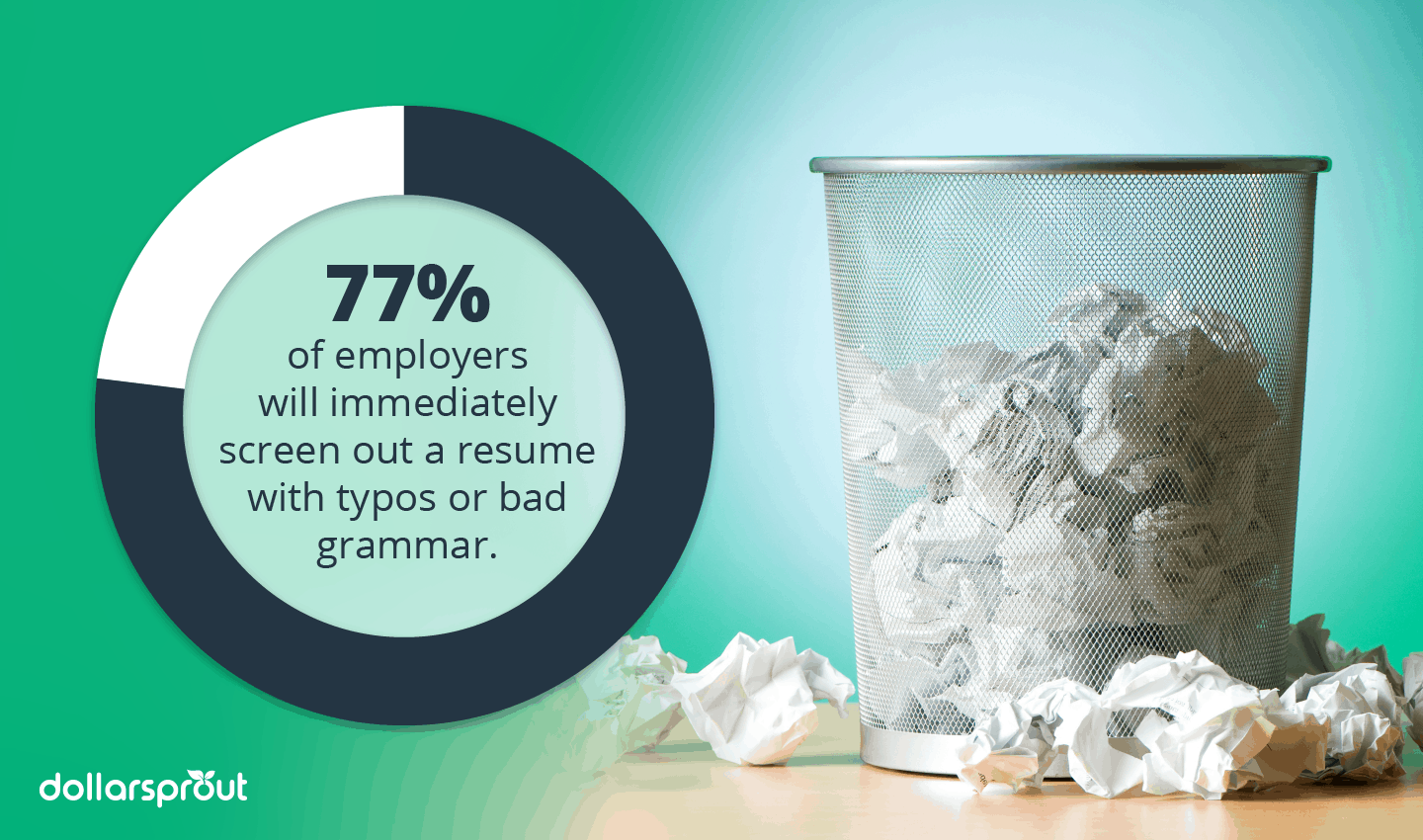 Spelling and grammar mistakes are some of the harder errors to spot, but they're important to catch before you turn in your resume.
"Many hiring managers, myself included, will throw out resumes with even a single spelling or grammatical mistake, especially if there are many job applicants," said Becky Blake, a millennial money expert, career coach, and founder of TwentyFree.
Well-written resumes show you're a strong communicator, but those with spelling or grammar errors warn employers you aren't detail-oriented. And if the job is competitive, a manager may have no qualms about tossing a potential candidate because of a resume typo.
Typos on resumes make sense. When you're staring at a document for hours, it's easy to read what you meant to write rather than what's on the page. Have friends or family proofread your resume because they'll be more likely to catch typos.
If you don't have anyone else to help, give yourself at least a 24-hour break before looking at your resume a final time. You should also read it aloud to see if it reads well and makes sense.
"Consider reading it from bottom to top to catch mistakes that you'd previously missed," Blake said.
Related: How to Make a Resume from Start to Finish 📝
2. Including generic information.
Generic statements about your job experience don't give hiring managers the full picture. Make your work history shine by including specifics.
Communicate the nature of the duties you oversaw. Rather than saying you managed several employees as a shift manager, include the number of people on your team, explain if you were responsible for hiring or firing decisions, and any other relevant details.
Give specific information about your accomplishments and use numbers whenever possible. Don't just say you're a President's Award winner. Explain you earned the President's Award because your $1,250,000 sales volume was among the top 5% of salespeople in your company.
The more quantifiable details you add that strengthen your case, the more you separate yourself from other resumes. Managers care about results, and numbers are the best way to communicate them.
3. Exaggerating your abilities or accomplishments.
Exaggerating may seem like a way to get noticed in a competitive job market. But there's is a fine line between tweaking your resume to look good and deception.
This can have a disastrous effect if you do get hired. If you add skills you don't actually have, such as saying you're fluent in a computer language that you have only basic knowledge of, you'll be in trouble when you receive the first assignment that requires you to use that language.
"You may find yourself in a position that you can't handle because your employer thinks you're more skilled than you are," said Laura Gariepy, a human resources expert turned freelancing coach at Every Day by the Lake, LLC. "This can lead to high levels of stress and poor performance on the job, which could ultimately result in your getting fired."
4. Leaving out extracurricular activities.
Early career job seekers don't have a long employment history full of accomplishments to fill their resume. If that describes you, consider adding relevant extracurricular activities to make your resume stand out instead of leaving blank space.
These activities outside of work give hiring managers insight into your skills, hobbies, and interests. This doesn't mean you should include everything you've ever done, like starting a monthly craft beer meet-up, but you should include activities that are pertinent to the job.
"Make sure that there's a tie between the activity and the job you're trying to get," Gariepy said. "For example, if you're applying for an entry-level sales job, you absolutely want to include the fundraising committee that you were on."
You can drop these extracurricular activities from your resume once you have enough relevant job experience.
5. Making it too long or too short.
Balancing the length of your resume can be tough. Newer job seekers may feel they don't have enough to fill up a page. Those with more experience may want to write a book detailing their accomplishments and responsibilities.
So how long should your resume be? One-page resumes are appropriate for jobs that aren't high-paying or for people just entering the workforce, said Jennifer Grimson, a long-time resume advisor for executives and host of the Micro Empires podcast.
"If you are at an executive level or seeking six-figure income, you must have a two-page resume," Grimson said. She advised against resumes longer than two pages. Adjust your resume length to your current career and the job you're seeking.
Most people don't read past the first third of the resume before deciding about the applicant. If your relevant experience isn't from your most recent position, minimize the responsibilities listed so your most important jobs take up more visual space and are more easily identified.
6. Not tailoring it to the position.
Using the same resume for every position you apply for may save time, but it's a recipe for disaster. Potential employers may notice if you didn't put in the effort to your resume for the position.
"When you try to use something that speaks to everyone, you effectively speak to no one," said Kamara Toffolo, a resume writer and job search strategist.
To avoid this, consider writing different resume templates for each type of job you plan to apply for.
Some companies use resume scanning software. This software may throw out your application if it doesn't include certain words or phrases related to the position mentioned in the job listing.
Tailor the skills you highlight for each application by taking clues from the job posting and including them on your resume. If the job description requires knowledge of a specific CRM system and you're a power user, list your experience in the appropriate part on your resume.
7. Trying to accomplish too much.
When you're struggling to fit your experience on one or two pages, it can be tempting to fill up the entire page. But this can result in a resume that's not very visually appealing.
"Recruiters and hiring managers look at your resume for less than 10 seconds," Blake said. "Trying to squeeze as much information as possible onto an 8.5 x 11″ sheet of paper will only drown the important information in a sea of irrelevant text."
You don't need to include all of the responsibilities of every job you've held on your resume. Duties from an entry-level accounting position aren't as important as your experience as an accounting manager when you're applying for a CFO position.
Provide more details for the most relevant jobs you've held while minimizing details on less important positions. Focus on leaving white space so that your accomplishments can be found.
The best way to utilize the space is to break down your relevant points into bullets. Have each bullet start with a verb. Then, describe the specific outcomes you've accomplished, Blake said.
8. Not including a cover letter.
Even when a cover letter is optional, you should always try to include one. A cover letter gives the company more information about you and is one more way to stand out. Experts, including Toffolo, often recommend including one with all applications unless the job posting prohibits it.
"Cover letters tell parts of your story that your resume can't or didn't," Toffolo said.
Use your cover letter to explain potential concerns an employer may have about your resume. Explain a skill or career gap or the unique abilities you offer. Tell the company why you want to work for them and why you'd be a good fit.
Related: How to Write a Cover Letter
9. Not following the company's instructions.
Always pay attention to the job posting's instructions about how to apply. If you don't follow the instructions, it shows a lack of attention to detail, Gariepy said.
Submit your resume and supporting documentation in the correct format. Address your application packet to the right person, include their correct title, and double-check their name spelling.
"You may otherwise be a perfect candidate for the position, but the hiring manager could drop you from consideration because they perceive you as careless or insubordinate," Gariepy said. "Plus, if you send your resume to the wrong place or the wrong person, it may never get reviewed."
10. Not addressing career gaps.
Work gaps are a part of life for many career-focused individuals. Whether you got laid off during the Great Recession or you took time off to raise your kids, gaps are obvious on resumes.
Some people prefer not to bring attention to resume gaps, thinking the manager won't notice them. They may be embarrassed about them, especially if they reflect a long period of unemployment.
"It's a mistake to leave career gaps unaddressed because you're exposing yourself to interpretation and allowing the reader's imagination to run wild," Toffolo said.
Insert a single-line placeholder describing the reason for your career gap. According to Toffolo, hiring managers understand that gaps happen, but most want to know why they exist and if you did anything productive during that time.
Related: Should You Get a Graduate Degree? Probably Not. Here's Why
Your Resume Should Leave a Good First Impression
A successful resume leaves a good first impression. You may not get a second look or a call back for the job if you make one of these 10 resume mistakes to avoid. You want the person to remember your resume — in a good way — so it doesn't end up in the trash.
Hiring a resume professional is one way to help you polish your resume to the level hiring managers expect to see. If you prefer a different route, ask a friend to look for errors you may have overlooked. This gives you a final chance to avoid resume mistakes that result in an employer disregarding your application.