How This RN Turned a Blog into a $2,000,000 Side Hustle
Advertiser Disclosure
Our readers always come first
The content on DollarSprout includes links to our advertising partners. When you read our content and click on one of our partners' links, and then decide to complete an offer — whether it's downloading an app, opening an account, or some other action — we may earn a commission from that advertiser, at no extra cost to you.
Our ultimate goal is to educate and inform, not lure you into signing up for certain offers. Compensation from our partners may impact what products we cover and where they appear on the site, but does not have any impact on the objectivity of our reviews or advice.
Blogging success isn't an overnight journey. For the vast majority of us, it takes years of hard work to earn any meaningful income -- assuming that's the goal. Here's what I learned on my way to building a multi-million dollar blog.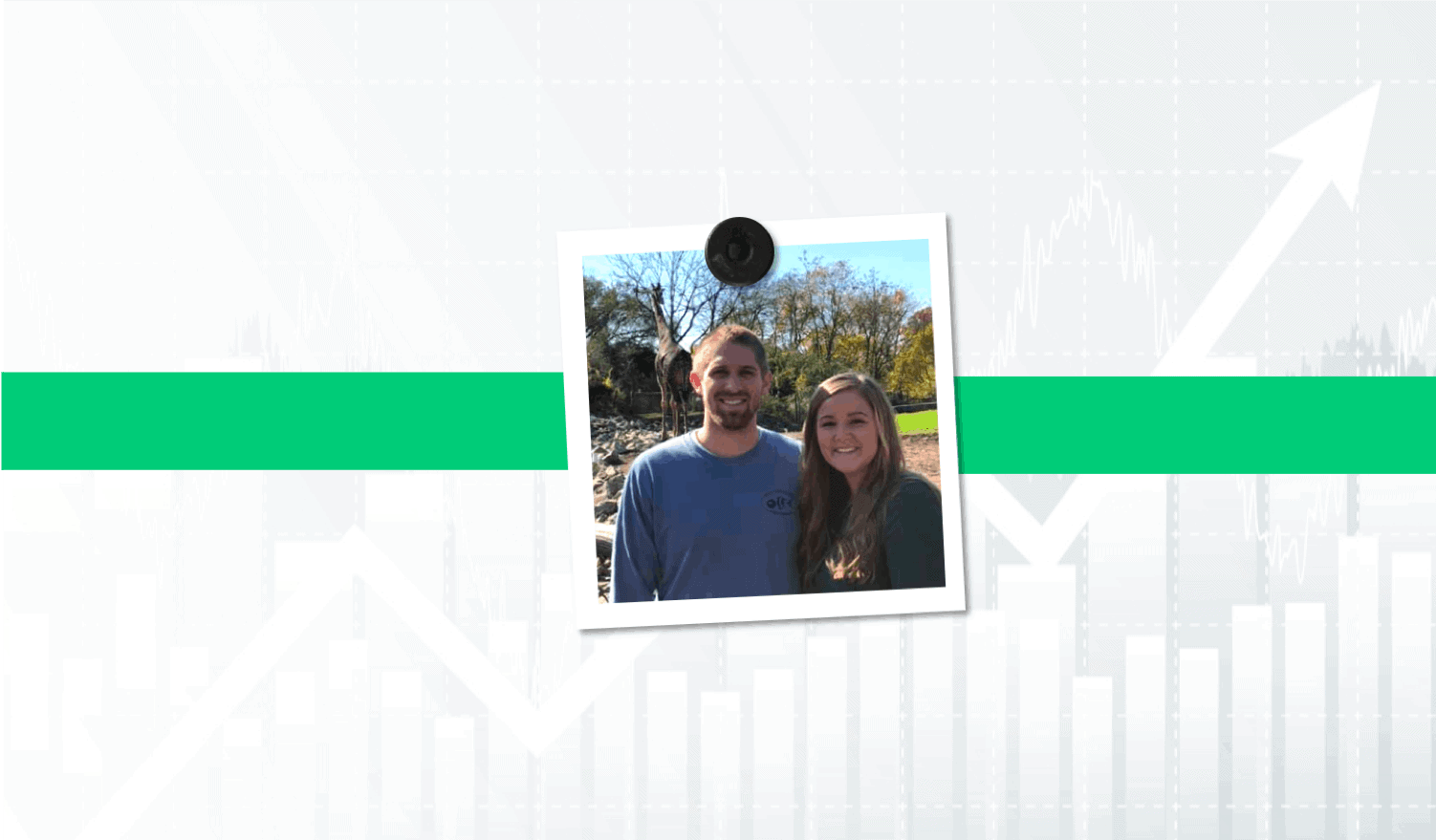 If you had asked me three years ago what I envisioned my future looking like, a blog side hustle wouldn't have even crossed my mind.
According to Pew Research Center, self-employed Americans accounted for 10% of the national workforce in 2014[1].
But as for me? I had no intention of contributing to that 10%.
If you had asked me what my future looked like, I would have offered you two words: operating room. I was going to be titrating drips and tinkering with IV tubing, putting people to sleep and magically waking them back up.
My dream: to be a nurse anesthetist.
That future may still become a reality. Just not anytime soon. For now, my future is being molded by something I never saw coming. Something that started out as a joke, but became so much more.
All thanks to readers like you.
That's right, DollarSprout affords me the opportunity to write about things I truly love, like personal finance, ways to make money on the side, and so much more — all while supplementing my income as a registered nurse (in a big, big way).
For me, this blog is the sentinel event to my operating room vision. It's dead to me, for now.
That's fine though, my new future looks equally as bright, and I'm excited to share how it's panned out thus far.
The Long and Winding Road
To give you some insight into how it all started, I have to rewind my story just a little bit.
The year was 2014 – I was 26 years old and had just finished 8 years of college.
What did I have to show for it?
2 bachelors degrees (a BS in Biology and my BSN)
$112,000 in student loan debt
an entry-level RN position making $36,000 per year
$36,691.20 to be precise.

It doesn't take a genius to see that I was going to be in debt forever…
Whoops.
After taxes, rent, utilities, my car payment, car insurance, health insurance, and student loan payments, I remember just barely breaking even that first year.
Hey, at least I wasn't driving myself further into debt, right?
If only someone had told me I could have gone to community college, become a registered nurse, save almost $90,000, and been done six years earlier…thanks, Mom and Dad. (Just kidding. I switched majors twice because I was an idiot and had no clue what I was doing.)
It's all good though.
I knew moaning about it wasn't going to make my situation any better. I also knew my $36,000 salary wasn't likely to cut it if I ever wanted a family. It was becoming abundantly clear that I had to keep going. In some way, shape, or form, I had to further my career to afford the life I wanted.
And then it hit me…

Reality Check #1: Life Doesn't Wait
All of a sudden adulthood hit, and I needed money. I knew (or at least I thought I did) that more schooling would be my ticket to achieving the higher salary I so-desired.
Unfortunately, more schooling wasn't an option. I literally could not afford to go to school another day. The deferment period on my first loans had ended and the payments started hitting me right in the face.
All of a sudden I had bills to pay.
"Oh dang, where'd those come from?," I remember thinking.
To make things worse, I was already doing the one thing I was best equipped to do to pay off my enormous debt — working as a nurse.
There wasn't much else I could do.
But rather than resign myself to the fact that it was unlikely I was going anywhere anytime soon, I spent what seemed like a million hours looking at side hustles for nurses and planning my next move.
And then it hit me: I was going to start my own business.
Reality Check #2: Things Almost Never Go the Way You Planned
Pretty random, I know (after all, I had just finished nursing school). But it's what I wanted to do. I wanted to own my own business.
And so, inspired by the time I spent trading penny stocks at Starbucks (while I should have been studying for nursing finals), I decided I'd give an old buddy of mine a call to talk about what side business idea we were going to pursue.
But really we were just joking around.
We weren't actually going to start a business.
We had gone to school for biology and biochemistry – what did we know about starting a business?
Yeah, approximately nothing.
But as this particular buddy and I became more jaded about our poor paying, entry-level positions (seriously, he was making $8/hr) we somehow came to the brilliant conclusion that we were going to start our own investment education website.
I know what you're thinking. Of all the possibilities, why this side business idea?
Two broke, science-oriented, new grads were going to teach people how to invest their money. Ironic, no?
Now, before you come down on us too hard, said buddy did work for a private wealth management firm for a number of years prior to us coming up with our hatchling business idea (he also possessed his Series 7 license and was, at the time, a Level 2 CFA candidate).
And I at least knew what a website was? How's that for experience?
In retrospect, we were cocky idiots and had no idea what we were doing.
Alas, in late February 2015 we slapped down $100 on the Virginia State Corporation Commission counter.
"We got this," we thought.
Just over 1 year later we had brought in a whopping $0.29.
To be fair, we intentionally waited a while before trying to monetize our website. But when we finally got around to it, we discovered this whole business thing was much harder than we thought. And then the money ran out.
Back to the drawing board.
Reality Check #3: Being Humble Goes a Long Way
It seems kind of hypocritical to be writing about a multi-seven-figure blog and talk about being humble all in the same article, but it really is the basis for our success.
Jeff and I were able to accept that we didn't know it all. That we weren't better than the billion-dollar businesses we were competing with when we first started our investment site. That we needed to go back to the drawing board because our first idea was a total bust.
And so, we refocused. Rather than approaching things from a "make money" mindset, we decided to write about things we actually enjoyed.
Jeff started covering personal finance topics, writing about starting your own business and sharing how to make wise decisions with your money. I wrote about the importance of nutrition, food, and exercise in living a healthy, balanced life — all things I teach every day as a nurse.
It started to pay off. And then it happened. My nursing side hustle blew up.
May 2016: $0.29
July 2016: $29
October 2016: $723
December 2016: $1,744
January 2017: $7,158
People wanted to hear our message, and it showed.
We started approaching our business from the right mindset and the money followed. It was (and continues to be) amazing.
Within 13 months, we were pulling in over $17,500 per month.
By January 2019, we were pulling in over $175,000 per month.
By blogging.
Interested in Your Own Nursing Side Hustle? Read On
Starting a blog side hustle has changed my life.
It's almost unfathomable to me that typing in a word document (and promoting my posts on social media) has helped me pay off my $100,000+ debt to Uncle Sam.
I had no idea what I was doing. I didn't really even need to.
It is so stupidly simple to start a blog nowadays that anyone can do it in about 15 minutes — even if you have 0 website knowledge.
All because Jeff and I refused to give up.
And even though our audience has grown by several hundred thousand (and we pay several hundred dollars per year for our website needs) you too can get started for just a few bucks a month — just like we once did.
Since we've referred a large number of bloggers to
HostGator
, we were able to negotiate an exclusive discount for our readers. If you use coupon code "
DOLLARSPROUT
" you can
get 60% off
any hosting package they offer (packages start as low as $2.71/month).
If you are interested but have no clue what blogging is about, think of it as storytelling, but to an audience of adults.
You don't have to be a genius.
You don't have to be a scholar (although it does help to write in complete sentences).
It's just you, being you.
What's awesome is that you are your own boss — you get to choose what to write about (in general the more often you write, the better your blog performs).
Popular blog side hustle topics include:
health & fitness
lifestyle
travel
food/cooking
photography
faith
technology
sports
cars
beauty & fashion
personal development/life coaching
and yes, nursing
Now, making money off your blog is a whole other ball game. It takes hard work and dedication, but if you stick with it, the end result can be amazing. I know because it happened to me. All with 0 prior blogging experience.
Bloggers typically make money by:
Using display ads (you seriously click and drag ads into your blog posts once you apply for an ad network)
Reviewing products for companies that you believe in and trust (they'll pay you from hundreds to even thousands of dollars depending on your audience size)
Participating in an affiliate marketing program (like the HostGator program we talked about above)
Posts to help you get started with your own blog:
Of All the Nursing Side Hustle Ideas, Blogging Was a Dream Come True
Sometimes I pinch myself to make sure I'm not dreaming. (Not really, but you get the point.)
It's truly an incredible feeling.
That feeling where you know what you're doing is exactly what you're supposed to be doing. Never in a million years did I imagine that, as a nurse, I'd pick up a pen (or more accurately my laptop) and "blog" about things that interest me — and make a living by doing it.
It has been the most surreal experience.
The crazy thing is I am not the only one. There are literally thousands of other bloggers out there who are doing the exact same thing. It's bonkers.
The Gypsy Nurse. FreshRN. The Bossy Nurse. They're all nurses who became millionaires through blogging.
I mention them to drive home the point that none of them are any different than you. They didn't go to school to be a web designer, or a programmer, or some tech guru.
They're nurses. Just like you. Just like me.
They're doing it because they have a message, and readers like you are willing to listen.