How to Start a Personal Trainer Side Hustle (Up to $75,000 per Year)
Advertiser Disclosure
Our readers always come first
The content on DollarSprout includes links to our advertising partners. When you read our content and click on one of our partners' links, and then decide to complete an offer — whether it's downloading an app, opening an account, or some other action — we may earn a commission from that advertiser, at no extra cost to you.
Our ultimate goal is to educate and inform, not lure you into signing up for certain offers. Compensation from our partners may impact what products we cover and where they appear on the site, but does not have any impact on the objectivity of our reviews or advice.
Mixing fitness and finance can be a fun way to get in shape and help others do the same -- to the tune of $75,000/yr. Here's how to start and scale a personal trainer side hustle.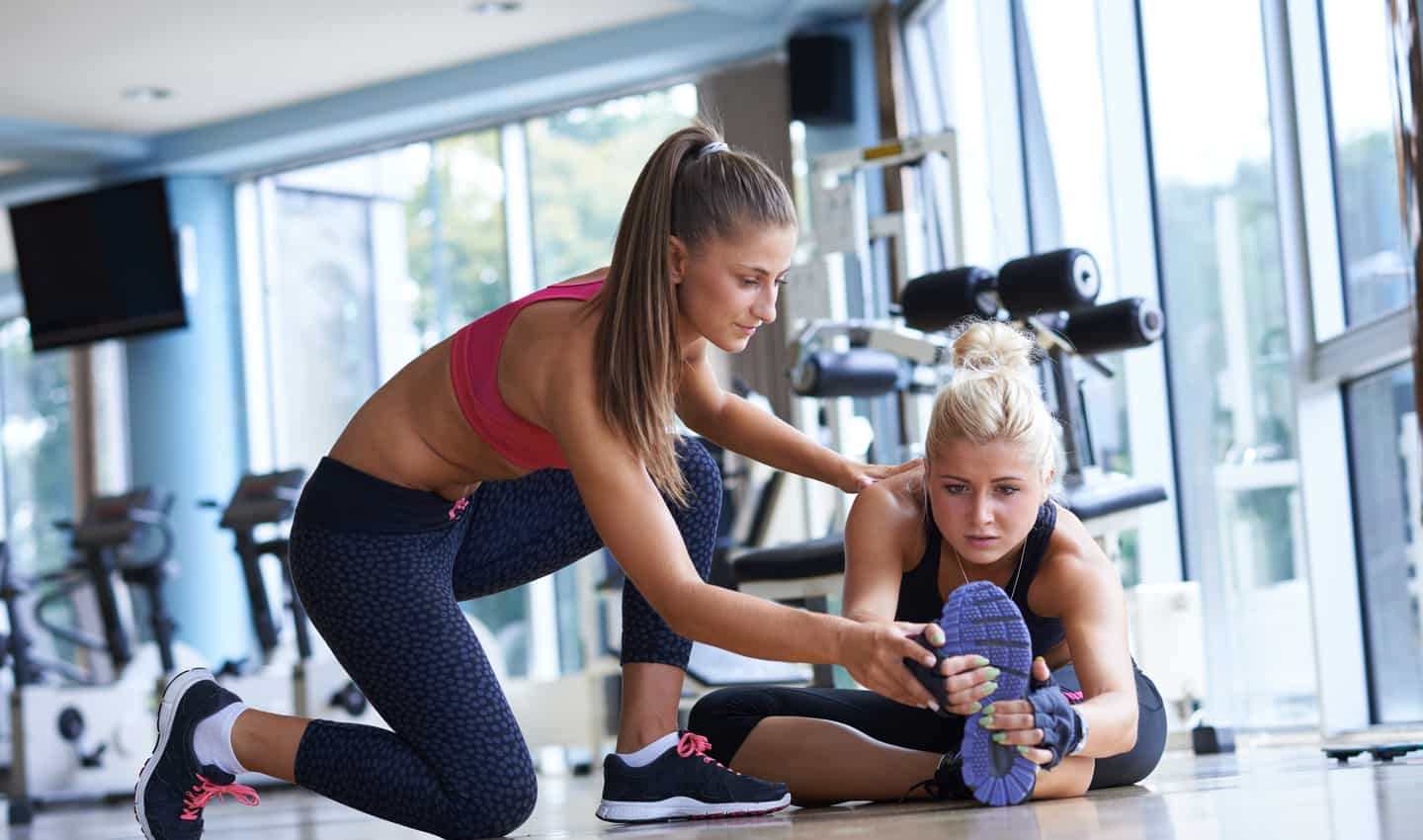 I took my first CrossFit class in 2013. Before that, you wouldn't have thought I was capable of anything athletic, much less the intense workouts CrossFit is known for.
The gym and I weren't (and still aren't) friends. I'd walk in, look at the equipment, and immediately become overwhelmed by all the possibilities and how incapable I was at most of it. But when I tried CrossFit, that all changed.
Having an experienced coach and trainer design my workouts, tell me how to do them, and hold me accountable for showing up caused me to fall in love with going to the gym.
Personal trainers play an invaluable role in the health and fitness of people who, like me, don't naturally enjoy working out. If you're passionate about helping people transform their relationship with the gym, then maybe it's time to consider how to become a personal trainer.
What Does a Personal Trainer Do?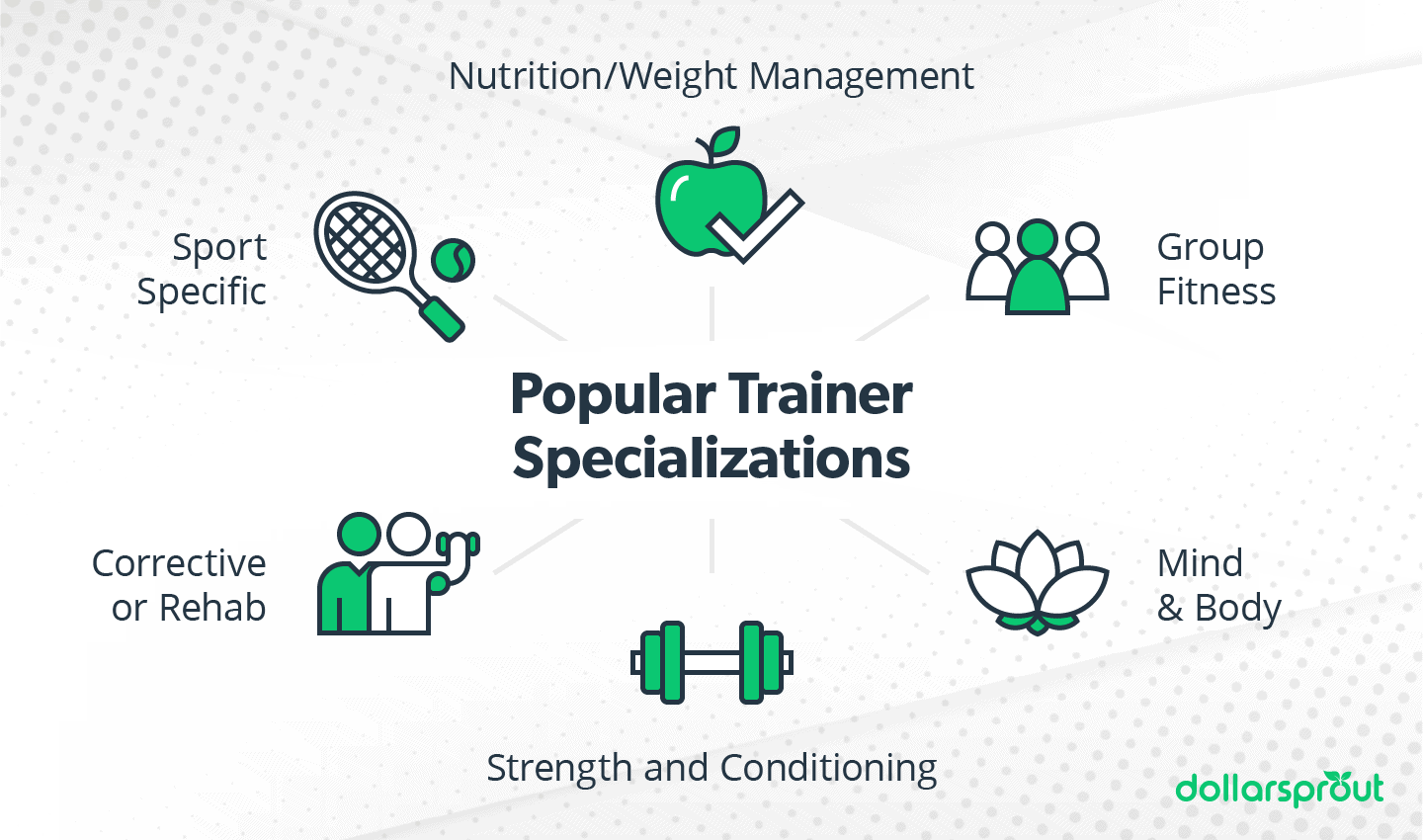 Personal trainers teach people how to exercise in ways that are effective and safe for them. They might also give information and resources on nutrition, weight control, and healthy lifestyle improvements. This is the perfect profession for people who want the option of working full time or as a side gig.
It's not enough to get a certificate and show someone how to lift a weight or perform a stretch. If you want to become a good personal trainer, you'll need to be passionate about helping people, a characteristic performance coach Danny James says will determine your success.
"We like to get so good at the training piece that I think we often forget the 'personal' part. We are in the 'people' business and you have to care about helping people succeed," James said. "Create an experience for people, and they'll keep coming back, and bring their friends along, too."
How Much Do Personal Trainers Make?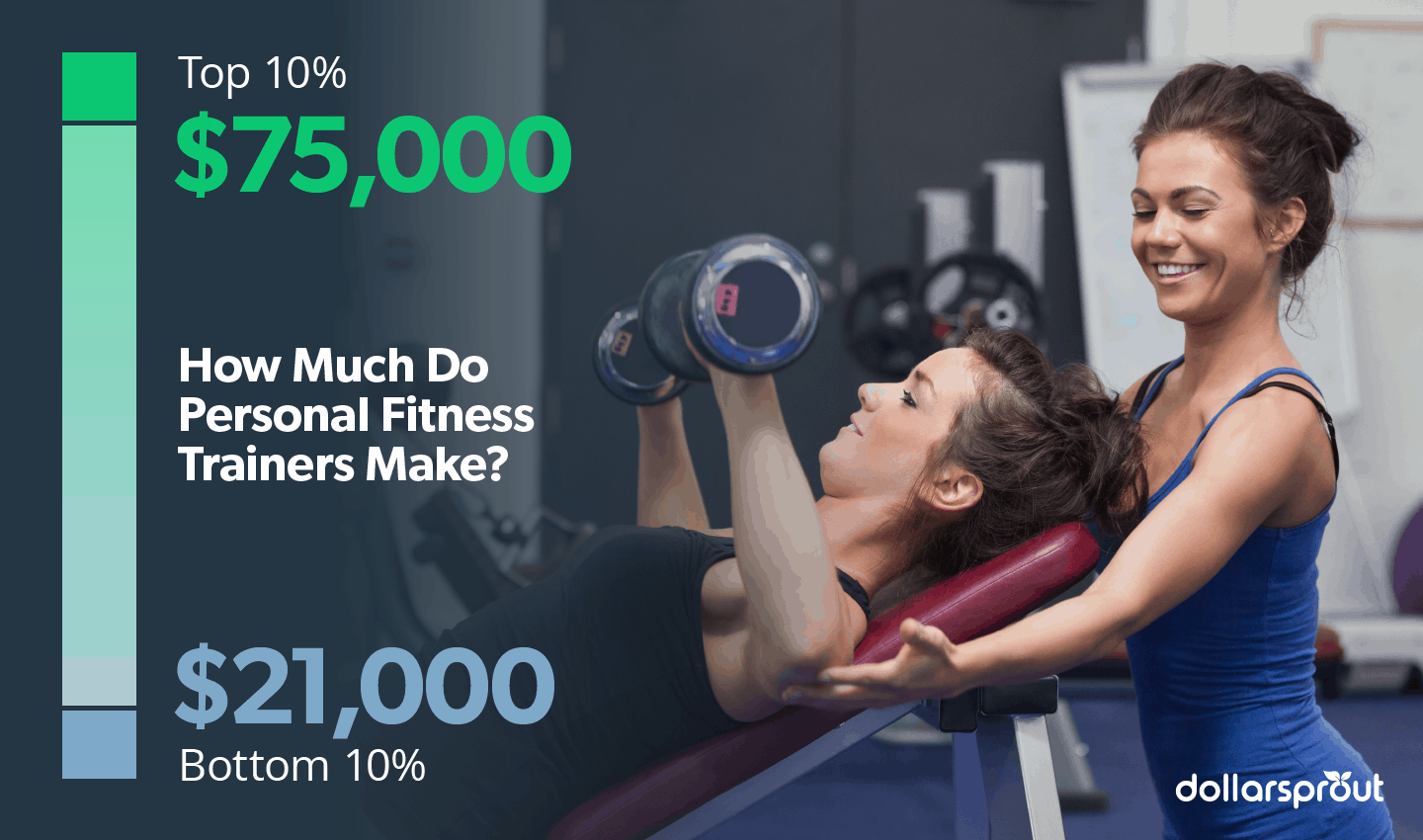 According to the Bureau of Labor Statistics, in 2019 the median pay for personal trainers was $40,390 per year or $19.42 per hour. The bottom 10% of fitness trainers earn around $21,000 while the top 10% earn over $75,000.
Most are employed at gyms but personal trainers can also work at private fitness centers, provide in-home services, or train completely online. The top personal trainers on Instagram can even make tens of thousands of dollars for a single sponsored post on the platform.
Even if you're not looking to train full time, personal training can be a lucrative side hustle idea you can easily work around a full-time work schedule.
You can also make passive income by going online. Chantal Steele, NASM CPT, makes almost $1,000 a month from her fitness blog, Ironwild Fitness, through ad revenue and selling digital products.
How to Become a Personal Trainer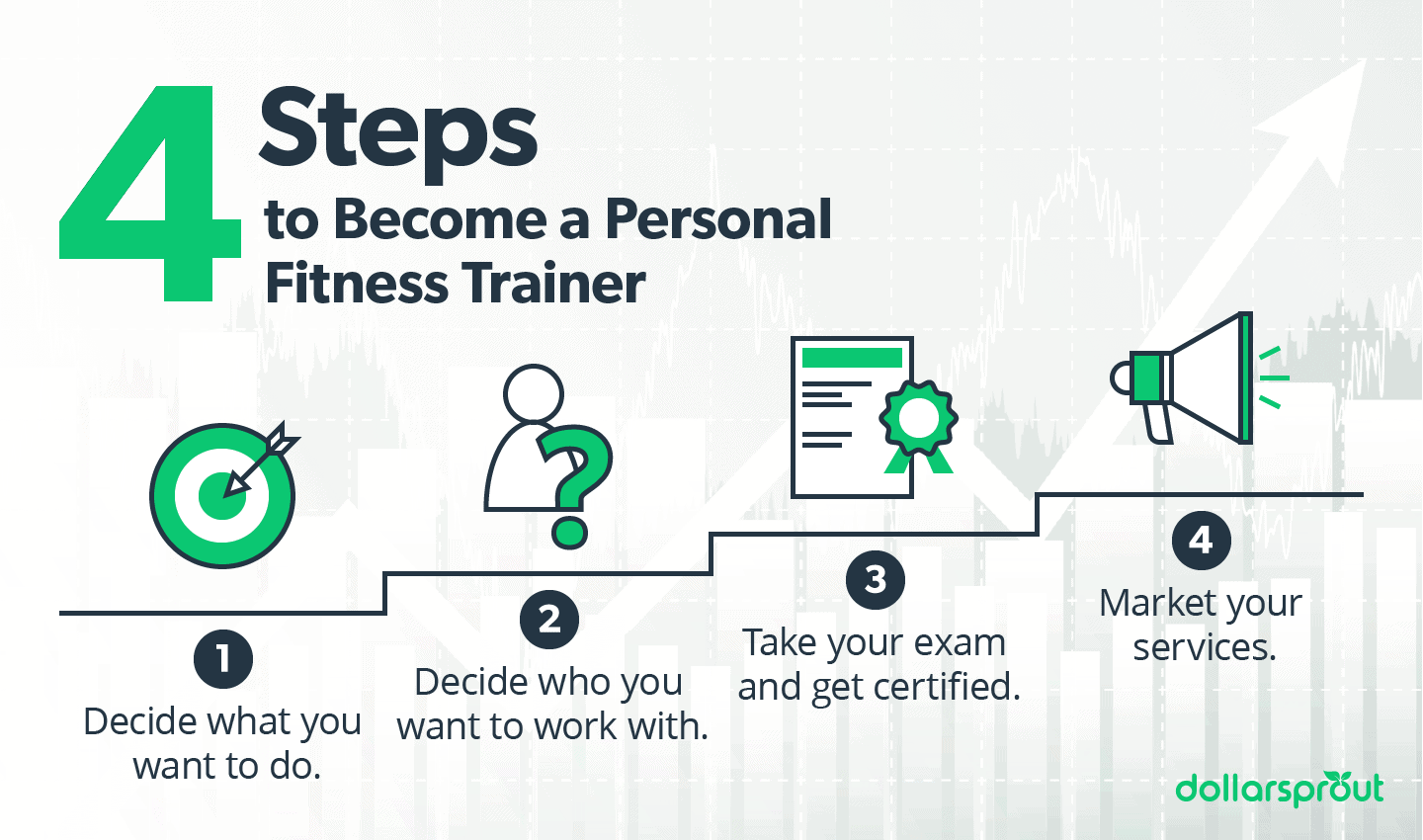 Becoming a personal trainer is a simple process but can seem intimidating at first. There are dozens of certificates, specialties, and professional paths to choose from. But you can cut through the noise, pick the path that's right for you, and discover how to become a personal trainer online in just four steps.
1. Decide what you want to do.
As a personal trainer, you don't have to limit yourself to teaching group fitness classes at your local gym, unless that's what you want to do. You can train people in person, online, in your home, in your clients' homes, or anywhere you can get your equipment.
Do some research on the services trainers are doing in your area and abroad to differentiate yourself and find a way to train that you enjoy.
Related: 28 Legit Online Jobs That Are Easy, Flexible and Profitable
2. Decide who you want to work with.
While your first thought may be, "I'll work with anyone who pays me," you'll find that mindset will quickly lead you down a path to burnout.
Specializing in one type of training or client will help you hone your skills in that area, keep your marketing targeted, and allow you to charge more than a trainer who dabbles in a bit of everything. James makes over $7,000 per month working almost exclusively with athletes, primarily in track and field.
View this post on Instagram

Don't limit yourself when choosing your niche. There are successful trainers in every lifestyle and industry from police officers and cosplay enthusiasts to people dealing with chronic illness. Identify what is unique about you and how you can use that to serve others.
3. Take your exam and get certified.
It's not complicated to find out how to become a certified personal trainer. Once you decide what you want to do and who you want to work with, you can choose the certification that's best for you. Most certifications require you to be at least 18 years old, CPR certified, and pass an exam.
The cost for these exams can range from $99 to $800. The two most popular certifications from the American Council on Exercise and the National Academy of Sports Medicine are $600 and $800 respectively. Both are general certifications, so if you want to do something more specialized, you might be better off skipping these. Instead, get one more appropriate for your industry or look for additional specialty certifications.
4. Market your services.
Once you have your services and certification nailed down, you're ready to market to your niche. There are many ways to market your small business, but you don't need to do them all. Choose one or two that are best for you and master those before branching out.
Some popular marketing strategies for personal trainers include content marketing through a blog, podcast, or YouTube channel. Social media channels like Instagram and TikTok are great places to demonstrate workouts and nutrition plans. And trainers who want to start with local clients can try Google and Facebook ads targeted at people living within a certain radius.
Related: How to Make Money Managing Facebook Ads for Local Businesses
Ways to Scale Your Personal Training Side Gig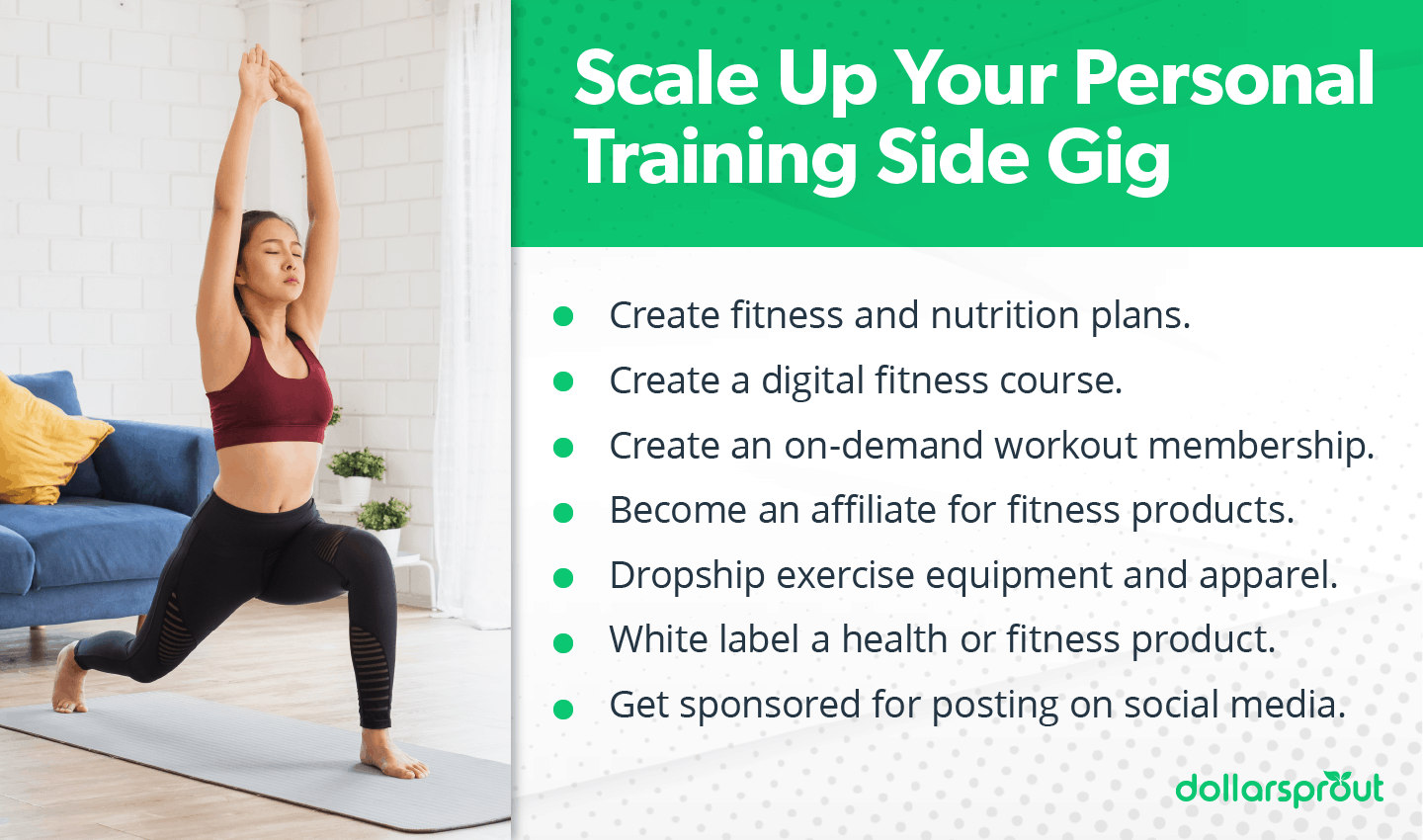 If you're looking for a way to earn money beyond individual workouts, there are plenty of ways to scale a personal training business and use your expertise to make passive income.
1. Create fitness and nutrition plans.
In addition to in-person and online training, you can sell general or personalized workout and nutrition plans that people can follow along with on their own.
"Some people are more comfortable in the gym by themselves and just want some direction. For those people, being able to bang out a template for them to follow each month has been an easy add-on to my business," James said. "It drums up some additional revenue each month for very little effort."
Selling fitness plans meant when the pandemic hit, James was able to pivot his business easily by offering more custom-built fitness templates.
2. Create a digital fitness course.
Maybe you have a fitness plan that's worked for your target client niche or a business model other personal trainers could follow and see success in their niche. You can create a digital course around your expertise and make passive income from it.
All you need is an online teaching platform like Teachable or Thinkific and your iPhone to record demonstrations.
3. Create an on-demand workout membership.
If teaching individual workouts is what you love, you can record them and package them in an on-demand workout membership. You'll have an advantage because popular workout subscriptions like Peloton or Daily Burn lack the camaraderie a small membership community can offer.
By differentiating yourself from large-scale workout apps, you can attract members who are willing to pay a premium price for more personalized features.
View this post on Instagram
4. Become an affiliate for fitness and health-related products.
If there's a health or fitness-related product you use and recommend, research if you can become an affiliate for it. Many companies have some type of affiliate or referral program that pays you for referring business to them.
The best way to become an affiliate is to reach out to companies directly. If they don't have a direct program, you can sign up for Amazon's affiliate program if they sell the product or check affiliate banks like CJ.com or FlexOffers.
5. Dropship exercise equipment and apparel.
You can take your love of health and fitness products a step further by dropshipping them. Dropshipping is a method of retail fulfillment where the seller doesn't have to handle the product directly. A customer makes a purchase, then a notification is sent from the seller to the third-party warehouse and the product is shipped directly from the warehouse to the buyer.
If you recommend specific products to your clients, you may be able to dropship those items through an Amazon or Shopify store. You pay more upfront for the product, but you can make significantly more when they sell.
6. White label a health or fitness product.
Have an idea for a product that doesn't exist? You may be able to white label a product. A white label goods supplier manufactures and stores products that a seller can put their own design or label on and sell as their own.
You can white label workout clothes, exercise equipment, functional fitness products, supplements, and more. This is great for a trainer who's familiar with working with manufacturers and has a following interested in specialized products from them.
7. Get sponsored.
If you're doing content or social media marketing, you can find sponsors for your blog posts, podcast episodes, YouTube videos, and Instagram posts. Search for sponsored hashtags and disclaimers to see what companies are sponsoring content in the fitness niche and reach out to them for a deal.
If you have a small following, you can increase sponsor packages by bundling two or more pieces of content together and creating a package deal.
Related: 19 Digital Product Ideas for Generating Passive Income
Personal Training Is a Great Business Opportunity
To grow your fitness business, you can't stop at learning how to become a personal trainer; you have to learn how to be a business owner as well. As a business owner, when you limit yourself to one-on-one or freelance work, you limit your earning potential.
Taking your personal training business from in person to online opens your income possibilities and in the end, with that extra income, you can do more of the training that made you want to be a personal trainer in the first place.