HealthyWage Review: Earn Up to $10,000 to Lose Weight
Advertiser Disclosure
Our readers always come first
The content on DollarSprout includes links to our advertising partners. When you read our content and click on one of our partners' links, and then decide to complete an offer — whether it's downloading an app, opening an account, or some other action — we may earn a commission from that advertiser, at no extra cost to you.
Our ultimate goal is to educate and inform, not lure you into signing up for certain offers. Compensation from our partners may impact what products we cover and where they appear on the site, but does not have any impact on the objectivity of our reviews or advice.
HealthyWage is a diet bet platform that allows users to stake money against desired weight loss goals. If a participant meets their goal in the prescribed timeframe, they earn back their wager plus an -- often significant -- cash prize. Here's everything one should know before getting started.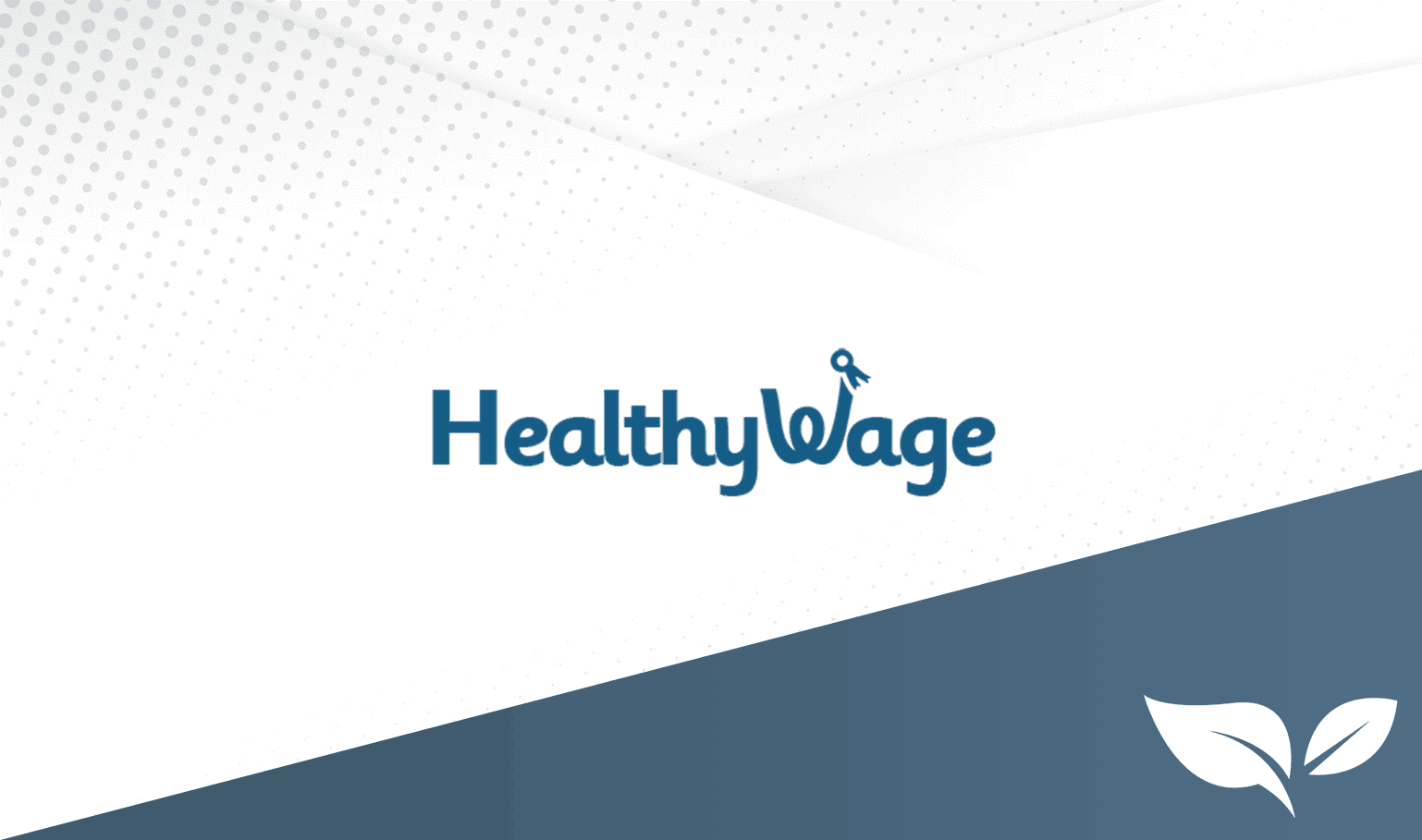 If you've ever tried to lose weight, you know how difficult it can be.
From avoiding temptations, to having no support network, to decreasing motivation, losing weight is often a frustrating, lonely process.
Not to mention how expensive it can get.
What if there was a way you could find support and motivation along with financial incentives to stick to your weight loss goals and earn money at the same time?
Thanks to HealthyWage, there is.
What Is HealthyWage?
HealthyWage is a weight-loss website that encourages users to achieve their weight loss and fitness goals. It does this by providing financial incentives and cash prizes, social motivation, positive peer pressure, and competitions. Users can participate as individuals or as part of a team.
Participants can use whatever diet or fitness plan they want; HealthyWage doesn't provide those. However, it does encourage healthy weight loss. For team challenges, it only allows up to 16.6% of their total weight as a goal to lose. Individuals can lose more if they choose, but limits are placed on how much counts toward the final goal.
Is HealthyWage Legit?
During our HealthyWage review, we came across several media sources that bolster HealthyWage's legitimacy as a company.
Since its inception in 2009, HealthyWage has been featured on a number of national news and media sources, including Good Morning America, NPR, and NBC's Today Show. It has an A+ rating from the Better Business Bureau with zero identified complaints. There are only 60 customer reviews, but most of them are positive.
How Does HealthyWage Work?
To participate with HealthyWage, you make a bet on your weight loss and then compete against others – either as an individual or as part of a team – to achieve that goal. If you reach your goal, you will win money. If you don't, you lose and don't get to share in the winnings.
1. Determine your prize amount by using the HealthyWage prize calculator.
The first step is to use the HealthyWage calculator to determine how much weight you want to lose (must be a minimum of 10% of your starting weight), how much money you're willing to bet ($5 to $995 per month), and how long you need to reach your goal (6 to 18 months).
You'll also need to provide your gender, height, and current weight. HealthyWage requires you to create a username and password before it'll tell you the estimated prize amount. You can also use your Facebook account to log in and obtain the prize amount information.
You can play with the numbers using the HealthyWage calculator until you're satisfied with your prize, which can be up to $10,000.
2. Sign up for an account to place your bet.
Once you've created an account and are satisfied with your prize amount, you can place your bet. In this step, you'll need to provide your payment information and select if you'd like to pay in monthly installments or all at once.
Team challenges require a monthly $25 fee if you're participating through a company, and $33 per month if you're joining a randomly assigned team.
3. Verify your weight.
In order to begin your challenge, you'll need to have your weight verified. In fact, you'll need to do this at least twice — once when you place your bet and again at the end of your wager period.
The site says that you can verify your weight at your gym, with your doctor, or at a Weight Watchers meeting. If you don't belong to a gym or Weight Watchers, you can arrange a free visit with one of its partners, with no obligation to join. You can also verify your weight by using your at-home scale and submitting a photo through its app.
4. Lose weight, win money.
If you accomplish your weight loss goal, HealthyWage will pay you in cash. But if you don't, your monthly contributions will be used to support HealthyWage and pay future winners.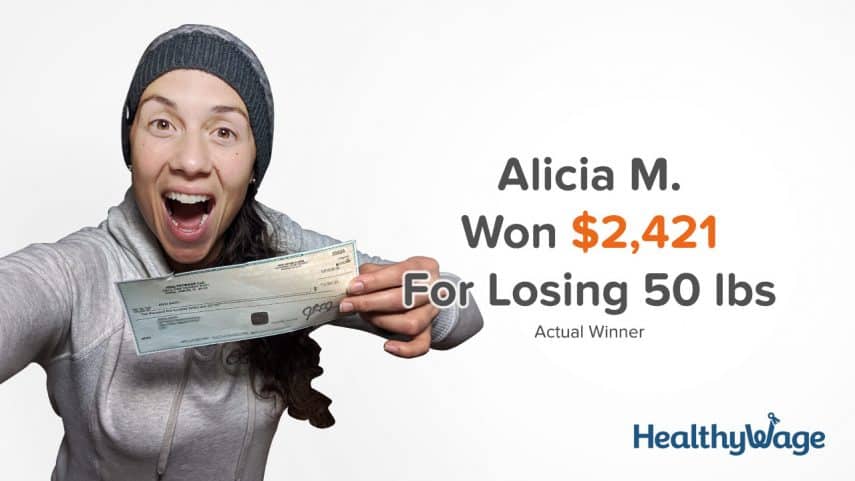 If you don't think the money alone will be enough motivation to help you succeed, then you may want to consider joining a team. HealthyWage gives you the option to create your own team of five or be put on a random team with other users looking to lose weight.
Other Ways to Win Money with HealthyWage
In addition to the individual challenges, there are other ways to win money with HealthyWage.
Team challenges
Team Challenges comprise a big part of HealthyWage's challenges. They encourage people to form their own team of friends, family, co-workers, or even join a random team of strangers looking to lose weight and earn money.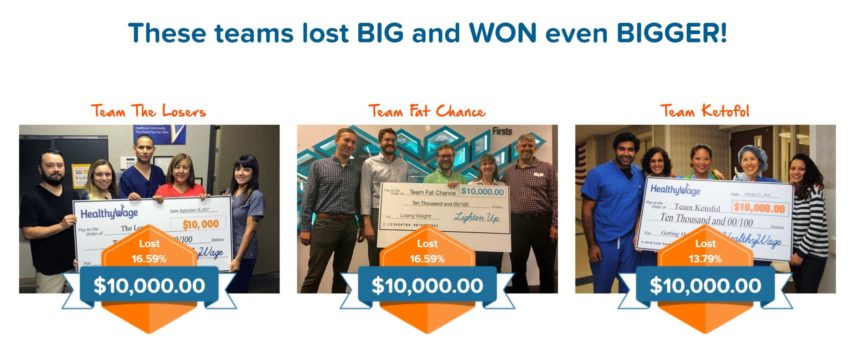 For team challenges, your entrance fee allows you to compete for the cash prizes, and HealthyWage states that if you lose 10% of your starting weight within six months of starting, you can get your registration fee reimbursed. The top prize awarded to teams is $10,000.
Corporate challenges
Similar to Weight Watchers at Work, HealthyWage offers a free program for employers and government contractors that work like Team Challenges.
If you're participating through your employer and two other teams register, your registration fee can be waived. HealthyWage also mentions that "if your company is already participating in the contest, you may be eligible for a discount on registration because some companies choose to cover part of the cost for employees who participate."
Referrals
You can increase your earnings by referring others to the program. HealthyWage will pay $40 for every friend or family member you refer who joins a challenge. If they sign up during the first ten days of your challenge, your referral bonus increases to $100.
Participate in multiple challenges
To maximize your earnings with HealthyWage, you can participate in multiple challenges at once. Users are permitted to do a Team and HealthyWager challenge simultaneously, along with step and jackpot challenges, up to ten challenges.
However, you can't have two simultaneous individual weight-loss bets. You can only have one HealthyWager individual weight loss bet at a time.
Related: 20 New Year's Resolution Ideas to Make 2023 Your Best Year Yet
How and Why HealthyWage Works
It's easy to say that HealthyWage works because of the financial incentives, and while that's true, it's more than that. Social and accountability aspects also provide encouragement and motivation. Team Challenges foster a sense of community and positive peer pressure because the feeling of not wanting to let someone else down is a powerful motivator.
Thanks to the 40,000+ member Facebook group, you're never really alone when you're participating in a HealthyWage challenge.
DollarSprout's Marketing Coordinator, Noah Riggs, found the forums especially helpful when he participated in HealthyWage challenges. He said that it's a supportive community of really great people and that just reading the forums was motivating.
Noah, who states that he is financially motivated and feels pressure when money is on the line, participated in the main HealthyWager challenge along with four other smaller challenges.
He lost one but won four, with his total winnings adding up to $1,884 (minus monthly payments to remain in the challenge). He said that if you're losing weight legitimately and on a schedule, then the smaller challenges are a great idea; just make sure to keep a schedule of when to weigh in. You don't want to miss any weigh-ins and possibly forfeit your prize winnings.
HealthyWage Alternatives
If you find that you're not incentivized by placing bets on your weight loss goals, there are some other options for you to use either independent of or in conjunction with HealthyWage.
DietBet
DietBet is another weight-loss platform that incentivizes people to reach their weight loss goals by wagering money. It works like HealthyWage in that you can join individual or team challenges, create your own, and win money.
It has different levels of challenges: Kickstarter, Transformer, and Maintainer. You can pick which one you want to join based on where you are in your weight-loss journey.
You only have to verify your weight via a photo that is uploaded on its website. There's no option for visiting a gym, doctor's office, or Weight Watchers location.
You can learn more about DietBet, how it prevents cheating, protects your privacy, and more by visiting its site.
Make your own weight loss bet
If you don't want to use a website or an app, you can follow the same rules and procedures of HealthyWage by starting an in-person challenge with your friends, co-workers, neighbors, or family members. It would be up to you to set the terms, rules, conditions, time limits, and track weigh-ins and weight-loss totals. You'd also have to find a way to gather the money from everyone and store it until the challenge is over.
Related: 13 Legit Apps That Pay You to Walk by Tracking Your Steps
HealthyWage Review FAQs
If you're new to using HealthyWage, you might have some questions about how it works, if it's safe, and how your money is used.
How is the prize calculated?
It's not entirely clear how your prize is calculated. The information you enter into the HealthyWage Prize Calculator, along with other variables like time of year and BMI, is run through a proprietary algorithm that determines how much you'll win.
The algorithm is constantly being updated and improved, so two people in similar situations could receive different prize offerings. But once you commit, your prize amount is set — there's no turning back.
Is HealthyWage safe to use?
Yes. Payment made to HealthyWage is secure and is not stored in its system. Personal information like weight isn't shared with teammates or employers, although they can see your percentage of weight loss.
How can they afford to pay people for losing weight?
According to its site, HealthyWage is "financially supported by insurers, health systems and hospitals, food companies, and the government. Government and corporate leaders know that incentives work and are a cost-effective solution".
And although money is a great motivational tool, not everyone wins their bet. For non-winners, HealthyWage keeps the monthly wager set at the beginning of the challenge.
How much money can I win with HealthyWage?
The most you can win during a team challenge is your share of a $10,000 prize.
For individual challenges, your prize depends on your wager, personal data, and other variables. However, once you make a bet, your prize amount is guaranteed and won't change.
Is HealthyWage effective for helping me lose weight?
Yes. HealthyWage is effective in helping people lose weight. While it doesn't provide pre-made meals or fitness plans, it offers financial incentives, social accountability, and other tools to keep people motivated and on track to reach their weight loss goals.
Does HealthyWage give refunds?
Once a challenge has begun, HealthyWage doesn't issue refunds unless it is due to medical reasons or a pregnancy. Refunds can be issued prior to a challenge start date.
The App Is Legit but Don't Get Carried Away
In review, HealthyWage offers a real, effective, and legitimate way to get paid to lose weight. Its use of financial incentives, social support, goal-setting, technology, and your own personal health and wellness record, empowers you to live a healthier life.
However, it does come with some risk. Be smart and realistic about how much you can afford to wager, as well as your chances of winning your bet. If you overextend yourself or are unrealistic about time frames, you could wind up losing money rather than winning it.
Price
Varies
Based on Bet Size and Duration
DollarSprout Rating
4.0/5.0 stars
The app offers a legitimate way for users to place a weight loss bet and profit from it if they succeed. Prizes can reach as high as $10,000 but are difficult to achieve. Lower weight loss bets over a longer duration offer the most realistic means of cashing in.
Show

Hide

more
Pros
Transparent service; prize is calculated prior to starting with objective means of meeting weight loss goals.
Life changing prizes amounts for difficult-to-achieve weight loss bets.
Supportive community centered around promoting healthy, holistic weight loss strategies.
Cons
Sustained weight loss is difficult and most participants will not reach their stated goal.
Be careful not to get carried away. Larger cash prizes incentivize sometimes unrealistic goals.