21 Low-Cost or Free Small Business Marketing Ideas
Advertiser Disclosure
Our readers always come first
The content on DollarSprout includes links to our advertising partners. When you read our content and click on one of our partners' links, and then decide to complete an offer — whether it's downloading an app, opening an account, or some other action — we may earn a commission from that advertiser, at no extra cost to you.
Our ultimate goal is to educate and inform, not lure you into signing up for certain offers. Compensation from our partners may impact what products we cover and where they appear on the site, but does not have any impact on the objectivity of our reviews or advice.
Small business often means small budget. Here are nearly two dozen effective ways to grow your business without spending a ton of money on advertising.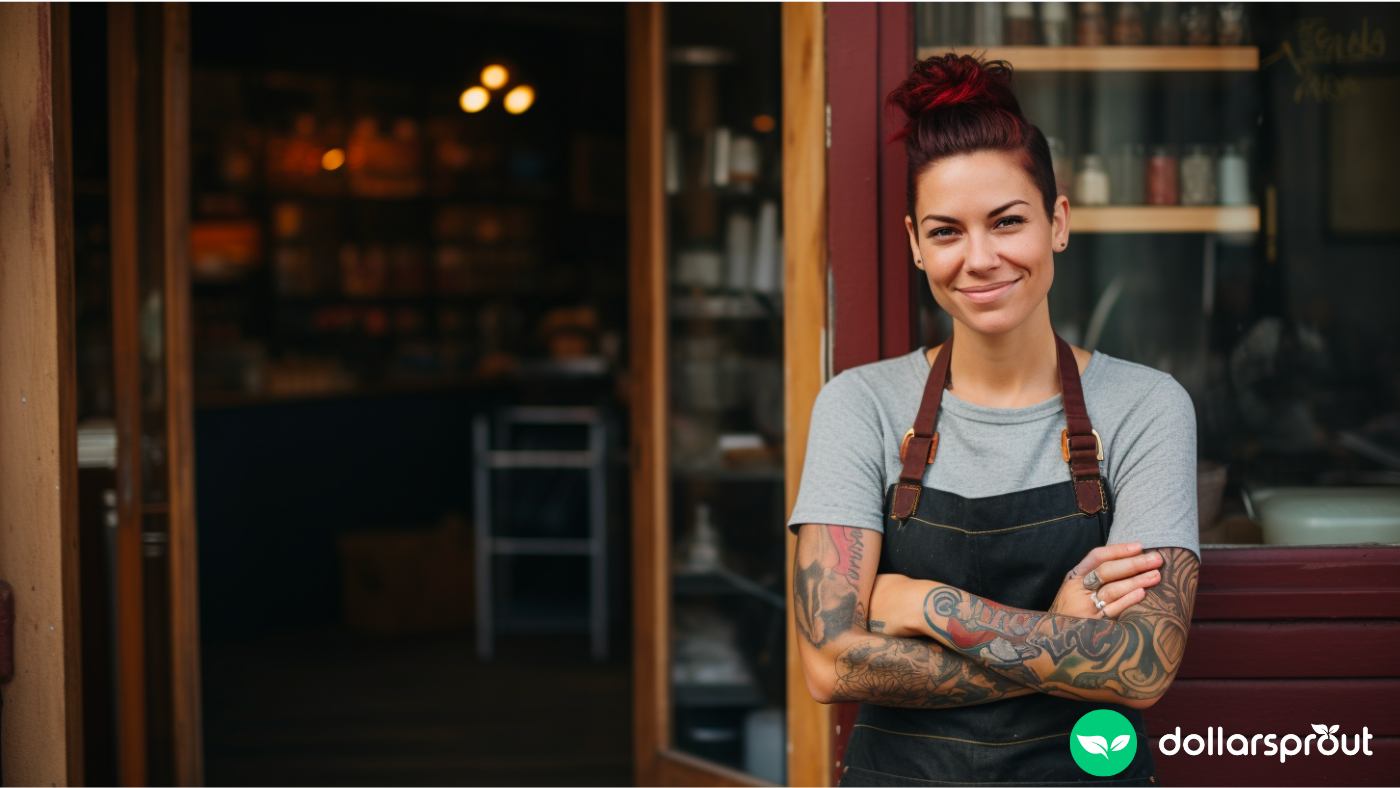 As a small business owner, I've spent years looking for fresh and authentic ways to bring what I offer to those who need it.
I've tried many small business marketing ideas and learned from countless mistakes. And what I've found is that you don't have to spend a lot of money to have a successful marketing strategy.
There are many free and inexpensive ways to market your small business. The key is trying a variety to see what works best for you.
Ways to Market Your Small Business Online
When you think of digital marketing, you might immediately think of running paid ads on Google or Facebook. But when you shift your mindset about online advertising, you'll find there are countless ways to sell your services online that don't cost nearly as much as paid ads.
As Digital Marketer puts it, online marketing is simply a Customer Value Journey that aims to strategically build relationships with new prospects and convert them into loyal, repeat customers. That means that digital marketing is simply finding ways to genuinely connect with and help people online.
Fortunately, there are some pretty effective ways to do that.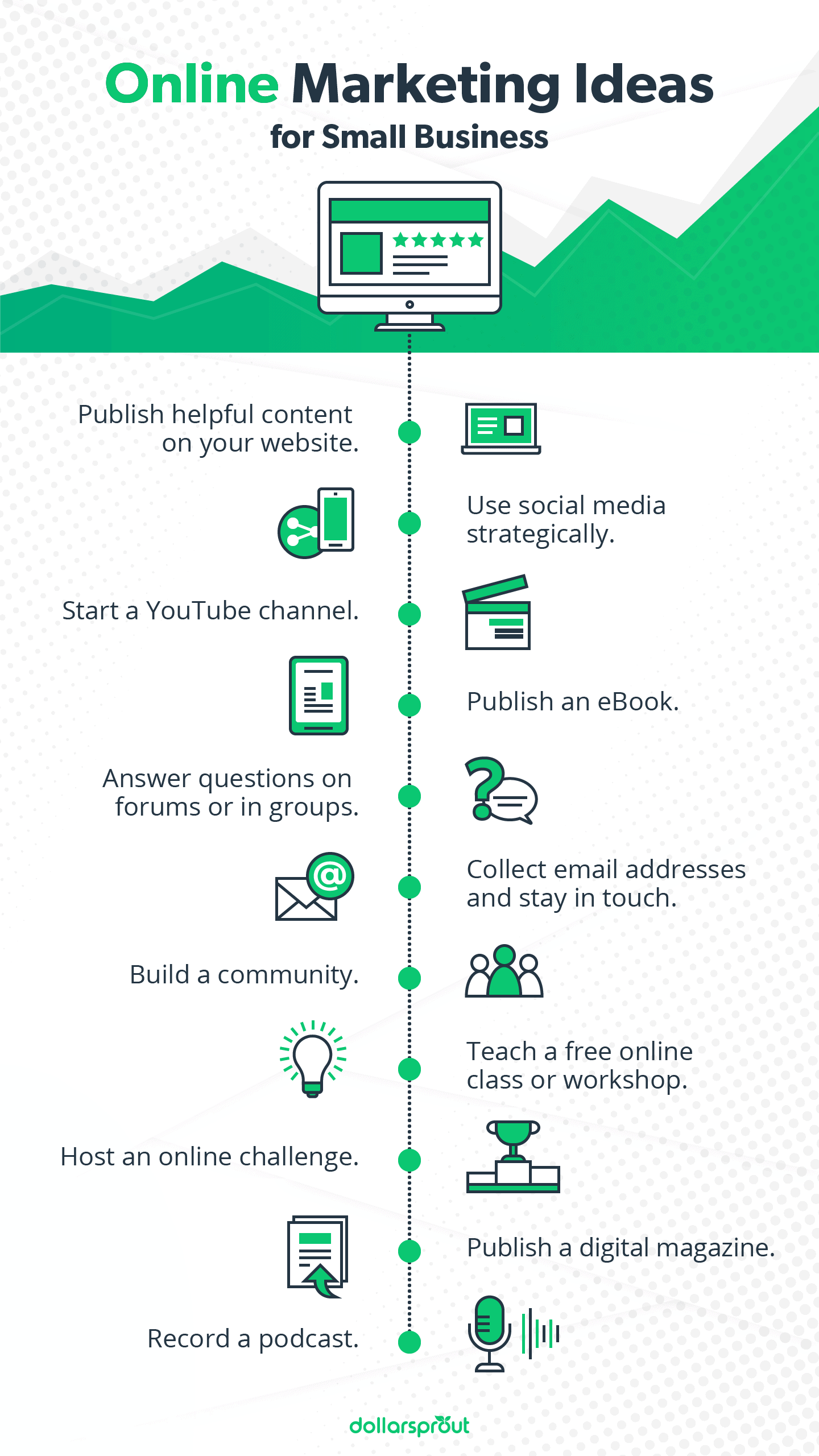 1. Publish helpful content on your website and learn SEO.
One of the best ways to help people is by answering their questions, and nowhere do people ask more questions than on Google.
Think about what you sell and consider what questions your ideal customer would have when seeking your product. You can start a blog and write articles to solve these problems while gaining the respect and trust of the reader.
As with any free marketing tool, there are tons of people trying to execute this strategy. So you'll need to learn some Search Engine Optimization (SEO) strategies to stand out amongst the search results.
SEO isn't as scary as it sounds. It's simply looking at the question you're answering, getting inside the head of who's asking it, and including as much helpful information as possible to answer the question.
2. Use social media strategically.
The key to building trust on social media is to offer authentic content and show up consistently. If your content is only promotional or if you only post when you're having a sale, not only will potential customers not trust or follow you, the platform algorithm may hide your content. This can prevent you from reaching even your current followers.
Instead, choose one social media platform to invest your time in and post content that's educational, aspirational, or entertaining in addition to the content that's promotional. It's important to know where your potential customers spend their time as well.
For instance, Instagram and Facebook are currently the most trafficked platforms in the U.S. and Instagram has more users under 30 while Facebook users have higher average incomes.[1]
Some small business marketing ideas for social media include posting product comparisons to show how your product is unique, inspirational quotes that your ideal customer might like, or sharing a meme that makes light of the problem your product is trying to solve. You can also use direct messages to connect with your followers like Mary Gui, Founder and CEO of Sock Candy.
"When I get a new follower on the @sockcandyofficial IG account, I send them a DM thanking them for following Sock Candy and offer a Welcome discount code on their first order. This has worked quite well for me and led to multiple conversions," Gui said.
You can be as creative as you want with your social media content. Remember that the more creative you are, the more engaged your audience will become. And that can lead to higher profits for you.
3. Start a YouTube channel.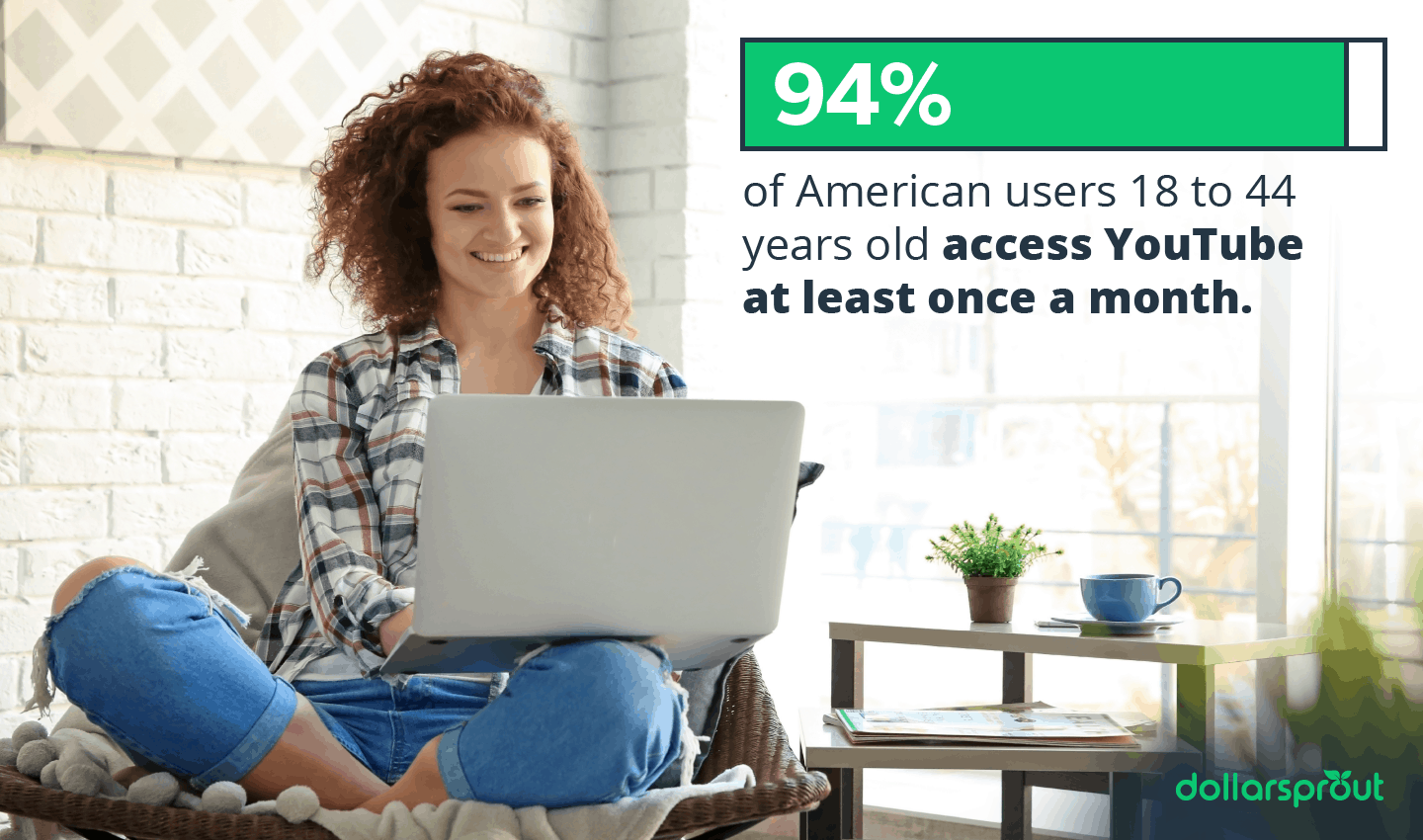 Ninety-four percent of American users 18 to 44 years old access YouTube at least once a month, making it a great place to connect with potential customers.[2] YouTube is owned by Google, so you can take many of the SEO principles you use for written content and apply them to your videos.
If your ideal customer has questions that are more easily answered through demonstration or another visual, YouTube is the best platform to do that. You can even reuse YouTube videos on your favorite social media platform and embed them in blog posts.
Don't stop at posting your video. Be sure to include links in the video description or notes to your products or services. You can also link to your other YouTube videos to continue building your relationship with viewers. And once you build a following on the platform, you can make money on YouTube through ads and sponsorships.
4. Publish an eBook.
Self-publishing a book on Amazon is a great way to establish authority in your field and get in front of people who are ready to make a purchase to help solve their problem.
Writing and publishing a professional-looking eBook is extremely affordable with minimum costs. Be sure to use the book as a way to teach the solution to the problem and wait until the end to mention your business as a way to achieve the solution more efficiently.
5. Answer questions on forums or in groups.
The best low-cost marketing ideas for small business owners are those that allow them to connect directly with potential customers. Answering questions on forums and in Facebook groups does just that.
When answering a question in a forum or group, always aim to be helpful first and serve your business as a solution second. If you have an online course and encounter a question you teach the answer to, don't answer it with a link to your course. Answer questions as you would in your course. Then, after you've engaged with the person who asked the question, offer that you have a course that covers this more in-depth.
This helps build trust and credibility within the group, and as a result, makes people more likely to buy your products.
6. Collect email addresses so you can stay in touch.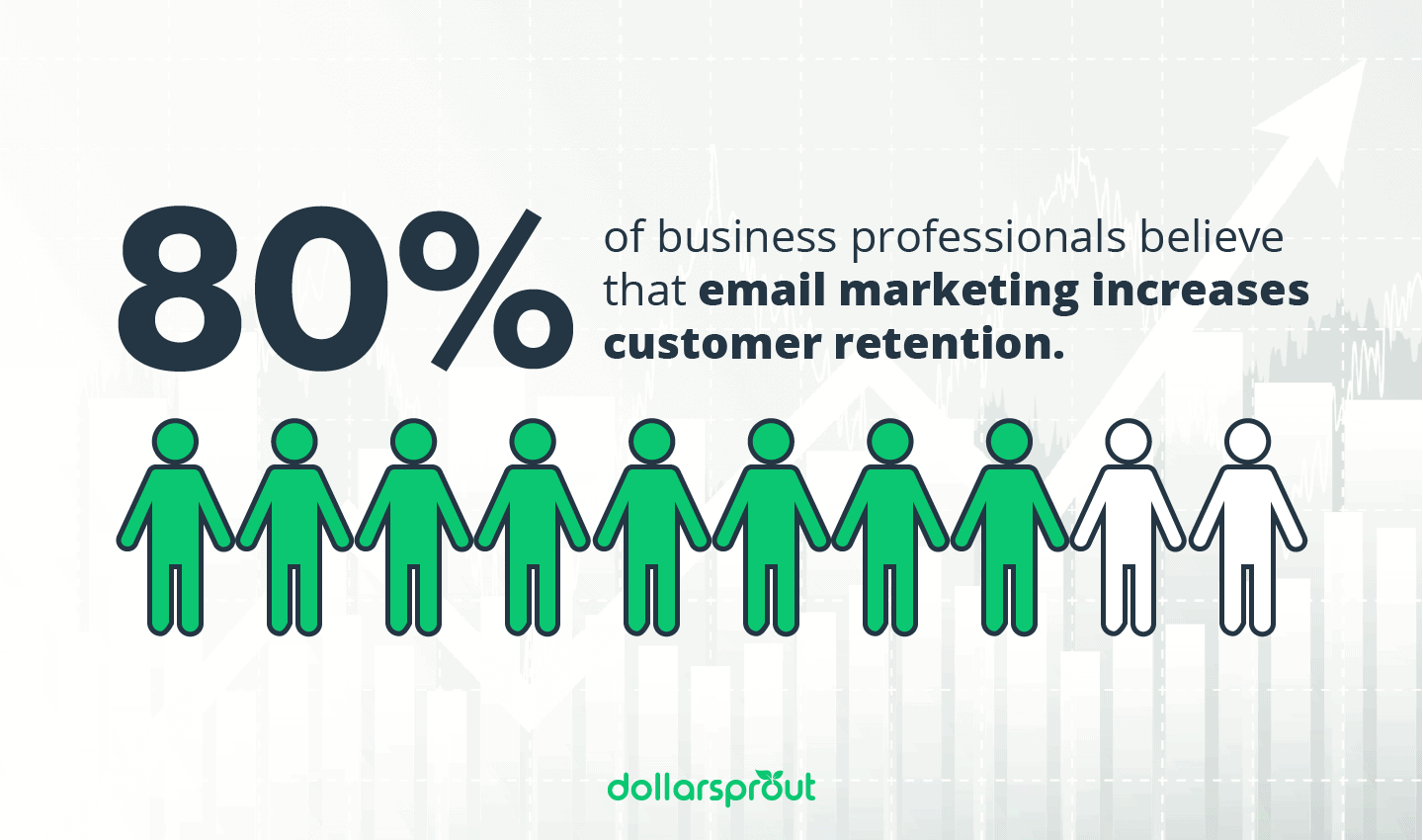 An email list is the backbone of many successful online businesses. While every other platform controls your access to its users, you always have your email list and can take it anywhere you go, even if you change your business name or set up a new website.
One of the easiest ways to collect email addresses is to give away a free digital product like a cheat sheet, PDF guide, template, etc. You can use your blog, social media account, eBook, or a simple landing page to offer your digital product and send it to their email address using a service like Constant Contact or ConvertKit.
Once you collect their email address, stay in touch at least every other week with valuable and relevant resources to build trust.
7. Build a community.
Facebook groups are a great place to build a community of people with similar interests or problems they need solved. Creating your own group can bring potential customers to you and position you as an expert in whatever the group is about.
Jacob Bouvier runs a boudoir photography studio. His Facebook group has brought in more clients than any other channel. He says it's because they get to know him as a person before ever deciding to become a client.
"Nine-tenths of what I post in there relates to my mission of body acceptance, self-love, and being your authentic self, but doesn't directly relate to my photography. About 1/10 of the content has to do with my photography," Bouvier said.
It'll take time to build a group but you can speed the process up by posting relevant questions and opportunities for engagement every day thanks to Facebook's post scheduling feature and responding to every member. This will help to make them feel like they're part of the community and that you genuinely care about them.
8. Teach a free online class or workshop.
One of the most popular and effective small business marketing strategies for online businesses is to teach a free online class or workshop. Brainstorm a problem your ideal client is struggling with that you can help them solve in an hour or less. It can be as simple as turning a blog post or video into slides and presenting it and then answering questions at the end.
You can easily do this for free by going live on Facebook, Instagram, or YouTube. If you want something more private, Zoom lets you host classes of up to 100 people for 45 minutes at a time at no cost.
9. Host an online challenge.
Challenges are a great way to take your offline business online. A personal trainer can host a fitness challenge, a cleaning service can host a 7-day declutter challenge, or a pet groomer can host a "sit, stay" challenge for people with hyperactive dogs. Anything that will take a potential customer from awareness of a problem to aware that they need help to solve it.
Host your challenge via Facebook group or email. You can have it last anywhere from 5 to 30 days and use hashtags on social media to spread the word. Provide valuable training throughout the challenge and at the end, present your service or offer as a solution for people who need more help or want the solution to the next step.
10. Publish a digital magazine.
A monthly or quarterly digital magazine could be a great way to market your business without much effort.
You can source articles and pictures from other creators who can help your ideal client but aren't direct competitors. When you include other creators in your magazine, ask them to promote it on their website or social media. This will allow your services or products to reach a new audience who might be ready for what you have to offer.
11. Record a podcast.
A podcast is one of the quickest ways to build trust with potential customers. People can easily get distracted when reading a blog post or watching a video, but people tend to give longer and more active attention to podcasts.[3]
When you're with someone every week as they drive to work or clean their house, you can build a relationship with them and become their go-to expert on your niche topic.
Also consider being a guest on podcasts your ideal customer is listening to. These shows will already have a trusting fan base and if the host trusts you enough to bring you onto their show, you'll have an advantage when trying to build a relationship with their audience.
Ways to Market Your Small Business Locally
Once you have some foundational digital marketing set up, you can get creative with small business marketing ideas. Every business, even fully online ones, should practice some offline and local marketing to capitalize on its unique advantages.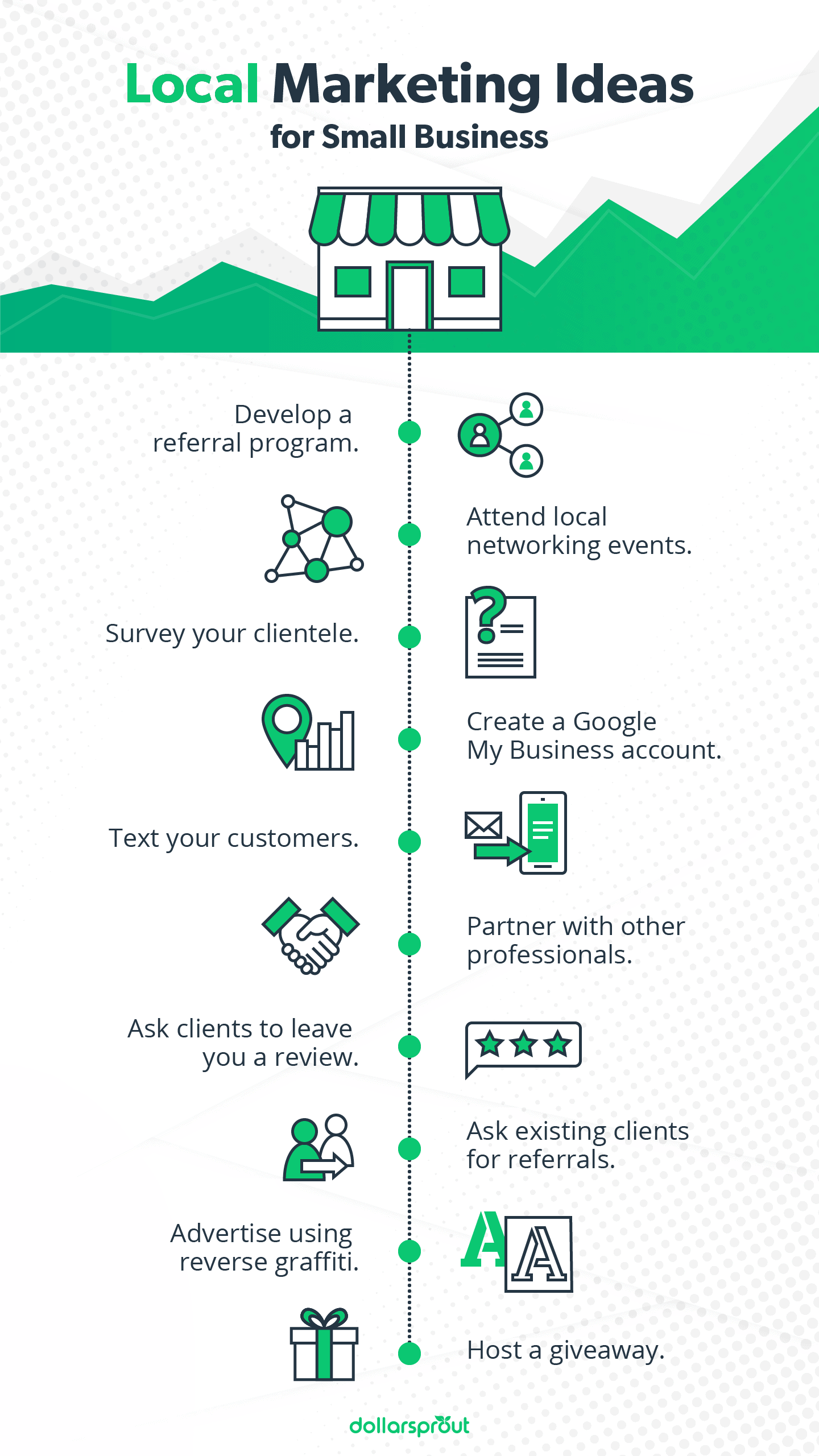 12. Develop a referral program.
If you rely on referrals for your business, then developing a referral program could bring you even more clients or customers. First, you should decide on your goals. For instance, do you want more traffic, longer subscription retention, higher customer value, or something else? Then figure out how much you can afford to reward your referrers.
A few marketing tips for small businesses that want to run a referral program: Non-cash incentives are more cost-effective and boost performance better than cash incentives.[4] Consider offering store credit or premium features to referrers. And make sharing your referral program as easy as possible.
Provide options to instantly share via email, social media, or text with short links and pre-written messages.
13. Attend local networking events.
In-person and virtual networking events are great ways to find new customers and broaden your network of referrers. Head into them with a clear goal of who you want to meet so they can be more strategic and less overwhelming. You can use sites like Meetup, Eventbrite, and Facebook to find groups meeting in your area and online.
You can also try hosting your own networking event. This helps you control the size, industries represented, location, and, as the host, people will be approaching you to connect instead of the other way around.
If you really want your company to make a splash, then do something creative to stand out like Lori Cheek, CEO of the dating app Cheek'd, did at a web summit featuring over 800 startups.
"I decided to stand out by wearing angel wings throughout the conference," Cheek said. "When I was checking out of my hotel, I looked down at Judy Dench on the cover of the Irish Times and there I was right next to her, me on my laptop with my Angel Wings [and] inside there was another 1/4 page picture mentioning my business."
If angel wings aren't your thing, start by putting your brand on something unique like a blazer or create business cards that double as magnets.
14. Survey your clientele.
Inexpensive marketing ideas for small businesses can be hard to find if you don't know much about your ideal customer. You can avoid wasted time and money on failed marketing strategies while opening your company up for wider marketing reach with a market survey.
Create a survey on a site like SurveyMonkey and get at least 1,000 people in your target demographic to complete it by sharing on social media, email, etc. Not only will you gain valuable insight into their lives and preferences that might help you improve your product or services, but you'll also have data you can share with news outlets that can get your business's name out to more people.
15. Create a Google My Business account.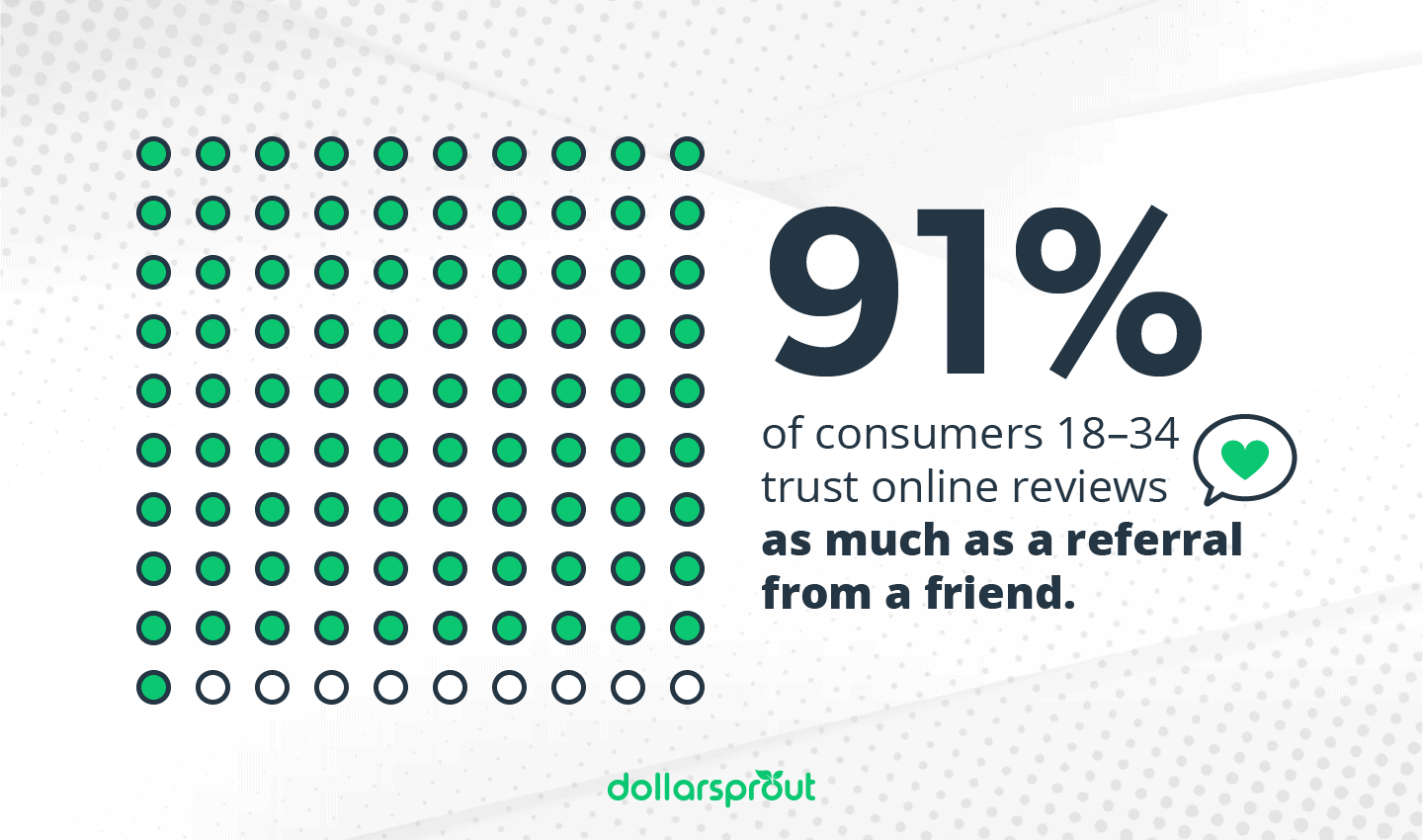 Whether you're a brick-and-mortar business or an online service provider, if you want more visibility across Google Search and Maps, you'll want to create a free Google Business Profile.
You can post photos, the best ways to contact you, and special offers or sales that people can easily see in their search. It also gives people a place to review your business. And considering that 91% of consumers 18-34 trust online reviews as much as a referral from a friend, having easy-to-find reviews is extremely important.[5]
Be sure to ask for reviews from customers and respond to both good and bad ones on your profile.
16. Text your customers.
Having an email list is essential, but it may not be the most effective way to reach out to customers. "Every small business owner does email, but only 20% get opened," said Alfredo Salkeld, marketing manager for SimpleTexting. "On the other hand, 98% of text messages get read."[6]
You can text your existing customers on several things, including sales or updates when things are restocked. One of their clients, a fashion boutique, texts customers to alert them about new inventory.
"Their message has a 38% click-through rate. The average email click-through rate for retail stores is under 3%," Salkeld said.
If you're going to text your customers, make sure you don't overdo it. Try to keep your texts exclusive and relevant to promotions, sales, or events.
17. Partner with other professionals.
Find professionals in adjacent industries who could be mutually beneficial to partner with and recommend each other's businesses when appropriate. For example, realtors often partner with mortgage brokers, wedding photographers with event planners, and accountants with financial advisors.
One of the more underrated ways to grow a small business is through partnerships. If you can form relationships with businesses that operate in a similar space, a referral partnership can really boost your growth.
Filip Duz, owner of Giraffe Window Cleaners has found partnerships to be an easy way to get new clients for his small business. "We partner with cleaning companies in our area. If the cleaning company has clients that need window cleaning, they send them over to us, and they receive a commission," Duz said. "It's a win-win for both parties!"
The best partnerships show that small business marketing ideas don't have to feel sleazy or salesy. They can be a natural way to help clients and customers get the help they need from an already-trusted source.
18. Ask clients to leave you a review.
Reviews and testimonials are a crucial part of any small business marketing plan. Google reviews are most important for local businesses while restaurants should take the extra step to also build up Yelp reviews. Then there are other review platforms that businesses should consider based on their industry including Facebook, Healthgrades, and Angie's List.
Choose one or two to focus on at first and explicitly ask clients to give you a review there. Wait to ask until you're done working with the client or you've achieved an agreed-upon milestone and make sure the client is happy before asking.
19. Ask for the referral.
You don't need to set up a referral program to ask for referrals. When you have a happy client, ask if they have anyone in their network who might also benefit from your services.
When asking for referrals, be specific about the type of client or customer you want. If you can be specific, you're more likely to trigger someone specific in your client's brain vs. giving them no direction at all. Instead of asking, "Is there anyone else you know I can help?" try asking, "Is there anyone else you know in your industry that I might be able to help?"
20. Clean the street.
Looking for out-of-the-box small business advertising ideas? Consider trying clean graffiti.
Clean graffiti is the process of putting down a stencil and cleaning over it to create art or advertising through the contrast of clean and dirty sections.
You can create a stencil in metal or plastic with your logo or a fun message that relates to your brand. Then you can use either a pressure washer or clean cloth to clean the stencil onto pavement or wall. These ads typically last seven to ten days with normal foot traffic, making them great to advertise an event or limited-time offer.[7]
21. Host a giveaway.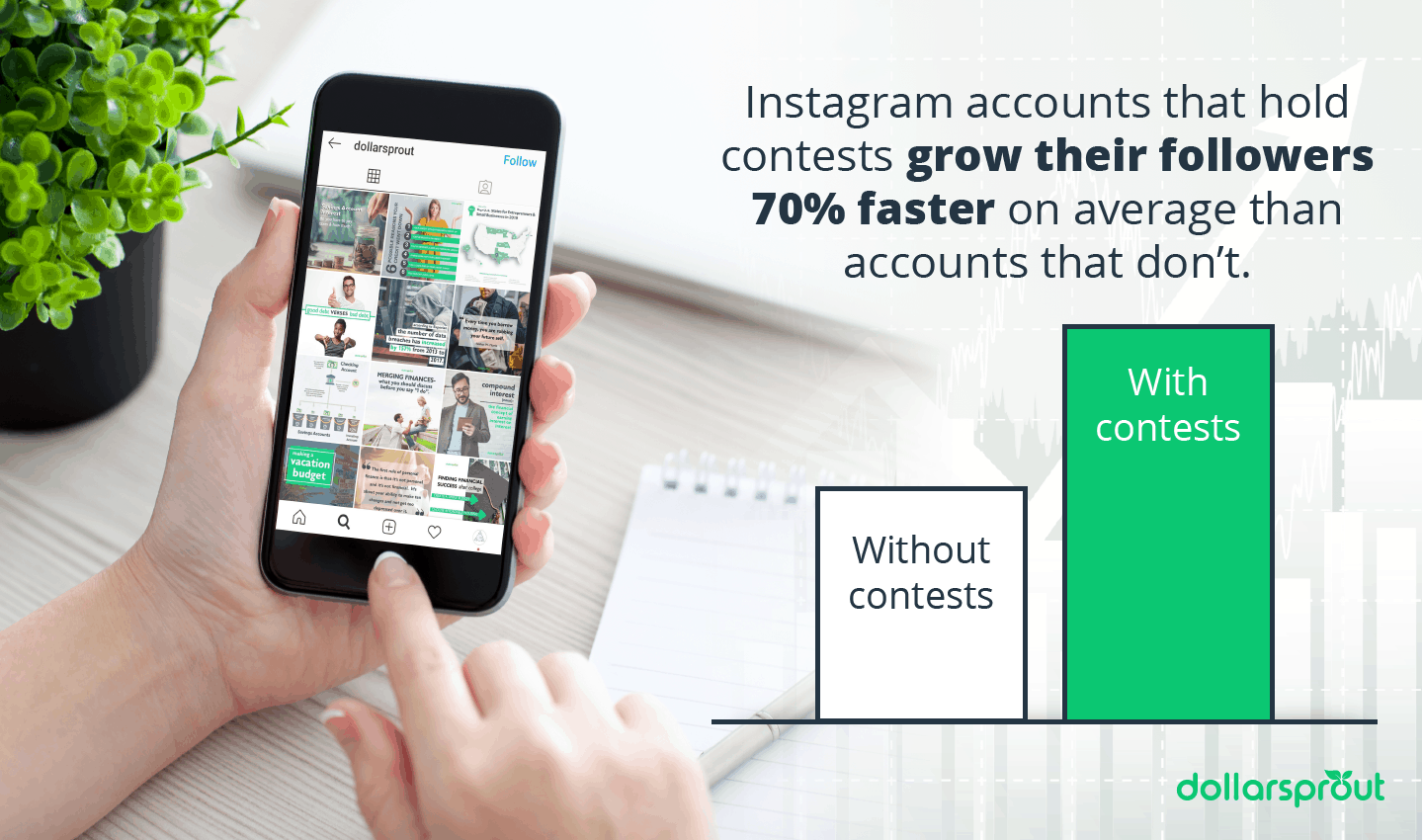 Connect with other businesses or creators to host a giveaway that multiple brands can promote to their audiences. To determine the entry requirements, consider what your current business goals are. If you're trying to grow a social media platform, ask people to like or follow you. If you're trying to get more traffic to your website, ask people to click a link to your site.
In addition to asking your audience to share the giveaway, make sure to follow the rules of whatever platform you're promoting your giveaway on. Violating their terms and conditions is a surefire way to have your giveaway banned from the platform and could cause other problems for you and your business as well.
There's No One Right Way to Market Your Small Business
Remember that not all marketing strategies work for every person or small business. Just because someone is having success with a marketing strategy doesn't mean you will or that you even have to try it. The great thing about using affordable small business marketing ideas is that you can experiment with different strategies until you find the ones that work best for you.
The most important thing in marketing is to keep nurturing existing customer relationships and building new ones. Then you can listen to your fans as they tell you where they want you to show up and where to go next in your business.