Get Paid to Write: 13 Sites That Pay Up to $450 per Article
Advertiser Disclosure
Our readers always come first
The content on DollarSprout includes links to our advertising partners. When you read our content and click on one of our partners' links, and then decide to complete an offer — whether it's downloading an app, opening an account, or some other action — we may earn a commission from that advertiser, at no extra cost to you.
Our ultimate goal is to educate and inform, not lure you into signing up for certain offers. Compensation from our partners may impact what products we cover and where they appear on the site, but does not have any impact on the objectivity of our reviews or advice.
Paid freelance writing is a lucrative way to get paid to write from home. You don't need a degree or even the most eloquent prose to have a lucrative side hustle as a freelance writer.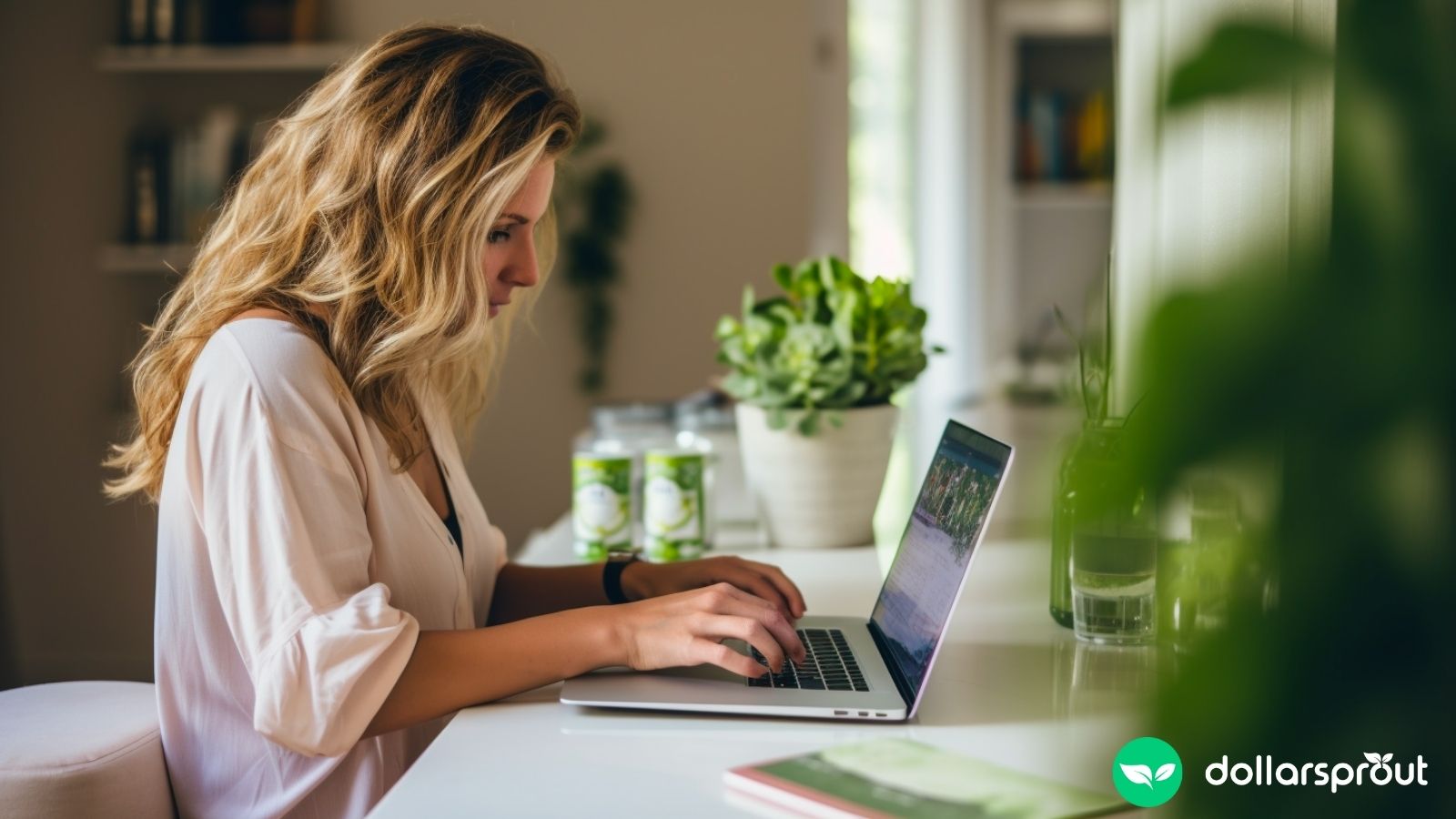 When I started a blog four years ago, I had no idea I could get paid to write about anything. Fast forward three years. Now I get paid to write about things I love, and I make a full-time living doing it.
Freelance writing can be a great way to make money from home. But with any business, there's a steep learning curve. You have to know what editors want, where to find jobs that are legitimate, and what to charge as you progress.
A Look at the Best Freelance Writing Websites
When you're building your writing portfolio, there are some freelance writing sites that stand out for offering legitimate jobs and paying writers a living wage. They're the best freelance writing websites for beginners.
1. Upwork
Upwork is a freelancer marketplace and go-to source for business owners looking for all kinds of digital services. You can find hundreds of paid writing jobs in dozens of subjects.
One of the benefits of using Upwork is that you won't have to chase down payment from clients. All invoices and payments happen through Upwork, and you're guaranteed payment for the work you do.
The downside is that Upwork charges a 20% fee on your first $500 earned with each client, 10% up to $10,000, and 5% beyond that. It's a good place to get started, but you won't want to use it for long.
2. Fiverr
Known for offering services starting at $5, Fiverr is a marketplace for freelancers to showcase their services to prospective clients. You create a profile, list a "gig," and then it becomes available to a global audience.
All communication and payments are processed through Fiverr, but it also charges a steep 20% fee on all earnings. If you're nervous about reaching out to clients yourself, Fiverr can be a good platform where they come to you.
But you'll have to do something to make yourself stand out in a sea of other writers. That's where specializing in one subject matter can be your strength.
3. Textbroker
Textbroker only offers content and writing services on its platform. Writers who sign up with Textbroker will find many resources on how to improve their writing, including editors to review articles, writing tutorials, and videos on how to get the most out of Textbroker.
Earnings per word depend on your quality level. You can earn from $0.07 per word up to $0.50. You choose from thousands of orders available based on your quality level, and there are no additional fees. Textbroker also offers milestone and quarterly bonuses when you achieve different word counts.
4. Skyword
Writers, designers, videographers, and other creatives can all find jobs on Skyword. Skyword is a marketplace where you can find jobs and be found by clients. It works with both small and high-profile clients and is a great way to make the jump from lower-paying job sites.
You can't just sign up for Skyword clients. Fill out a profile and wait until you're hand-selected for jobs, meaning your profile can sit in Skyword for a long time before you're submitted to clients or able to view job opportunities. You can increase your chances of being picked by editors by keeping your social media relevant and updated.
5. ClearVoice
ClearVoice connects qualified writers with job opportunities based on the writer's CV or ClearVoice portfolio. Once you complete your CV, you'll be able to join ClearVoice's Talent Network and have your CV sent to prospective clients.
Writers are then handpicked for opportunities based on their CV, so there's an incentive to create one that stands out. You set your own rates and are paid via PayPal upon assignment approval, so you get the security of going through a marketplace without the fees typically associated with them.
6. Contently
Contently is an online writing agency that connects freelance writers with businesses. Many writers use the site for its free portfolio service, but Contently editors use these portfolios to handpick freelancers for clients.
Many high-profile websites and companies use Contently to source writers, so the jobs pay well. These jobs tend to go to the most experienced candidates, and it can take years for an editor at Contently to refer you to a client. But if you're patient, Contently can offer lucrative writing opportunities.
7. nDash
Another place experienced freelance writers can find high-paying jobs is on nDash. nDash is a content platform where writers can create a profile and pitch ideas for blogs, articles, and whitepapers to prospective clients.
nDash claims the average writing assignment on its platform pays between $175 to $450. Once an assignment is approved, payment is deposited directly into the writer's bank account within two to three business days.
It's a relatively new site so not as many companies are using it, but writers have reported that if you're willing to pitch more, you'll make a decent income.
8. SmartBug
SmartBug is a content marketing company specializing in B2B (business to business) marketing and copywriting. Its writers produce content for the web, social media, email, sales pages, and more.
This is a great site for writers who aren't beginners but may not have the experience or portfolio to compete for jobs with other top writers. There's no direct way to apply, but you can fill out a general interest application on the website.
9. NewsCred
NewsCred is a community for experienced freelance content creators. In-house editors pair creators with customer programs, but you can also view freelance positions on the platform. Then NewsCred's editorial team serves as your managing editor for all client work.
You can find high-profile Fortune 500 companies from a variety of industries using NewsCred, the most popular being tech, healthcare, and financial services. There's currently no button to apply on NewsCred's website, but you can contact the company via the contact form on its website.
10. The Writer Finder
Growth Machine is an SEO-focused content marketing company with a freelance writing platform called The Writer Finder. Growth Machine works with a variety of clients in AI, travel, wellness, dogs, weddings, and more.
What sets The Writer Finder apart is the Slack group for freelance writers. It lets you communicate with other freelance writers on the team. Rates are competitive, and you'll also have the chance to learn sought-after SEO skills.
Related: 51 Freelance Jobs Websites with the Best Remote Work Opportunities
Apply for Assignments on the Best Freelance Writing Job Boards
Job boards are easy places for companies to post their jobs. The job board doesn't vet freelancers, handle payments, or make promises on behalf of clients.
There are some things to be aware of when applying and taking a job from a job board. Because the service is free for writers, you're competing against thousands of other bloggers for a limited number of jobs.
Job boards are also notorious for phishing scams. "Clients" may ask you to download a zip file of their payment terms or writing guidelines and ask you to invoice them via PayPal. The zip file is actually a keystroke logger allowing them to steal your PayPal credentials. Be careful when applying to jobs on these boards.
11. ProBlogger
The ProBlogger job board is updated daily with blogging and article writing jobs across all subjects.
Businesses have to pay ProBlogger to post their job ad, meaning the writer isn't paid through ProBlogger. They don't charge the writer any fees for joining or getting paid.
12. Indeed
Another job board filled with many freelance writing opportunities is Indeed. You can find full-time, part-time, and freelance remote writing jobs across all subjects, and because of the vastness of the board, competition isn't as high compared to others.
You can sign up for job alerts based on your searches. Simply enter your email address and activate emails to see them as soon as they hit the website.
13. MediaBistro
Journalists and anyone else in media will find MediaBistro helpful for finding jobs in the industry. If you're looking for paid writing jobs in marketing, advertising, television, or news, you can find hundreds of jobs from recognizable names on MediaBistro's job board.
There are entry-level positions listed, but your best move is to get enough writing experience to make a professional-looking resume before you start applying for jobs on this site.
How to Get Paid to Write (Step by Step)
Before you apply to get paid for writing, there are a few things you should do to make yourself stand out to potential clients.
1. Choose What to Write About
When you're writing for money, you might think that only writing about a couple of topics limits your options, but it actually expands them. Sites and companies that pay well don't want freelancers who write about anything, they want experts in their field. When you stick to a single niche and become known for it, you'll become a sought-after writer.
Choosing one topic also allows you to scale your business faster. You learn your subject thoroughly, research less, work faster, and can take on more clients. All this leads to being able to earn a higher hourly rate for your work. The key is to pick a profitable niche.
2. Create a Portfolio
There are several ways to create a portfolio. The first is with a blog. Every new writer should have a blog, especially if you don't have many clips to show potential clients.
Once you choose your niche, write five to ten blog posts on various topics within it. This shows potential clients your writing style, expertise, and gives them a place to contact you.
You can also make money with a blog. One way is to find products and services related to your niche that you like using and see if they have an affiliate program. Then every time someone makes a purchase through your affiliate link, you'll earn a small commission.
3. Create Profiles on Multiple Sites
Once you've written a few articles for other sites or publications, you can create profiles and portfolios on multiple professional freelance writing sites. Clippings.me is a portfolio site for journalists, Contently is used by many web-based content writers, and LinkedIn is a go-to place for businesses looking for expert writers.
Having a presence on a few different sites makes it easier for clients to find you and your work. They may also learn personal facts about you that give you an edge over other writers so don't underestimate including things like your alma mater, pets, and hobbies.
4. Post on Social Media
Building a social media presence around your niche can also put you ahead for freelance writing jobs. Twitter is most popular for journalists and print publications while Instagram is becoming a popular place for e-commerce businesses to find writers.
You don't have to make another social media account just for your writing. Post facts, breaking news, advice, and stories related to your niche and tag them with relevant hashtags. It'll help brands find you, and it can further reinforce to potential clients that you're knowledgeable and stay current about the topics you write about.
Related: How to Become a Social Media Manager
5. Accept Smaller Jobs While Building Your Reputation
While you're building your portfolio and expertise in your niche, you'll have to be willing to accept lower-paid writing jobs. Think of them as practice that you're getting paid to do. The more organizations, editors, and platforms you work with now, the more you'll be able to impress high-paying clients in the future.
You can also pitch websites to guest post. You won't get paid to write guest posts, but you may be able to add links to your blog posts in your article. This will help your posts rank higher in Google, and potential clients may be able to find you through simple Google searches.
Related: How to Get Paid to Write Reviews
6. Learn to Network
You can start freelance writing on your own, but if you want to build a business and make a living writing, you need a network of other writers. Your network should be filled with writers and editors in your niche who are a little ahead of you and a little behind you in the journey.
Your network can also help you find sources for stories, give you feedback on pitches, advise you on rates to charge, and help you to feel like you're not alone in this often isolating industry.
Related: How to Make More Money as a Freelance Writer
Resources on How to Get Paid as a Writer
When you're running your freelance writing business, you'll want to have some resources to make it easier to write and get paid.
Freelance Writer's Den
Started by veteran freelance writer Carol Tice, the Freelance Writer's Den is a membership site just for freelance writers. You have access to over 300 hours of freelance writing education including eCourses, webinars, and podcasts.
There's also a forum for networking with other writers and a job board with new writing jobs posted every Monday and Thursday, all with a minimum rate of $50 per article.
Membership for the Freelance Writer's Den only opens twice a year. If you're interested in joining, sign up for the waitlist to be notified.
Get Paid to Write for Blogs (Course)
This is a course geared towards new freelance writers that was created by Cat Alford (who, coincidentally, has been a freelance writer on DollarSprout in the past).
The course features eight video modules covering beginner-level lessons, including how to create a portfolio that will attract high-value clients. The course also covers everything you need to know about running the business side of things.
Related: The Best Online Writing Courses for New Freelance Writers
Getting Paid to Write is Possible
You can get paid to write in any field at any level. Like any business, it's difficult to get started.
However, if you work your way through the many content marketing agencies and job boards, you'll be able to find steady work and grow your business.