How Much Could You Make Selling Your Electronics with Decluttr?
Advertiser Disclosure
Our readers always come first
The content on DollarSprout includes links to our advertising partners. When you read our content and click on one of our partners' links, and then decide to complete an offer — whether it's downloading an app, opening an account, or some other action — we may earn a commission from that advertiser, at no extra cost to you.
Our ultimate goal is to educate and inform, not lure you into signing up for certain offers. Compensation from our partners may impact what products we cover and where they appear on the site, but does not have any impact on the objectivity of our reviews or advice.

Do you have an area in your house where all your clutter seems to gravitate?
You know the one. It's the place where your Hot Topic band T-shirts, NOW That's What I Call Music! CDs, and long-forgotten DVD collection live.
Things you once loved but have either outgrown or no longer need thanks to iTunes and TV streaming services.
Throwing them out seems like such a waste. And you don't necessarily want to give away a set of Blu-rays that cost you $20 each.
For me, the place that collects clutter is the spare bedroom. But instead of Blu-rays and old CDs, it's boxes of old tech (laptops, cell phones, cameras, etc.) and books that haven't seen the light of day in months.
Ever since my most recent move, I've been struggling over what to do with them. The old tech items I could probably sell, but ever since I got swindled out of a laptop on eBay (a story for another day), I'm wary of selling my tech online.
And who wants to deal with the hassle of finding a buyer, negotiating, and driving to the post office every time an item sells? Definitely not me.
But I recently realized there's a far more convenient option: selling on Decluttr.
Decluttr Review: What Is It and How Does It Work?
Decluttr is a company that buys and resells your old CDs, DVDs, games, books, LEGO®, and technology. They act as the middleman so you don't have to manage a listing, pay for shipping, or deal with buyers.
According to the site, Decluttr has paid more than $300 million to over 6 million customers worldwide. They're also accredited with the Better Business Bureau and have a high Trust Pilot score with over 8,700 reviews.
Decluttr Review Breakdown
Decluttr makes the process of selling your old media and technology simple. They'll buy your:
CDs, DVDs, and games
Books
Cell phones
Apple products
Kindles
Wearables (e.g. smartwatches)
Tablets
Video game consoles
LEGO®
The site gives you a free instant valuation on all your devices before you send them in. For tech devices and cell phones, choose the make, model, and condition to receive a quote.
There are three options to choose from for your device's condition:
Good: device works properly, has no major damage, and only light signs of wear and tear
Poor: device works properly but has scuffs, dents, and major scratching
Faulty condition: device may not be working properly or at all (major software problems, significant physical damage, water damage, cracked screens, etc.)
Bent or crushed devices or those missing components are not eligible for sale.
For CDs, DVDs, games, and other items, you'll need to enter the barcode. Decluttr's free app allows you to scan them rather than enter each item manually.
If Decluttr is accepting your item, you'll receive an immediate offer. If you can't find the item, it means they're not currently taking it.
Related: 6 Ways to Sell Your Electronics for Cash
Ship your electronics for free
When you sell directly to buyers through sites like eBay and Amazon, shipping typically falls on your shoulders. With Decluttr, that's not the case.
Once you accept Decluttr's offer, they'll email you a welcome kit with a prepaid shipping label. Pack your goods into any box, print out your free shipping label, and send it with UPS.
Higher prices than competitors
Compared to similar sites, Decluttr offers some of the highest prices for smartphones and tech devices.
Each site has a different method for evaluating your phone's condition. For consistency, I noted that each device was in "good" condition and chose the carrier as "factory unlocked." You might get a slightly higher offer if you have the original packaging, charger, or additional accessories.
For each device below, Decluttr's offer was the same as or higher than its competitors.
Apple iPhone 6 32GB
Apple iPhone 6 Plus 64GB
Apple iPhone 5C 32GB
Samsung Galaxy S5 32GB
Samsung Galaxy S6 64GB
Samsung Galaxy Note 8 64GB
Decluttr
$70
$122
$31
$29
$61
$220
Buyback Boss

$55

$115

$2

NA

$55

$220

Gazelle

$60

$118

NA

NA

$35

$165

Amazon Electronics Trade-In

NA

$80

$13

NA

$40

$160

Maxback

NA

$115

NA

NA

$44

$180

Note: These estimates are accurate as of November 2019 for unlocked phones in "good" condition. Your estimate may vary depending on the date and demand.
Fast payment
With Decluttr, you don't have to wait weeks for payment. Once they receive your items, they'll check everything over, remove any personal data from your tech devices, and pay you the day after your shipment arrives.
Payment options include direct deposit, PayPal, check, or a donation to the charity of your choice.
Related: 40 Creative Ways to Make Money Fast
Convenience
Like any company, Decluttr's ultimate goal is to make a profit on the items it buys. If it didn't, then they wouldn't stay in business. That means you probably won't get as much money as if you listed your items and sold them yourself.
But what you miss in earnings you get back in the form of time. That's time you don't have to spend making accounts, creating listings, writing descriptions, and communicating with haggling buyers.
Is the Offer You Receive What You Actually Get Paid?
When you enter the information for your tech devices, Decluttr will lock in their offer for 28 days. Once they receive your order, the quality team will evaluate your tech. If it matches your description, you'll get the full offer.
If your device is damaged or doesn't match your original description, Decluttr may revise your offer. In that case, the Decluttr Tech Price Promise allows you to request it back free of charge. After Decluttr sends you a revised offer, you have 14 days to respond.
Media such as DVDs, CDs, games, and books operate differently. They'll also check these items for quality to make sure they match your description. However, if they fail the quality assessment, you won't get them back. So if you're not sure an item will pass the quality control and you aren't willing to part with it for free, you might want to rethink sending it in.
How Much Can You Make with Decluttr?
The amount you can expect to make with Decluttr depends on the quality, number, and type of items you have to sell.
My old 16GB iPhone 6 that's been sitting in a drawer for months clocks in at $67.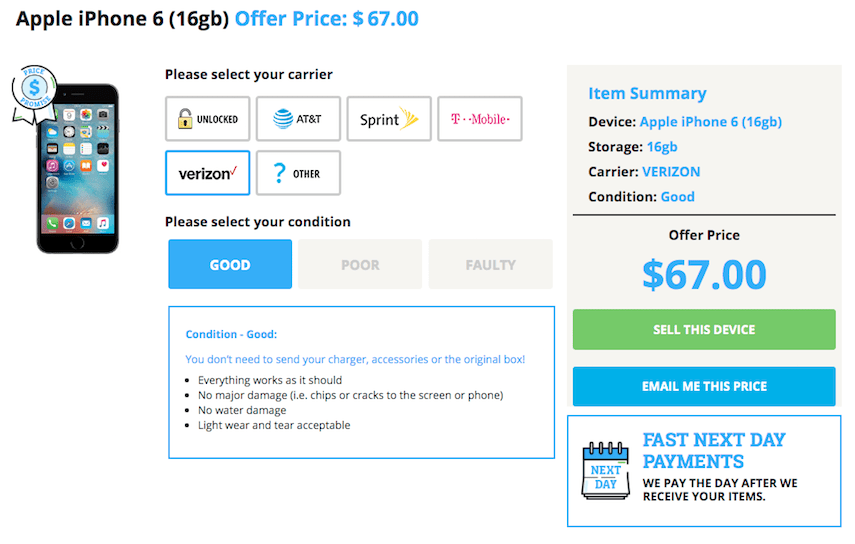 I cleaned out my CD and DVD collections years ago. But to give you an idea of how much you can reasonably expect to make selling on Decluttr, I scanned some books that have been sitting in boxes since my most recent move.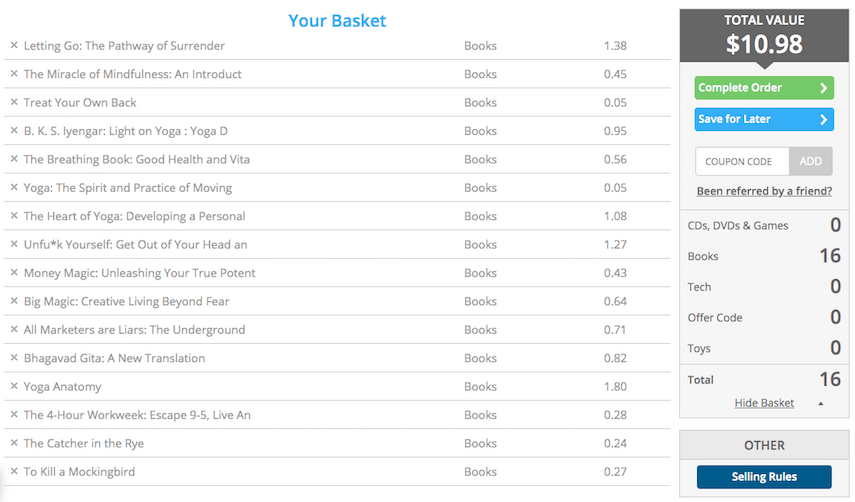 In total, that's $77.98 for stuff that's just lying around my house in boxes and drawers. If you have old books, CDs, LEGO®, and tech devices you're not using, check Decluttr to see how much they're worth.
How to Have the Most Success with Decluttr: Review Before Sending
There were a few obscure titles in my book collection that Decluttr gave a hard pass. But I was also surprised at the books it accepted, including some yoga-related ones that came in at more than $1 apiece. That leads me to believe that even your most unsellable items have a shot.
However, you'll want to follow some best practices to get the most out of your goods. Decluttr's terms and conditions offer some helpful advice:
All items must have a barcode.
Covers, disc artwork, and/or sleeve notes should be in good condition.
Games should contain the original instruction booklet and artwork.
Electronics and tech devices must match the reported condition.
If you tell Decluttr your old iPhone is in "good" condition but there's actually a crack in the screen, then you'll likely get a lower offer when and if it passes the quality inspection.
Decluttr Review Summary
Decluttr is one of the best selling apps on the market and a convenient alternative to selling directly to buyers. They offer a free instant valuation on all your items, so as long as you're honest about the condition, you'll know how much you'll earn before sending anything in.
Selling on Decluttr is as simple as scanning barcodes, printing your shipping label, and dropping a box at UPS. The biggest downside is that they won't send back any media items (books, CDs, DVDs, games, etc.) that don't make it through the quality assessment. But as long as you're willing to risk a few cents for the convenience of not having to sell anything yourself, there are few drawbacks to trading in your electronics with Decluttr.
Free
Price
Get paid for things you no longer want.
DollarSprout Rating
Instant valuation, free shipping, barcode-scanning app.
Decluttr at a Glance:
Decluttr buys your old CDs, DVDs, games, books, LEGO®, and technology. Select your technology or scan the barcode on your media items for an instant valuation. Once you accept an offer, Decluttr will send you a free shipping label. All you have to do is pack a box and drop it at your nearest UPS location or schedule a pick-up.
Show

Hide

more
Pros
Fast payment via direct deposit, PayPal, or check
Tech Price Promise guarantees that if Decluttr lowers their offer on your tech device upon inspection, you can request to have it sent back free of charge
BBB accreditation and high Trust Pilot score indicate a trustworthy company
Cons
Lower payment than if you sold the items yourself
CDs, DVDs, and other media items that don't pass quality control aren't sent back to you