How We Made $7,768 Blogging This Month (June 2017)
Advertiser Disclosure
Our readers always come first
The content on DollarSprout includes links to our advertising partners. When you read our content and click on one of our partners' links, and then decide to complete an offer — whether it's downloading an app, opening an account, or some other action — we may earn a commission from that advertiser, at no extra cost to you.
Our ultimate goal is to educate and inform, not lure you into signing up for certain offers. Compensation from our partners may impact what products we cover and where they appear on the site, but does not have any impact on the objectivity of our reviews or advice.
I never thought we'd be where we are today. It's surreal writing this income report, knowing that our online business is finally able to support me full time without needing to work another job. Here's an update on our blogging business.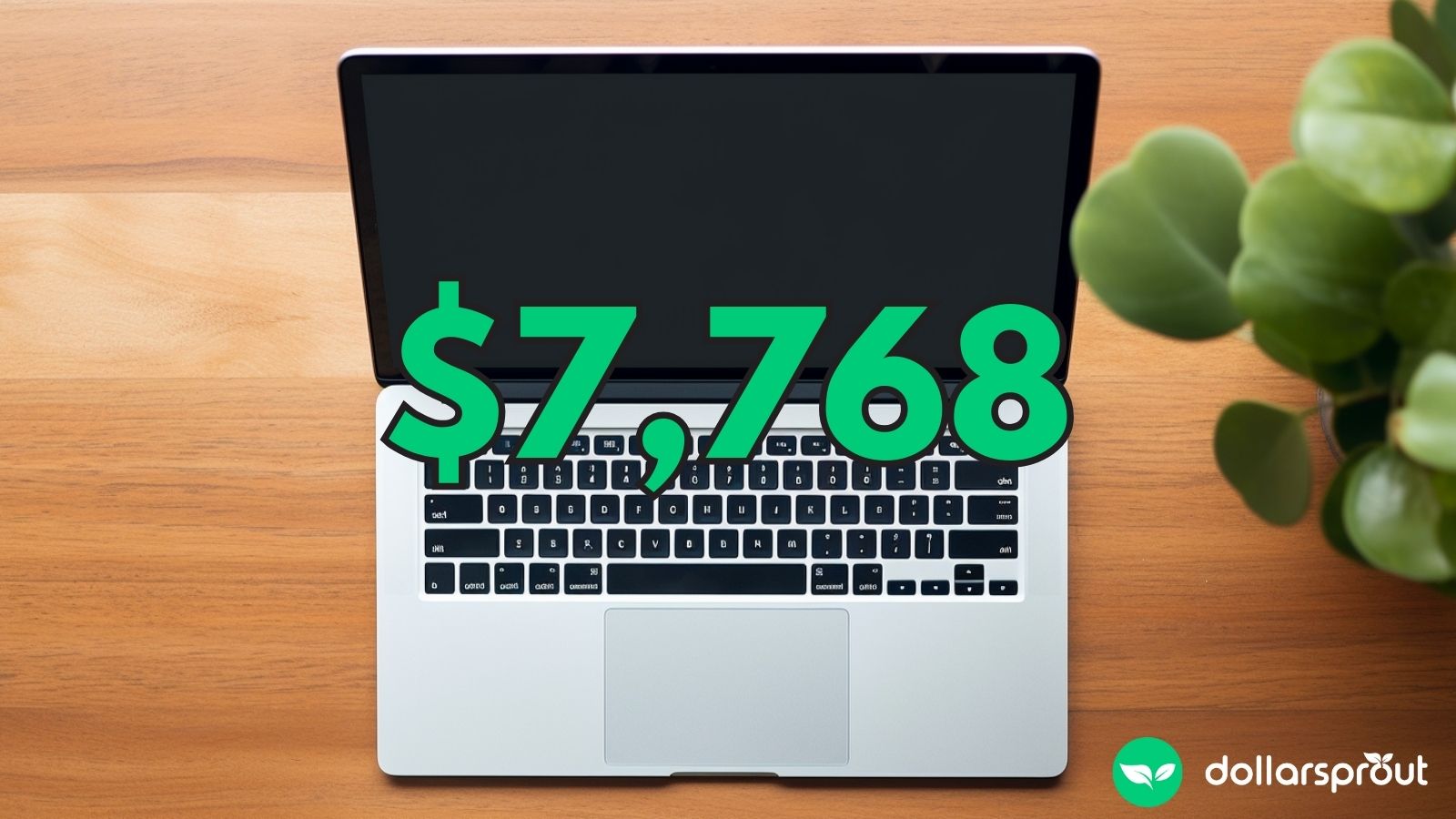 Note: This post originally appeared on BreakingTheOnePercent.com, before we merged DollarSprout and BTOP together.
It's been an exciting summer for Ben and I as we continue to build our blogs and learn more about the online business game. I wanted to give our readers an update of how our business is doing, what's new with us, and share some pretty exciting changes we have in the pipeline.
As many bloggers do (especially in the personal finance niche), this kind of update comes in the form of an income report.
If you aren't familiar with what an income report is as it pertains to blogging, it's essentially this:
I share with you how our blog has been doing over the past month, plus some things I've learned that can maybe help you do the same, and maybe I can inspire 1 out of every 500 people who land on this article to give the blogging business model a shot. It's freed me from the 9-to -5 grind that I know so many of you are desperately trying to escape yourselves.
And for the readers that already have blogs, hopefully you can learn from our mistakes and make your blogs even better.
This income report is not meant to be a brag fest. It's just meant to show you that earning a living online is possible if you're willing to work hard and always try new things.
First, Some Background Information
Before I dive into our June 2017 numbers, I want to share some background info in case you have never heard of us, or are new to the blogging scene in general.
My friend Ben and I have been running the personal finance blog over at VTX Capital (now DollarSprout) for about two years now.
I quit my job working for a financial advisor to pursue this crazy online dream of mine, without having any income stream established yet. (The financial industry is very finicky about conflicts of interest, so I decided what the heck, let me just quit my job so I don't have to deal with that). I also very much hated the corporate grind and knew I couldn't do it for another 40 years.
Anyway, we started as a subscription-based website for investing tips, but the site has slowly morphed into a full-fledged personal finance blog, where all of our content is free.
No subscriptions, no paying customers.
Here's what it looked like before we rebranded: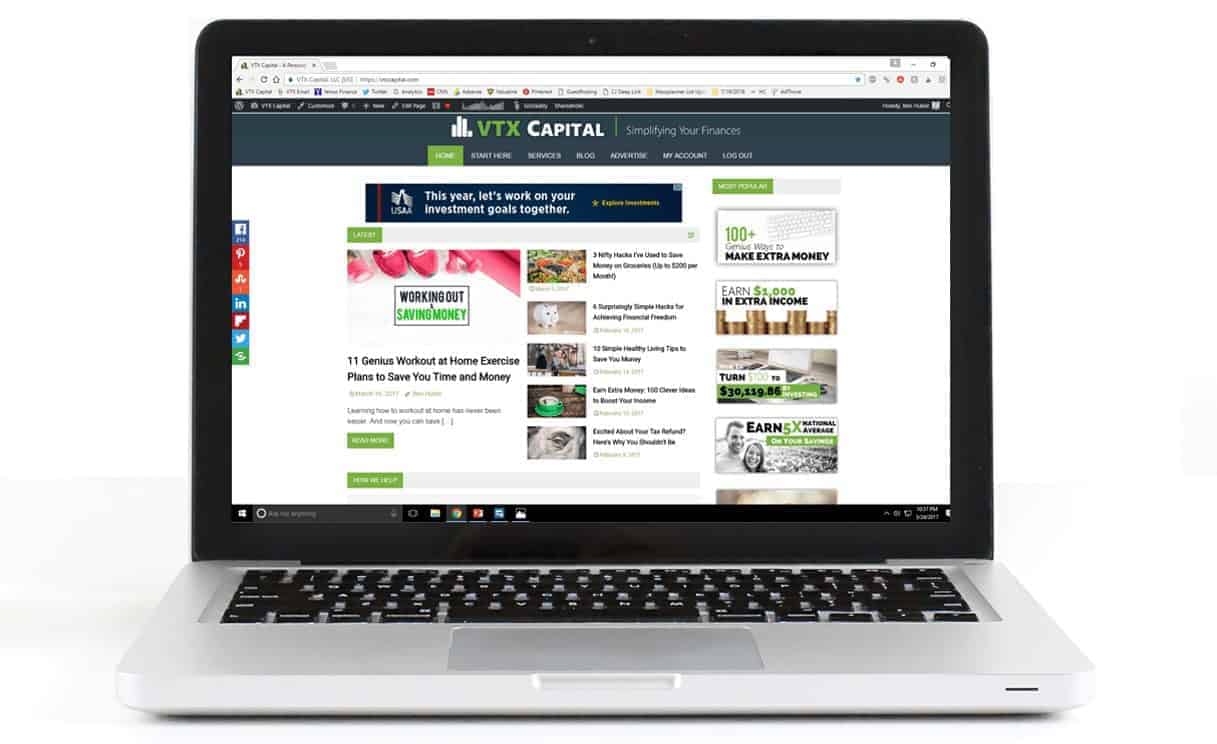 Since starting VTX, we've learned a lot about what all goes into running a successful blog, mostly via trial and error.
A lot of trial and error.
---
Completely new to blogging but want to get started? Be sure to check out our step by step post, From 0-$100k: How Anyone Can Start Blogging. You can get started with just a few minutes of setup.
---
June 2017 Income Report: $7,768.19
In the 30 days of June, we earned $7,768 dollars online.
First things first, this did not happen overnight. And I refuse to lie to you and tell you that it can happen fast.
So many online make money "gurus" like to make outrageous claims about how much you can make, how easy it is, how they are sitting on the beach right now as they watch the money just pour in, all in an attempt to sell you their course, their masterclass, their exclusive training, etc.
Give me a break.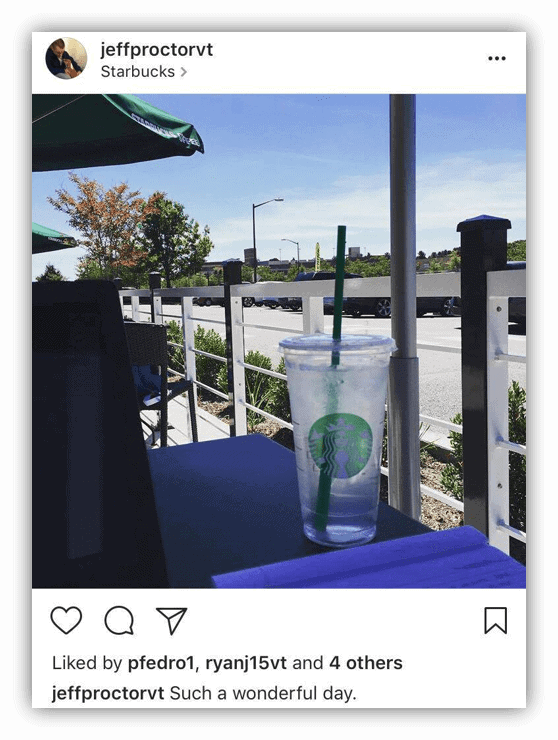 The truth is, making money from a blog is really, really hard.
But it's not impossible.
With no business background, no writing experience, no coding experience, and no industry connections, Ben and I have managed to slowly start figuring out how to make our blog successful.
And when I say slowly, I mean it: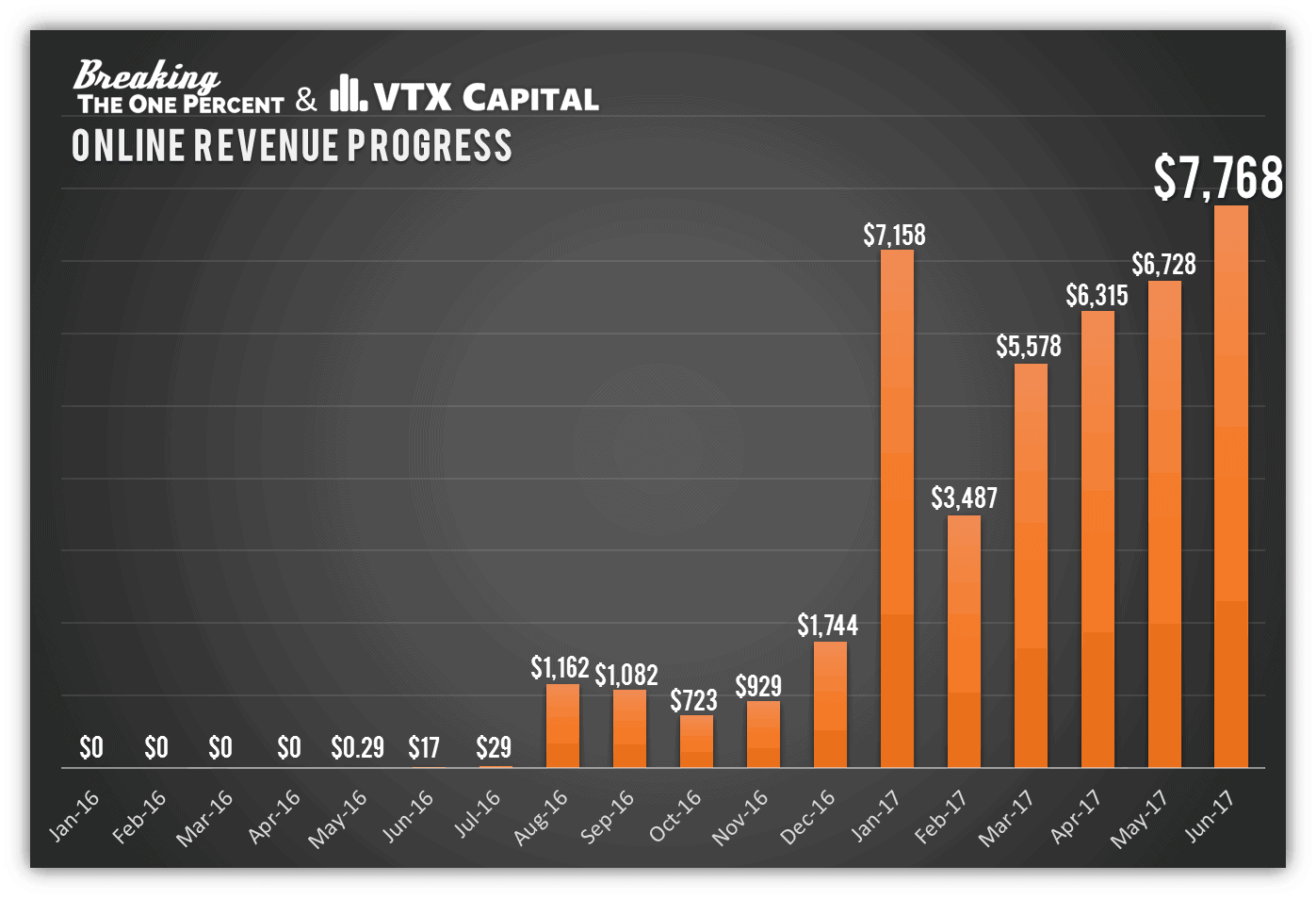 What isn't included in this chart: the twelve $0's from 2015 when we didn't have a clue what we were doing.
How do we make money blogging?
In a nutshell, advertising.
The vast majority of our online income comes from affiliate marketing (a.k.a promoting the products of other companies and getting commissions on sales or leads that we generate).
Here are some of the most popular affiliates that we make money from promoting (we've either tried or personally recommend all of these companies):
HostGator (Low-cost hosting provider we recommend to new bloggers)
Personal Capital
Lending Club Investing
AllyInvest
Motif Investing
Discover Bank
Uber
eBates
Paid survey companies, and more
As you can see, all of the companies (with the exception of HostGator) are ones that help our readers with their everyday money challenges.
Saving it, investing it, tracking it, earning extra — all these companies, in some way or another, improve our readers' finances. Which is exactly why they come to our blog.
A decent portion of our content on VTX and DollarSprout is geared towards promoting these affiliate companies, while still entertaining our readers and teaching them something new.
Traffic to VTX was really good last month — we had right around 117,000 page views. Not bad for only posting one new article. (We were busy with a ton of other stuff, as you'll see in the rest of this report.)
However, we definitely want to get on a more consistent publishing schedule.
A New Income Stream We Added on BTOP
This is something that Ben and I have been itching to do for a while now, but haven't made the time to actually do.
We made our very first online course. We've had a lot of success with using Pinterest to get traffic, and I wanted to create something that would help other bloggers and content marketers hopefully achieve similar results.

Note: We've discontinued our Pinterest course since the publish date of this article.
Because of Pinterest (and because of well-designed pins), we are getting thousands of people visiting our sites every single day. In turn, those readers get great content, and they consume ads, purchase affiliate products, sign up for our email list, etc.
Having strong-performing pins with great design is the biggest reason why our blog income continues to grow, month after month.
Here's an example of a typical month of Pinterest traffic for us: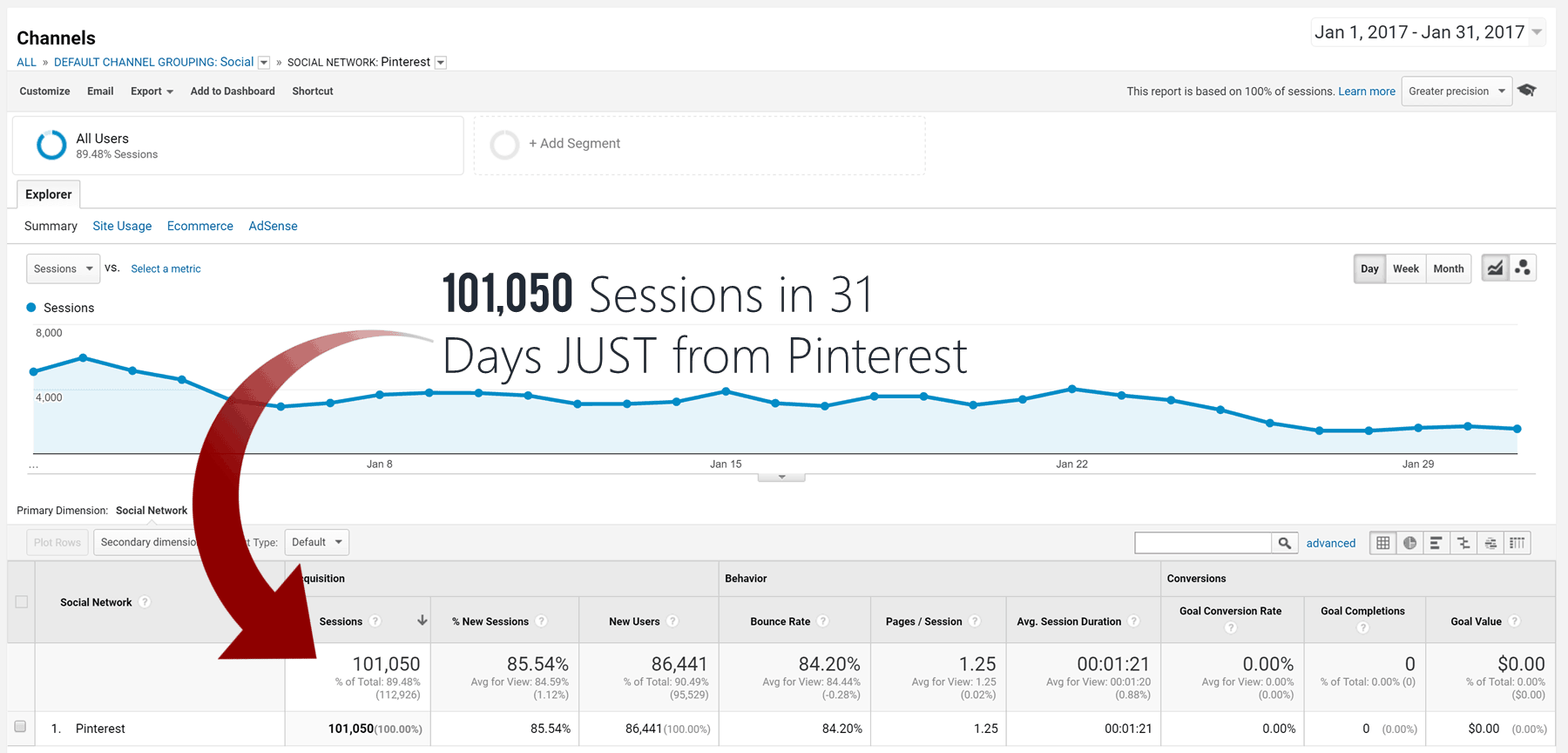 I felt compelled to create this course because I see so many bloggers out there with truly amazing content but horrific pins that do nothing for driving traffic. I know they aren't getting the traffic (and thus income) they deserve. That's why I think so many bloggers end up calling it quits.
Anyway, the course is $97.
In the future, I'd also like to create a writing course designed specifically for bloggers who want to make money from their blog. Writing to sell, without seeming like you're writing to sell, is a skill that doesn't come naturally for a lot of people.
Ben has also talked about creating an SEO course, but that may be somewhere further down the line.
Helping our readers who also happen to be bloggers, while at the same time diversifying our income sources, is something I am so glad we are starting to do.
Related: 50 Smart Ways to Promote Your Blog (and Get Free Traffic)
A Renewed Effort on Email Marketing and SEO
If you're on our email list, you've probably noticed us popping in your inbox quite a bit more often here recently.
Why are we all of a sudden emailing a lot more?
To be honest, we realized we were neglecting our biggest fans!
We have nearly 4,000 email subscribers out there, just waiting to hear from us, and we've been staying silent. We aren't going to let that happen anymore.
Since we've been emailing our list more frequently, the response has been really positive. People are engaging a ton, emailing us with questions, sharing our content more often on social media, and more.
And our list is growing faster than ever now, thanks to our new7-day blogging course and the PDF download at the top of our page. We are getting anywhere from 20-50 new email subscribers a day, which I am so grateful to see.
One of Ben's big projects over the past month or so has been SEO work. Getting traffic from Google is super important since it's such high-quality traffic (search intent is a powerful thing).
He's been going back through our old posts to clean up our on-page SEO, plus he's been networking like crazy in order to build some quality backlinks to our sites. The results are beginning to show; we are now getting around 300 hits per day from Google, which is a huge improvement for us. This is very much an ongoing project though, and we still have a lot of room to grow.
Our end goal (and a very lofty goal), is to not be dependent on any one source of traffic. We want to spread out our risk as much as possible.
A Major Announcement
So, I've painted a pretty rosy picture of our two blogs so far, haven't I?
Welp, something has actually been holding us back for a while now. Something we've really wanted to change, but haven't yet.
Our brand name.
VTX Capital.
Remember, we didn't start as a personal finance blog. We started with the intent of being a subscription-based investment research company.
People were supposed to pay us to talk about what stocks we liked that month. When we chose the name for our website, that's what we had in mind — something professional sounding. Something corporate. Something that would make us look "legit" to prospects.
Well, it turns out that doing all that technical research, packaging it up nicely, and marketing it all is entirely too much work for two people. We couldn't do it all.
We weren't making money, and we needed to pivot.
But, as we started to transition more toward the "blogging" business model (because that's what was really working for us), we feel our name is now disconnected from what we are.
The further along we got, the more apparent it became.
Outreach and networking is quite a bit harder when it looks like you are representing a corporate entity. Link building, social media engagement/growth, etc. is all just harder with the name VTX Capital. People are always initially skeptical of what we have to say.
So, we are officially rebranding.
And to be honest, I couldn't be more excited about this change.
Starting in the fall, our new personal finance blog will be DollarSprout.com.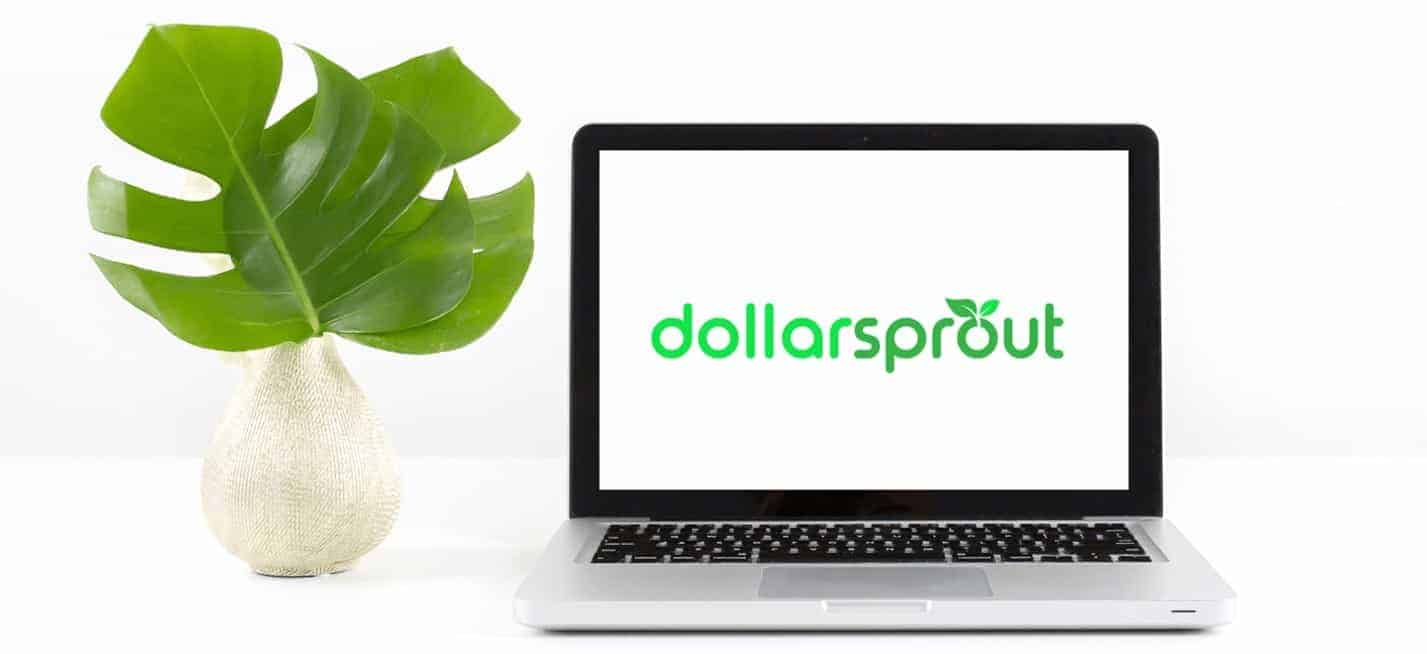 With the new identity, we want to create a friendly, non intimidating environment where anyone can learn how to be a little smarter with their money. We don't want corporate and we don't want serious. We just want to have fun writing about stuff we love.
Going through with this rebrand is a huge decision for us, and we want to make sure we get it right.
With all of the work involved in making the switch, we want to make sure that DollarSprout ends up being something special. Something different from any other personal finance blog out there.
The reality is, that means spending money.
The domain name itself set us back $1,400. We then spent several weeks searching for a professional web design team we felt comfortable with, which will end up costing us upwards of $6,000.
It's not cheap, but Ben and I are both confident that this is the right decision for us and our growing online business.
When the design team finishes building our new site, we plan to hit the ground running.
Scaling our content production by hiring writers, bringing on someone to help with SEO, getting a premium stock photo subscription, aggressive social media ad spend, etc. You can give us a head start by liking our brand new FB page.
Not that long ago, Ben and I were complete beginners.
Look at our income graph again and imagine you doing the same thing: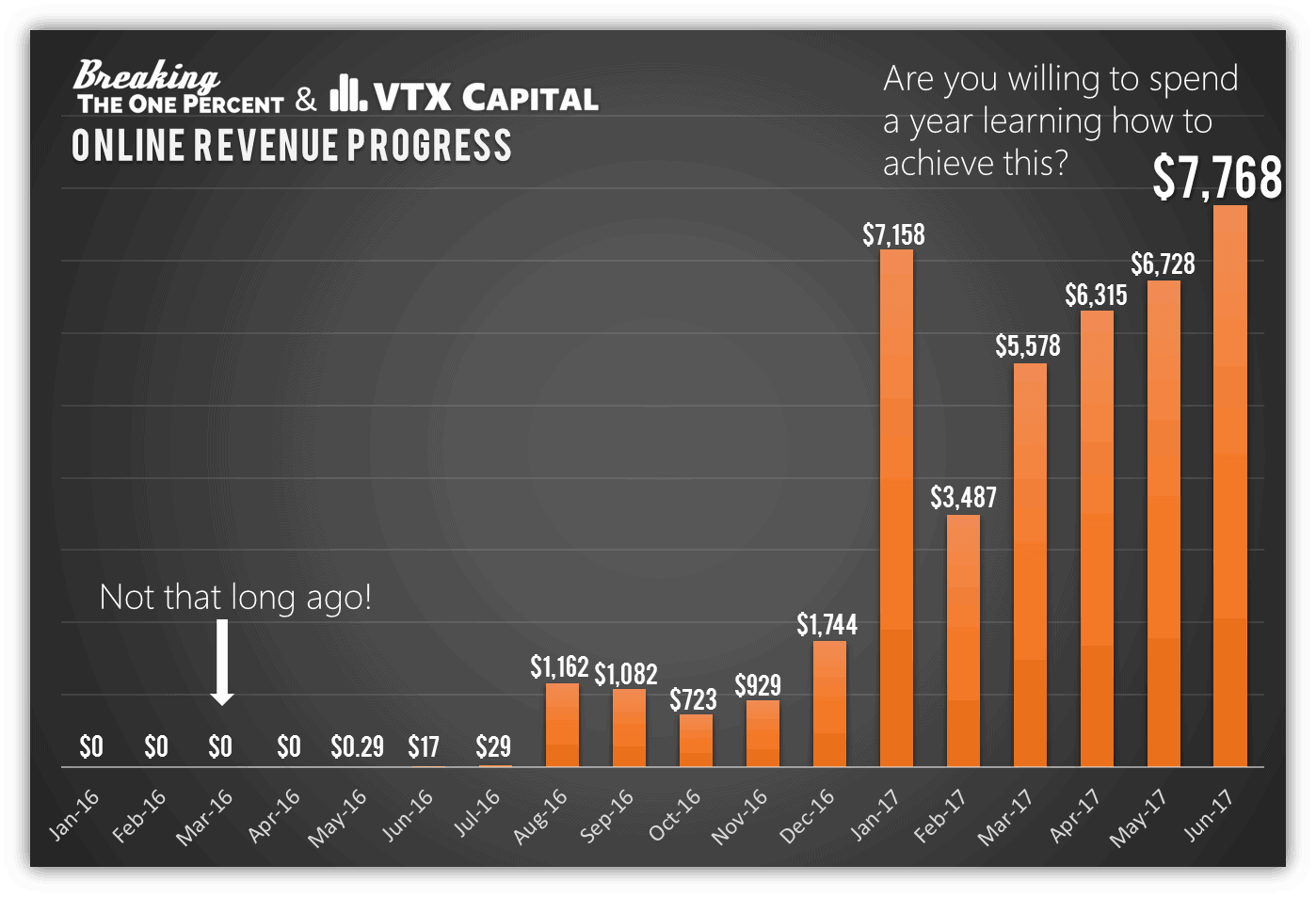 If you have any desire to give this blogging thing a shot, imagine where you'd be a year from now if you started your blog today. Two years from today. Five years.
It wasn't that long ago that we were making $0.
And now we're at $7,768 per month. And, guessing by how July has started off for us, we may crack $10,000 this month.
Big things can really happen for you.
Remember, we had no online experience, no writing experience, no coding knowledge, nothing, and we've already come this far. And we aren't an anomaly.
It's worth trying.
Things are going really well for us, and I couldn't be more grateful for the results we are finally beginning to see.
It feels so great to finally know that I no longer need a regular day job to pay my bills and make ends meet. Trust me, it's been a long time coming.
I really do wish everyone could experience feeling this sort of freedom.
Is it easy? Definitely not. Working on these blogs is pretty much all I do, but I love it.
Working for someone else is definitely the safer route.
But it's not nearly as fulfilling. And the income potential is a fraction of what it would be if you are able to create your own successful business.
For me, the thought of making someone else's dream come true while I clocked in and clocked out ate away at me every day I was at work. It finally got to the point where I couldn't take it anymore, and I left my safe, corporate desk job.
Maybe that's just how my brain's wired. Maybe not everyone is like me.
The purpose of this article is to show you that it's possible.
It's possible to build something amazing (even while you're still working your 9-to-5).
To create a sustainable online income stream.
To leave your job and do something you love while working for yourself.
The truth is, you can make a lot of money blogging, and you can make money with pretty much any niche out there. Cooking, DIY, Video Games, Yoga — really, anything.
I know so many of you are looking for a way out. Well, starting an online business and getting supplemental income may be your ticket.
If blogging is something you've been thinking about trying, I implore you to take the next step and actually do it.