Advice From 3 People Who Use Trim to Save Hundreds
Advertiser Disclosure
Our readers always come first
The content on DollarSprout includes links to our advertising partners. When you read our content and click on one of our partners' links, and then decide to complete an offer — whether it's downloading an app, opening an account, or some other action — we may earn a commission from that advertiser, at no extra cost to you.
Our ultimate goal is to educate and inform, not lure you into signing up for certain offers. Compensation from our partners may impact what products we cover and where they appear on the site, but does not have any impact on the objectivity of our reviews or advice.
Trim is designed to be your own personal financial assistant for saving money. But can Trim really save you money and help lower your bills? We asked three Trim users to share their personal savings insight.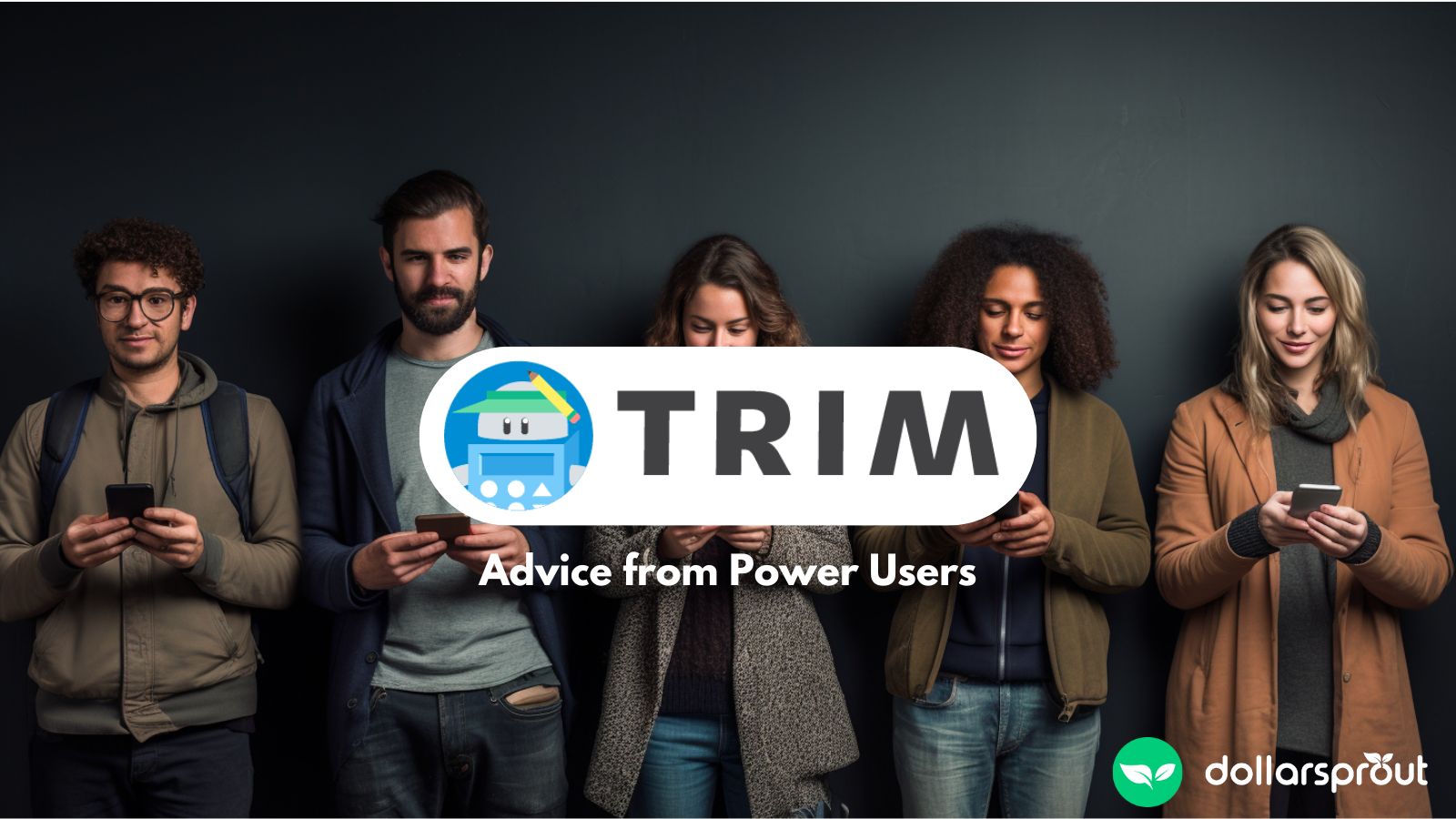 Saving money is always a good thing, and cutting the waste out of your budget is a great place to start.
Chances are, you're paying for one or more expenses you don't really need. But when you don't have time to comb through all your transactions one by one to look for savings, there's a tool you can use to do the work for you.
Trim is designed to be your own personal financial assistant for saving money. But can Trim really save you money and help lower your bills? We asked three Trim users to share their savings insights.
How Trim Works
Trim is a financial health company that's dedicated to helping people solve their financial problems. The Trim financial assistant reviews your spending and looks for opportunities to cut out unnecessary expenses. But Trim can also help with other financial goals, like saving or paying down debt.
Free
Price
Fees vary for premium features
DollarSprout Rating
4.5 out of 5 stars
Trim is a financial service that helps you negotiate bills, find and cancel subscriptions, and look for better deals on things you already pay for. The free plan also comes with monthly spending reports and some budgeting capabilities. Premium services such as bill negotiation and automated savings come with fees.
Show

Hide

more
Pros
Free to sign up
Negotiates bills on your behalf
Helps cancel unwanted subscriptions
Can get credits for cable and internet during power outages
Cash back offers help you save money when shopping
Convenient communication through Facebook Messenger
Cons
No mobile app
Must link your financial accounts
Bill negotiation takes 33% of your yearly savings
Once Trim finds unnecessary expenses, it lets you know what they are so you can cancel them. These include often-overlooked expenses such as subscriptions, streaming services, and bank fees.
According to the company's website, Trim has saved its users more than $40 million automatically and can lower individual bills, including cable TV and phone services, by up to 30%.
Trim offers both free and paid memberships. Free accounts include a personal finance dashboard where you can view spending alerts and reminders. For free users, Trim will also find and fight overdraft fees, detect and cancel unwanted subscriptions, and more.
Paid premium accounts include bill negotiation, debt payoff, and Trim Simple Savings.
Trim Simple Savings is an automated savings account that you can link to your checking account at your bank. Under the current promotional terms, you can earn a 4% annual reward on the first $2,000 in the account. After that, the interest rate drops to 0%. Like other savings accounts, your money is FDIC-insured up to $250,000.
3 People Who've Saved Money Using Trim
Before testing out any new financial tool, it's helpful to hear from people who have actually used it. If you're considering using Trim to save money on bills, check out these personal saving success stories.
Willie uses Trim to save $40/month
Some people assume that saving money is only worthwhile if you can save large amounts at a time. But even small savings can add up and count toward your financial goals.
Willie Greer, founder of The Product Analyst, uses the Premium version of Trim, which you can try for free for 14 days, to save $40 a month on unnecessary expenses.
He was able to use Trim to cut $20 a month, or $240, a year from his cell phone bill. Greer has been using Trim to help cut costs for a year and says the savings he's earned have been worth the fees he's paid for the service.
His best tips for using Trim? Be smart about using the negotiation services and relying on the app to do all your money-saving for you. "Remember, the app should save you more money, not cost you more," he said.
Here's how bill negotiation with Trim works:
You provide Trim with your service provider account information and current bill amount
Trim reviews your bills to try to find better plans or promotions
If Trim is able to lower your bill and save you money, you pay them 33% of your yearly savings
If you save $10 a month for 12 months, you'll pay Trim $40. Make sure to weigh potential savings against the fee to help you decide whether paying for bill negotiation is worth it.
Related: Trim vs. Rocket Money: Which App Can Save You the Most Money?
Matt saved over $500 annually using Trim by cutting unused subscriptions
Matt Schmidt, owner and CEO of Burial Insurance Pro, has been using Trim for a little over a year and says it's been an eye-opener for his spending habits.
"It really showed me how many subscription services I was paying for and ultimately didn't need or use," he said. He eventually eliminated about $500 in unnecessary spending, including:
$15/month for Adobe Acrobat
$12.99/month for Amazon Prime
$14/month for pet insurance for a pet who had passed away
$9.99/month for Sirius Radio
Trim helped Schmidt and his wife discover that they'd doubled up on subscriptions and were paying twice for the same thing. With the pet insurance fee, he estimates they'd paid it for 10 months without thinking to cancel it after losing their pet.
Some of the subscription services Trim monitors for include things like:
Streaming TV, music, and movie services
Recurring software subscriptions
Video game subscription services
Paid subscriptions that kick in after free trial periods expire
These all fall under the heading of "gray charges," meaning they're small expenses that are easy to forget about it. If you have any of these, the free version of Trim can help you find and cancel them.
Anshul saves $50 to $60/month and earns cash rewards
If you're caught between trying to pay off debt and save, Trim can make doing both easier.
Anshul Kahar, founder of personal finance blog Acetechdollar, has used Trim since 2018 and says it saves anywhere from $50 to $60 a month on bills. In addition to that savings, Kahar also picks up extra cash through Trim Simple Savings rewards.
The Trim Simple Savings account is included with a Trim Premium membership, which costs $99 per year. You can only earn a max of $80 a year in interest with the Trim savings account, so make sure you use the other features before signing up for a paid membership.
Premium membership also includes bank negotiation, regular and medical bill negotiation, subscription cancellation, financial coaching, and automatic credit card payments, the last of which Kahar says has helped with saving money on credit card interest charges.
Related: How to Cancel Subscriptions and Save Money on Autopilot with Rocket Money
Trim Makes Saving Money Hassle-Free
If you're looking to plug the leaks in your budget, Trim can help you find the money to save. Whether it makes more sense to use the free version or the paid version depends on if you have the time or desire to negotiate your own bills or would prefer Trim to do the work for you.
Keep in mind that Trim won't be much help for something like saving money on groceries or eating out less. But there are plenty of cash-back apps, such as Rakuten or Ibotta, that you can use to earn money back on those purchases and boost your savings even more.