How to Create a Financial Plan in 5 Simple Steps
Advertiser Disclosure
Our readers always come first
The content on DollarSprout includes links to our advertising partners. When you read our content and click on one of our partners' links, and then decide to complete an offer — whether it's downloading an app, opening an account, or some other action — we may earn a commission from that advertiser, at no extra cost to you.
Our ultimate goal is to educate and inform, not lure you into signing up for certain offers. Compensation from our partners may impact what products we cover and where they appear on the site, but does not have any impact on the objectivity of our reviews or advice.
Not having a plan to reach your goals is like taking a road trip without a map and hoping you reach your destination. The biggest benefit of a financial plan is that it provides actionable steps to achieve your goals.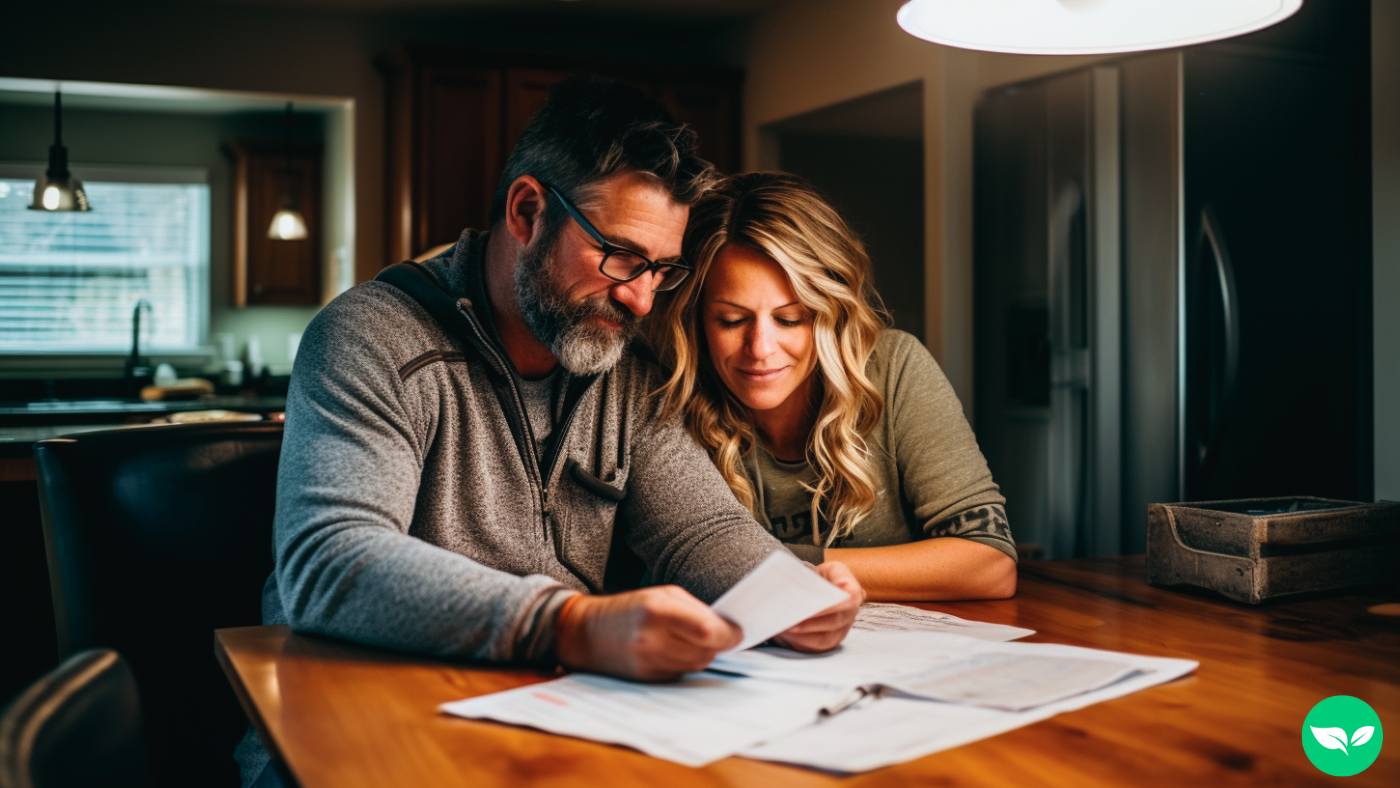 Chances are you have some goals you'd like to tick off in your lifetime.
Maybe you want to visit three dozen countries, buy a house, retire by the time you're 55, or start a family and send your children off to college.
Chances are also good that you won't be able to achieve those goals — unless you have a specific financial plan.
A financial plan is a document that allows you to map out the life you want and how to get there.
It sounds complicated, but don't worry. We'll break it down so you know exactly what to expect when making your own financial plan.
The Benefits of Creating a Financial Plan
A recent study by Capital One found that half of Americans don't have a long-term financial plan.[1] Not having a plan to reach your goals is like taking a road trip without a map and hoping you reach your destination.
The biggest benefit of a financial plan is that it provides actionable steps to achieve what you want in life. It's up to you to put in the work, but that's easier when the steps are laid out in front of you.
Financial plans also allow you to examine where you're at and what you can work to improve. If you don't have enough money saved for retirement, a financial plan can identify this. Then you can take steps to address the problem before you hit retirement age.
What is a Financial Plan?
At its core, a financial plan is just a document that outlines your goals and how to eventually afford them.
"A financial plan is going to look different depending on what financial planner you work with," said Katrina Welker, a Certified Financial Planner™ (CFP®) with Rooted Planning Group. "At one firm, we printed a 30-50 page report that was bound and presented to clients. I found this overwhelming for many people."
As a result, Welker now uses a more streamlined online interface with clients. The interface is also interactive, so clients can see how small changes have big effects on their future goals.
Related: How to Get Started Investing with $100
What Does a Financial Plan Include?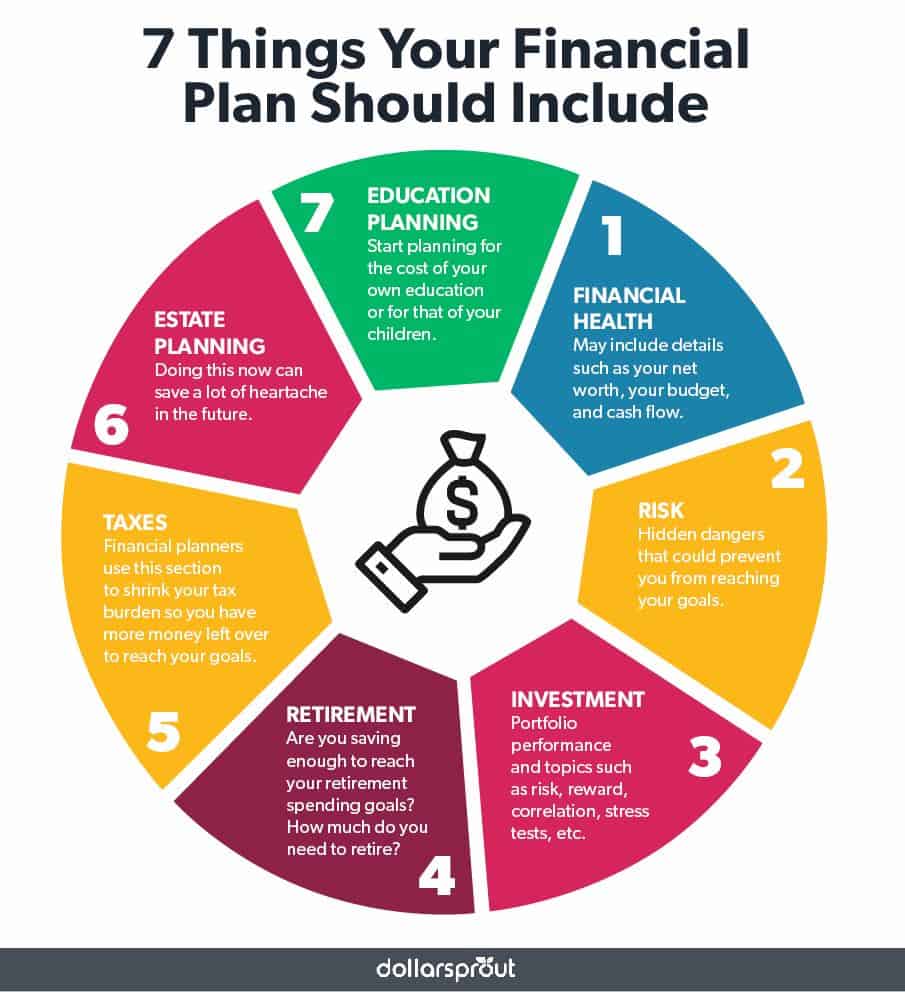 According to Patrick Logue, a CFP® with Prudent Financial Planning and an Adjunct Professor who trains other CFP®s at Boston University, every financial plan should include some of the following.
1. Financial health
This section should provide an overview of your current standing. It may include details like your net worth (your total assets minus your total debt), your budget, and your cash flow.
2. Risk
This section outlines the hidden dangers that could prevent you from reaching your goals, and what you can do to protect yourself against them. In other words, insurance, including life, disability, health, renters, homeowners, and any other kind of coverage you might need.
3. Investments
According to Logue, "This section would dive into portfolio performance and topics such as risk, reward, correlation, stress tests, taxation issues, investment options, risk tolerance, portfolio risk score, and risk needed to reach goals score."
4. Retirement
Although similar to the investing section, here we take a deeper dive into your retirement planning. Are you saving enough to reach your retirement spending goals? How much do you need to retire? What are the best accounts to save in order to minimize your tax bill? Should you roll over your 401(k) to an IRA?
5. Taxes
You may not realize it, but a large chunk of your income goes toward your tax bill before any money enters your bank account. Financial planners use this section to shrink your tax burden so you have more money left over to reach your goals.
6. Estate planning
It's a bit morbid to think about end-of-life planning and what happens to your assets after you die, but doing so now can save a lot of heartache in the future.
"Estate planning documents must be drawn up by legal professionals," says Logue, "but financial planners can help quarterback the process."
7. Education planning
Are you planning on returning to school to change careers, or do you want to send your kids to school so they graduate debt-free? If so, you'll need to start planning now. That's where this section comes in handy.
5 Steps for Creating a Financial Plan
Ready to get started with your own financial plan? Here's how to do it.
1. Find a CFP®
It's possible to DIY your financial plan, but there are advantages to hiring a professional if you can afford it. A CFP® can guide you through this entire process and provide you with an objective analysis of how likely you are to reach your goals. They can also advise you in creative and technical ways a layperson might not think of.
It's easy to forget all the little things, like having a power of attorney and designating your beneficiaries. A financial planner can help you remember. Working with a financial planner also means you're more likely to follow through with the plan since you've already invested money into it. A CFP® can help hold you accountable for the duration of your financial journey.
2. Gather your information
You'll need a complete picture of your entire financial situation in order to create a solid plan. This includes documenting:
Your current monthly cash flow and budget
Your current retirement savings, allocations, monthly contributions, and plans available to you
The amounts and premiums of any insurance plans you have
The beneficiaries of all your accounts
Other relevant financial documents
You need to look at every little piece of information because these are the tools you have to work with — and the obstacles you'll face along the way. Spend some time detailing the whole picture.
3. Decide on your goals
Now for the fun part. What do you want to do in your lifetime?
At what age would you like to retire? Do you plan to pay for your children's education? What type of legacy do you want to leave for your loved ones?
Taking the time to sit and really think about which goals are most important to you is key to the process. You're basically picking out the destination you're heading to on a map.
4. Evaluate your financial situation
Here's the moment of truth. You have your end destination in mind, and you know what tools you have available to get there. So is it enough? If not, what will it take to get there? What changes do you need to make in order to reach your goals? Or do you need to adjust the goals themselves?
This part of the personal financial planning process involves a lot of number crunching. You need to take stock of, among other things, when you want to retire, how much you want to live off during your retirement years, how much money you're currently saving, and how much you have invested to see if you'll be able to reach your goals.
This is where having a financial planner can make all the difference. They'll be able to crunch all the numbers with complex tools you might not have available to you. They'll also be able to show you whether or not you're heading in the right direction.
5. Stick to the plan
This is where the rubber meets the road. Now that you know where you're heading and how to get there, it's time to actually put the plan into place.
For example, you'll need to make sure you follow your budget. You'll also need to make appointments with other financial professionals, such as attorneys, investment brokers, insurance brokers, and your employer's HR department to fully implement the plan.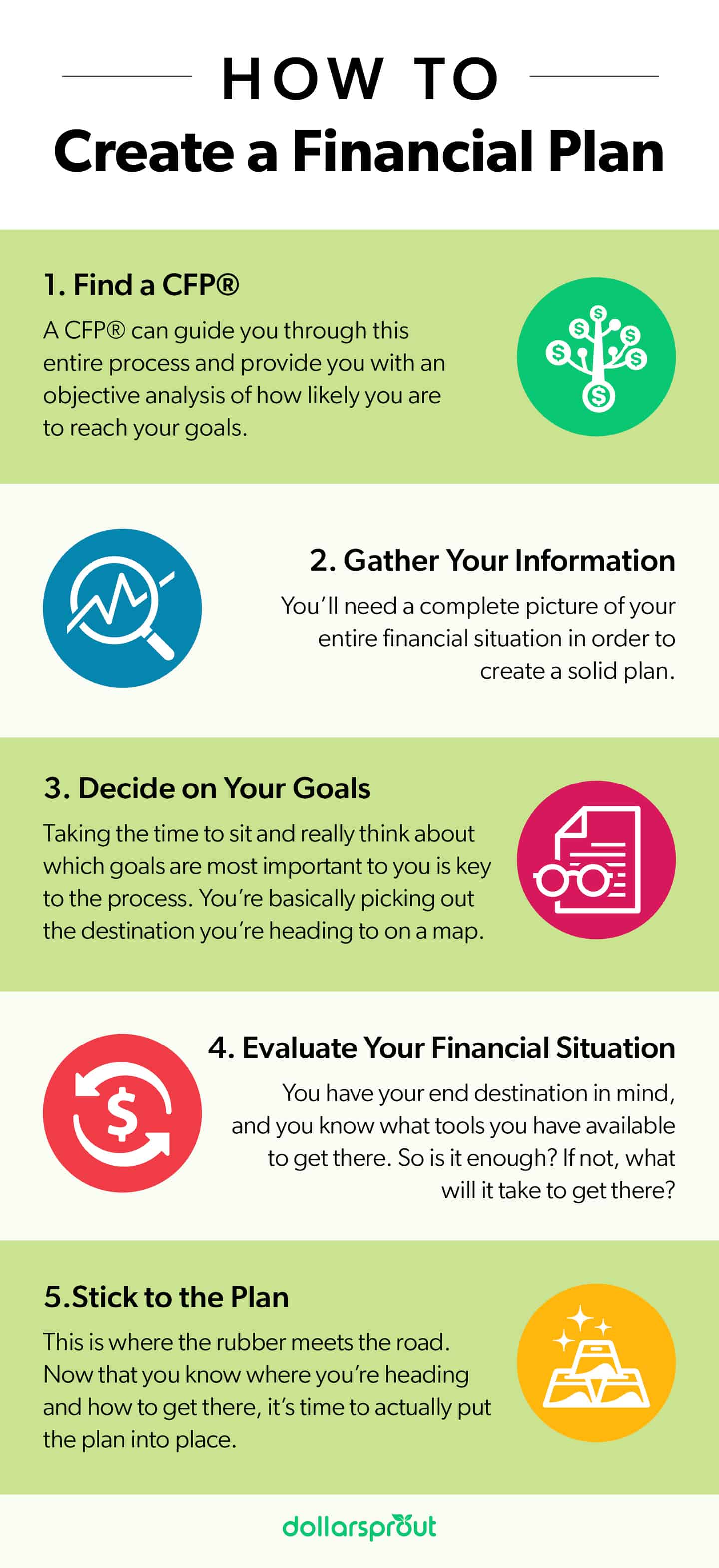 Financial Plan FAQs
Beyond creating your financial plan, remember to consult an expert for assistance and check in on your progress regularly.
Do I need a financial planner to make a financial plan?
There are many advantages to working with a financial planner. The only disadvantage is cost, which can be prohibitive for some people.
For the best results, find a fee-only financial planner with a CFP® designation. That way you know they've received the right training and aren't working on commission, so they're far less likely to try to sell you products you don't need.
How often should I make a financial plan?
You may only need to "make" your financial plan once. After that, it's a good idea to check in at regular intervals as circumstances change. For example, if you start a family, get a new job, or decide to switch up your financial goals, you'll need to tweak your plan.
"I encourage you to look at your plan at least annually," said Welker. "We have clients we meet with quarterly to stay on top of changing situations and to make sure we have time to look at different topics throughout the year."
What's the difference between a budget and a financial plan?
A budget is a plan for spending your money each month. A financial plan is more comprehensive and provides a road map to reach your financial goals.
"If someone just has income and expenses, they can probably get by using Mint or a similar software to help them with their budget," says Logue. "But, if someone wants to really understand how the decisions they make impact the chance of reaching their financial goals, they could probably benefit from a comprehensive financial plan."
Why a Financial Plan is a Necessity
If you don't have any goals in life beyond waking up each morning, going to work, and coming home to sleep, you may not need a financial plan. But most of us have bigger dreams than that, like retiring, saving for a vacation home, or paying for kids to go to college. If you want to make those dreams a reality, a financial plan is the first step.