Sweatcoin Review: A New App that Pays You to Walk
Advertiser Disclosure
Our readers always come first
The content on DollarSprout includes links to our advertising partners. When you read our content and click on one of our partners' links, and then decide to complete an offer — whether it's downloading an app, opening an account, or some other action — we may earn a commission from that advertiser, at no extra cost to you.
Our ultimate goal is to educate and inform, not lure you into signing up for certain offers. Compensation from our partners may impact what products we cover and where they appear on the site, but does not have any impact on the objectivity of our reviews or advice.

If you're like me, you carry your smartphone everywhere.
Maybe you do it so you can check emails on-the-go or so you can listen to your favorite podcast.
But you can also earn extra money by taking your phone with you on walks when you use the Sweatcoin app.
Since I work from home, I've realized that I don't walk outside as often as I should. Downloading the Sweatcoin app has encouraged me to take walks that I wouldn't normally.
I've earned more than 30 Sweatcoins or SWCs during my first week of using the app and love watching my balance increase for simply exercising as I should.
What Is Sweatcoin and How Does It Work?
Sweatcoins is, most simply, an app that slowly awards you coins for collecting data about the steps you take outside.
Once you've accumulated enough coins, you can use them to purchase goods, services, and experiences through the Sweatcoin website (or donate them to a reputable cause like Women for Water and The UN Refugee Agency).
Sweatcoin encourages you to take more walks throughout the day by paying you to work out.
How to sign up for Sweatcoin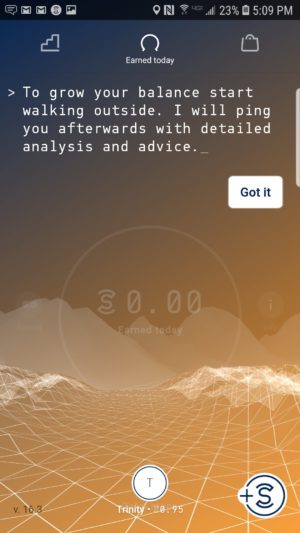 Signing up for a Sweatcoin account is quick and easy.
Visit the website or download the app on your iPhone or Android smartphone.
Sweatcoin will walk you through the initial signup process. You'll need to provide your first name, email address, and phone number.
The app also requires you to have your GPS location turned on with high accuracy for the best step conversion.
You have to provide the app with your mobile number, and Sweatcoin will send you a four-digit code to verify the device you'll be using when you walk.
As a thank-you for signing up, Sweatcoin gives new users .95 SWC, equal to about 1,000 steps. You can check your Sweatcoin Wallet balance any time or get tips for earning more.
Walk, walk, walk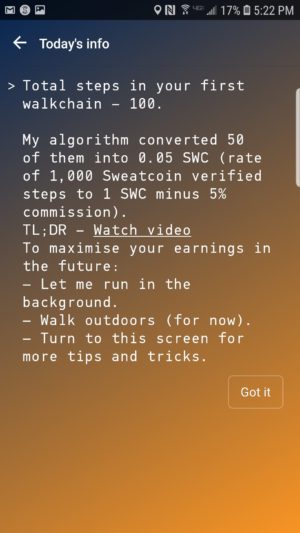 You'll have to walk a little more than 1,650 steps to earn one SWC. The average person takes 2,000 steps per mile and should generally walk at least 10,000 steps per day.
If you fall into this category, you can expect to earn approximately six SWC per day (that's 65% of 10,000 steps minus Sweatcoin's 5% commission).
The average step to Sweatcoin conversion rate is 65%, meaning that for every 1,000 steps you take, you'll earn SWCs for 650 of them.
This rate is determined by the number of steps you take inside and steps that aren't taken for exercise purposes. Both of those types of steps account for 35% of unpaid steps.
The only way to increase your income from walking is to take longer walks outside throughout the day.
Get paid in Sweatcoins
If you let the Sweatcoin app run in the background of your smartphone, you'll get paid in SWCs.
The app counts your steps in real-time, but holds SWCs until you've accumulated 2,000 steps. After you reach this threshold, the app will analyze your steps using the Sweatcoin algorithm and calculate how many of your steps can be converted into SWCs. This prevents cheating and determines how many steps were taken outside for exercise purposes.
If you want SWCs credited to your account before you reach the 2,000 threshold, you can force-send your steps at any time without incurring a penalty.
You currently can't cash out SWCs via PayPal or check so there is no Sweatcoin to USD conversion. While SWCs don't hold any cash value, the company's long term goal is to list them on exchanges like other cryptocurrencies.
Sweatcoin is actively working to increase the value of SWCs by filtering out steps that aren't exercise-related and by increasing the value of the goods and services that are offered.
Redeeming your Sweatcoins
Although you can't cash out your SWCs for real money, you can apply them toward purchases through the Sweatcoin app. Sweatcoin partners with more than 160 brands, and the offers can change daily. If you can't find something you like, check back again a few days later for new offers.
Sweatcoin reserves Marathon Offers for high SWC earners to redeem. As of September 2019, 20,000 SWCs could get you $1,000 in PayPal cash or a brand new iPhone XS. These offers are limited and available on a first-come, first-serve basis.
Since earning such high numbers of SWCs could take someone years to accomplish, you can work together as a family to earn faster. Then, transfer all SWCs to a single account to cash out or purchase a Marathon Offer.
But if you see a tempting offer that you could cash out on immediately, do it. While there are no real cash-earning opportunities at the lower levels, you can still save real money by using SWCs to fund these purchases.
6 Tips for Earning More
The way to earn the most on Sweatcoin is to take long, daily walks outside, since the app's main purpose is to reward you for exercising. But there are other tips you can try that could help you earn more money on Sweatcoin.
1. Claim daily bonuses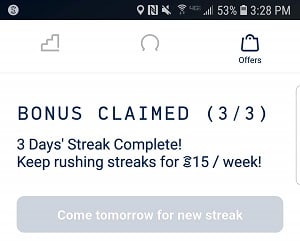 Sweatcoin offers daily bonuses for watching ads on the app. Users can earn one, two and four SWCs for watching ads on three consecutive days.
After that, you can start a new three-day streak to earn an additional seven SWCs every three days.
2. Turn off your battery saver
Using a battery saver could keep Sweatcoin from accurately counting your steps. Since you're already losing indoor steps and steps that aren't specifically taken for exercise, turn off your battery saver to help maximize the steps you take.
3. Turn your GPS on high accuracy
It may drain your battery faster, but setting your GPS to high accuracy will help Sweatcoin count more steps. You can turn it off while you're inside for an extended period of time, but remember to turn it on during your hikes and outdoor walks.
4. Walk outside
You might not realize how many steps you take inside versus outside. Don't be surprised if Sweatcoin doesn't pay you for more than half of your daily steps. It's important to schedule outdoor walks if you want to earn more on Sweatcoin.
5. Upgrade your account
Sweatcoin currently offers four membership levels. Upgrading to a level that fits your normal walking schedule could help you earn more on Sweatcoin.
Mover Plan (free): Earn up to five SWC per day or 150 SWC per month.
Shaker Plan (4.75 SWC per month):

Earn up to 10 SWC per day or 300 SWC per month.

Quaker Plan (20 SWC per month):

Earn up to 15 SWC per day or 450 SWC per month.

Breaker Plan (30 SWC per month):

Earn up to 20 SWC per day or 600 SWC per month.
There's also a "Trouble Maker Plan" coming soon.
6. Invite your friends to try Sweatcoin
You can earn five SWC for every friend who signs up using your unique referral link. You can text that link to your friends or share it on social media.
Sweatcoin Review FAQs
Getting started with an unknown company that tracks your every step can be confusing. But Sweatcoin addresses these potential issues that might be keeping you from signing up and earning SWCs.
Is Sweatcoin worth it?
Determining Sweatcoin's worth is a personal question. Because every member has their own activity level, only you can decide the app's value for yourself.
Sweatcoin is most valuable to users who already walk outside on a daily basis, but it can create an incentive for others to walk more. Since walking is one of the best forms of low-impact exercises, earning SWCs toward real-life rewards is worth it.
How does Sweatcoin make money?
Sweatcoin earns money by partnering with the brands that provide offers on its website. Those partners pay Sweatcoin real money when members buy something using SWCs.
To avoid devaluing SWCs, Sweatcoin recoups coins from users in two ways. First, the app collects a 5% commission from every SWC you earn. Second, it charges a set monthly fee in SWCs for the upgraded plans. The benefit of both of these earning methods is that members pay in SWCs instead of real money.
Does Sweatcoin work with my Fitbit?
Sweatcoin doesn't currently integrate with step trackers like Fitbit or Android Wear. It can track steps on only iPhones, Android smartphones, or Apple Watch 2s/3s.
Sweatcoin requires GPS, which isn't included with some wearables. Plus, its unique algorithm (which eliminates steps unrelated to exercise) is limited to certain devices. Sweatcoin's future goal is to integrate with more wearable devices.
How can you increase your step conversion rate?
You can potentially increase your conversion rate by turning your GPS on high accuracy, walking outside more, turning off your phone's battery saver, or removing your phone's protective cover, which could block GPS signals.
When do Sweatcoins expire?
SWCs never expire. You can keep SWCs in your wallet indefinitely, and they won't expire. This makes saving for Marathon Offers attainable if you have the patience.
Sweatcoin Review Summary
Sweatcoin is good for two types of people: those who already take daily walks, and those who need an incentive to do so.
No matter which category you fall into, check out what Sweatcoin has to offer. The app is free, and it pays out real rewards.
Pros:
Incentivizes exercise
Pays you to carry your phone on walks
Is free and easy to set up, so you can start earning quickly
Offers SWCs that are transferable from user to user
Provides detailed step analysis and tips to earn more
Offers upgrade plans that are paid via SWCs only
Cons:
Only tracks steps taken outside
Doesn't pay for steps the app believes aren't specifically taken for exercise purposes
Doesn't pay out earnings via PayPal or check
Has few offers you can redeem your SWCs for
Has a low step to SWCs conversion rate (1,000 verified steps to 1 SWC)
Has a low verified step conversion rate (typically awards SWCs for only 65% of steps taken)
Takes a 5% commission on SWCs earned
Needs to run constantly to calculate steps, potentially draining your phone battery faster
Isn't currently on the blockchain, but plans to be listed on exchanges like other cryptocurrencies
Try the App for Yourself
Earning rewards for walking is legit, and you can reap some real health benefits from daily exercise. Plus, it's a good way to break up the monotony of the day, especially if you work out of your home.
If you already like to walk, this is an easy way to start earning money from taking your phone with you on walks. If having an app track your every step doesn't bother you, then downloading the app is a good place to start. If you don't like it, you can always delete it later.