Sweatcoin Review 2023: Pros, Cons & Tips to Earn Real Money
Advertiser Disclosure
Our readers always come first
The content on DollarSprout includes links to our advertising partners. When you read our content and click on one of our partners' links, and then decide to complete an offer — whether it's downloading an app, opening an account, or some other action — we may earn a commission from that advertiser, at no extra cost to you.
Our ultimate goal is to educate and inform, not lure you into signing up for certain offers. Compensation from our partners may impact what products we cover and where they appear on the site, but does not have any impact on the objectivity of our reviews or advice.
Sweatcoin is good for two types of people: those who already take daily walks, and those who need an incentive to do so. The app is free, and it pays out real rewards.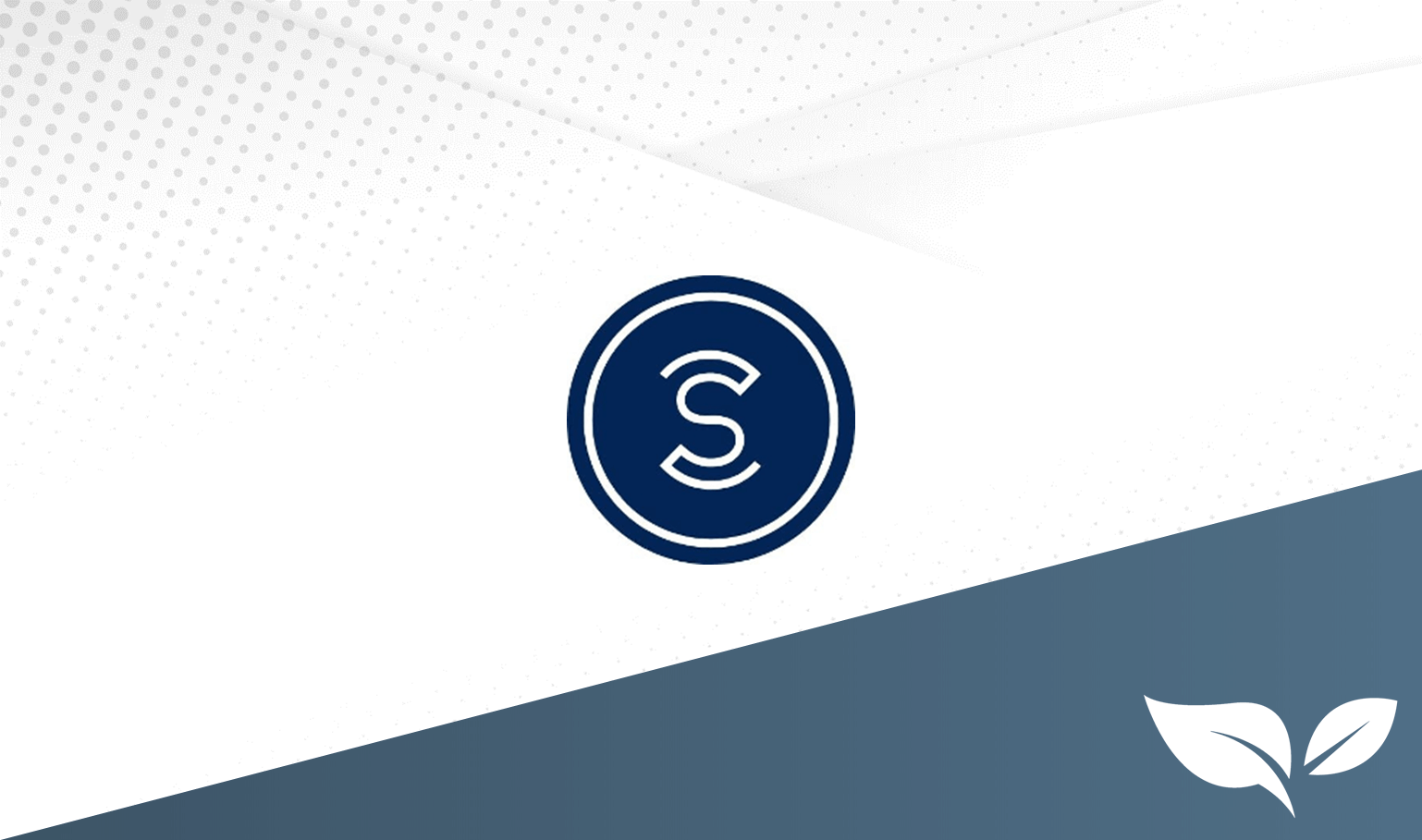 Sweatcoin is a free mobile app where users earn rewards for the daily step activity tracked by their smartphone. It was the #1 most downloaded Health & Fitness App in 2022 and now boasts 140 million users.
I downloaded Sweatcoin in June of 2019 and have since tracked 6,071,005 steps. While I've cashed out $320 in rewards over the past four years — and have a balance of $48 in earned $SWEAT — much has changed since I originally downloaded the app.
In this Sweatcoin review, I share my first-hand experience with the app, what's changed about it (for better and for worse), tips for earning the most rewards, and realistic earning expectations should you choose to download it.
Key Takeaways
Sweatcoin is a get paid to walk app that rewards users for sharing step data.
1,000 verified steps convert to 1 earned Sweatcoin (SWC).
Free users can earn up to 10 Sweatcoin per day (10,000 steps).
No clear Sweatcoin to cash conversion rate.
Few good options in the Sweatcoin Store makes redeeming rewards difficult.
Pros
✔️ Completely free to use.
✔️ Earn free crypto ($SWEAT).
✔️ Frequent free giveaways.
✔️ Available on nearly all devices.
Cons
❌ Can not redeem SWC for cash.
❌ App feels like an advertisement.
❌ Zero physically redeemable products (without making a purchase).
Best for: Users who want to slowly earn passive cryptocurrency.
Verdict: 2.5 out of 5 stars
App Design: 2.0 out of 5 stars
Cost: 3.0 out of 5 stars
Ease of Use: 4.0 out of 5 stars
Rewards: 1.0 out of 5 stars
While the app is safe, legitimate, and completely free to use, users will need to additionally download the Sweat Wallet app and sync it with the Sweatcoin app to convert daily earned SWC into $SWEAT (the only reward of any monetary value).
🗒️ Reviewer's Note:
It's clear that Sweatcoin app creators intend to funnel users towards its integrative sister app, Sweat Wallet, where the user's first 5,000 steps per day can mint $SWEAT — the Sweat Economy's proprietary cryptocurrency.
At the time of writing, 4,745 steps = 1 $SWEAT, which is currently trading at just under $0.01 on popular crypto exchanges. Users will generate approximately $0.30 in passive income each month by syncing the two apps and walking 5,000 steps per day.
What Is Sweatcoin?
The U.K.-based Sweatcoin is a free step-tracking app that rewards users in its own digital currency known as Sweatcoins (SWC), for the steps they take. SWC can be redeemed for prizes, gift cards, and vouchers, or, exchanged for $SWEAT, their new cryptocurrency.
Sweatcoin claims that users become 20% more active each day, even after 6 months of use, in large part because of the incentive structure the app provides.
User reviews of Sweatcoin claim that the app motivates them to move, offers excellent customer service, and they enjoy being able to donate to charity. Primary complaints include bugs and other glitches with the app, a lack of redeemable rewards, and how long it can take to accumulate Sweatcoin to convert to prizes.
$4.99
Price
Sweatcoin Premium
DollarSprout Rating
2.5 out of 5 stars
Sweatcoin is a free step-tracking app that rewards users in its own digital currency known as Sweatcoins (SWC), for the steps they take. SWC can be redeemed for prizes, gift cards, and vouchers, or, exchanged for $SWEAT, their new cryptocurrency.
Show

Hide

more
Benefits
Completely free to use.
Earn Sweatcoins or $SWEAT (cryptocurrency) for step data.
Redeem rewards for crypto, discounts at popular merchants, or donate to charity.
Drawbacks
App may not count legit steps.
SWC can not be redeemed for cash or gift cards.
Few redeemable physical offers.
Low step-to-SWC conversion rate.
5% fee on earned SWCs.
Drains battery life.
Must download Sweat Wallet to reap real rewards.
How to Sign Up for Sweatcoin
Creating a Sweatcoin account is quick and easy. All you need to do is visit the website or download the app on your smartphone.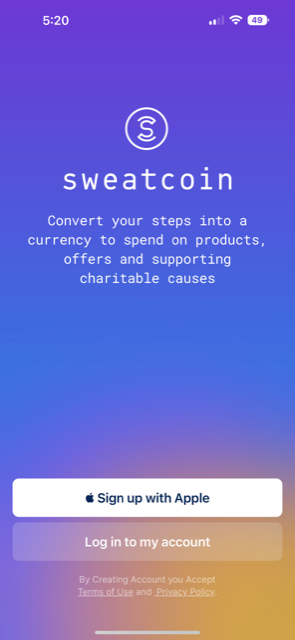 Sweatcoin will walk you through the initial signup process.
You'll be agreeing to provide your first name, email address, and cell phone number so Sweatcoin can send you a four-digit code to verify the device you'll be using when you walk.
The app also requires you to have your GPS location turned on with high accuracy for the best step conversion.
At this time, Sweatcoin doesn't integrate with step trackers like Fitbit or Android Wear.
It can currently track steps on iPhones, Android smartphones, or Apple Watches (except Series 1), so if you forget your phone while you're out for a walk, you'll miss those steps.
Sweatcoin requires GPS, which isn't included with some wearables.
Plus, its unique algorithm (which eliminates steps unrelated to exercise) is limited to certain devices. Sweatcoin's future goal is to integrate with more wearable devices.
Related: 13 Data Collection Apps That Pay You for Your Information
How to Earn Sweatcoin
Every 1,000 steps you walk net you .95 SWC. The average person takes 2,000 steps per mile and should generally walk at least 10,000 steps per day.[1]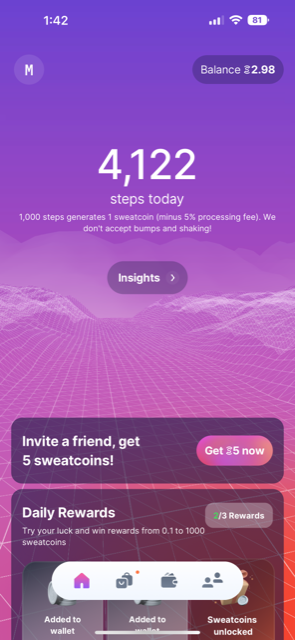 If you fall into this category, you can expect to earn approximately six SWC per day.
This is because the average step-to-Sweatcoin conversion rate is 65%.
(This means that for every 1,000 steps you take, you'll earn SWCs for 650 of them.)
For Android and iPhone 7 or later models, indoor and outdoor steps are counted in your step total and are applied to your conversion rate.
Sweatcoin also offers tips on how to improve your conversion rate.
Some of these tips include turning off your phone's battery saver or removing your phone's protective cover, which could block GPS signals.
The website indicates that while walking is the primary way to earn SWC, some users report that if they keep their phone in their pocket while biking, they can earn extra SWC.
Related: 13 Legit Apps That Pay You to Walk by Tracking Your Steps
Tips for Boosting Earnings
1. Claim daily bonuses
Sweatcoin offers up to 3 daily bonuses for watching ads on the app. Users can earn between 0.1 and 1,000 Sweatcoin for watching ads.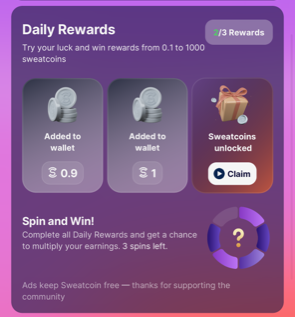 Ads are usually around 30 seconds in length. After viewing the ads, users have the option to Spin and Win to multiply their earnings. Multiples vary but generally range from 1.1x to 5x their original Daily Reward. The Spin and Win feature requires viewing an additional advertisement.
🗒️ Reviewer's Note:
I have used the app for 4 years and have yet to win a significant Daily Reward. My multiplier is almost always 1.1x. That said, Reddit users on this thread report winning, 20, 50, 100, and yes, even occasionally the 1,000 Sweatcoin reward that the app advertises. It must be incredibly rare, but the anecdotal reporting suggests the claim is truthful.
2. Turn off your battery saver
Using a battery saver could keep Sweatcoin from accurately counting your steps. Depending on the device you're using, you could be losing indoor steps or steps that aren't specifically taken for exercise, so turn off your battery saver to help maximize the steps you take.
3. Turn your GPS on high accuracy
It may drain your battery faster, but setting your GPS to high accuracy will help Sweatcoin count more steps. You can turn it off while you're inside for an extended period of time, but remember to turn it on during your hikes and outdoor walks.
4. Walk outside
You might not realize how many steps you take inside versus outside. Don't be surprised if Sweatcoin doesn't pay you for more than half of your daily steps. It's important to schedule outdoor walks if you want to earn more on Sweatcoin.
5. Upgrade your account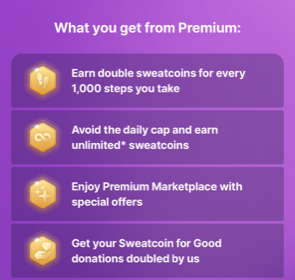 Sweatcoin offers a paid tier beyond the free service that you're automatically opted into when downloading the app.
Known as Sweatcoin Premium, users can choose to pay $4.99 per month or $24.99 if paying for a yearly Subscription upfront (58% discount) for the following benefits:
✔️ Earn double Sweatcoins for every 1,000 steps.
✔️ Avoid the daily [10 SWC] cap and earn unlimited.*
✔️ Premium Marketplace with special offers.
✔️ Charity donations are doubled by Sweatcoin.
✔️ Custom app icons.
*Please note that the Premium plan is subject to their fair use policy that prevents abuse of the system. There is still a daily limit for the Premium plan at 100 Sweatcoins (equivalent to over 52,000 steps). Depending on your stride length, this is equivalent to running 1 or 2 marathons daily.
🗒️ Reviewer's Note:
As a long-time user of the app, I absolutely do NOT recommend paying for Sweatcoin Premium. There is almost zero added value in doubling your Sweatcoin acquisition rate as a high(er) Sweatcoin balance does not fix the problem of Sweatcoin's lack of redemption options in the Store. Numerous users — myself included — cite complaints about having very high Sweatcoin balances and almost no route for redeeming them without having to make a purchase.
By opting into Sweatcoin Premium, you have the option to enter into gift card giveaways (or auctions) where thousands of users are competing for a single gift card of worth (usually a $100 gift card to a popular institution). If you're not lucky enough to win a giveaway and/or you don't have tens of thousands of Sweatcoins to take down an auction, there's almost no route to redeeming your Sweatcoin outside of paying for a "prize" (plus shippiing fees!).
6. Invite your friends to try Sweatcoin
You can earn five SWC for every friend who signs up using your unique referral link. You can text that link to your friends or share it on social media.
To Sweatcoin's credit, they do regularly host cool giveaways with some decent-sized prizes. Simply follow them across their social profiles and follow the entry rules each time a contest pops up.
For example, they recently hosted an enormous giveaway with over $35,000 in physical prizes.
🎉Enter the Biggest Sweatcoin Giveaway with $35K of prizes. Walkpads, iPhones, playstations & MORE
⠀
Each Sweatcoin = 1 entry, so ramp up your chances by walking more.
⠀
Rules:
⠀
1. Follow @sweatcoin
2. QRT this with your Sweatcoin invite link
⠀
👉T&C https://t.co/99ApZfadLg pic.twitter.com/9GSmr551Ua

— Sweatcoin (@Sweatcoin) August 22, 2023
Competition is fierce amongst Sweatcoin's enormous user database, but the prizes are legit.
How Much Can You Earn with Sweatcoin?
The amount a Sweatcoin user can earn per day and per month varies based on their activity level and the membership tier they are on.
For the free tier, a user can earn a maximum of 10 Sweatcoins per day, which equates to 10,000 steps. This means in a month, a user can earn up to 300 per month Sweatcoins if they consistently reach the daily maximum.
---
Users who have a synced Sweat Wallet can earn 1 $SWEAT per day from their first ~5,000 steps; roughly $0.01 per day at current market rates.
---
Unfortunately, there are no cash-equivalent redemption options native to the Sweatcoin app.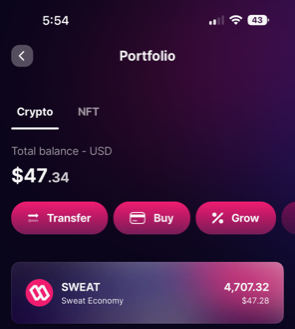 It's important to note that these calculations assume maximum daily steps are reached every day of the month.
Realistically, the actual amount earned can be lower depending on a user's daily activity and adherence to the app's requirements.
While less consistent, users occasionally have the opportunity to exchange earned Sweatcoin for entries into a merchant gift card or PayPal cash giveaway.
These are less common, difficult to win, and don't offer a reliable way to redeem earnings.
How to Withdraw Sweatcoin
You currently can NOT cash out Sweatcoins via PayPal, bank transfer, or check.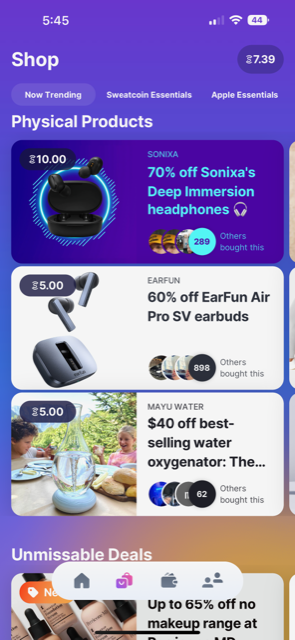 Users can only redeem them for products in the Store or Premium Marketplace, or through paid Sweatcoin subscriptions.
Sweatcoin partners with over 300 brands and offers can change daily.
If you can't find something you like, check back again a few days later for new offers.
If you see a tempting offer that you could cash out on immediately, do it.
While there are no real cash-earning opportunities on the free tier, you can still save real money by using SWCs to fund these purchases.
This is a noted degradation in the app experience, in my opinion, as users could previously redeem Sweatcoins to cover the cost of a piece of tech in its entirety — aka a real prize — versus redeeming them for a discount.
Again, note the 5% commission when redeeming Sweatcoins.
🗒️ Reviewer's Note:
As previously noted, my recommendation is for users to download and use the Sweat Wallet in conjunction with Sweatcoin. This allows users the ability to mint $SWEAT and earn extremely modest amounts of passive income, as opposed to accruing large Sweatcoin balances with limited redemption options.
Users can then proceed to move their $SWEAT to an exchange, where they can convert it to a different cryptocurrency, or trade it for a cash equivalent.
Sweatcoin Alternatives
If you're looking to supplement your earnings, or are frustrated by Sweatcoin's lack of redemption options (and don't plan on getting Sweat Wallet), you may find these alternatives more to your liking.
Winwalk. Notable for its lower step threshold for earning rewards; users earn coins for every 100 steps they take, compared to Sweatcoin's 1 SWC per 1000 steps. This makes earning rewards faster and more accessible. Additionally, Winwalk is a mix of a Get-Paid-To (GPT) app and a fitness app, allowing users to earn coins not only through walking but also by answering surveys and playing new mobile games. Winwalk also provides a broader range of options for cashing out. Users can exchange the coins they earn for gift cards from a variety of stores, including popular ones like Dominos and Starbucks​.
CashWalk. Also free to use but does not require location services or an internet connection, making it cost-effective and a battery-life saver. It can be used both indoors on a treadmill and outdoors. Users earn one "stepcoin" for every 100 steps taken, similar to Sweatcoin's earning mechanism, although the exact reward ratio may differ. In terms of rewards, Cashwalk pays out in gift cards and merchandise from well-known brands like Amazon, Starbucks, Nike, and Adidas, rather than in cash. Additionally, Cashwalk offers other ways to earn stepcoins, including playing games like "lucky scratches"​​ and inviting new users through a referral code.
Evidation. Formerly known as Achievement, Evidation and Sweatcoin differ significantly in their rewards systems and how much users can earn. Evidation allows users to earn points by completing various activities in the app, such as filling out daily check-ins, taking surveys, reading articles, joining health programs, and participating in research studies. Users can earn up to 100 points per day for healthy actions tracked by health apps and wearables.
| | Sweatcoin | Winwalk | Cashwalk | Evidation |
| --- | --- | --- | --- | --- |
| App Type | Rewards for walking, watching ads, and referrals | Pedometer that rewards steps, surveys, and playing mobile games | Pedometer that rewards steps | Crowdsourcing platform for health data research |
| Rewards System | Earns 1 SWC per 1000 steps | Earns coins every 100 steps | Earns 1 stepcoin per 100 steps | Points for healthy activities |
| Rewards | Discounted merchandise, crypto | Gift cards | Gift cards | Bank transfer, PayPal, gift card, donation |
| Step Tracking | Does not count indoor steps | Counts all steps | Counts all steps | Integrates with health apps |
| Cost | Free | Free | Free | Free |
| Special Features | Encourages outdoor movement, gamifies exercise | Lower step requirement for rewards, GPT elements | Doesn't require internet or location services, battery saver | Focus on health data for research |
FAQs
The Bottom Line
Using Sweatcoin to earn rewards for walking is legit, and you can reap some real health benefits from daily exercise. Plus, it's a good way to break up the monotony of the day, especially if you have a work-from-home job.
Based on my experience in the marketing world, Sweatcoin has clearly morphed to become a top-of-funnel user acquisition route for the Sweat Economy. The app looks, feels, and ultimately operates as a giant ad where Sweatcoin monetizes its users. (The end goal being to promote their new cryptocurrency, $SWEAT.)
I'm personally not a fan of what that means for the Sweatcoin app, as it means less value for users of the app as they push people to help mint $SWEAT instead of offering more redemption choices for earned Sweatcoins.
But, if you already like to walk, this is an easy, safe, and completely legitimate way to start earning modest sums of money from taking your phone with you on walks. If having an app track your every step doesn't bother you, then downloading the app is a good place to start. If you don't like it, you can always delete it later.
Related: