Side Hustle Statistics 2021: Trends Emerge as Covid-19 Lingers
Advertiser Disclosure
Our readers always come first
The content on DollarSprout includes links to our advertising partners. When you read our content and click on one of our partners' links, and then decide to complete an offer — whether it's downloading an app, opening an account, or some other action — we may earn a commission from that advertiser, at no extra cost to you.
Our ultimate goal is to educate and inform, not lure you into signing up for certain offers. Compensation from our partners may impact what products we cover and where they appear on the site, but does not have any impact on the objectivity of our reviews or advice.
Despite widespread labor shortages reported across the country, side hustles are becoming more popular and people are working harder than ever to bring home extra money.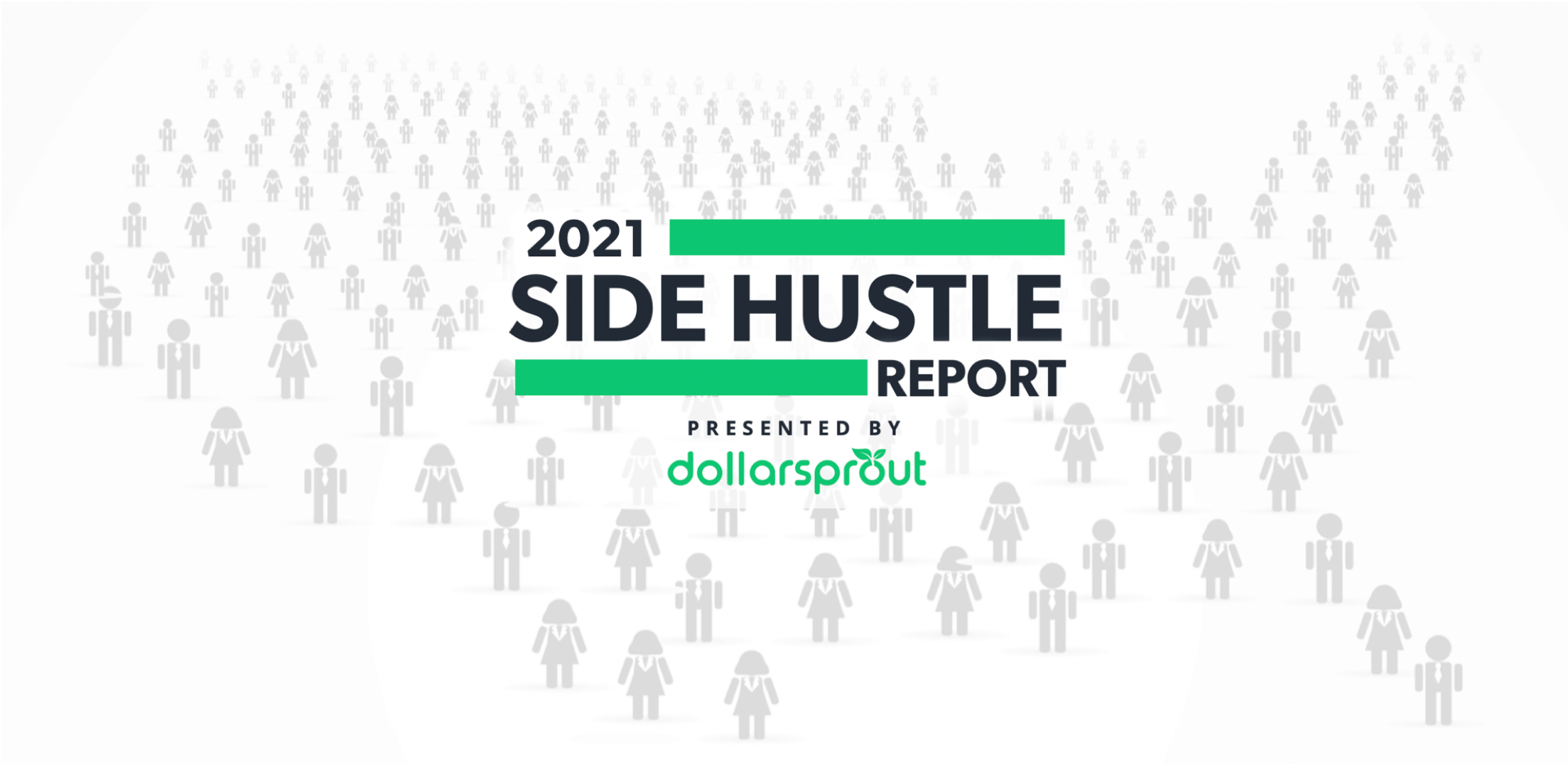 Key Findings:
» 41% of side hustlers rely on that income to cover monthly bills, up from 27% in 2020.
» The percentage of people spending over 15 hours per week on their side hustle(s) more than doubled in 2021, increasing from 12% to 27%.
» Over 50% of side hustlers have tried 3 or more different side hustles over the past 12 months.
» 76% of respondents predict that side hustles will become even more popular in 2022.
» Finding time is the most common hurdle new side hustlers face (29.6% of respondents).
» 48% of side hustlers report less time spent with friends and family as a result of their hustle.
» Results show that side hustlers with a website far out earn those without their own website.
Every year DollarSprout conducts an annual Side Hustle Survey to get a pulse on side hustlers across the country. In 2020, the big story was how the economic halt from COVID-19 forced many workers to find alternative means of income.
In 2021, as the economy has more or less reopened and the pandemic has begun to taper, labor shortages have affected nearly every industry. Restaurants are struggling to get back to being fully staffed, nearly one in five healthcare workers have left their jobs, and countless other industries are facing similar difficulties.
While there are many theories as to why this is happening, the data clearly shows that side hustles are becoming increasingly common in helping people bridge the income gap.
Side Hustling has Become More than Just a Hobby
Last year, just over 1 in 4 side hustlers (27%) were using that income to cover necessary monthly bills and expenses. In 2021, that number has gone up to 41%. People are more dependent on using a side hustle to make ends meet.
The increased dependence we are seeing on side hustles also comes with a significant increase in commitment. Our results show that the average time spent on side hustles has trended upward in 2021.
The percentage of people spending over 15 hours per week on their side hustle(s) more than doubled in 2021, from 12% to 27%: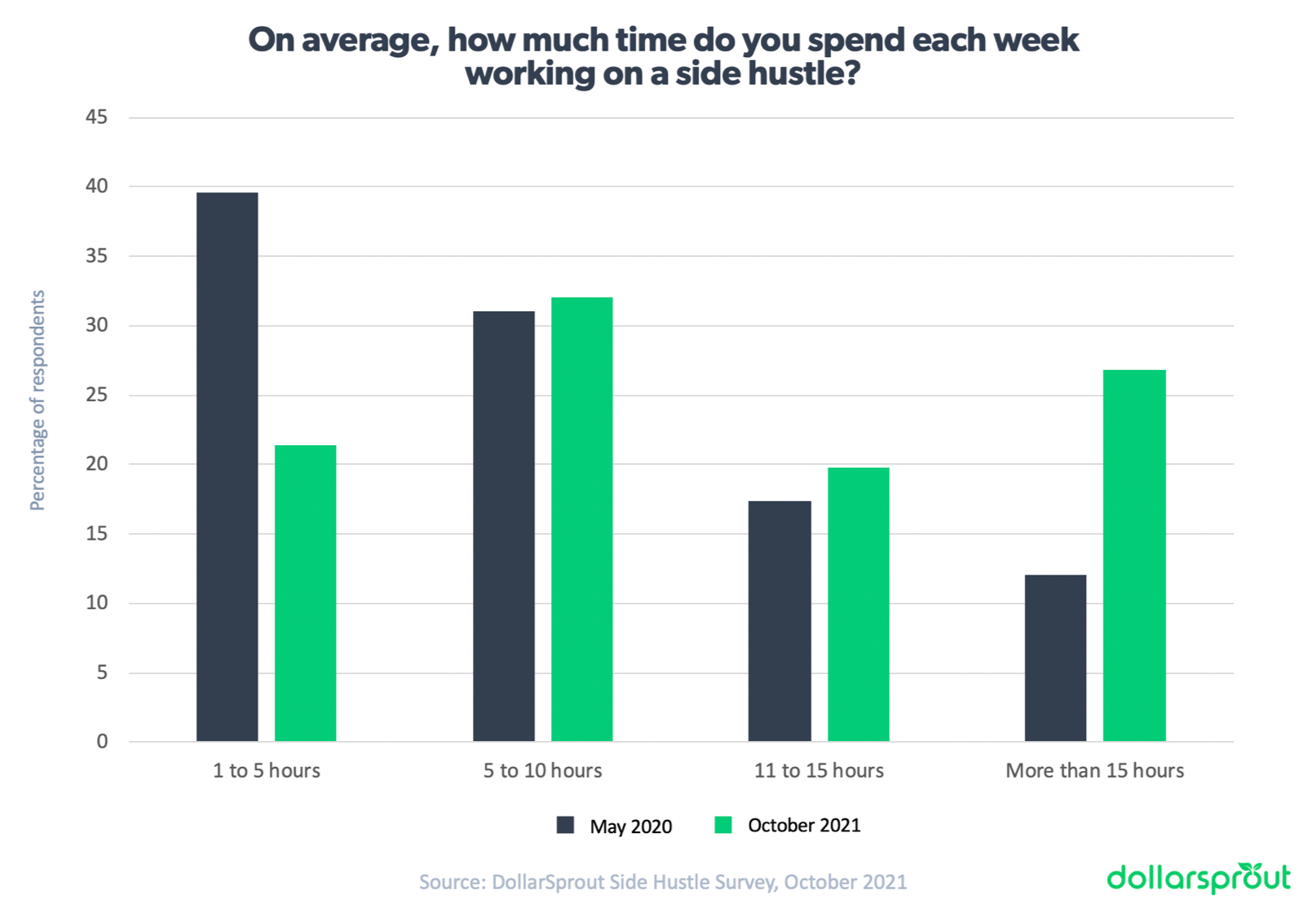 Earnings are also up dramatically, with nearly 14% of side hustlers earning over $1,500 per month: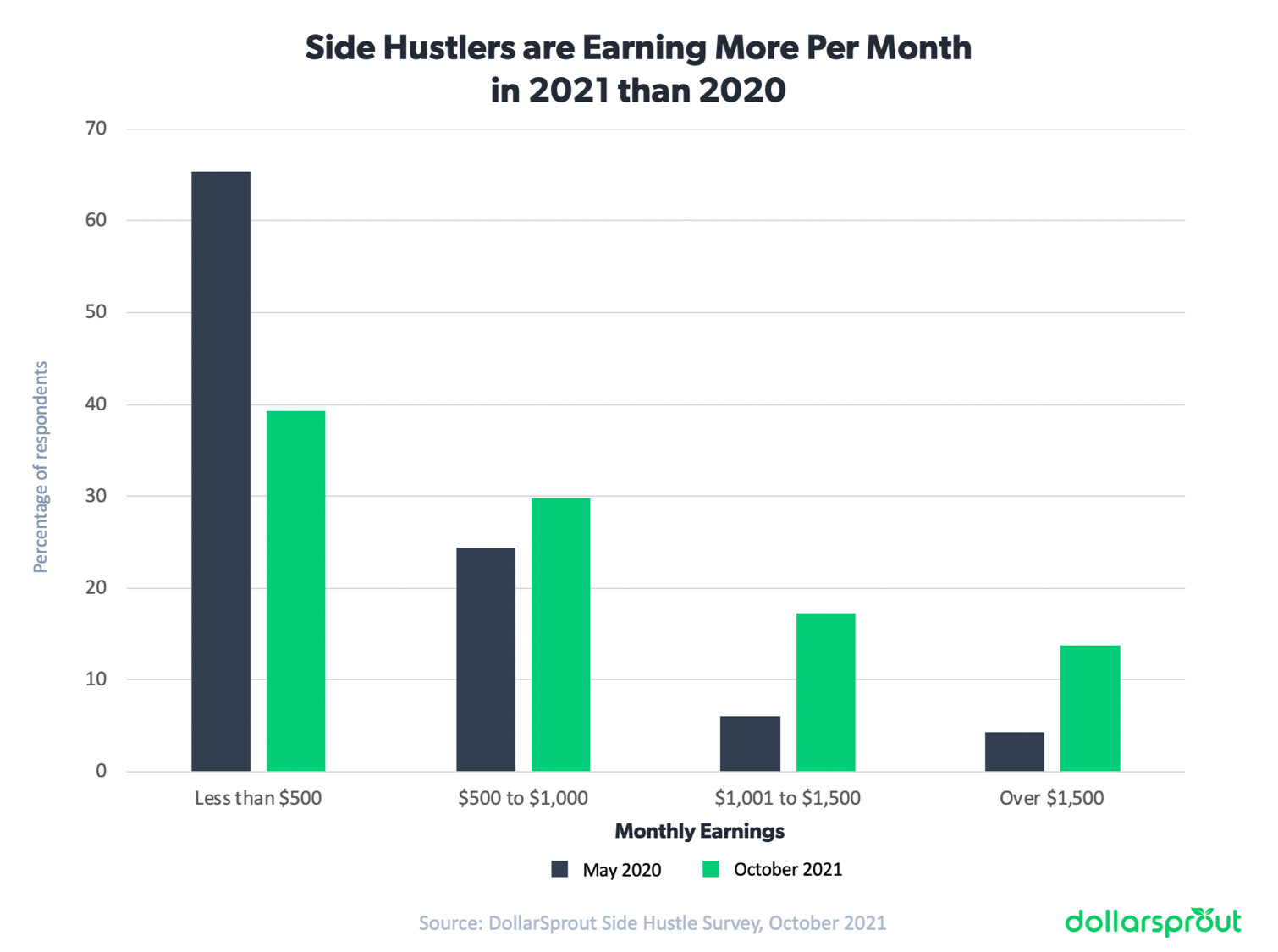 Despite more people using side hustles to make income for necessary expenses, enjoyment and flexibility still reign supreme when it comes to what is most important for choosing a side hustle: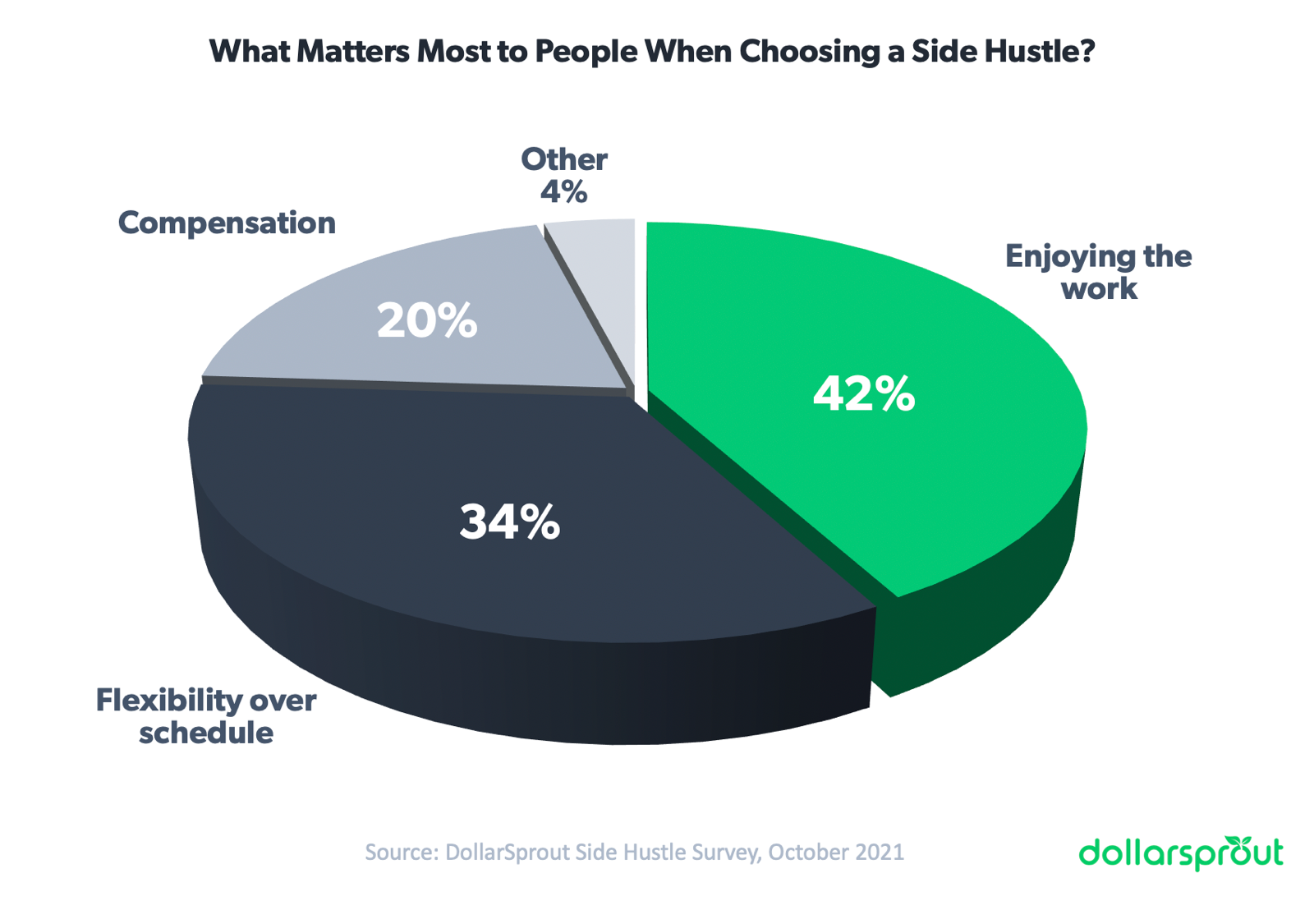 In fact, the highest earning side hustlers in 2021 are the ones who have tried 5 or more different types of gigs, showing that it pays to test the field in order to find out what works best: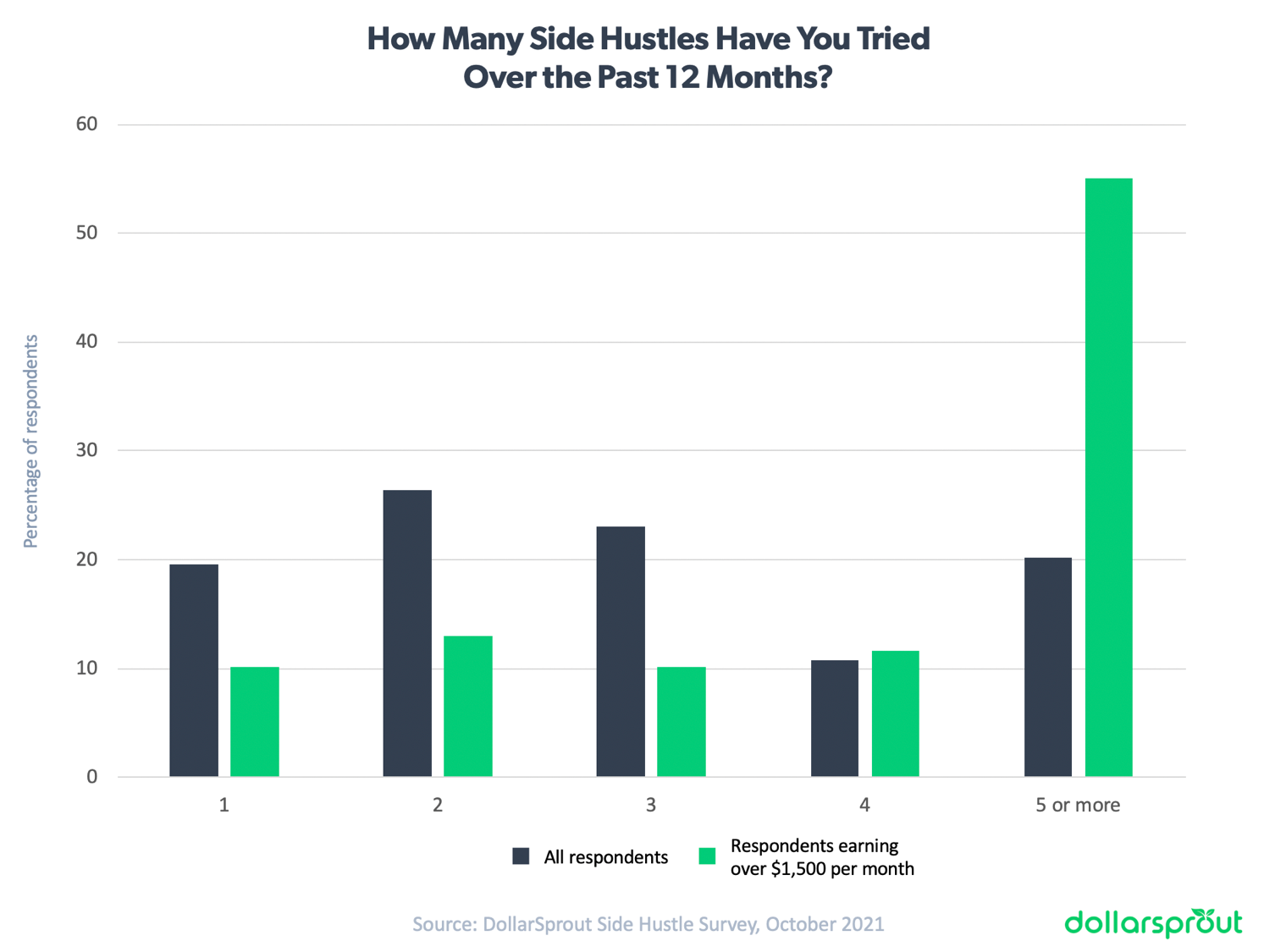 Another trend of the high performers in our research study shows that side hustlers who have their own website for promoting themselves far out earn those that do not: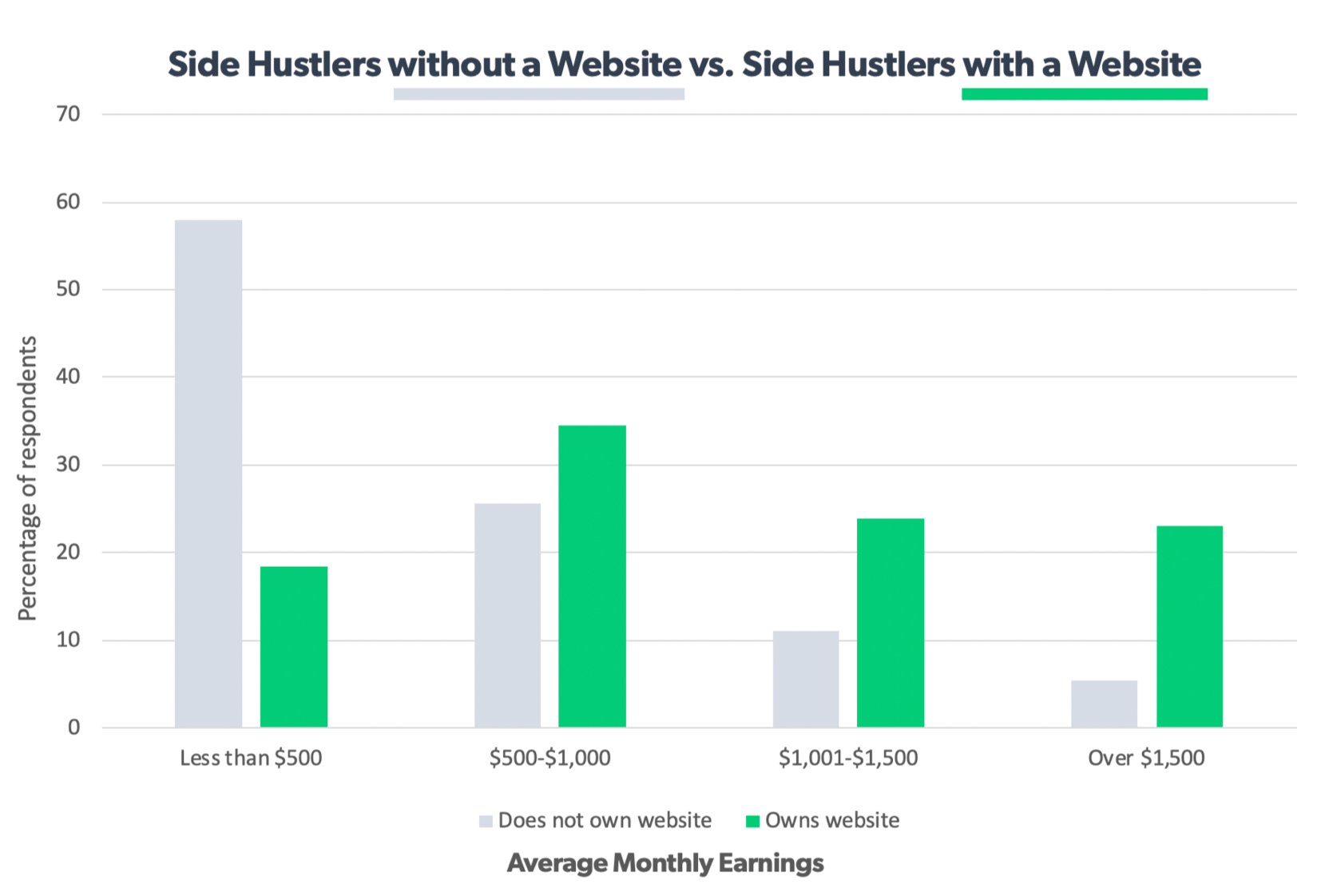 For those that use social media to promote their products or services, here's how the different platforms stack up: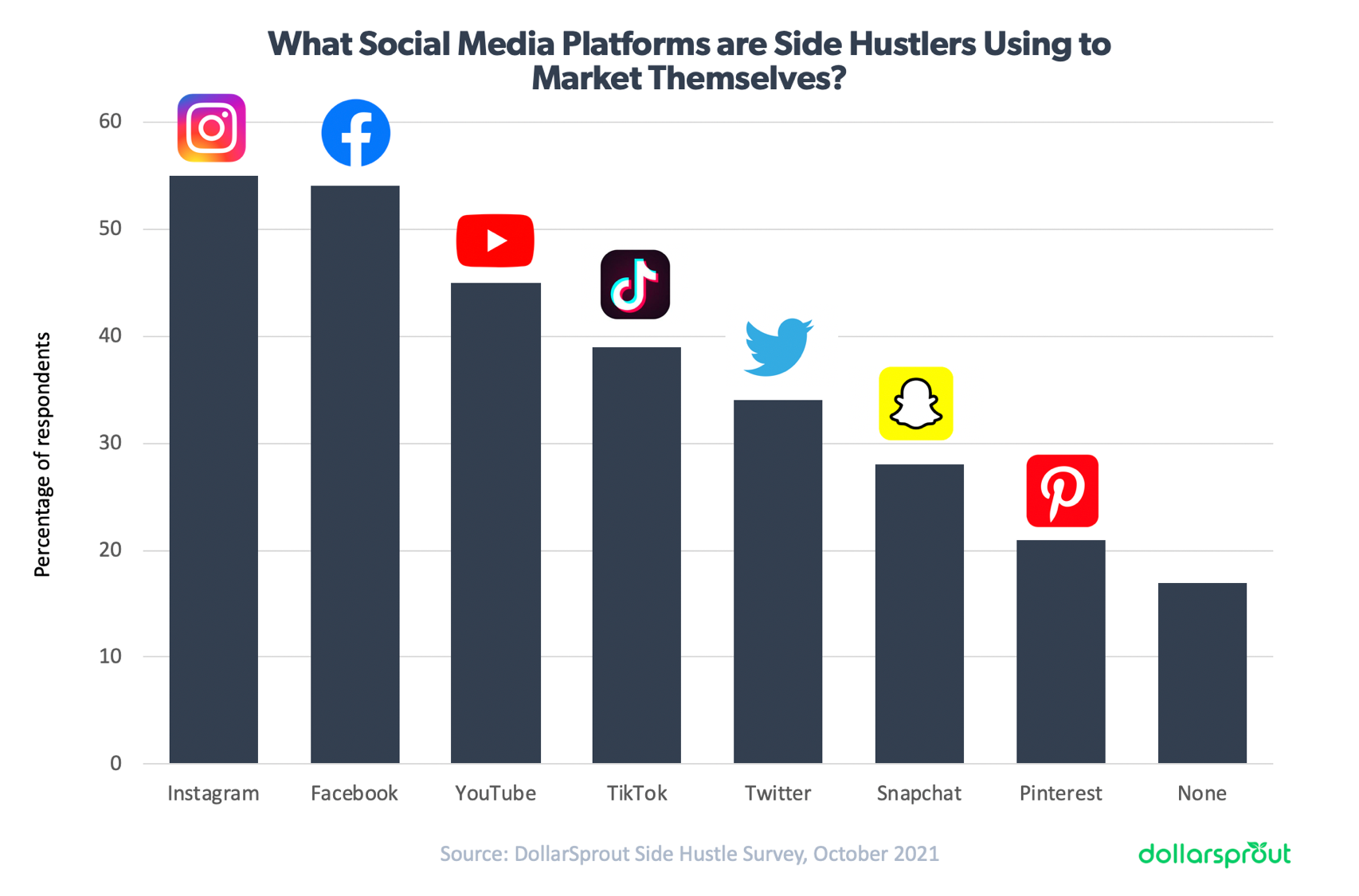 Social media isn't the only online marketing tool available to new entrepreneurs. Here are ten other digital marketing skills that aren't taught in school.
With people becoming more invested in earning money on the side this year, it should come as no surprise that side hustlers are overwhelmingly bullish on the trend heading into 2022: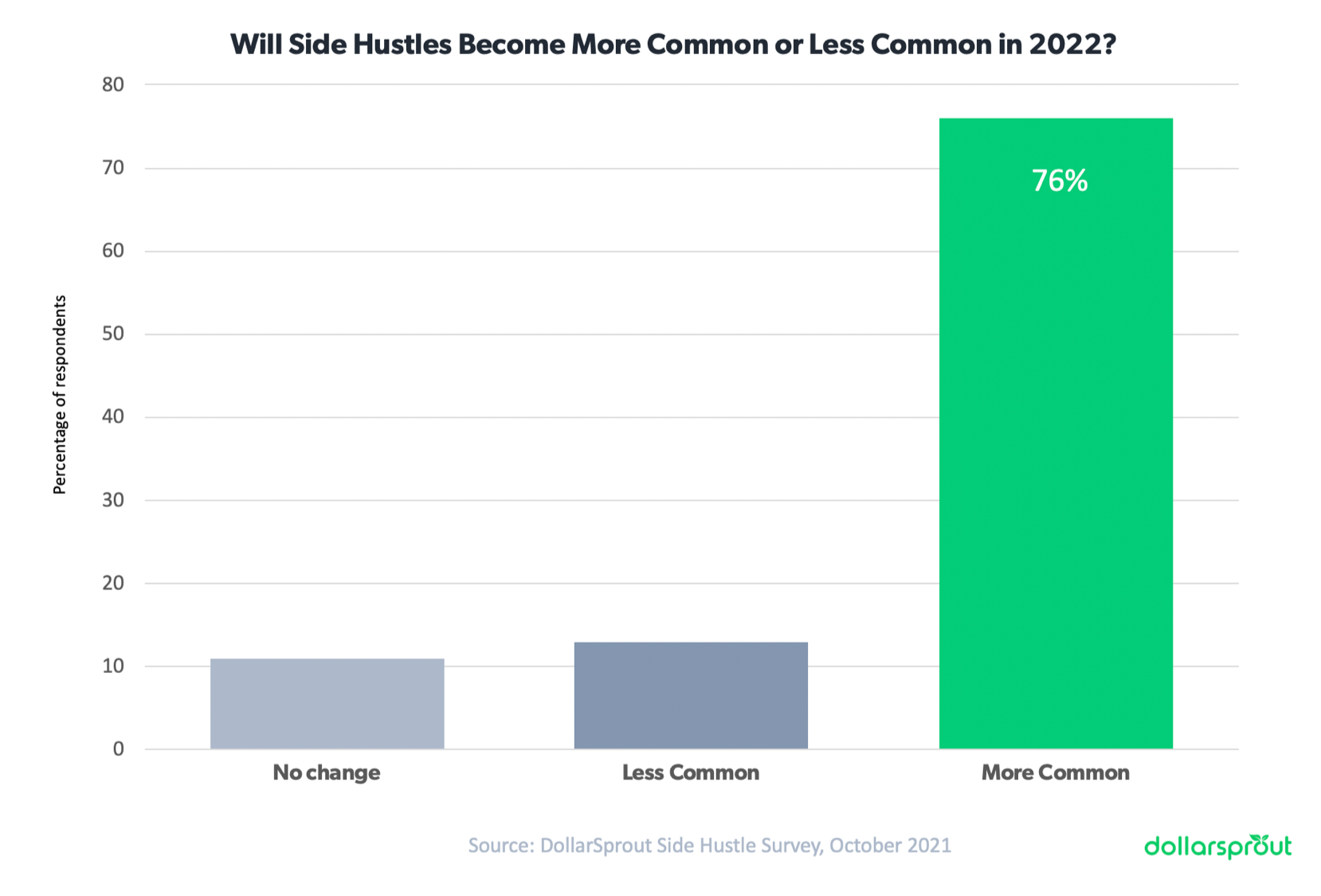 The Downsides of Side Hustling
Although the gig economy is booming, there are certainly challenges facing this portion of the population.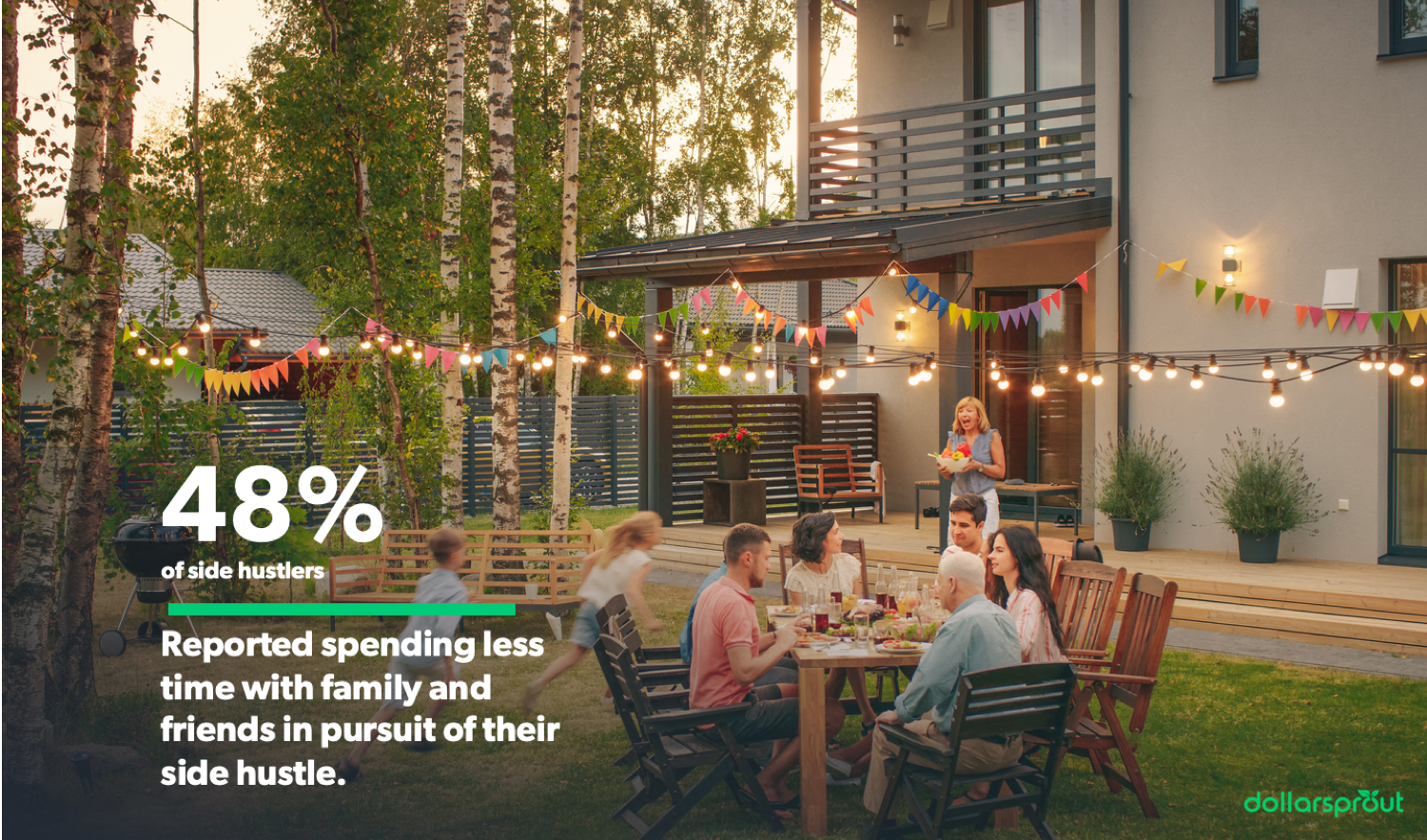 Less time spent with friends and family isn't the only sacrifice people are making. 9 out of 10 people reported at least some level of sacrifice in pursuit of their side hustle endeavors, with most of them reporting multiple sacrifices: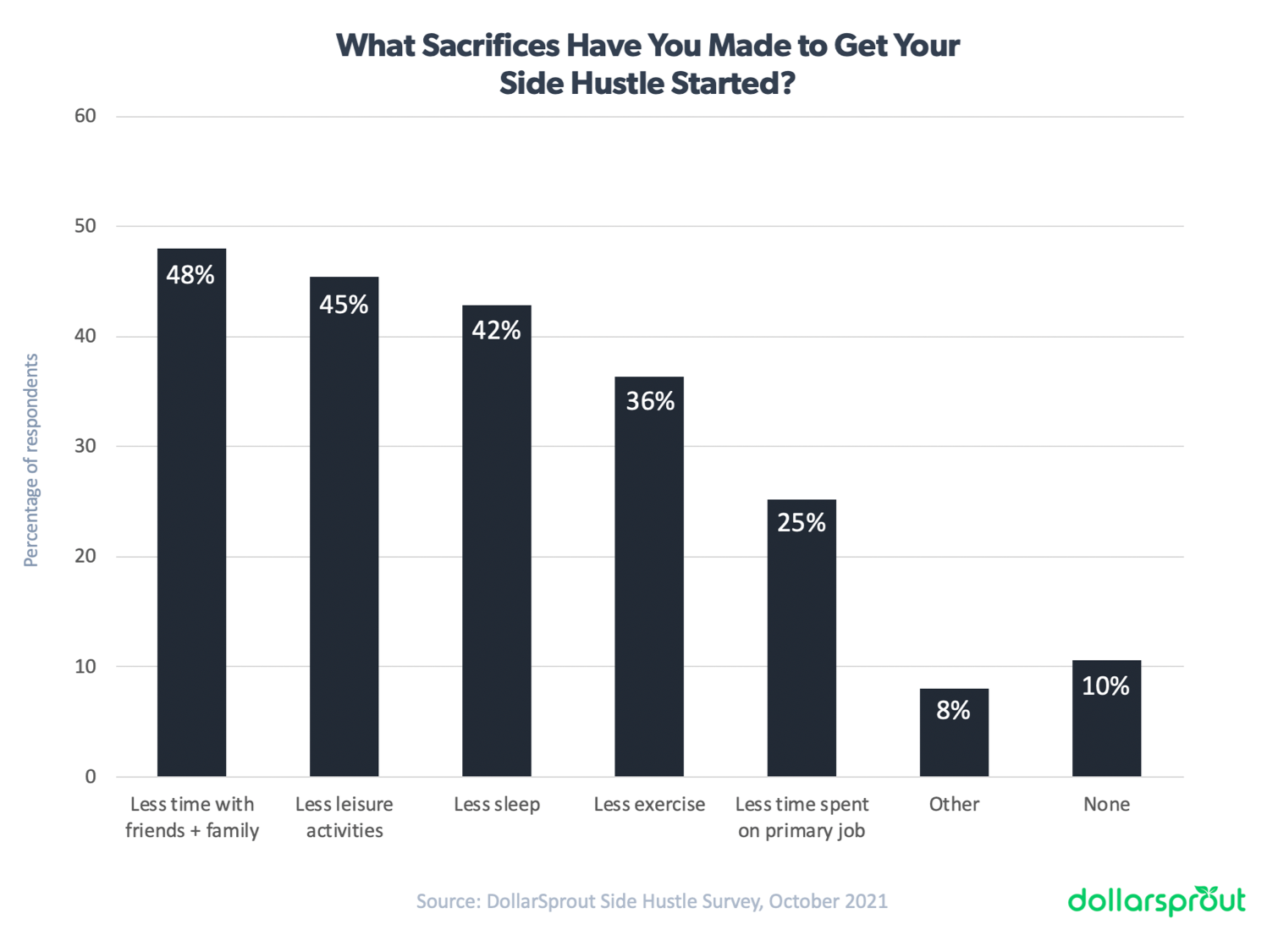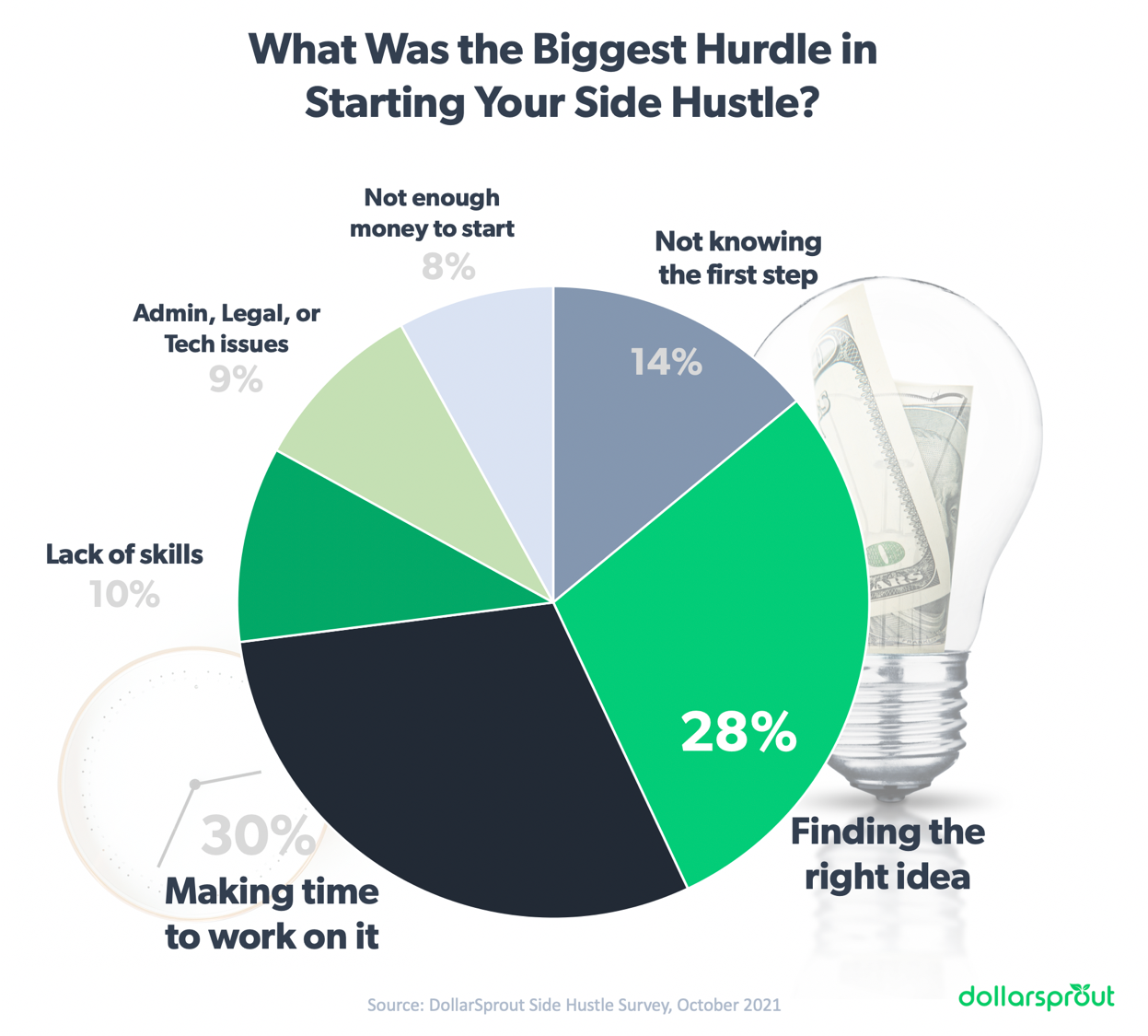 Methodology
DollarSprout.com enlisted the services of research firm Pollfish to conduct the survey. The total sample size was 500 U.S. adults who all reported having a side hustle at the time of the survey. All figures, unless otherwise stated, are from Pollfish. The survey was conducted online in October 2021 and adheres to rigorous quality standards. Results include a 5% margin of error. Respondents were asked to answer each question truthfully and to the best of their abilities.