Side Hustle Statistics 2019: Who, How Much & Most Popular Gigs
Advertiser Disclosure
Our readers always come first
The content on DollarSprout includes links to our advertising partners. When you read our content and click on one of our partners' links, and then decide to complete an offer — whether it's downloading an app, opening an account, or some other action — we may earn a commission from that advertiser, at no extra cost to you.
Our ultimate goal is to educate and inform, not lure you into signing up for certain offers. Compensation from our partners may impact what products we cover and where they appear on the site, but does not have any impact on the objectivity of our reviews or advice.
Side hustles have become a popular way to supplement traditional income. Our 2019 research study looks into who has one, and how much money they're making.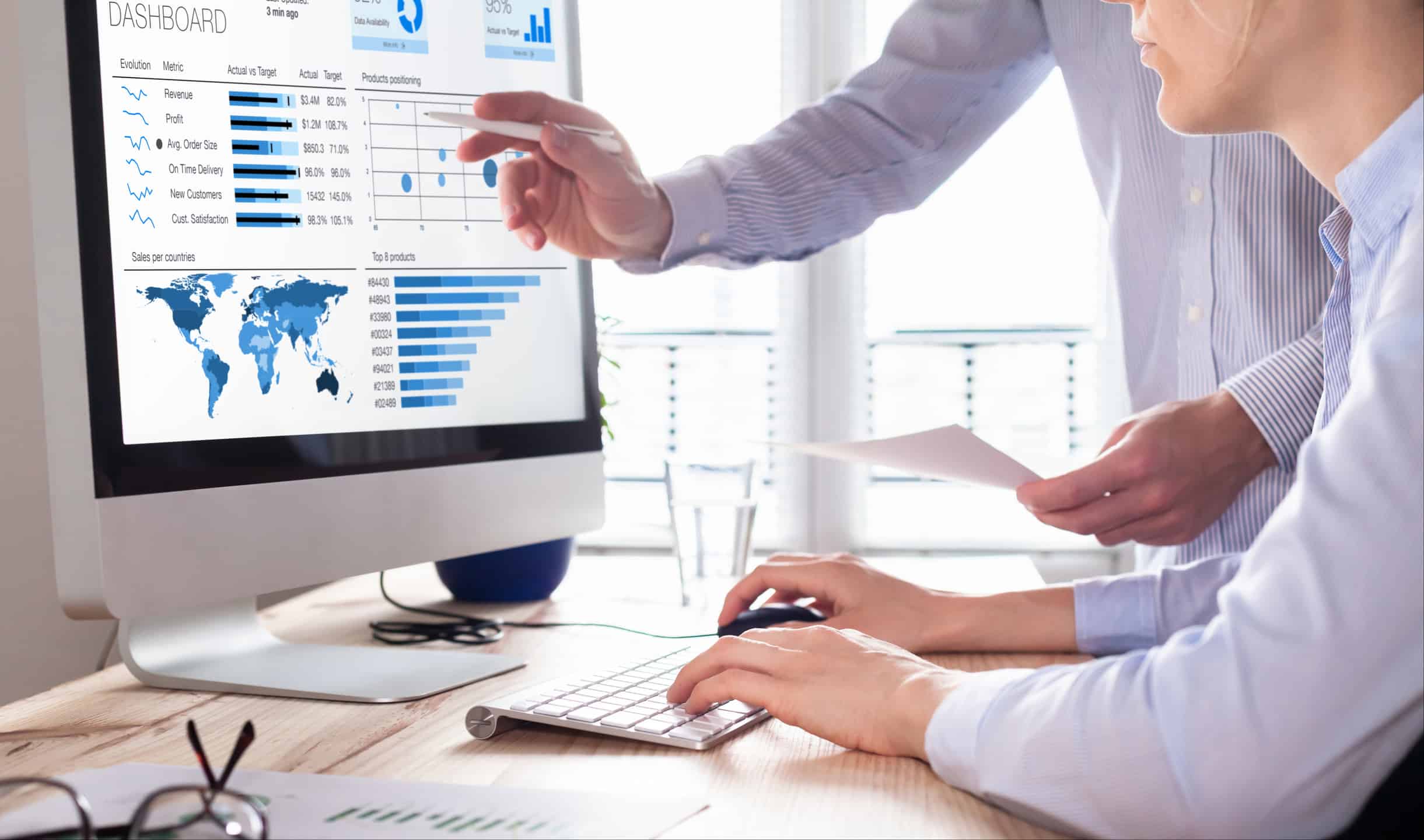 From dog walking to delivering food, there's a side hustle for every personality, preference, and schedule.
Starting a side hustle can be as simple as downloading an app or submitting some personal information on a website. But what you might not be able to tell is if the side hustle is going to be worth the time and effort.
To better understand what our community is doing for side hustles, DollarSprout surveyed 867 newsletter and website subscribers.
We wanted to know who they are, what they're doing to make money, and what they're using the income for. We also asked our community how much they're earning via their side hustles to compare the profitability of different options.
By collecting and sharing this information, we can help you make a better, more informed decision about your side hustle options.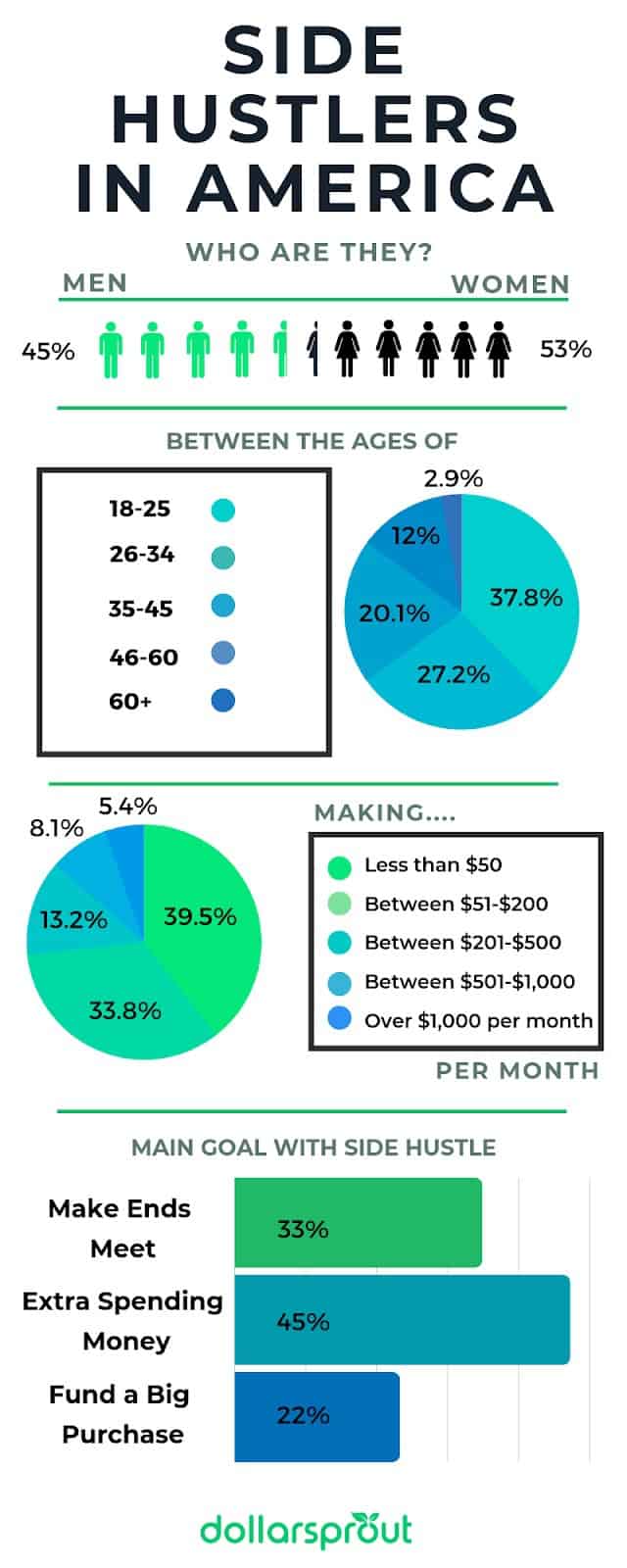 What Percentage of Americans Have a Side Hustle?
According to our survey, 57% of respondents have a side hustle, and 65% of them are age 18 to 34. Women are slightly more likely to have a side hustle than men. This can be attributed to the fact that an increased number of stay-at-home moms are contributing to the family income through side hustles.[1]
One example is Caroline Vencil, a stay-at-home mom who started an in-home daycare. She watched three kids and made an extra $375 per week doing activities she'd be doing anyway. "[It's] a great way to make money if you love kids and have a lot of free time (and patience!)," Vencil said.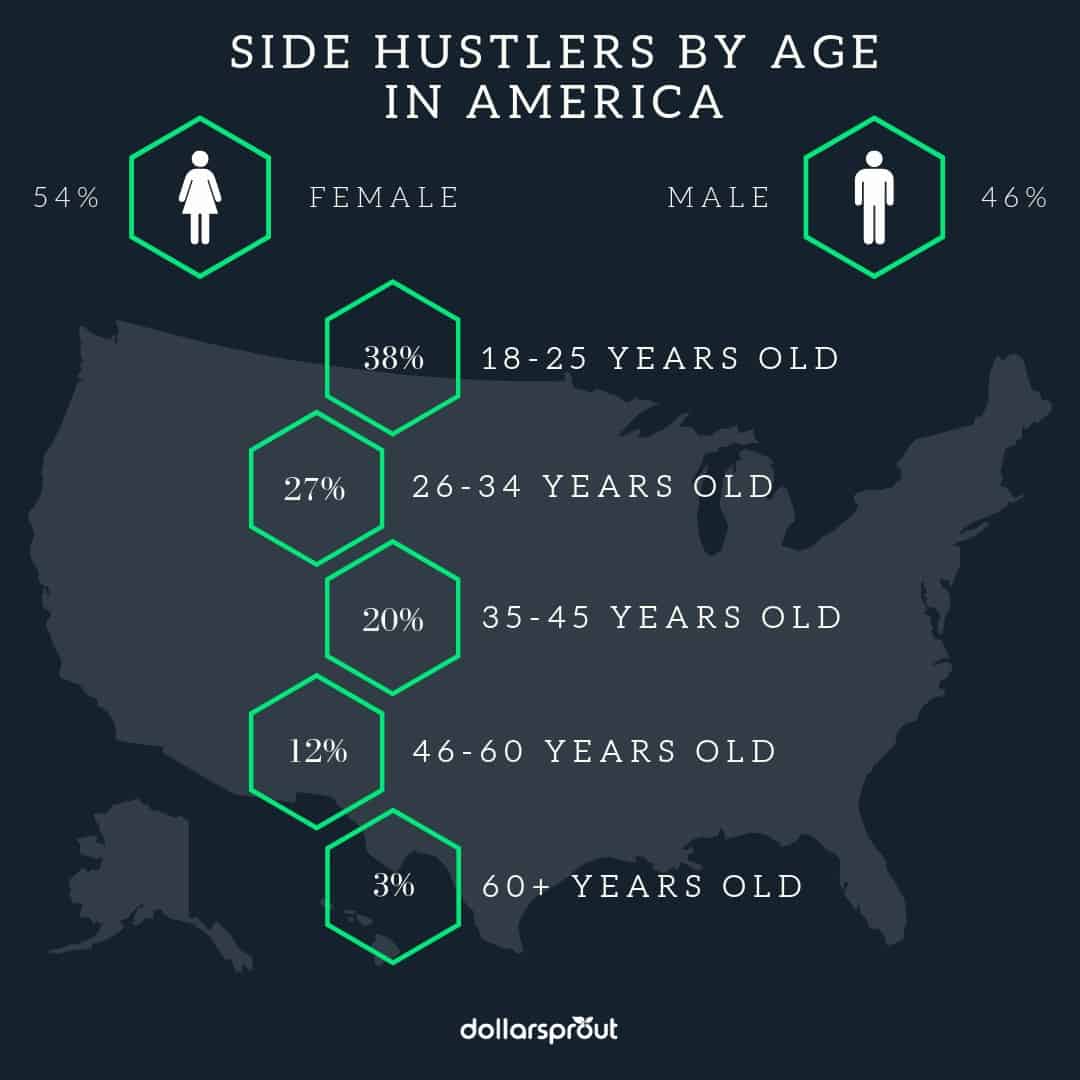 Not all side hustles require as much time as a daycare. There are a variety of ways to make money online and side hustles get more unique every year.
Take Jeff Neal of CritterFam, who sells bugs online. "I sell crickets, roaches, and super worms online to reptile owners," Neal said. He puts in 15-20 hours of work per week and makes about $1,400 per month.
But what are other readers doing? Here's how side hustles break down among DollarSprout readers:
32% are selling a service such as photography, house cleaning, or fitness training.
30% sell new and handmade items or flipping and reselling used items.
15% take online surveys, mystery shops, and other miscellaneous jobs.
13% participate in the gig economy via Uber, Lyft, InstaCart, Postmates, etc.
10% have multi-level marketing businesses such as Avon, Scentsy, or Rodan + Fields.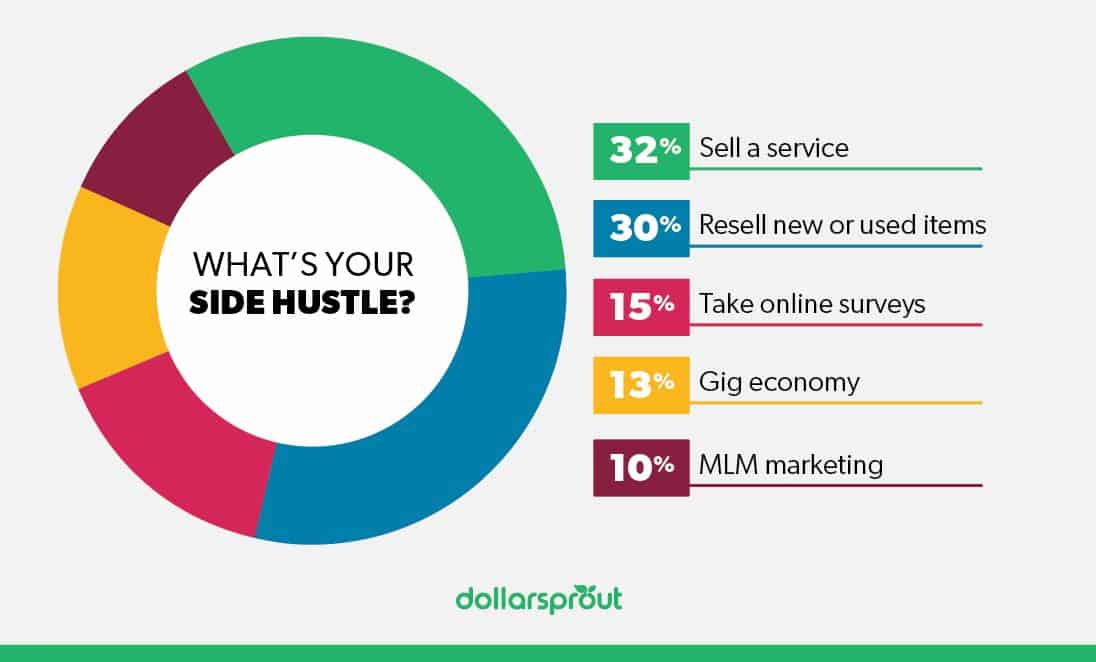 The most popular side hustle is selling a service, with 32% of readers engaging in this activity. The attractive part of selling services is that you can specialize in a field you're already an expert in or one you're passionate about, like Melanie Oates. Oates is a business intelligence analyst by day and styles hair on the side.
"My side hustle as a hairstylist began about 20 years ago while in middle school when someone approached me with a picture of Allen Iverson's cornrows and asked if I could do the same style to their hair," Oates said. "I eagerly accepted the challenge and have not stopped braiding hair since!"
Oates averages around $850 per month for 15 hours of work.
What's the Average Side Hustle Income?
According to our survey, 73% of side hustlers make less than $200 per month. But nearly one in six people are earning at least $500 from their side hustle. So what sets apart a $50 per month side gig from a $1,000 one?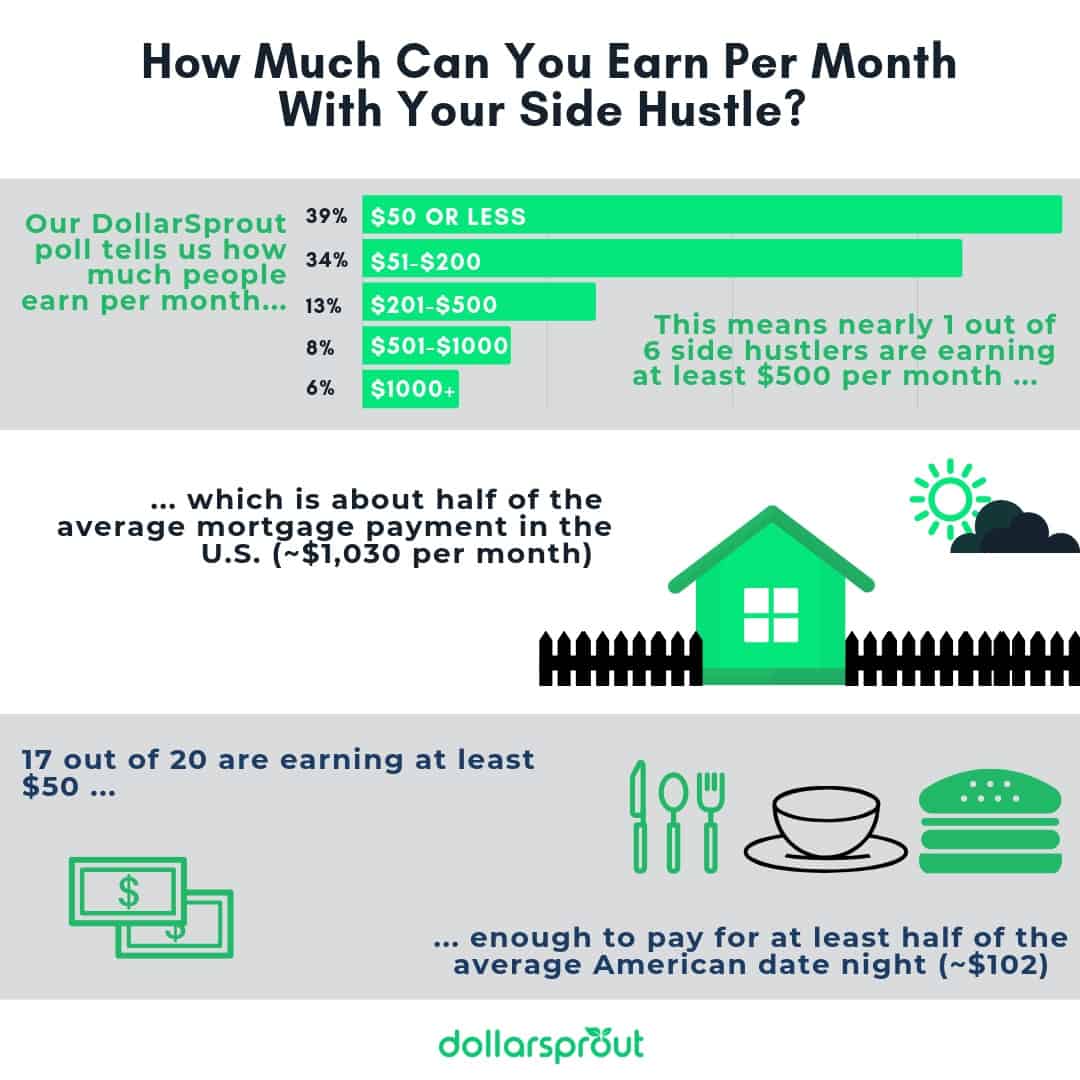 Some of it has to do with the side hustle itself. Of the percentage of readers making an average of $200 per month or more:
29% earn money through gig economy jobs.
24% make side income selling services.
19% make extra money selling items.
9% engage in multi-level marketing.
20% earn extra money via other forms of side hustles.
People working the gig economy had the highest chance of earning over $500 per month while less than 1% of multi-level marketing side hustles earned over $500.
But what we found that almost any side hustle can be profitable if you work at it. Take Jeff Moriarty for example. Jeff does SEO full-time and on the side, he sells Christmas stockings for pets.
"During the holiday season, I make about an extra $15,000, and about $500 a month through the other months of the year," Moriarty said. It took him 25-30 hours to set up the site and 5 hours per month to manage it.
"Working on a seasonal site is nice because it allows me to work less most of the year," he said. "[It] gives me a good amount of spending money to use on travel for the following year!"
Related: Why Weird Side Hustles Make So Much Money (and How to Find One)
Why Do So Many People Have Side Hustles?
Although travel is a big reason people choose to side hustle, it wasn't the primary reason our respondents reported. In fact, 33% are using the extra funds to make ends meet and 45% use it for extra spending money.
This finding aligns with reports that even though more Americans have side hustles than ever before, average consumer spending is still higher than personal disposable income. And total consumer debt rose 7.6% last year.[2],[3]
But not everyone is spending their side hustle income; 22% are saving it for a big purchase. Caleb Rule has a marketing background and offers marketing services at Rule Your Competition as a side hustle. It allows him to challenge himself and grow professionally and the extra cash has been nice for practical reasons.
"As I've progressed in life into marriage and now fatherhood, the extra cash has been used to help pay off student loans, afford needed house repairs, and keep my little one from eating through my budget!" Rule said.
What Does This Mean for You?
These side hustle statistics have shown us that not all side hustles and work-from-home jobs are created equal. Some produce more profit per hour than others, while others require more effort.
When choosing a side hustle, asses your goals first. What do you want to do with the extra money? How fast do you want to earn it? What's the right amount of work to add to your schedule? Once you know what your goals are you'll be better able to choose a side hustle that fits your needs.
Your time is valuable so learn from the example of others and stick to the side hustles you enjoy and the ones that will earn you a wage worth your effort.