Survey: 1 in 4 Side Hustlers Need the Extra Money to Make Ends Meet
Advertiser Disclosure
Our readers always come first
The content on DollarSprout includes links to our advertising partners. When you read our content and click on one of our partners' links, and then decide to complete an offer — whether it's downloading an app, opening an account, or some other action — we may earn a commission from that advertiser, at no extra cost to you.
Our ultimate goal is to educate and inform, not lure you into signing up for certain offers. Compensation from our partners may impact what products we cover and where they appear on the site, but does not have any impact on the objectivity of our reviews or advice.
Survey: 1 in 4 Side Hustlers Need the Extra Money to Make Ends Meet

Note: This report is from 2020. We recently released our 2021 Side Hustle Report with updated statistics.
Key Findings:
» 27% of side hustlers rely on that income to cover monthly bills
» 18% of side hustlers eventually want to go full time with their gig
» Nearly one-third of side hustlers are over 54 years old
» Highest paying side gigs: Providing a skilled service, such as writing or web design
» 20% of survey participants have been hit with an unexpected tax bill
» 23% of survey participants reported a decrease in side hustle income due to Covid-19
» 42% percent of Americans are optimistic about the future of their side hustle
» 91% of survey participants report that their significant other is supportive of their side hustle
If there's one financial lesson we can glean from the coronavirus pandemic, it's that a 9-to-5 job isn't synonymous with financial security.
Unemployment is the highest it's been since the Great Depression, and rising.[1] As a result, over 27% of Americans with a side hustle rely on the extra income to cover regular monthly bills and expenses, according to DollarSprout's latest Side Hustle Report.
Walter Russell, financial advisor and president of Russell and Associates, LLC, believes that wage stagnation is to blame. What was once a respectable living doesn't go as far in today's dollars. "Wage growth is starting to increase," he said, "but the cost of living is increasing faster."
As a result, many Americans are turning to side hustles to balance the scales.
The Motivation Behind the Hustle
Although many rely on a secondary income source to make ends meet, the most common reason that people start a side hustle is to have extra spending money. That's the case for 48% of the survey respondents.
Paying off debt and saving are also among the top motivations.
While extra spending money is the primary motivator for having a side hustle among all age groups, considerations in choosing a gig varied.
Baby boomers (ages 54 and older) are more likely to choose work they enjoy. Approximately 40% said their main prerequisite for a side hustle was enjoyment, compared to 33% of millennials and 32% of Gen Xers.
Millennials, on the other hand, prioritize flexibility above all else. Among respondents ages 25 to 34, 41% report it as their primary consideration.
"There's a stigma that millennials don't want to work," said Russell, "but that's not the case. Millennials want to work and live life at the same time."
Many are even willing to sacrifice pay for flexibility. Russell believes this desire for greater work-life balance could change the landscape of traditional employment, with perks like unlimited PTO and flexible work schedules becoming more commonplace.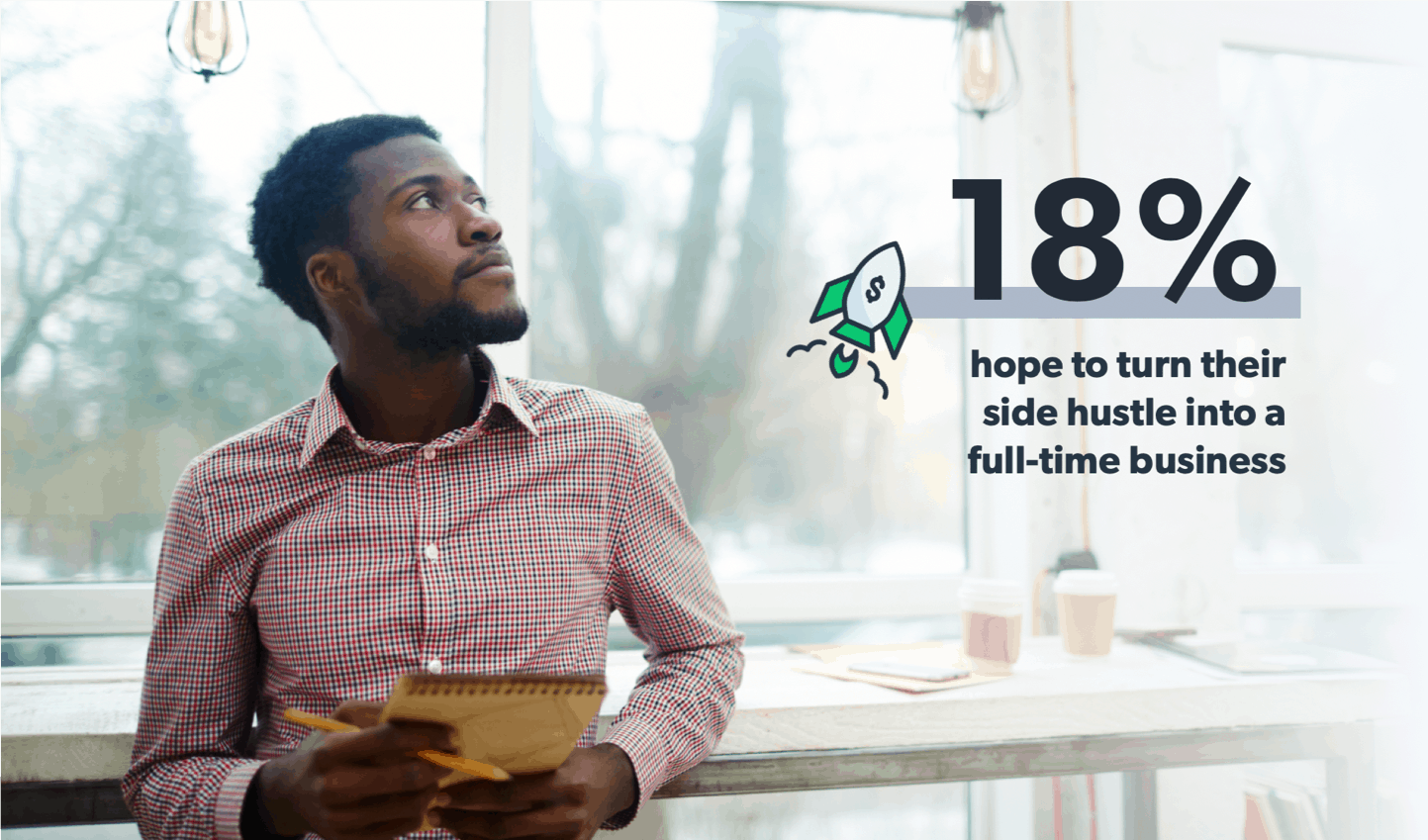 And while the typical work model probably isn't in jeopardy, there appears to be a growing trend toward entrepreneurship. The majority of side hustlers plan to continue their gig part-time, but 18% hope to turn their hustle into a full-time business, likely fueled by the desire for more balance and control.
Russell isn't surprised. He compared the mundaneness many employees feel in their jobs to eating the same food day after day. "People want more variety," he said, "and that's something entrepreneurship can provide."
Side Hustlers Aren't Who You May Think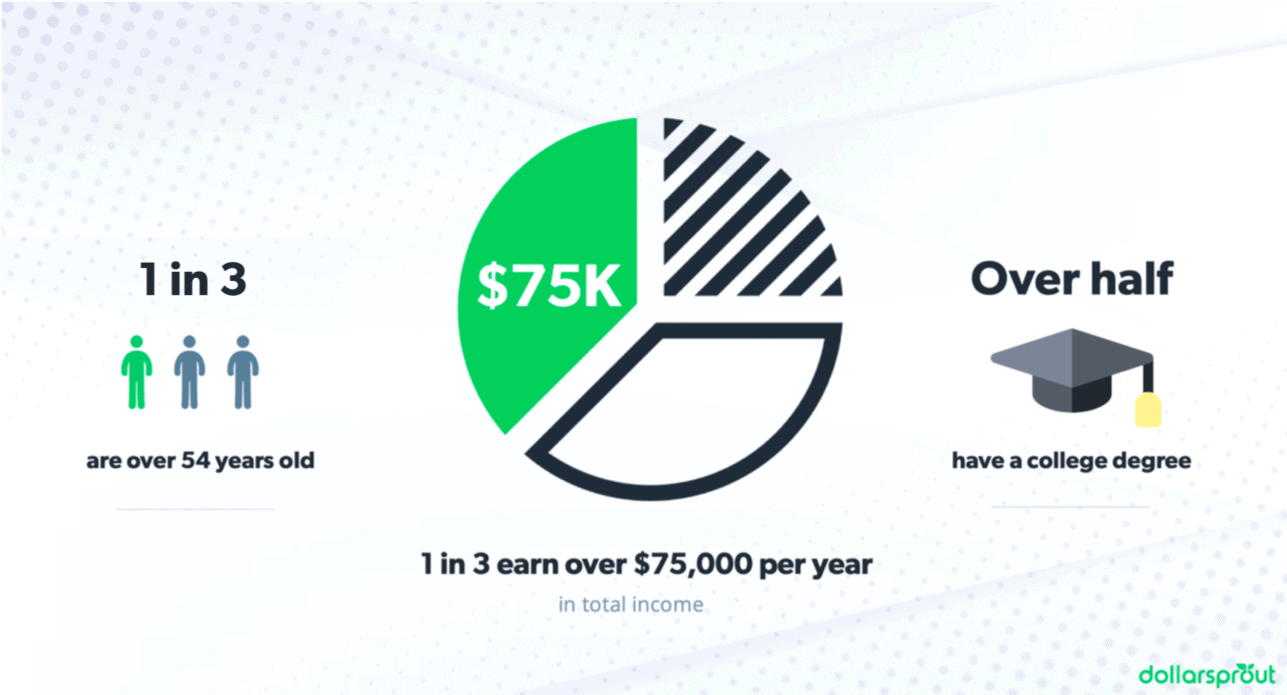 With nearly one-third of side hustle and gig workers relying on their extra income to make ends meet, one may assume that those working a side gig skew toward the lower end of the income spectrum. But that's not necessarily the case.
Over 56% of survey respondents hold a university or post-graduate degree, and one-third of all participants earn $75,000 or more annually. While that qualifies as middle class according to the U.S. Census Bureau, Russell notes that in many parts of the country, it's not enough to maintain a typical lifestyle today.[2]
To increase their earnings, he explains, people either switch jobs every couple of years to a company that offers better wages, or they take on a side gig in the hopes of generating enough extra income to fill in the gaps.
Millennials aren't the only ones benefiting from the gig economy. Nearly 1 in 5 side hustlers are over the age of 54.
Brandon Renfro, Certified Financial Planner™ at Brandon Renfro LLC, said it's a growing trend for many retirees to participate in a "second act" once they leave traditional employment. The motivations can be both financial and psychological.
For some, it's a matter of not having enough saved for retirement and taking on a side hustle to make ends meet. Other retirees desire the productivity and fulfillment they previously received in their career.
"Very few people can be truly happy with nothing to stimulate them," said Renfro, "which for many is what a side gig provides."
Significant Side Income
Over 33% of survey respondents earn $500 or more per month with their side hustle. Of those, nearly 15% work 5 hours or less on their side hustle per week. That's an hourly rate of $25.
Some side hustles are more lucrative than others. Providing a skilled service, such as freelance writing or graphic design, is the highest-paying gig, with over 58% of high-earning side hustlers ($1,000 or more per month) offering this type of work.
Level of education may play a role in the type of work offered. According to the survey, those with a university or post-graduate degree are 16% more likely to offer freelance services than those without.
Overall, the most common type of side hustle was using gig apps such as Swagbucks, Uber, and Instacart. About 45% of respondents participate in this type of work.
Unforeseen Challenges
A side hustle can provide a meaningful extra income, but there are possible financial complications to consider.
If you've ever held a W-2 job, you probably realized your employer withholds a portion of your paycheck for taxes. When you're self-employed, Renfro said, "that responsibility is yours."
The standard advice is to set aside 20 to 30% of your side hustle income for taxes and track all related expenses and receipts. If you already use a tax professional to prepare your annual filings, Renfro advises you lean on their expertise. "They can help you plan ahead and avoid tax surprises," he said, "which are rarely the good kind."
If you don't set aside some of your earnings to pay taxes, you may be hit with an unexpected bill at the end of the year. That was the case for 20% of survey participants.
Taxes aren't the only thing new side hustlers need to watch out for. More than 35% of respondents spent more money on their side gig than what they earned. While some side hustles require an upfront investment, be careful about spending without a strategy for making your money back.
And as easily as some side hustles come, they can just as quickly go. Twenty-three percent of participants reported a decrease in their side gig earnings due to the Covid-19 pandemic, over a third of which relied on the extra income to stay afloat. Creating several income streams can lessen the blow of losing money from a job or side gig.
The Future Looks Bright
Despite the challenges that can accompany a side hustle, most gig workers are looking on the bright side. Forty-two percent of Americans are optimistic about the future of their side hustle, with 11% ranking their optimism a 10 out of 10.
What's more, nearly 80% of survey participants said they would recommend their side hustle to others, despite the fact that 14% reported a decrease in average hourly earnings since they began.
Even though earnings have decreased for some, over 91% of respondents said their significant other is supportive of their side hustle.
Methodology
DollarSprout.com enlisted the services of research firm Pollfish to conduct the survey. The total sample size was 698 U.S. adults. All figures, unless otherwise stated, are from Pollfish. The survey was conducted online on May 14, 2020 and adheres to rigorous quality standards. Results include a 5% margin of error. Respondents were asked to answer each question truthfully and to the best of their abilities.