The Ultimate Guide to Promoted Pins (Pinterest Ads 101)
Advertiser Disclosure
Our readers always come first
The content on DollarSprout includes links to our advertising partners. When you read our content and click on one of our partners' links, and then decide to complete an offer — whether it's downloading an app, opening an account, or some other action — we may earn a commission from that advertiser, at no extra cost to you.
Our ultimate goal is to educate and inform, not lure you into signing up for certain offers. Compensation from our partners may impact what products we cover and where they appear on the site, but does not have any impact on the objectivity of our reviews or advice.
Pinterest ads can help you reach more readers, grow your email list, and make more money from your blog. Not to mention, they're fairly cost effective. This Pinterest ads strategist shares how to get started with Pinterest ads, even as a beginner blogger.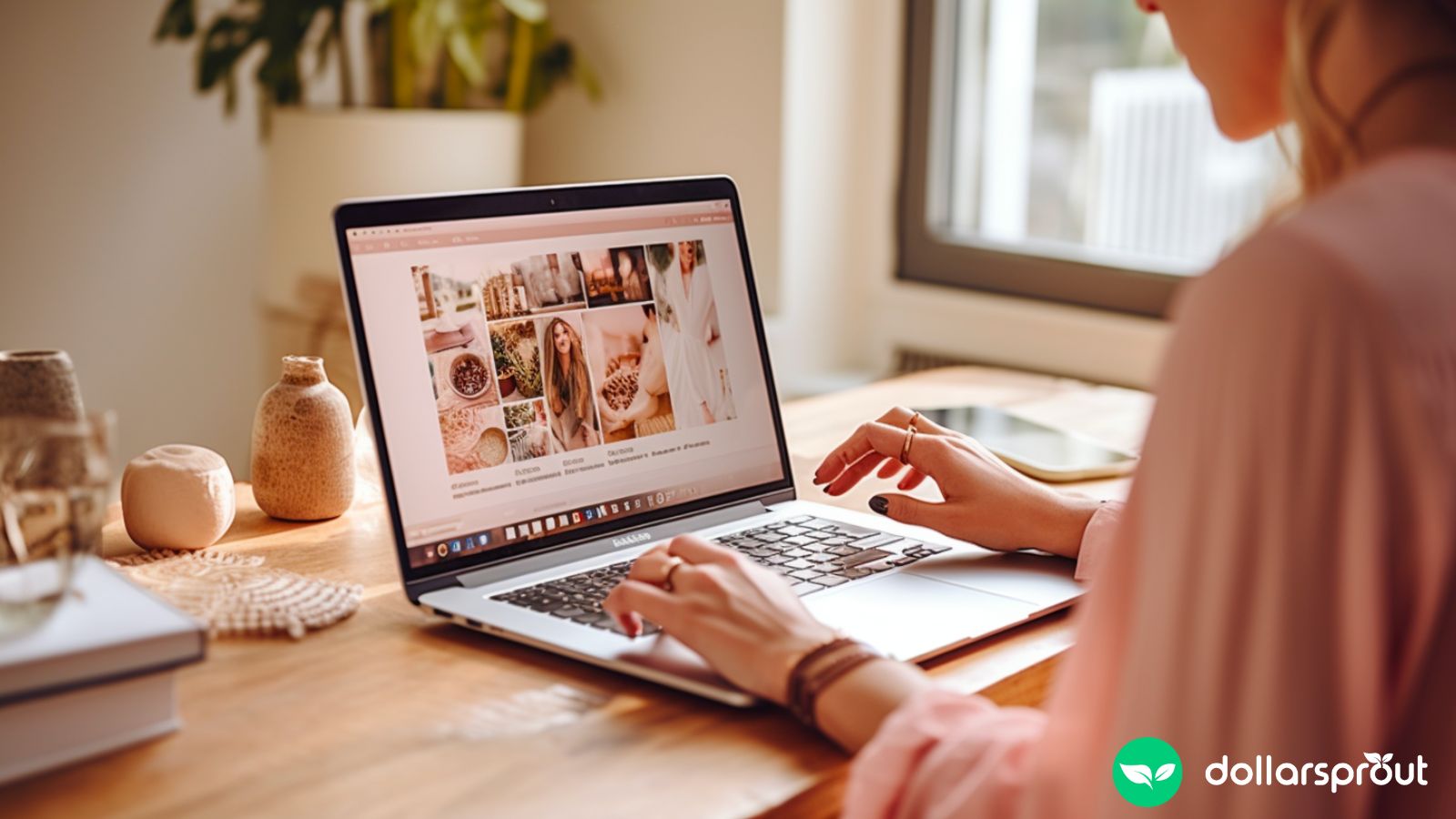 Editor's Note: This post was originally published on Breaking The One Percent by Monica Froese from Redefining Mom as part of our "Ask the Expert" interview series.
In April 2019, Pinterest became a publicly traded company.
Promoted pins, Pinterest's version of paid advertising, is how the company makes money. As a publicly traded company, their concern will be to produce profit for their shareholders. Promoted pins are exactly how they will accomplish this.
Fortunately, Pinterest has made significant improvements to the Promoted Pins infrastructure over the last few years.
They've launched several new campaign types including video ads, shopping ads, and conversion ads. Pinterest has also expanded its targeting options to include additional countries, US ZIP Codes, age, and much more.
Many content creators have enjoyed free traffic from Pinterest for years. So, naturally, the question many users have is…
Why Should I Promote a Pin on Pinterest?
Let's break down the numbers behind Pinterest.
Pinterest recently announced they crossed 250 million users. More importantly, a significant number of Pinterest users have buying power, with over 40% of pinners claiming a household income over $100k/year.[1]
As a visual search engine, Pinterest attracts a consumer base that is actively searching for solutions to their problems. Pinterest users come to the platform with a buyer's mentality.
In fact, 93% of active Pinterest users use Pinterest to plan purchases and 50% of active pinners have made a purchase from a promoted pin.
In a 2017 study done by Pinterest, they found that advertisers make on average $2 in profit for every $1 spent.[2]
Let that sink in for a moment. It's comparable to giving someone $50 and them handing you back $100.
In an environment where Pinterest is now publicly traded, content creators rely on Pinterest for traffic, and Promoted Pins offer a significant return on investment, it would be crazy to ignore the power and potential behind the Pinterest advertising platform.
How Do Promoted Pins Work?
There are three main places Promoted Pins currently show up for users: the main home feed, search results, and related pins.
Pinterest advertisers historically have been given two ways to pay for their Promoted Pins: impressions or clicks.
Recently, Pinterest launched conversion campaigns that allow advertisers to optimize for conversions instead of by impression or click.
This means advertisers are able to control for the cost of signups to their email list or how much it costs to get a sale through a promoted pin.
As a Pinterest ads expert, my major complaint with the platform has always been the lack of control over the conversion. Now that conversion campaigns are available, Pinterest will be poised to compete on a level similar to Facebook.
For more details on conversion campaigns, here's a complete list of the best types of Pinterest ads and when each to use each.
3 Steps for Preparing Pinterest Ads that Convert
You might think the first step for running a promoted pin is to set up the campaign in the Pinterest ads dashboard.
And you'd be wrong.
If you've heard bloggers mumble that Promoted Pins are not effective, I promise you it's because they didn't do the pre-work necessary to ensure their success.
Running a successful Pinterest ad campaign requires understanding your business objectives and outcomes.
Anyone can go into Pinterest and set up a campaign. It's pretty self-explanatory. Since Pinterest often changes the look and feel of campaign setup, this article would be outdated in no time.
That's why I'm going to focus on how to set your ads up to be successful instead.
Step 1. Install the Pinterest Tag
The Pinterest Tag is essential for running Pinterest ads.
By installing the Pinterest Tag on your website, you'll be able to do two important things:
Create a warm audience of website visitors to target in future Pinterest ad campaigns
Track conversions (i.e. signups and purchases) people take when visiting your site from your Promoted Pins
First, you'll need to make sure you have a Pinterest business account. The easiest way to know if you already have a business account is to look at the top left-hand side of Pinterest when logged in.
Do you see an analytics and ads dropdown? If so, then you have a Pinterest business account. If not, follow these steps to set up your Pinterest business account.
Second, you'll need to locate the header section of your website. This is where you will copy and paste the Pinterest Tag.
Quick Tip: The header section is most likely where you've already installed Google Analytics.
Third, you'll need to create a Pinterest Tag through the Pinterest ads dashboard.
Navigate to the top left-hand side of your Pinterest account and go to ads → conversions → create a new Pinterest Tag. If this is your first time visiting this page, you'll most likely see a big red button that says generate a Pinterest Tag.
After you create and name your Pinterest Tag, you'll select the tag from your conversions dashboard.

Select number 1, install base code. Copy and paste the entire code and paste it into the header section of your website.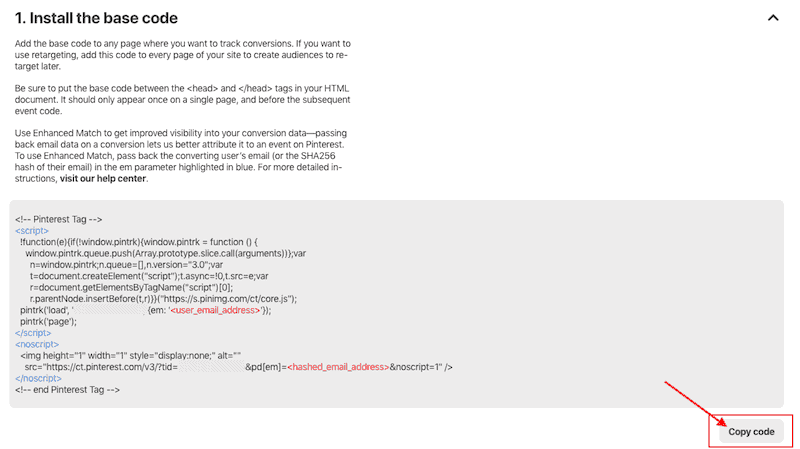 If you are a WordPress user, you can check out my YouTube video for step-by-step instructions on installing your Pinterest Tag:
Now your website is proactively tracking visitors for future retargeting through Pinterest ads.
Step 2. Find buyer intent keywords
Pinterest is a visual search engine. It's the third largest search engine in the world following Google and YouTube, respectively.
This means the vast majority of people come to Pinterest with a problem and search for a solution.
The goal of your Pinterest ad is to put your solution in front of the people searching for the problem you solve.
The word or phrase they type in the Pinterest search bar is known as a keyword.
On Pinterest, the results that are shown in keyword searches are images. This is the visual aspect of Pinterest's search engine.
When prepping for your first promoted pin campaign, you want to make a list of at least 40 keywords that are relevant to the pin you want to promote.
Promoted Pins are built on keywords.
Keeping a spreadsheet of the keywords you'll be using for your campaign makes it easier for you once you go into the Pinterest ads dashboard to set everything up.
How to Find Pinterest Keywords
Keyword research on Pinterest is fairly simple.
In the below example, let's pretend we have a meal planner, 10 Keto Recipes in Under 10 Minutes. We want to encourage people to opt into our email list to download our meal planner.
Using the Pinterest search bar, Start researching the problems you think your ideal customer would type in to find your solution.
Right away, you can see Pinterest suggests keywords to me for keto meal planning.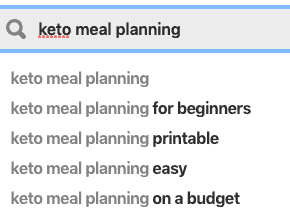 These are keywords you'll want to write down on your keyword spreadsheet.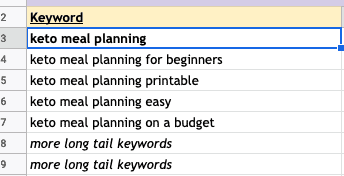 I always bold the original keyword I searched for on my spreadsheet so I can keep track of searches I've already performed.
Next, you'll want to take a look at the tiles Pinterest recommends under the search bar. These are additional long-tail keywords you can use for your promoted pin campaign.
Of course, not all the keywords you come across will make sense for your promotion. In order to narrow down the keywords you'll be using, it's important to look at the other pins that are coming up under the search results. If a pin does not make any sense for your ad, skip it.
You may also find some of the long-tail keywords returned in the search aren't relevant to what you're promoting. For example, in this search, one of the long tail keywords is keto meal planning no eggs. If your keto guide includes egg recipes, this keyword would not be relevant to you. Mark this down on your spreadsheet as a negative keyword. When running a promoted pin, you can tell Pinterest certain search terms you do not want to be shown under.
I recommend coming up with 4-5 main keywords for your campaign and 5-10 long tail keywords under each.
Step 3. Create click-worthy pin images
As you've learned, Pinterest is a visual search engine.
Now that you've completed your keyword research, the next step in your customer's journey is to be compelled to click on your pin image. This is the visual part of the Pinterest search engine.
On Pinterest, you can create multiple pins that lead to the same URL. When setting up your Pinterest ad campaign, you can select multiple pins to promote.
5 Principles of Promoted Pin Images
Size matters
Keyword-focused text overlays
A strong call to action
Clear photography
Branding
Pinterest Image Size
The ideal ratio for a promoted pin is 2:3. Pinterest recommends 1,000 x 1,500 pixels.
Keyword Text Overlays
Text overlays on your pin often provide an easy way for Pinterest users to quickly understand what your pin is about. Pinterest also has the ability to read your text overlays. Using your main keyword on your pin is an easy way to help your pin stand out in the home feed and search results.
Call-to-Action Button
Pinterest also allows you to use "call to action" buttons on pins.
In Pinterest's ad guidelines, they are very specific about how you can use call-to-action buttons. Pinterest says, "Images with artificial functionality like 'play' or 'download' buttons, notification icons, search bars, or elements that mimic Pinterest features (like our 'Save' or 'Buy' buttons)."
An example of an acceptable call to action button would be if you're linking to a product page, you can use a call to action button that says shop now.
Your main goal for your Pinterest ad is to convince your new website visitor to take a specific action. In order to benefit from paying for the click to your site, you want them to do something like sign up for your email list or buy your product.
Call-to-action buttons make your intent crystal clear to the person who clicks on your pin. There is no sense in paying for clicks from people who have no intent to take the designated action you want them to take.
Quality Photography
It's important to remember that 80% of Pinterest traffic comes from mobile. The photography you choose for your promotion should be high quality and easy to see on mobile devices.
It is advisable to use photography that demonstrates how your product is being used in real life, if possible.
Below I'll show an example of how I promote a digital product that is not tangible.
Related: Where to Find Free Stock Photos for Your Blog or Website
Brand All Pins
Your pins should build brand recognition.
Include your logo or website address on every promoted pin image.
Anatomy of a Promoted Pin Image
Let's look at a real example of a promoted pin image.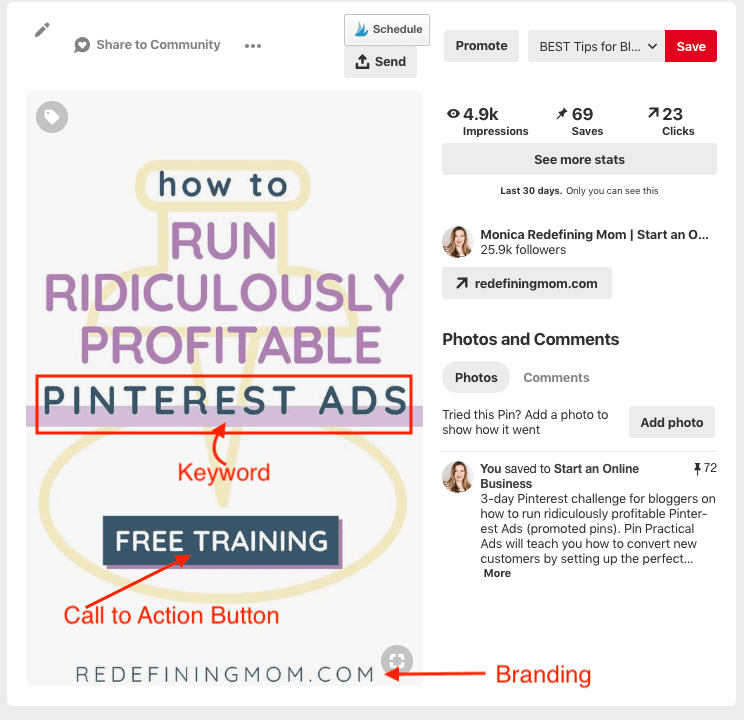 In this image, there is a strong call to action, the main keyword is used in the text overlay, and the pin is branded.
As you start to map your first Pinterest ad campaign, ask yourself, "What action do I want my Pinterest visitor to take?"
Now you're ready to start your first Pinterest ad campaign.
Using Pinterest ads has helped me earn over $1 million from my digital products. If you want to learn how to find your digital product idea and create a funnel to sell it on repeat, join my free training, Digital Product Dash. Inside, I walk you through how to identify your product topic, validate your idea, find your audience, and make money from the time you launch.