You Need a Budget Review: An Ideal App for Zero-Based Budgeters
Advertiser Disclosure
Our readers always come first
The content on DollarSprout includes links to our advertising partners. When you read our content and click on one of our partners' links, and then decide to complete an offer — whether it's downloading an app, opening an account, or some other action — we may earn a commission from that advertiser, at no extra cost to you.
Our ultimate goal is to educate and inform, not lure you into signing up for certain offers. Compensation from our partners may impact what products we cover and where they appear on the site, but does not have any impact on the objectivity of our reviews or advice.

Starting a budget for the first time can be scary.
You don't know how much to allocate for each category, you can't remember your bank's password and you don't particularly want to know how much you spent on happy hour last week.
That's where You Need a Budget (YNAB) comes in.
This popular budgeting app has helped hundreds of people evaluate their cash flow, change their spending, and reach their financial goals.
But with dozens of budgeting apps on the market, why would you choose YNAB?
What Is You Need a Budget?
You Need a Budget (YNAB) is a personal budgeting software for people who need to get control of their money. YNAB can be used on your computer or phone to track your budget from anywhere. Users enjoy the platform's simple, easy-to-understand format and encouraging approach to budgeting.

YNAB uses a zero-based budgeting system. When you have this type of budget, you give every single dollar a job. Most of the money will go to expenses, and you'll assign the remaining funds to savings, debt repayment, or transfers to investment accounts. The key is to make sure you have a plan for your money, and YNAB helps you achieve that.
The YNAB zero-based budget takes a while to set up because you have to think carefully about your expenses and goals. Once you have the initial budget, you'll feel much more confident about your true expenses and know that you have a plan for paying down debt and saving.
Related: What is a Budget and Why Do You Need One?
You Need a Budget Pros
Simple budgeting method: YNAB uses the zero-based budgeting method, assigning a job to every dollar. It's a straightforward and easy-to-understand budgeting system, although there is a learning curve when learning how to use the actual software.
Well-designed app: The mobile app makes it easy to track your budget from anywhere and enter transactions manually.
Integrates accounts: YNAB allows you to track your spending in one place, even if you have multiple debit cards and are tracking several types of debt.
Allows you to set goals: If you're trying to reach a specific goal, you can do that through YNAB. You can also track sinking funds digitally, like if you save every three months for a water bill.
Customer support and education: YNAB offers emails, articles, and tutorials for users on how to make the most of the app. If you're new to budgeting and have lots of questions, the support is invaluable. They're very quick to respond to inquiries.
Collaboration options: If you share a budget with your spouse or partner, you can both access YNAB via shared login credentials.
You Need a Budget Cons
Learning curve: There's definitely a learning curve when you first start using YNAB. You have to set up your budget, which takes some work. Plus, YNAB operates on the principle that you should start each month with enough money to pay for your monthly expenses, so it takes time to adjust to that if you haven't been doing it already.
Price: YNAB costs $84 a year. Some other budgeting software, like Personal Capital, is free.
Manual effort: YNAB doesn't automatically fill in each month's budget. You have to do this manually, which can be time-consuming if your monthly bills fluctuate.
Doesn't account for transactions spanning months: If you travel for work and then get reimbursed, YNAB will have trouble tracking this because it settles everything within one month.
Lack of other budget types: If you don't want to run a zero-based budget, you're out of luck. YNAB is built strictly on the assumption that you're using a zero-based budget and starting the month with enough money to cover the month's expenses.
YNAB Could Be a Great Fit If You
Use a zero-based budget or are willing to learn.
Want to be hands-on with your money.
Prefer a tech-savvy, well-designed user interface.
Want to change how you think about money to get out of debt.
Are willing to invest time in learning how to use YNAB by reading articles and watching tutorials.
Want to collaborate with a spouse or partner on your budget.
Believe in starting the month with enough money to cover your monthly expenses (i.e. not living paycheck to paycheck).
How Does You Need a Budget Work?
Many people wonder how YNAB works and what sets it apart from other personal budgeting apps. The combination of unique features and customer support make it a great choice for both new and experienced budgeters.
YNAB automatically syncs accounts, which means you can give up your spreadsheets for good. They also make it easy to transfer money between budgeting categories, much like moving cash from one envelope to another.
Account Setup and Login
Before you use YNAB, you'll need to create an account. Make sure to use a good email address, because YNAB sends helpful content to help you get started.
After you sign in for the first time with your login, YNAB will ask you a series of questions about your financial goals. They'll ask if you're trying to pay off debt, save for a big purchase, or stop living paycheck to paycheck.
YNAB will also collect other information, like whether you'll be budgeting solo or collaborating with a partner and if your income is stable or varies month to month.
From the main dashboard, you can set up your budget and add accounts. Once you link your accounts, YNAB will start tracking your spending in each category.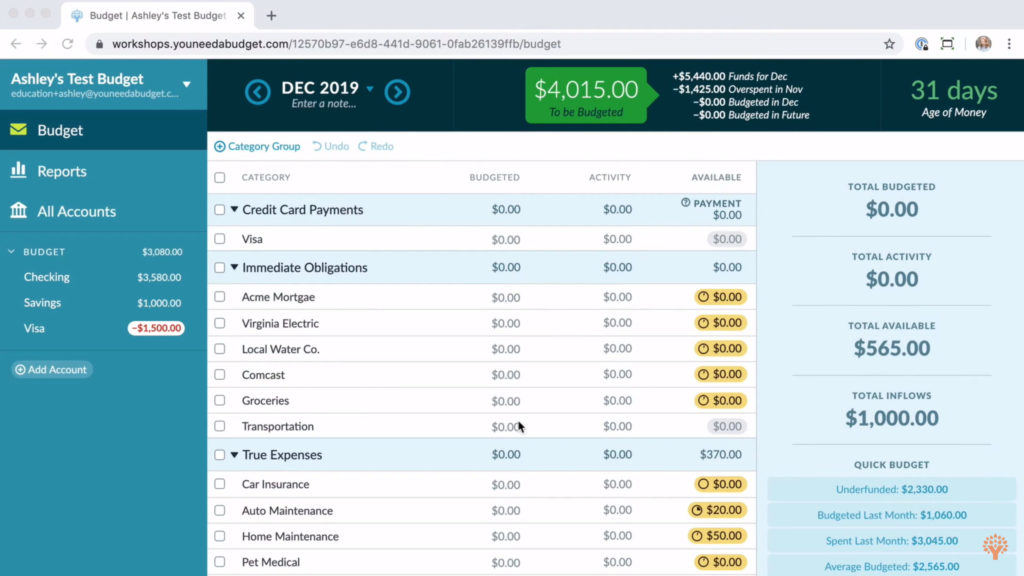 Features
YNAB has some key features that will help you succeed on your budgeting journey.
First, YNAB swears by its four rules: give every dollar a job, embrace your true expenses, stay flexible and age your money.
The first rule, give every dollar a job, is straightforward. Every single dollar you make has a job to do, whether it's paying the mortgage, buying dinner at a restaurant, or saving for retirement.
The second rule is to embrace your true expenses. This means that you should plan for larger, less frequent expenses by breaking them down into multiple months. For example, spending $1,000 on Christmas presents could break your December budget if you don't plan for it. To keep that from happening, you can save $91 a month from January through November.
The third rule is to roll with the punches. When your life changes, your budget shouldn't stay the same. Change your budget to match your new priorities when you need to. YNAB makes this easy, allowing you to change amounts in categories throughout the month.
The fourth rule is to age your money, which means that you budget this month's income for next month's expenses. This rule is especially valuable if your income varies month to month. You won't be waiting for this month's income to pay your bills because you'll already have that money in the bank.
In addition to their four rules, YNAB also offers goal tracking and helps you collaborate with your partner. Built-in reports will help you check your progress and review your spending.
You don't have to worry about security or support either. YNAB offers personalized support as well as in-depth tutorials. It also uses multiple technologies to make sure that your financial data is safe.
YNAB Cost
YNAB costs $84 per year or $11.99 per month. If you aren't happy at any point, YNAB offers a money-back guarantee. You can also take advantage of a free 34-day trial to decide if YNAB is right for you. If you pay annually, you'll save $59 over the month-by-month price.

The Difference
YNAB is different from other personal budgeting apps, and that's what makes it so effective. YNAB doesn't offer an automated approach to budgeting. Instead, the system encourages users to be very hands-on. When you set up your budget, you make a plan for each and every dollar.
Many budgeting apps simply report what you spent at the end of each month. If you don't like how the month turned out, there's not much you can do about it after the fact. YNAB, on the other hand, encourages you to work with your budget throughout the month so you can make adjustments and stay on track.
Referral Program
If you love YNAB, encourage a friend or family member to sign up. You'll both get a free month through YNAB's referral program.
You Need a Budget Review FAQs
Committing to a budget with YNAB can seem like a big step, so be sure you understand how the software works before you sign up.
See Also: Personal Capital vs. Mint: Which Personal Finance App is Right for You?
You Need a Budget Review Summary
If you're ready to take control of your financial life, you absolutely need a budget. You can't make better choices with your money unless you have a realistic view of your income and expenses.
YNAB can help you understand your financial health and make a plan to meet your long-term goals. It's a fun, intuitive way to keep track of your money. Try it free for 34 days to see if you like it before committing.