How to Recycle Aluminum Cans for Cash (Up to $0.02/c)
Advertiser Disclosure
Our readers always come first
The content on DollarSprout includes links to our advertising partners. When you read our content and click on one of our partners' links, and then decide to complete an offer — whether it's downloading an app, opening an account, or some other action — we may earn a commission from that advertiser, at no extra cost to you.
Our ultimate goal is to educate and inform, not lure you into signing up for certain offers. Compensation from our partners may impact what products we cover and where they appear on the site, but does not have any impact on the objectivity of our reviews or advice.
If you're looking for an easy way to make money on the side without any additional skills or equipment, consider selling aluminum cans to aluminum recycling facilities.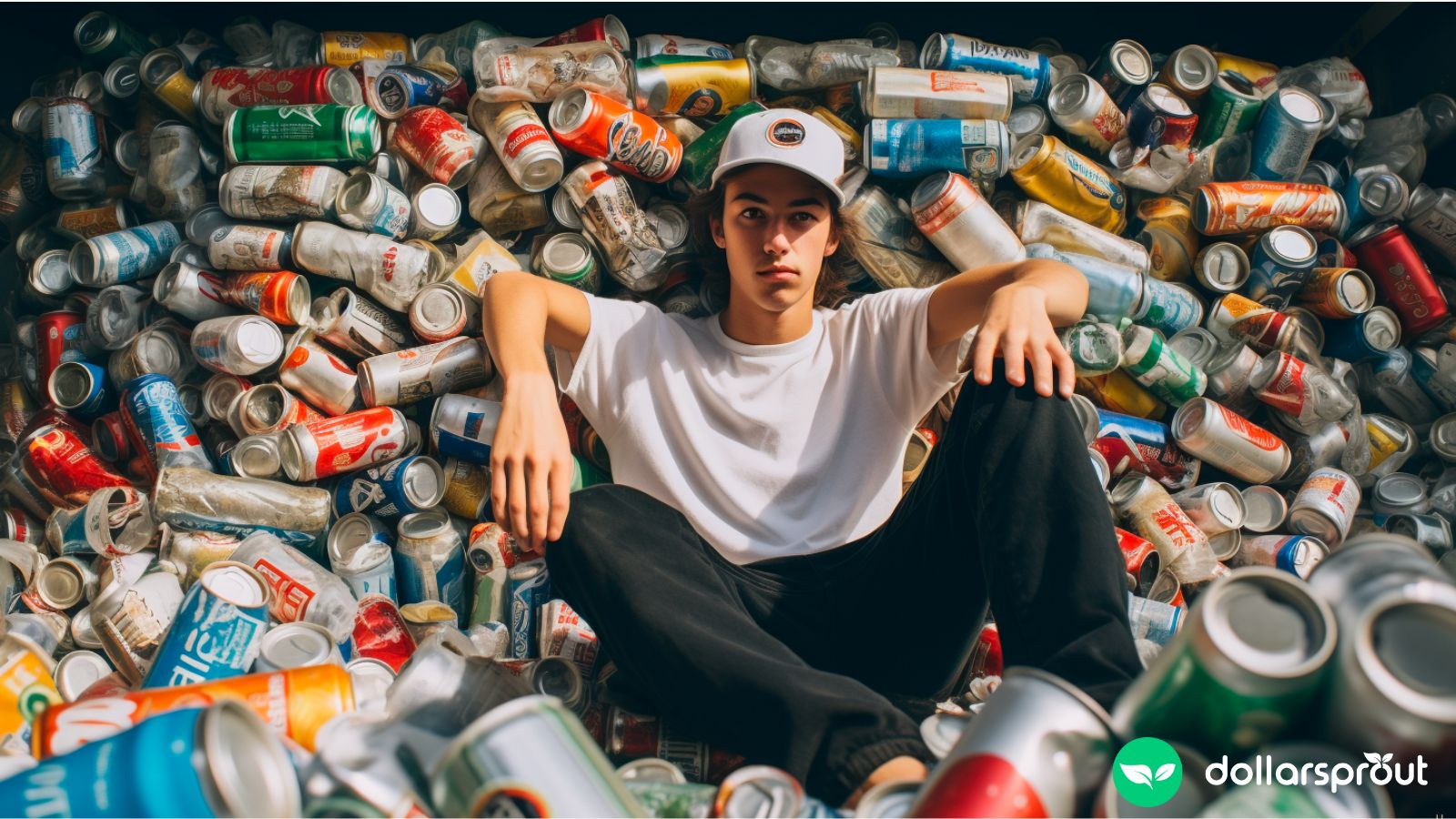 Have you ever wondered what to do with the empty soda cans after a party or beer cans after a barbecue?
While you may recycle them, you can also sell those cans to recycling facilities or scrap metal yards for cash.
There are a few start-up expenses to recycling and selling cans, but you'll keep most of the money you earn. All you need are recycling bins, some trash bags, and a car to transport the cans.
You can maximize your earnings by collecting in a state with bottle bill laws, knowing the price of aluminum, and having a variety of places to collect the cans.
It's an easy way to make a little extra money without special skills or equipment, and anyone can do it.
How to Make Money Recycling Cans and Bottles
If you decide to start recycling cans and bottles for extra cash, there are a few ways you can maximize your earnings and be efficient with your collection efforts.
Bottle Deposit Fee
A bottle deposit fee is the amount of money a consumer pays on a recyclable beverage container. The fee can range from $0.05 to $0.15, depending on variables like volume, container material, and beverage type. Retailers pay a fee for each can or bottle they purchase from distributors and pass the fee down to customers in the final price of the beverage.
Once the consumer consumes the beverage, the empty container can be returned to the retailer or a redemption center for a deposit refund. The distributor then reimburses the retailer or redemption center the deposit amount for each container as well as an additional handling fee.
Why the focus on bottles and cans? According to the Container Recycling Institute, beverage containers comprise 40 to 60 percent of litter.[1] Offering a deposit for each can encourage people to return these containers, keeping them off the streets, waterways, and wooded areas.
Bottle Bills in the USA
A bottle bill law is another term for a "container deposit law", which requires a minimum refundable deposit on recyclable containers including beer bottles, soda cans, and other beverage containers. These bills implement a deposit-refund system in which the consumer pays a deposit on each recyclable container and then receives a refund for every one returned.
These laws are meant to encourage a higher rate of recycling and reuse of beverage containers. How much you get for each container depends on the state and the type and volume of the container. Deposit amounts vary between two and 15 cents each.
Currently, 10 U.S. states have bottle bills, and each state has its own fees:
State
Bottle Deposit Fee
California
$.10 for 24oz and higher

$.5 for under 24oz.

Connecticut
$.05
Hawaii
$.05
Iowa
$.05
Maine
$.15
Massachusetts
$.05
Michigan
$.10
New York
$.05
Oregon
$.10

$.02 (standard refillable bottle)

Vermont
$.15 (liquor bottles)

$.05 (all others)

Guam
$.05
Best States to Recycle Aluminum Cans
In general, it's better to recycle aluminum cans and other containers in states with a bottle bill law since those states offer a higher price per container. However, if you don't live near one of these states, or too far away from a recycling center, how much you earn depends on other factors, like the aluminum scrap price.
Scrap Price of Aluminum Cans
When selling aluminum cans in states without bottle bills, your earnings will depend on the current price for scrap aluminum. The price fluctuates depending on the cost and type of the metals, energy and production, supply and demand, and other variables.
On average, a recycled can is worth approximately $0.02.
Keep an eye on the price so that when you bring your bottles and cans to the redemption center or recycling facility, you can negotiate a better payout. Remember that the average weight of an aluminum can is about half an ounce.
In a state without a bottle bill and assuming $.40 per pound for aluminum, you'd need 80 cans to earn $1. However, in a state with a bottle bill, you'll earn $4 per pound for the same amount of cans.
This difference is something to keep in mind if you decide to try selling aluminum cans as a side hustle.
Related: 185+ Side Hustle Ideas for Making Extra Money in Your Spare Time
Where to Sell Aluminum Cans
There are lots of places where you can sell your aluminum cans. If you live in a state with a bottle bill, you can find recycling stations or reverse vending machines inside brick-and-mortar retailers like grocery stores. These automatically collect your empty containers and return your deposit to you. You can also search for redemption or recycling centers in your area.
For states without bottle bills, you need to take your aluminum cans to a scrap metal buyer or a recycling center. When you turn them in, the containers will be weighed, and you'll receive a price quote for the lot. Search for local recycling centers, and make sure to read reviews to find a center that offers a fair price.
6 Places to Find Aluminum Cans
It takes a lot of cans to make decent money selling aluminum, and you might have to get creative on finding extra cans beyond just the ones you consume.
1. Your Home and Neighborhood
The first stop is your own home, especially if you and your family drink a lot of soda or beer. Just set up a separate bag or bin in the garage for everyone to deposit their empty aluminum cans.
Ask your neighbors, family and friends if they'd like you to take care of their aluminum cans. Set up a time once or twice a week to stop by and collect all of the cans to avoid a pile-up.
The easier you can make it on people, the more likely they'll be willing to recycle. Consider setting up a system where you share part of the money you earn from recycling the aluminum cans.
2. Your Workplace
If your workplace has a soft drink vending machine, this is a great opportunity to collect more beverage containers. Talk to your company's management and make sure they're fine with you collecting the cans.
Most places shouldn't have a problem since you're helping them recycle. Once you have permission to proceed, set up a separate bin with a note that says "aluminum cans only" or something similar. Check on your bin daily, perhaps during lunch and after work each day.
Make sure you also talk to the cleaning staff and let them know you're collecting the cans. You don't want them to accidentally throw the cans away.
The key to making this successful is to stay on top of your can collection. Don't let the cans pile up and keep the area clean. Set a daily collection time, like right after you get off work. This way you can continue to collect extra cans for free.
3. Local Businesses
Another option for collecting more cans is by contacting local businesses and offer to set up an aluminum can recycling bin in their break room. Collect the cans on a weekly basis to ensure the area stays clean and nothing piles up. Many businesses are happy to participate in a recycling program, especially if it's free.
4. Local Schools
Contact local schools and offer to set up recycling bins. You might have an easier time doing this if you have a child at the school or if you work there. For safety reasons, schools might not allow random people to enter the building, especially if students are there. However, if you can arrange a pick-up time on the weekends or after school hours, they might be willing to work with you.
To get started collecting cans this way, call the school and ask if they have vending machines that sell beverages in aluminum cans. If they do, offer to set up recycling bins for free in the cafeteria and next to the vending machine. Make sure you create a pick-up schedule with them so the bins don't overflow.
School-based recycling will help keep the cans out of the landfill, help you easily collect more containers, and encourage students and staff to participate in recycling programs.
5. Public Parks
Public parks are a good place to search for empty cans, especially if there are outdoor concerts or festivals happening in your area. With thousands of people attending these events, you can easily collect a truck bed full of empty cans.
Make sure you check out the parking lots and areas around the park. Many people tailgate before heading to the concert, leaving empty cans behind. It's an easy way to add to your stash.
Check out the open grass areas and picnic tables as well. People often leave their empty cans on the tables or on the ground, no dumpster diving required.
6. Roadside
Since people regularly discard aluminum cans by the side of the road, you can collect extra cans by walking along these routes. This may be a good way to get more empty cans while helping clean and save the environment.
All you need is a good pair of walking shoes, an empty trash bag, and some time. You can also make money walking as you search for empty aluminum cans to add to your pile.
Make sure you're taking all safety precautions, like only collecting in the daylight in safe areas, and that you aren't violating any local or state laws by collecting the cans.
You Can Make Money Selling Aluminum Cans
While you won't get rich selling scrap aluminum cans, it can be an easy way to make some money on the side. There's no education, startup costs, or special equipment needed. You can get started today and make money quickly and easily. If you collect enough cans or bottles, you might be able to make as much as $100 in a week.
Your profits will be higher if you live in a state with a bottle bill, but it's still possible to earn money recycling aluminum cans no matter where you live. Just make sure to pay attention to the current price and find somewhere reputable to do business with.
In addition to earning some extra money, you're also helping the environment by helping keep those cans from the landfill.