8 Places to Get a Free Cell Phone (and Service)
Advertiser Disclosure
Our readers always come first
The content on DollarSprout includes links to our advertising partners. When you read our content and click on one of our partners' links, and then decide to complete an offer — whether it's downloading an app, opening an account, or some other action — we may earn a commission from that advertiser, at no extra cost to you.
Our ultimate goal is to educate and inform, not lure you into signing up for certain offers. Compensation from our partners may impact what products we cover and where they appear on the site, but does not have any impact on the objectivity of our reviews or advice.
Sometimes, you just need a phone that works. Here are some ways to get a cheap or free cell phone and cell phone service.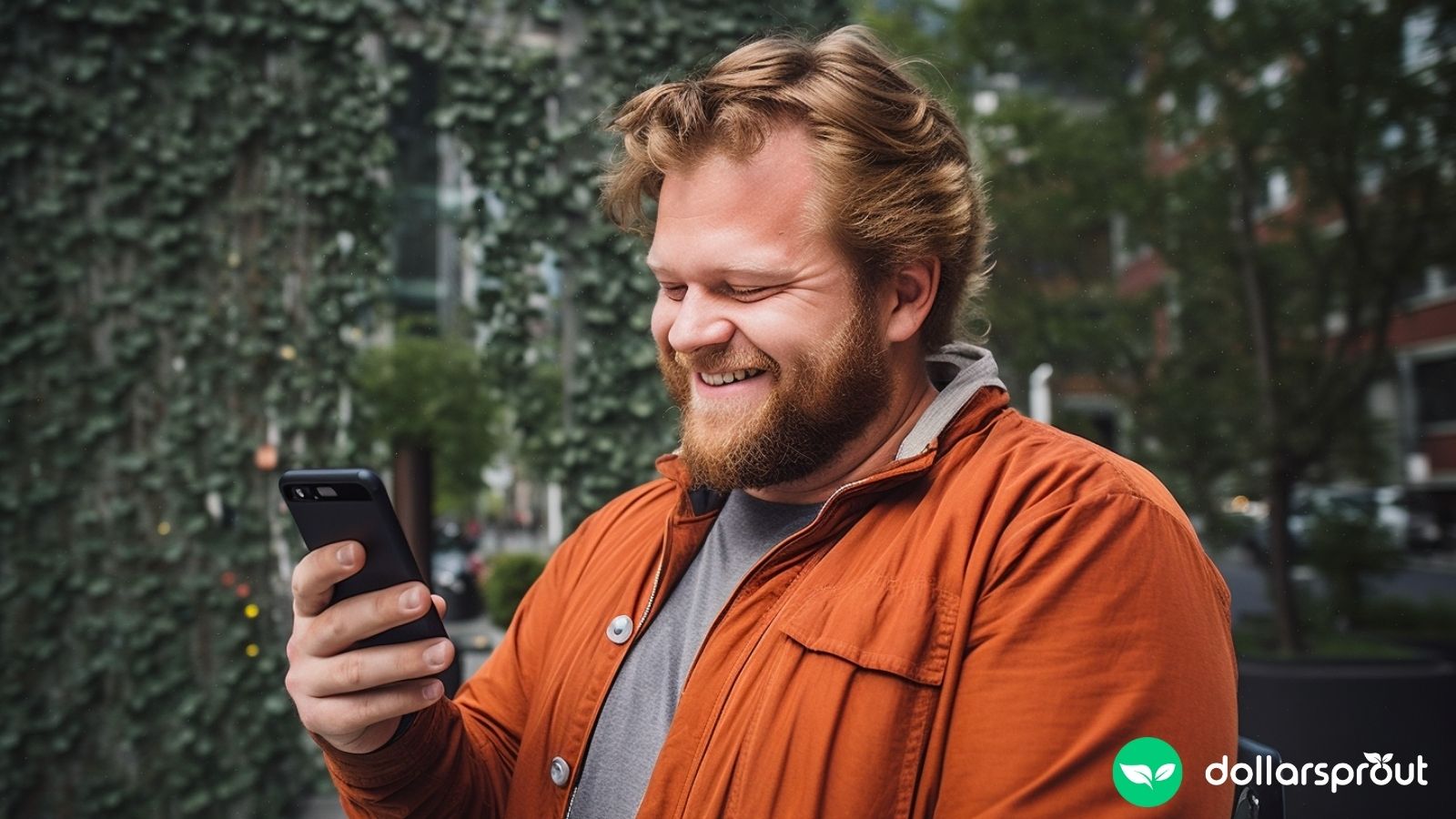 It's amazing how much your cell phone can become part of your daily life.
I know that I'm a heavy phone user, but even I was surprised to find that I typically use my phone for an average of five and a half hours a day. That's almost like having a full-time job of looking at a phone.
Even if you don't use your phone for hours a day, they've become essential tools for modern life.
Cell phones are powerful tools, but they don't come cheap. The latest smartphones can cost $1,000 or more. On top of that, there's the expensive monthly bill, which can run into the hundreds of dollars for a family.
Not everyone has that much money to spend, and not everyone needs the latest gadget. Sometimes, you just need a phone that works. Here are some ways to get a free or cheap cell phone and cell phone service.
8 Places to Get a Free Cell Phone
While you won't be able to get the latest iPhone for free, if you need some help getting access to a cell phone, these services can help.
1. Lifeline Support
Lifeline Support is a government-funded program that helps to reduce the cost of cell phones for people who qualify. If you qualify, you'll receive a subsidy of at least $9.25 each month toward your cell phone bill and a free Android smartphone to use.
You can qualify for this program by meeting any of the following requirements:
Earn less than 135% of the federal poverty amount each year. For residents of the 48 contiguous states, that amount is $16,862 for a household of one person.
Participate in one of the following programs:
SNAP (formerly known as food stamps)
Medicaid
Supplemental Security Income
Federal Public Housing Assistance
Veterans Pension and Survivors Benefit
Tribal Programs (for residents of federally-recognized Tribal lands)
Only one person per household can receive the subsidy, even if there are multiple qualifying persons.
If you have a phone plan that is less than $9.25, the subsidy will cover the full cost.
2. Assurance Wireless
Assurance Wireless is part of the Lifeline Assistance program, and you can use this plan if you qualify for Lifeline Assistance. This plan will get you unlimited talk and text, as well as 2GB of data each month, free of charge. Customers who use Assurance Wireless can also get a free Android phone.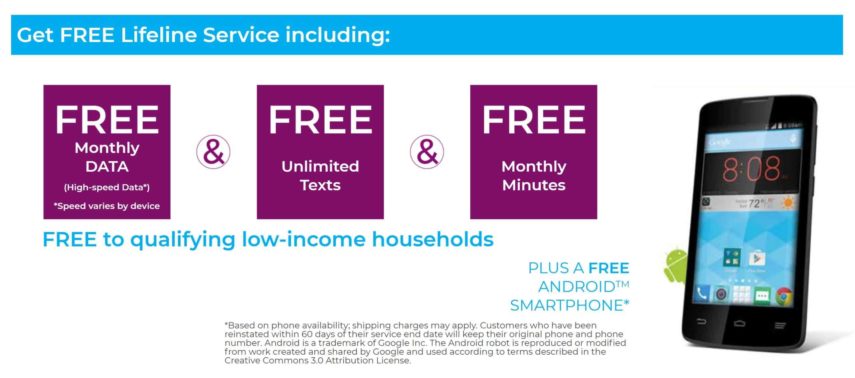 If you want to add additional data to your plan, you can sign up for a monthly plan or pay for the data as you use it.
Monthly Data Plans:
| | |
| --- | --- |
| $15 | 2.5 GB |
| $20 | 3 GB |
| $30 | 6 GB |
| $40 | 12 GB |
Pay As You Go:
| | |
| --- | --- |
| $1 | 100 MB |
| $3 | 500 MB |
| $5 | 1 GB |
| $10 | 2 GB |
| $20 | 4 GB |
| $30 | 5 GB |
3. SafeLink Wireless
SafeLink Wireless is another provider that partners with the Lifeline Assistance program. You can bring your own phone to use with the service or get a free Android device when you sign up.
If you qualify for Lifeline Assistance, you qualify for free service from SafeLink. The plans available will vary with your location.
For example, in Massachusetts, the voice-focused plan offers 1,000 minutes and 1 GB of data each month. The data-focused plan offers 350 talking minutes and 2 GB of data. However, in California you get unlimited voice and 3 GB of data. If you use your own phone you get 4 GB of data.
If you bring your own phone to connect rather than getting one from the program, you get a bonus of 500 MB of data each month
4. Craigslist
If you don't qualify for a free Lifeline cell phone or prefer to use another option, there are plenty of other choices available. Although you probably won't get the latest phone model, you can probably find something that works.
Start by looking at your local Craigslist to see if anyone is holding a yard sale or specifically looking to get rid of an old phone. Often, people on Craigslist will want you to pay for the phone, but you can always ask if they'd be willing to let the phone go for free. They may be willing to give it to you, especially if the phone is damaged or not working. This gives you the chance to get a free phone and to learn some basic phone repair strategies.
When you make a purchase online, make sure you follow basic internet safety rules when you're going to meet with the seller.
Related: 13 Sites Like Craigslist to Buy and Sell Used Items
5. OfferUp
OfferUp is an online marketplace that works a lot like Craigslist. Most people who post things on the site are expecting payment, but some people will post things they're giving away.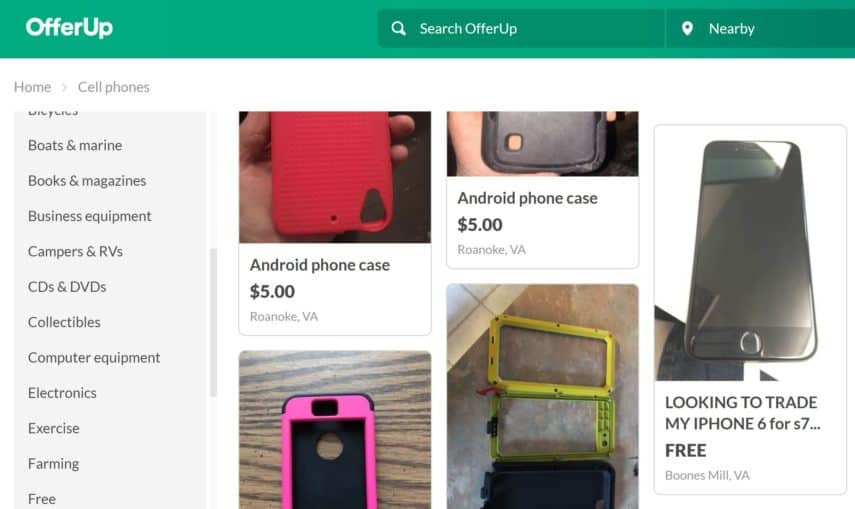 You can always negotiate with people to see if they're willing to give the phone away for free, which can work if the phone has been available for a while with no takers.
6. NextDoor
NextDoor is a social network that connects people who live in the same neighborhood, helping them connect, barter, trade, and learn about local events.
As with other online communities, people will post things they're trying to sell or give away. Keep an eye out for people who are trying to get rid of an old cell phone and you might get lucky.
7. Facebook Marketplace
Facebook Marketplace is Facebook's place to sell or trade items. You can view posts from your friends and from people who live in your area. If you see a phone up for grabs, reach out to the poster to see if you can pick it up for free.
8. Buy Nothing Groups
A Buy Nothing Group is a local community that is built around the idea of freely sharing the things and skills that you have with your neighbors. The idea is that rather than bartering or trading, people will offer the things they don't need to others. In return, people who need things can get them without having to spend money.
This is a great place to look for a free phone. It might be older or have some cracks in the screen, but it's still a viable option if you need a phone.
Related: How to Get Free Stuff Online
Places That Offer Free Phones When You Switch or Add a Line
If you need a new phone, many carriers offer a brand new phone when you sign a contract with them. These won't be the newest models, but they'll be sufficient for most things.
Sprint
Sprint offers customers the chance to get a free phone if you lease one, making it a good deal for couples who want to get on the same phone plan. If you sign up for Sprint Flex and lease an LG V30+ for 18 months, Sprint will give you a second LG V30+ free of charge.
Verizon
When you switch to Verizon or add a new line with a 24-month contract, Verizon will give you your choice of an Alcatel AVALON V, Samsung Galaxy A10e, or Motorola Moto E6 for free.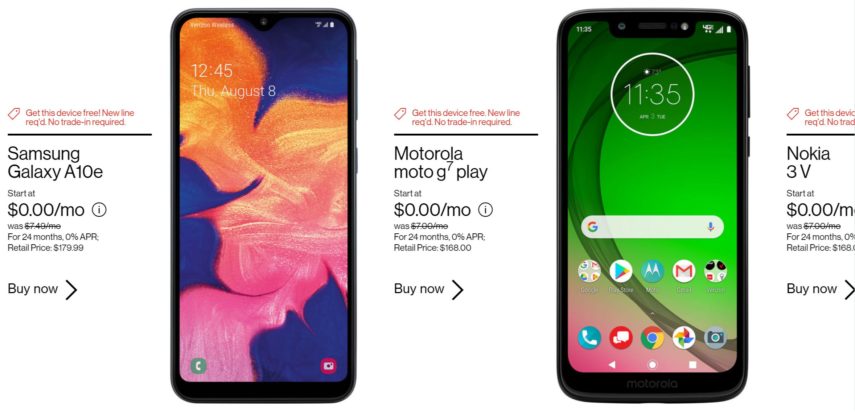 T-Mobile
T-Mobile will give you a free REVVLRY, Samsung Galaxy A10, or Moto G Power when you commit to a T-Mobile plan for 24 months. If you already have a phone, you can trade it in for a discount on a new iPhone or Android.
AT&T
AT&T also offers a buy one get one free deal on select smartphones, including the iPhone 10 and Samsung Galaxy Note10. To be eligible you have to commit to a 24-, 30-, or 36-month plan.
Where to Get Cheap (or Free) Cell Phone Service
Many cell phone providers offer a cheap monthly plan that gives you the service that you need.
FreedomPop
FreedomPop is a free phone service provider that anyone can use. You don't have to meet any eligibility requirements to sign up. All you need is a cell phone, though you can purchase one at a discount from FreedomPop.
The free plan offered by the company comes with 200 minutes of voice, 500 texts, and 500 MB of data. If you want to upgrade to unlimited talk and text, you can pay $11 a month. To get unlimited talk and text plus 1 GB of data, the cost is $20 a month.
Republic Wireless
Republic Wireless offers unlimited talk and text for just $15 and data at a rate of $5 per GB. You can change your plan at any time, but you'll be billed for the full plan even if you don't use all the data.
Google Fi
Google Fi offers two plans: Flexible and Unlimited.
The Flexible plan charges $20 for unlimited talk and text and $1 per 100 MB that you use. You don't have to guess at your usage and choose a data amount; you're only charged for what you use. If you use more than 6 GB in a month, your bill will be capped at $80, even if you use more data.
The Unlimited plan charges $45 – $70 per person, per month for unlimited talk, text, and data. It also comes with 100 GB of cloud storage for each member.
Ting
Ting charges a base rate of $6 per line per month. You can then choose the number of minutes, texts, and MB of data to add to the plan letting you customize your plan, and its price, to your usage patterns.
TracFone
TracFone offers unlimited talk and text plus 1 GB of data for $20 per month. You can add up to 2 GB of extra data for $5 per GB. Any unused data will roll over from month to month.
T-Mobile
T-Mobile's essentials plan offers unlimited talk, text, and data for $60, but you can save a huge amount by putting multiple people on your contract. For example, if there are four people on your contract, you'll save $30 per person, making this a great deal, especially for heavy data users.
CellNUVO
CellNUVO is a phone provider that lets you play games and accomplish tasks to earn points. You can then use those points to pay your monthly bill. If you're able to earn enough points, you can cover your entire bill, including the purchase cost for your phone.
That means you can get a new phone and phone service free of charge.
To get started you have to download the CellNUVO app. Once you've downloaded the app, you can watch advertisements and complete offers, such as downloading specific apps, to earn points. Points can be redeemed for talk time, texts, data, or as a credit on the monthly payment for purchasing your phone.
Earning points can be time-consuming, so you'll want to make sure you only use your phone when you need it. That can help you conserve points, which is important because it's often time-consuming to work to earn enough points to obtain a free phone. You want to make sure you're using your time wisely and reaping the benefits, and it's often difficult to balance the two.
Related: 13 Companies That Pay You for Your Data
You Don't Have to Spend Hundreds on a New Phone
Cell phones are expensive, but they're an essential part of daily life. Even if you don't plan to use yours for anything but phone calls or texts, having one can offer some peace of mind.
Taking advantage of an opportunity to get a free phone means you can get an essential tool without paying a premium price.