Clarity App Review: Is This Financial App Right for You?
Advertiser Disclosure
Our readers always come first
The content on DollarSprout includes links to our advertising partners. When you read our content and click on one of our partners' links, and then decide to complete an offer — whether it's downloading an app, opening an account, or some other action — we may earn a commission from that advertiser, at no extra cost to you.
Our ultimate goal is to educate and inform, not lure you into signing up for certain offers. Compensation from our partners may impact what products we cover and where they appear on the site, but does not have any impact on the objectivity of our reviews or advice.

Keeping track of your money can be difficult.
If you're like most people, you have some money in the bank, a few credit cards, a retirement account, and maybe even a savings account.
Finding all your money can take a lot of effort, and it's easy to make mistakes. That's where the Clarity Money app comes in.
Clarity Money is a tool that you can use to track all of your accounts. It may even save you some money along the way.
If you're new to Clarity Money, you may wonder why you should consider giving this app a try.
What is Clarity Money?
$0
Sign-Up Bonus
No current offering
DollarSprout Rating
Lacks advanced budgeting features
Clarity Money is a great tool for most people who want help managing their money. Whether or not you use the app's built-in savings account, you can benefit from the money tracking tools and financial advice that it offers.
Show

Hide

more
Pros
Track multiple financial accounts
Track your spending
Get help with canceling unwanted subscriptions
Free credit score tools
Built-in savings account with a good rate
Cons
Can't redeem rewards until you reach 1,000 points
May take a long time to earn enough points to cash out
Clarity Money is an app that provides a variety of financial services.
It's a money tracker that aggregates all your financial accounts, transactions, and expenses. You can get a breakdown of an account balance and view each transaction, making it easier to know where your money is and where it went.
The app also provides advice on how to save money, including tips on spending less, which credit card to use to get the most rewards, or how to cancel unnecessary subscriptions.
It's also a place to store money for long-term or short-term goals. You can open a savings account directly through the app so you can start building a nest egg or emergency fund.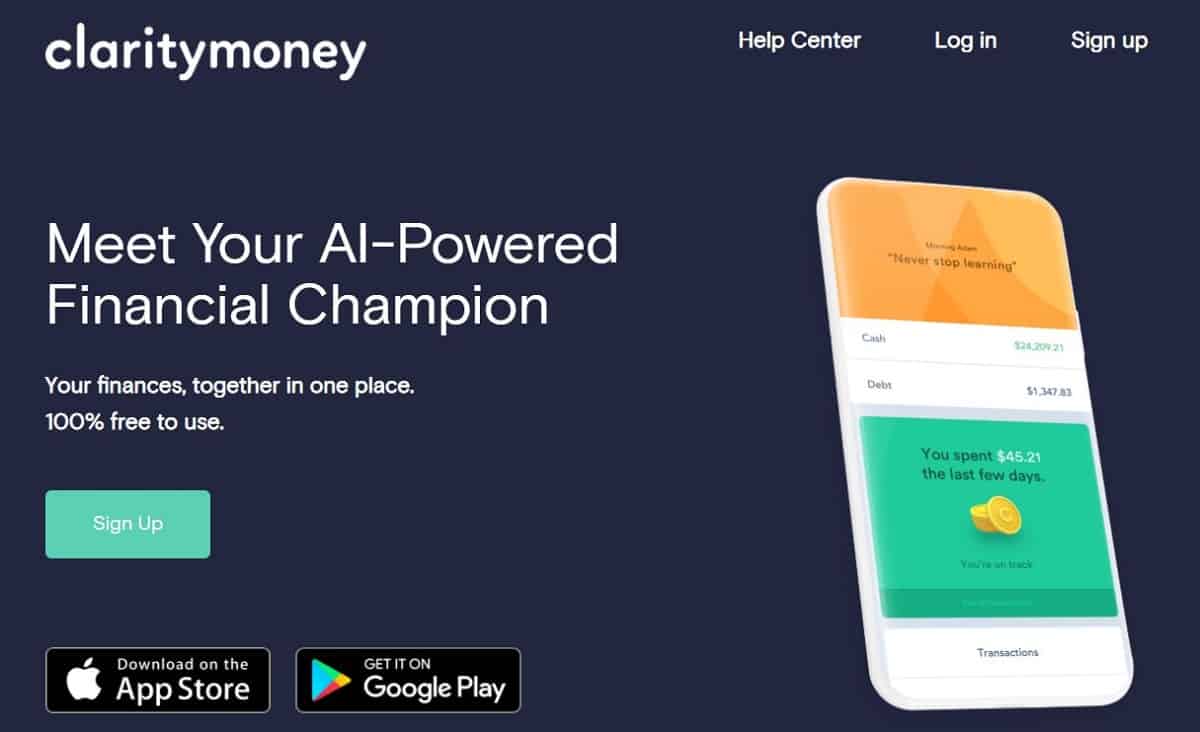 How Does Clarity Money Work?
Signing up and using Clarity Money's features is a simple and straightforward process.
Getting Started
To start using Clarity Money, sign up for an account on the company's website or download the app and then link all of your financial accounts. Clarity Money will download your balance information and transaction history.
The app uses bank-level security and encryption tools, so you don't have to worry about your data being hacked.
Tracking Your Money
One of the most difficult financial chores for most people is tracking where your money is and what you're spending it on. After you've linked your financial accounts, you can use the Clarity Money dashboard to view your accounts and spending records.
When you open the app, you'll see a dashboard that shows all your accounts and their balances. You can look at the transactions in each individual account or view your transactions across all accounts.
Clarity Money automatically categorizes each transaction you make and provides a breakdown of your spending on a monthly basis. You might discover that you spend more on restaurants than you expected or that you don't save as much as you thought.
The more detailed information you give Clarity Money, the more specific data it supplies. For example, if you tell the app your monthly income, it will show the percentage of your income that you've spent so far this month. This, in turn, helps you figure out how much you have left to spend or if you need to reevaluate your budget.
When it comes to money, knowledge is power, and knowing where your money is going can help you be more conscious of it.
One downside of Clarity Money is that it doesn't offer powerful budgeting tools like other apps such as Mint or YNAB. You'll know how much you're making and spending, but you can't use this app to set spending goals for specific types of spending.
Related: Tiller Review: A Perfect Budgeting Tool for Spreadsheet Addicts
Bill Negotiator
One of the most popular features offered by Clarity Money is its bill negotiation service. When you link your bank accounts and credit cards to Clarity Money, the app will automatically flag any subscription services that you pay for. It uses the information to create a visual chart display of all your current services so you can decide if the service justifies the cost.
The app will also notify you if you're billed for a larger amount than expected. Cable or internet companies will often give you a promotional rate for a few months, then increase your bill and hope you don't notice. Clarity Money will make sure that you're aware when this happens.
If you decide that you want to cancel a subscription service or negotiate your bill to a lower amount, the app can do so on your behalf.
Tell Clarity Money which bill you want to cancel or negotiate, and the app will do the rest. It reaches out to the billing company and cancels or negotiates the bill on your behalf.
If it's successful in getting a lower bill, it'll keep one-third of the savings. The other two-thirds goes to you. You can also try negotiating the bill on your own or using another service like Trim.
Related: Trim Review: The Tool that Automatically Lowers Your Bills & Saves You Money
Savings Helper
Along with the information that Clarity Money provides about your finances, the app also lets you open a savings account within the app.
The savings account that Clarity Money offers is an Online Savings Account from Marcus by Goldman Sachs. Like most online savings accounts, it offers a higher interest rate than most brick-and-mortar banks and no monthly fees. There's no minimum deposit required to open an account.
After you open the account, Clarity Money can help you set up automatic transfers and will prompt you to make deposits when it notices that you have extra money to save. These reminders make it easier to remember to set money aside for your goals.
Clarity Money has also partnered with Acorns, a company that helps you start investing with just a few dollars. If you open an Acorns account and link it to your Clarity Money account, you'll be reminded to make deposits and have the option to set up automatic transfers.
Acorns does charge a small fee for its service, depending on what level you choose. The fee ranges from $1 to $3 per month for accounts with investments fewer than $1 million.
Related: Acorns Review: Pros, Cons, and How It Compares to Similar Apps
Credit Score Tools
Your credit score has a huge impact on your financial life. It determines everything from what credit cards you qualify for to how much interest you pay for your mortgage. A bad credit score can even make it harder to get a job, especially if you work with sensitive information.
Clarity Money lets you see your credit score for free. You can view your Experian score any time and the factors that are used to calculate it. This lets you know what you can do toimprove your credit score and how your actions affect it over time.
Clarity Money FAQs
Though Clarity Money is easy to set up, you should know how it works before creating an account.
Do you have to pay for Clarity Money?
No, Clarity Money doesn't charge for its services. It makes money by referring you to other financial services and by taking a portion of the savings you earn on any bills it helps you negotiate.
Some of the companies that Clarity Money refers you to, such as Acorns, may charge their own fees.
Related: Acorns Review: Pros, Cons, and How It Stacks Up to Other Apps
Is Clarity Money secure?
Yes, Clarity Money is secure. It uses the highest level of security and encryption software available to ensure that your data is safe.
How do I cancel Clarity Money?
Clarity Money is free to use, and it's simple to close your account. To do so, open the app, navigate to your profile, and select the About Me section. That's where you'll see the option to delete your account.
Deleting your account means that all of your transaction data and history will be gone. If you ever want to use the Clarity Money app again, you'll have to start from scratch, so be certain you want to delete before you click that button.
Clarity Money Review Summary
Clarity Money is a great service you can use to track your money, cancel or reduce your bills, and save more money. While it lacks some of the advanced budgeting features that other apps have, it offers many other tools to make up for that.
You can use it in conjunction with a budgeting app like Mint or a spreadsheet-based system like Tiller. If you're less interested in a rigid budget but still want to see how you spend your money, then Clarity Money can give you insight without making you feel too constrained.