11 of the Best Real Estate Books Every Investor Needs to Read
Advertiser Disclosure
Our readers always come first
The content on DollarSprout includes links to our advertising partners. When you read our content and click on one of our partners' links, and then decide to complete an offer — whether it's downloading an app, opening an account, or some other action — we may earn a commission from that advertiser, at no extra cost to you.
Our ultimate goal is to educate and inform, not lure you into signing up for certain offers. Compensation from our partners may impact what products we cover and where they appear on the site, but does not have any impact on the objectivity of our reviews or advice.

Reading the best real estate investing books is like having coffee with the greatest minds in the industry — for free.
You can learn from successful entrepreneurs, multi-millionaires, and brilliant teachers without ever leaving your bedroom.
It's not a luxury you can take for granted, especially in the ever-changing landscape of real estate investing.
From seller financing and crowdfunding to 1031 exchanges and tax deductions, you can learn it all from these real estate investing books.
11 Must-Read Books About Real Estate Investing
Before you dive into this reading list, you should have a solid personal financial foundation. If you haven't started investing in your IRA or 401(k) you can start by reading some good investing and personal finance books before you think about real estate.
When you're ready to go beyond traditional retirement investing, there's no shortage of great real estate investing books to help you make smarter decisions and increase your revenue.
1. The Book on Rental Property Investing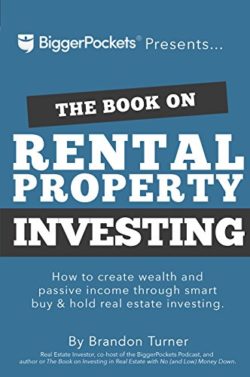 With over 500 5-star reviews on Amazon, readers agree that The Book on Rental Property Investing by Brandon Turner is one of the best real estate books for beginners and a go-to for anyone interested in rental property investing.
Turner is an active real estate investor and VP of Growth at BiggerPockets, a multiplatform resource for everything related to real estate investing. Reviewers comment that Turner's passion for rental properties shines through every page.
The book goes over sample plans for investing, how to assemble a team to help you succeed, investing in high-cost areas, how to fund investments, which properties make the best rentals, what to avoid, and more.
Cara Palmer of CaraPalmer.com said this and Turner's other book, The Book on Managing Rental Properties, were very helpful to her in getting started in real estate.
"I knew nothing about real estate, and these books were a huge help in helping me understand how to finance my properties as well as how to manage my properties," she said. "I felt like these books had more meat and potatoes and less fluff than other books that I read."
2. The Millionaire Real Estate Investor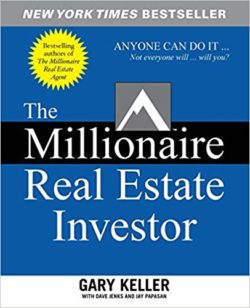 Gary Keller is the founder of Keller Williams Realty, the fifth-largest real estate franchise in North America. In his book The Millionaire Real Estate Investor, he debunks myths and limiting mindsets that keep investors from building wealth through real estate.
Reviewers on Amazon say the book is easy to read but more motivational than how-to. If you enjoy success stories or need some encouragement on your real estate investing journey, this book is for you.
Alternatively, real estate investor Andrew Herrig says the book does lay out a simple system that anyone can follow to build wealth through rental houses.
"He uses a lot of real-life investors as examples in his book," Herrig said. "A lot of real estate gurus try to make it complicated, but it doesn't have to be."
3. The ABCs of Real Estate Investing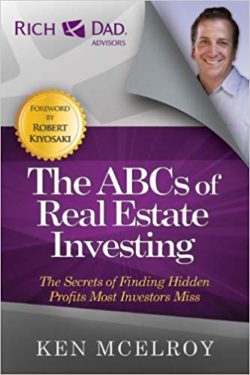 Fans of Robert Kiyosaki's Rich Dad Poor Dad will enjoy this book in the Rich Dad Advisors series, The ABCs of Real Estate Investing by Ken McElroy. McElroy is a real estate investor and entrepreneur with over $750 million investment dollars in real estate.
In addition to real estate, McElroy is passionate about inspiring other entrepreneurs through business books and seminars. According to many reviewers, this is one of the best books on real estate investing in large-scale commercial properties.
McElroy breaks down complicated processes and makes them easy to understand with real-world examples.
4. The Book on Estimating Rehab Costs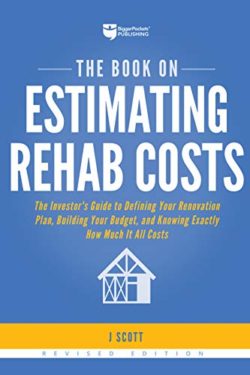 If you've been reading about real estate, even for a short time, you've probably heard that the money is made on the purchase, not the sale. But a good real estate deal inevitably comes with rehab and remodeling costs.
In the updated edition of The Book on Estimating Rehab Costs, J Scott helps readers price out the cost of 25 different renovation components based on his experience rehabbing over 300 houses and as co-host of the BiggerPockets Business Podcast.
Reviewers highly recommend the book for both investors and homeowners on fixer-uppers or new builds.
5. What Every Real Estate Investor Needs to Know About Cash Flow…And 36 Other Key Financial Measures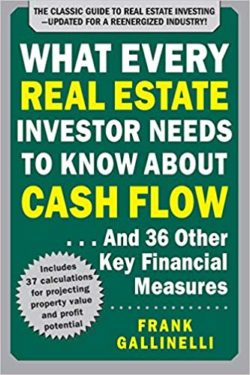 Now in its third edition, Frank Gallinelli's, What Every Real Estate Investor Needs to Know About Cash Flow, is the handbook for understanding essential financial calculations related to real estate investing.
Gallinelli is the founder of RealData, online software to help real estate investors analyze investment property cash flow. He also teaches real estate finance at Columbia University.
Many reviewers praise the book for its substance and lack of "fluff." This is one of the best real estate books for beginners and a book active real estate investors keep on hand to refer to again and again.
6. Long-Distance Real Estate Investing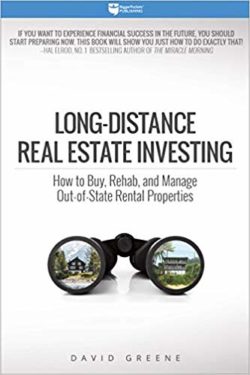 Technology has made it easier than ever to own real estate in profitable markets while living almost anywhere. That's the concept behind Long-Distance Real Estate Investing by David Greene.
Greene is a real estate agent in the San Francisco Bay Area and co-host of the BiggerPockets Real Estate Podcast with Brandon Turner. He owns over 35 single-family rental properties around the U.S. and shares in three large apartment complexes.
He draws on his years of experience to explain how to find houses in other states, using the internet to your advantage, who you need on your team to manage them, and how to maximize your return on investment.
Reviewers say the book is long-winded and there are grammar mistakes throughout. However, if you can get past those you can learn strategies to make out-of-state real estate managing doable.
7. Crushing It in Apartments and Commercial Real Estate: How a Small Investor Can Make It Big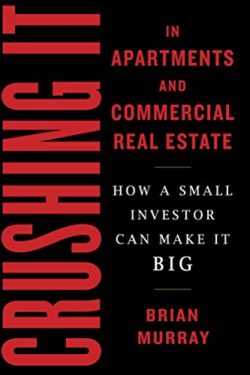 For those interested in commercial real estate, Crushing It in Apartments and Commercial Real Estate: How a Small Investor Can Make It Big by Brian Murray is another one of the best books on real estate investing.
Murray has been investing in real estate since 2007 without raising any outside capital. One reviewer, who says he owns several successful single-family properties and a 24-unit apartment building, said he was highlighting key insights on almost every page.
8. The Doctors Guide to Real Estate Investing for Busy Professionals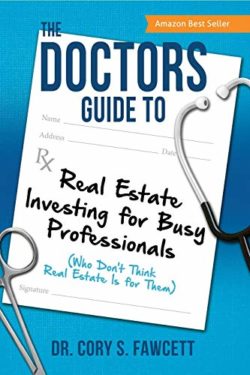 You don't have to be a doctor to benefit from The Doctor's Guide to Investing in Real Estate by Dr. Cory S. Fawcett. This book is aimed at anyone who wants to invest in real estate but may feel they don't have the time.
Fawcett and his wife began investing in 2001. In a few short years, they acquired five apartment buildings with a total of 64 rental units. Fawcett explains how he managed so many properties while running a full-time surgical practice and helps others replicate his strategies.
9. Real Estate Investing Gone Bad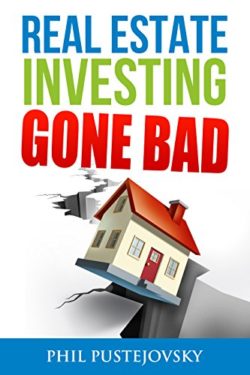 Most books about real estate wax poetic about all the benefits of investing in real estate. Not this book.
Real Estate Investing Gone Bad: 21 true stories of what NOT to do when investing in real estate and flipping houses by Phil Pustejovsky is a collection of true stories from people who were taken advantage of in real estate. It's full of cautionary tales for beginner real estate investors.
After every story, Pustejovsky explains what you can learn from the person's mistake and how to avoid making the same one. Reviewers praise the book for being a quick read and its unique perspective on real estate investing.
10. Visual Pricing for Real Estate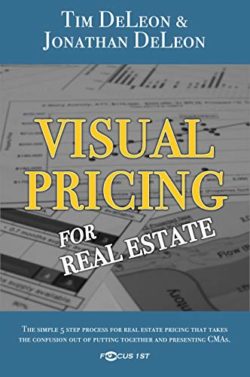 It can often be helpful for real estate investors to view houses like a real estate agent would. Knowing the features and potential staging that will make a house more sellable or the neighborhoods that might attract the best neighbors.
This book, while written for real estate agents, is a valuable resource for investors who want to fix and flip houses. Visual Pricing for Real Estate by Tim DeLeon and Jonathan R DeLeon explains how to identify neighborhood patterns that buyers care about and what a home will sell for based on historical data, current competition, and future entrants.
One reviewer stated that it not only improved his real estate selling business, but also his own fix-and-flip investments and those for other clients.
11. Loopholes of Real Estate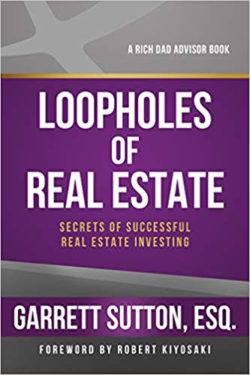 Loopholes of Real Estate by Garrett Sutton focuses heavily on tax and legal strategies you can use to optimize your real estate holdings. Sutton has been a corporate lawyer for over three decades. He helps entrepreneurs and real estate investors protect their assets and maximize profits.
The book has 32 tax, legal, and selection strategies. Reviewers regard it as a "must-read" for both novice and experienced real estate investors.
Start with the Best Real Estate Investing Books
Real estate investing is a legitimate way to create passive income. But there's more to it than buying a property and raking in cash. You first need to know your goals so you can identify the types of properties to look for. From there, you need criteria for what makes a good investment property.
Many real estate investors will say you need an informed strategy before you start investing in properties. Reading the best real estate investing books will give you the knowledge you need to make a good plan, fewer mistakes, and more profit from the start.
Related: How to Start Investing in Real Estate (A Beginner's Guide)