11 Best Personal Finance Podcasts to Help Grow Your Wealth
Advertiser Disclosure
Our readers always come first
The content on DollarSprout includes links to our advertising partners. When you read our content and click on one of our partners' links, and then decide to complete an offer — whether it's downloading an app, opening an account, or some other action — we may earn a commission from that advertiser, at no extra cost to you.
Our ultimate goal is to educate and inform, not lure you into signing up for certain offers. Compensation from our partners may impact what products we cover and where they appear on the site, but does not have any impact on the objectivity of our reviews or advice.
In order to cut down on your search time for the best personal finance podcasts, we've compiled a list of the top twelve for different interests so that you'll find helpful information no matter where you're starting from.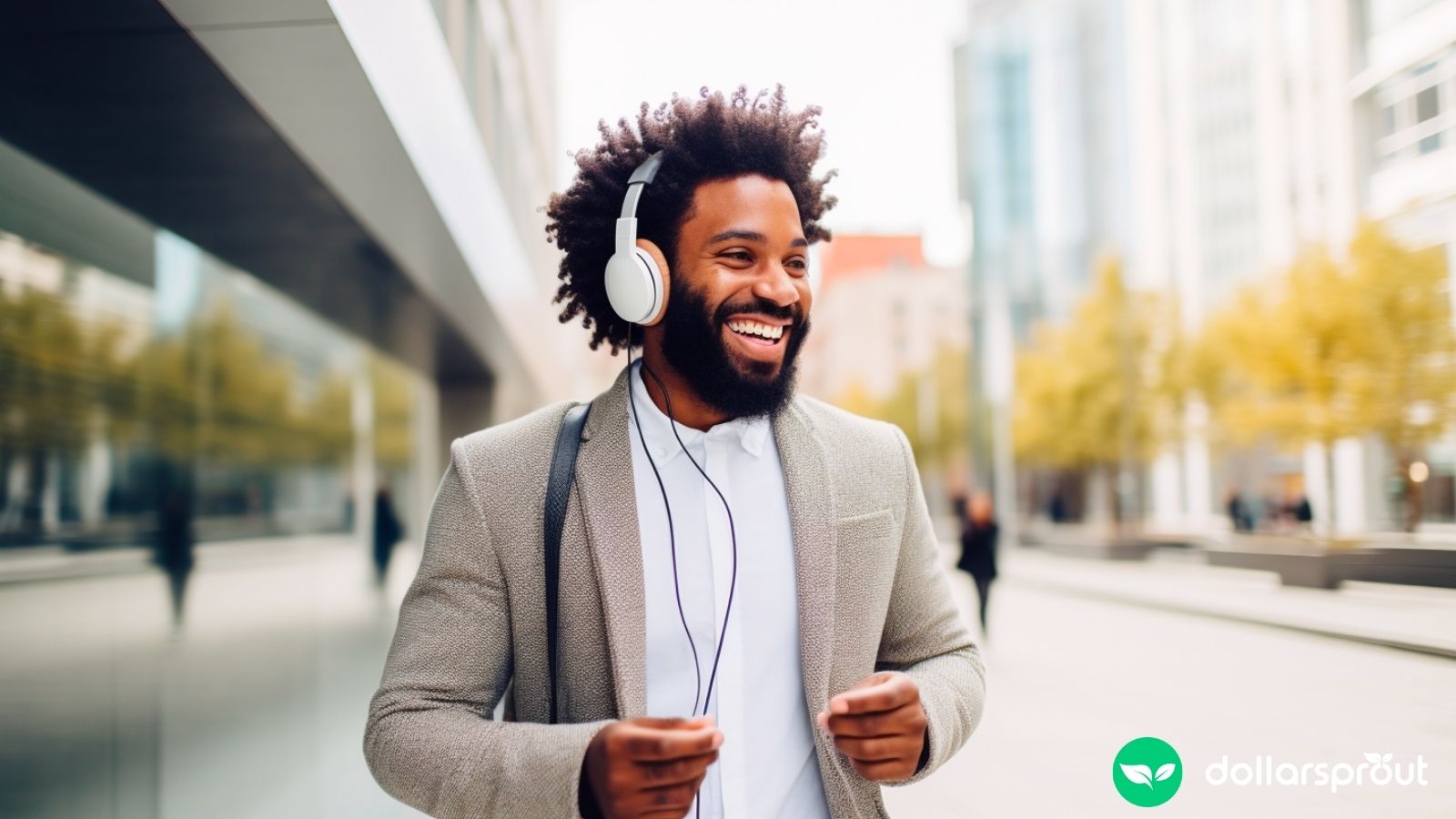 If you're interested in learning more about personal finance, podcasts are a great supplement to the many books, blogs, and YouTube channels out there.
But there are hundreds, maybe even thousands, of personal finance podcasts that could send you on a long search before finding one that suits your needs.
In order to cut down on that search time, we've compiled a list of the best personal finance podcasts in every category. That way you'll find helpful information no matter where you're starting from.
Best Personal Finance Podcasts for Beginners
Beginners don't need a lot of complicated strategies or systems to master the basics of personal finance. If you're just starting out, these financial podcasts will inform and inspire you to expand your horizons.
1. Popcorn Finance
Chris Browning started his award-winning podcast, Popcorn Finance, to talk about finance topics in about the time it takes to make a bag of popcorn. Every week you'll hear brief interviews with experts sharing stories and answering listener questions on all kinds of financial topics.
Regular episodes are laser-focused and bonus shows include fun debates and words of wisdom from past guests. With episodes being less than 20 minutes each, this show isn't just perfect for beginners but for anyone short on time.
Popular episodes:
Episode 117: Advancing Your Career and Paying off Debt with Rich Jones
Episode 26: Being Broke Made Me Rich
2. The Stacking Benjamins Show
Every Monday, Wednesday, and Friday, Joe Saul-Sehy and his co-host OG use humor to subversively explain all kinds of financial topics.
Each episode of Stacking Benjamins breaks down some of the latest headlines in personal finance followed by interviews with top finance experts on everything from how to choose your financial priorities to how to not blow your tax refund.
You'll also get a little trivia in each episode and an introduction to new budgeting, saving, or investing technology every Friday.
Popular episodes:
Let's Talk About Credit and Debt (with Gerri Detweiler)
Our Best Money Advice For Beginning Savers No Matter Your Age
3. BiggerPockets Money
Real estate enthusiasts will be familiar with the BiggerPockets podcast that dives deep into real estate investing. The hosts saw a need for more basic financial literacy and in 2018 they launched a second show called BiggerPockets Money.
This podcast helps potential investors, or anyone who wants to achieve financial security, reach their money goals through interviews with people who've done it despite diverse challenges.
You'll hear a lot of stories from people who built wealth through real estate. You'll also hear debt payoff tips, entrepreneurship stories, and ways people have achieved their own definition of financial freedom.
Popular episodes:
From Disorganized to Debt Free Through Budgeting and Routine with Rosemarie Groner
An All-Out Approach to Financial Independence at an Early Age with Scott Trench
Personal Finance Budgeting Podcasts
Looking for some help with your budget? Look no further than these money podcasts that will guide you in making and staying in a budget that works for you.
4. Paychecks & Balances
Rich Jones and Marcus Garrett are passionate about helping their peers get their paychecks up and balances down. Every episode of Paychecks & Balances helps millennials navigate the financial situations that are unique to them.
The hosts are accessible, relatable, and give actionable advice from experiences they've gained themselves. This is a great show for anyone looking to cut costs to make extra room in their budget.
Popular episodes:
Episode 120: Bad with Money ft. Gaby Dunn
Episode 108: Why You Need a Budget ft. Rianka Dorsainvil
5. So Money
Sometimes you have the information but you need more motivation. Financial strategist Farnoosh Torabi has sought to do that with her show, So Money. Twice a week you'll hear inspiring stories from top financial minds and their tips for overcoming obstacles.
Her "Ask Farnoosh" show on Fridays is dedicated to answering all kinds of money questions from listeners. So Money is gear toward empowering women financially, but anyone can gain insight from these episodes.
Popular episodes:
Episode 863: Ask Farnoosh: How Can I Stop Feeling Guilty When I Spend?
Episode 798: Adeola Omole, 7 Steps to Get Out of Debt and Build Wealth
6. Optimal Finance Daily
From the creator of Optimal Living Daily comes Optimal Finance Daily, a daily reading of hand-picked blog posts from around the web, all about personal finance.
If interviews aren't your thing or you wish you had time to discover new blogs, Optimal Finance Daily will introduce you to new authors and you'll hear some classic favorites. Episodes are under 10 minutes in length and siphoned off every 300 episodes to make finding archived posts easier.
Popular episodes:
Episode 572: Your Budget Isn't Working. Here's Why by Holly Johnson with Get Rich Slowly
Episode 564: 5 Categories You Need in Your Budget That May be Missing by Kalen Bruce of MoneyMiniBlog
Related: How to Improve Your Finances Based on Your Enneagram Type
Personal Finance Investing Podcasts
When you're ready to learn more about investing options and strategies, you'll love the simplicity and straight-forwardness of these investing podcasts.
7. Afford Anything
Host Paula Pant centers her podcast, Afford Anything, around the idea that you can afford anything but not everything. In her weekly show, you'll hear unique insights from financial experts on how to invest your money and your time to live your best life.
She also does frequent "Ask Paula" episodes where she answers listener questions about investing, real estate, and other personal finance topics to help listeners put into action the lessons learned in previous episodes.
Popular episodes:
Episode 192: The Latte Factor, with author David Bach
Episode 108: Ask Paula: I Don't Know How to Invest
8. ChooseFI
The FI in ChooseFI stands for financial independence, a movement of people saving significant portions of their incomes in hopes of escaping the nine-to-five sooner.
Hosts Brad Barrett and Jonathan Mendonsa started the show to learn and share the benefits of and strategies for reaching financial independence. Their weekly expert guests and Friday Roundup break down concepts to make them easier to understand and put into action.
There are a lot of financial independence podcasts out there. If you're just getting started and want to listen to one that explains the basics, ChooseFI is a great place to start.
Popular episodes:
Episode 117: Making the Case for Part-Time | Bradley Rice
Episode 19R: Index Investing | How to Buy VTSAX
9. Journey to Launch
Jamila Souffrant started her Journey to Launch blog and podcast to chronicle her journey to launch into financial independence. She made the leap in September 2018 but she's still sharing her story and the stories of other "journeyers" making their way to career freedom.
You'll learn about saving, investing, paying off debt, and building wealth in weekly interviews with people who've done impressive things with their money. If you want inspiration to boost your savings rate and invest wisely you'll enjoy this show.
Popular episodes:
Episode 96: How to Achieve Flexible Financial Independence & Create Your Ideal Life with Jillian Johnsrud
Episode 91: Leveling up Your Money & Investing with Erin Lowry
Related: Best Investing Apps for Beginners
Best Personal Finance Passive Income Podcasts
If you're a budding entrepreneur intrigued by the idea of passive income, here are the best finance podcasts to steer you in the right direction from idea to execution.
10. The Smart Passive Income Podcast
In 2008, several months before his wedding, Pat Flynn was laid off from his job as an architect. Knowing that jobs in architecture were few and far between, he discovered passive income and he's been helping others replicate his success ever since.
Now he shares his wisdom and that of other top-earning online entrepreneurs on the Smart Passive Income Podcast. Flynn doesn't just interview entrepreneurs, he also runs his own passive income experiments to give first-hand advice and ensure his tips stay current with online trends.
Popular episodes:
Episode 369: Top 5 Major Business Mistakes Entrepreneurs Make
Episode 314: From Clients to Passive Income— Productize Your Business with Brian Casel
11. The Side Hustle Show
If you need passive income or any side hustle ideas, then The Side Hustle Show hosted by Nick Loper will give you hundreds of them. He interviews a different successful side hustler every week to inform you how to get started doing what they're doing.
Loper doesn't just interview experts either. He's had dozens of side hustles and continues to try new ones to maintain current experience with what's working. This show will get your creative juices flowing and supply actionable strategies for whatever you choose.
Popular episodes:
Episode 331: A Look Inside a 6-Figure Business: Traffic, Monetization, and More
Episode 284: From Active to Passive Income: From $25 an Hour to 6-Figure Launches
Related: Best Passive Income Apps
Learn Something New Every Day
Hopefully, one or more of these shows will help you learn something new about your finances.
And after you've made it through this list of the best personal finance podcasts, we hope you'll continue to seek out more shows with topics from retirement and financial independence to frugality and business building. There's a podcast out there for everybody.