5 Best Places to Sell Gift Cards for Cash
Advertiser Disclosure
Our readers always come first
The content on DollarSprout includes links to our advertising partners. When you read our content and click on one of our partners' links, and then decide to complete an offer — whether it's downloading an app, opening an account, or some other action — we may earn a commission from that advertiser, at no extra cost to you.
Our ultimate goal is to educate and inform, not lure you into signing up for certain offers. Compensation from our partners may impact what products we cover and where they appear on the site, but does not have any impact on the objectivity of our reviews or advice.
Don't let unwanted gift cards go to waste -- or worse -- expire. Redeem them for cash at one of several high-paying gift card exchanges.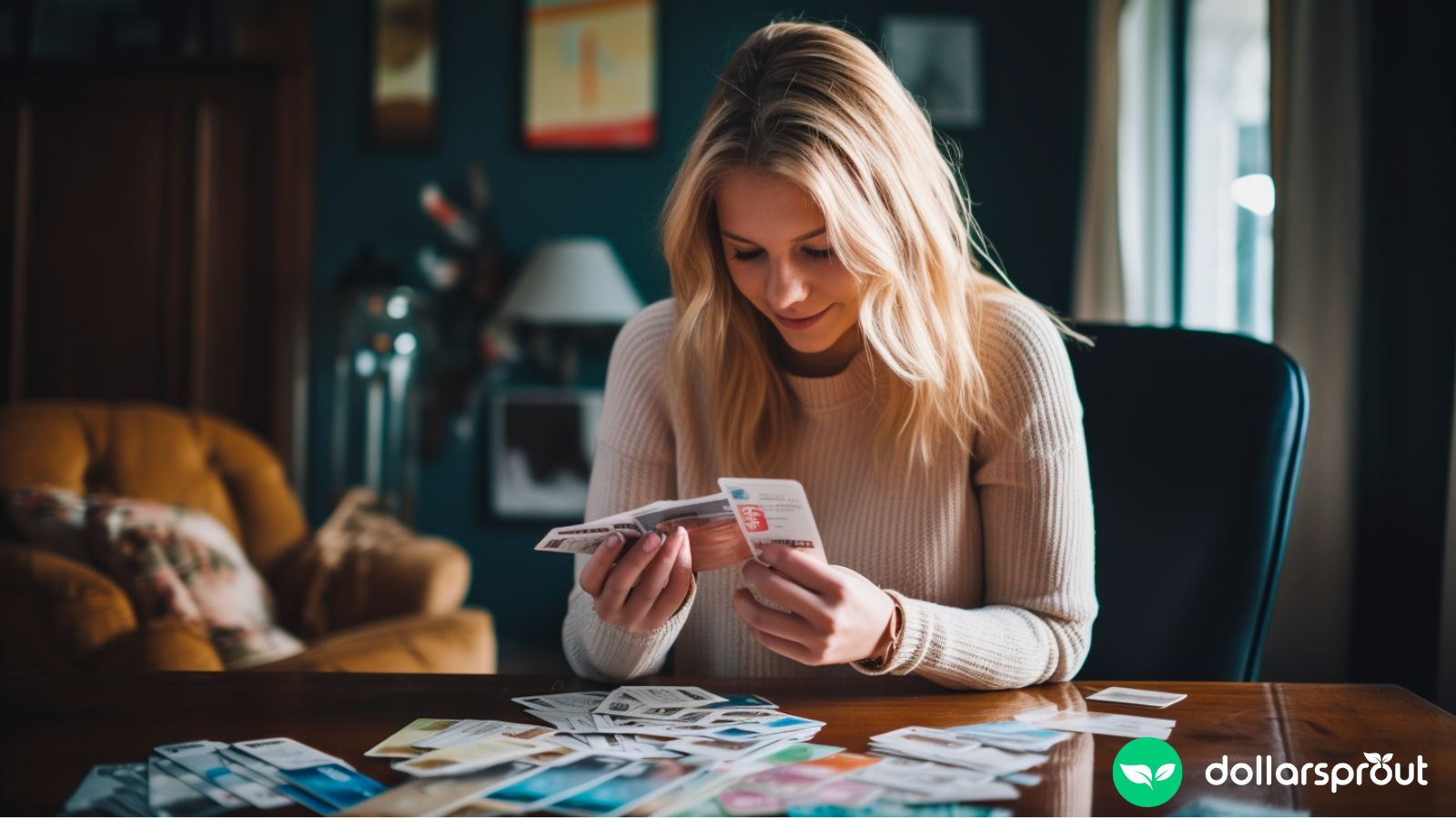 Whether it be in poor taste or complete naivety, sometimes people just miss the mark when it comes to giving gifts.
Unless explicit direction was given to a well-meaning gift giver, a good many of the Christmas, graduation, or birthday gifts we've ever received would have been better replaced by our favorite plastic currency. Especially now that there are options for exchanging new or used gift cards for free cold hard cash.
If you know you won't be near a Starbucks, Costco, or Target any time soon, and Walmart just isn't your vibe these days, instantly redeem your digital dollars for actual cash at any one of these best places to sell gift cards online.
Highest-Paying Places to Sell Gift Cards Online
If you're anything like me, getting top dollar for my gift card is really all I care about. Every gift card exchange has selling fees or takes a certain cut; that much is to be expected.
But when I sell my $25 Amazon gift card on any particular website, I'd like to get as close to $25 deposited directly into my PayPal account as I can. That's why these gift card exchange apps and websites are the best.
1. Raise
The most well-known company in the gift card space, Raise offers one perk that sets them above many of its competitors: the ability to sell partially used gift cards.
That's right, even if you've spent money on the card, you can still sell the remaining balance for a cash deposit. Raise's biggest perk helps to offset its biggest con: no immediate cash offer.
Unlike competitors such as CardCash, Raise facilitates the sale of gift cards from one person to another. You'll offer a small discount on your card — say 1 or 2% — and then a buyer will come and scoop up your card at the newly discounted price.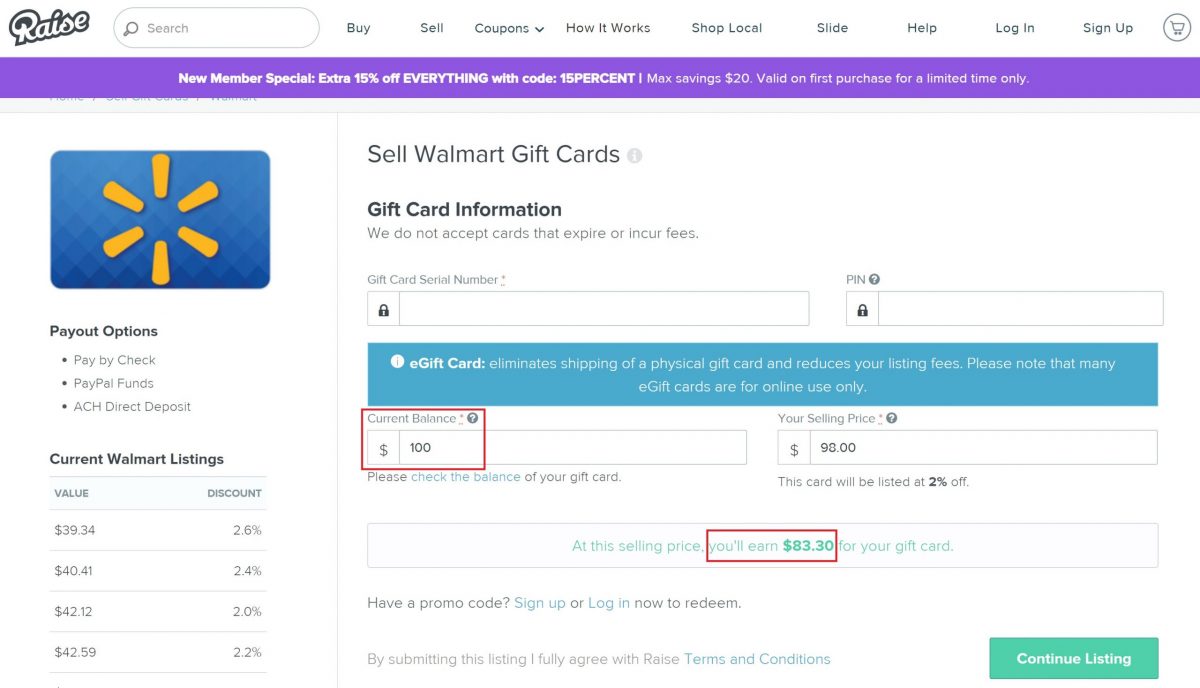 The bigger the discount you offer, the faster your card will sell. Payments are also made by check, ACH direct deposit, and PayPal cash.
Related: Raise Review 2023
2. CardCash
Perhaps the easiest gift card exchange to use, you'll be hard-pressed to find a better place to redeem your gift cards for cash anywhere on the web. Simply enter the store and balance using their quote tool and CardCash will display an instant offer.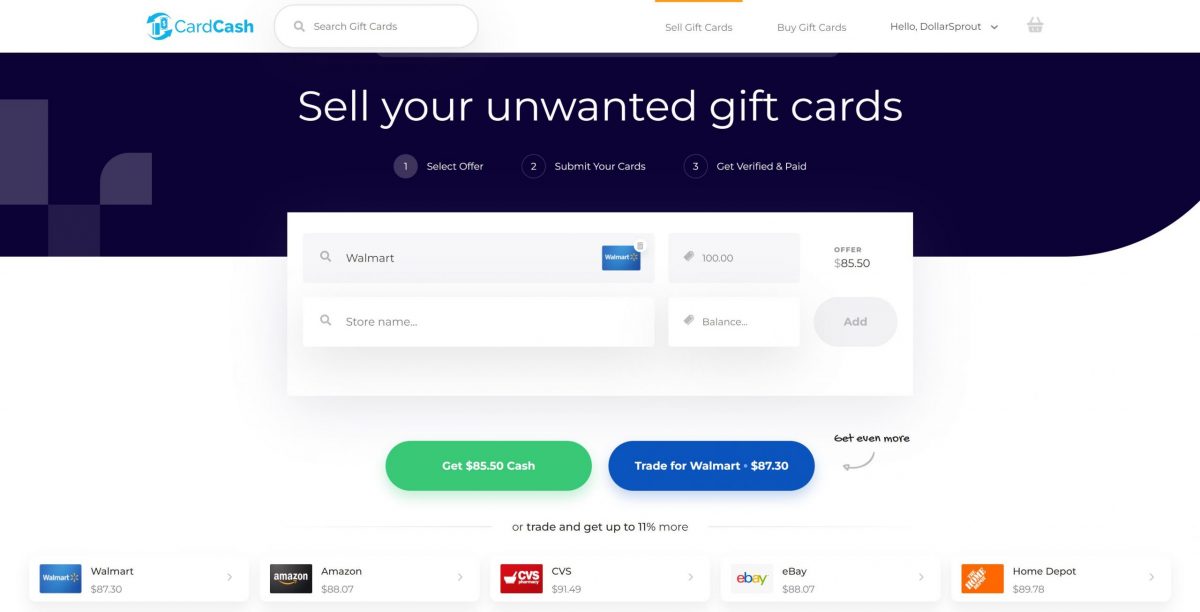 In my experience, quotes will most often fall between 80% and 85% of the cash value of the card, but offers can reach as high as 92%. Choose to receive your payment via mailed check, ACH (direct deposit), or, my favorite, PayPal Express.
3. GiftCash
While you can "only" sell gift cards to a smaller list of 150 retailers (still all the big ones), GiftCash boasts two unique features their competitors do not.
First, they offer an industry-leading 93% cash payout on some of the top retailers.
Second, you can convert your cash balances to crypto. They do require a $25 minimum balance for any card sold, and some brands like Apple and iTunes have a $100 minimum card value.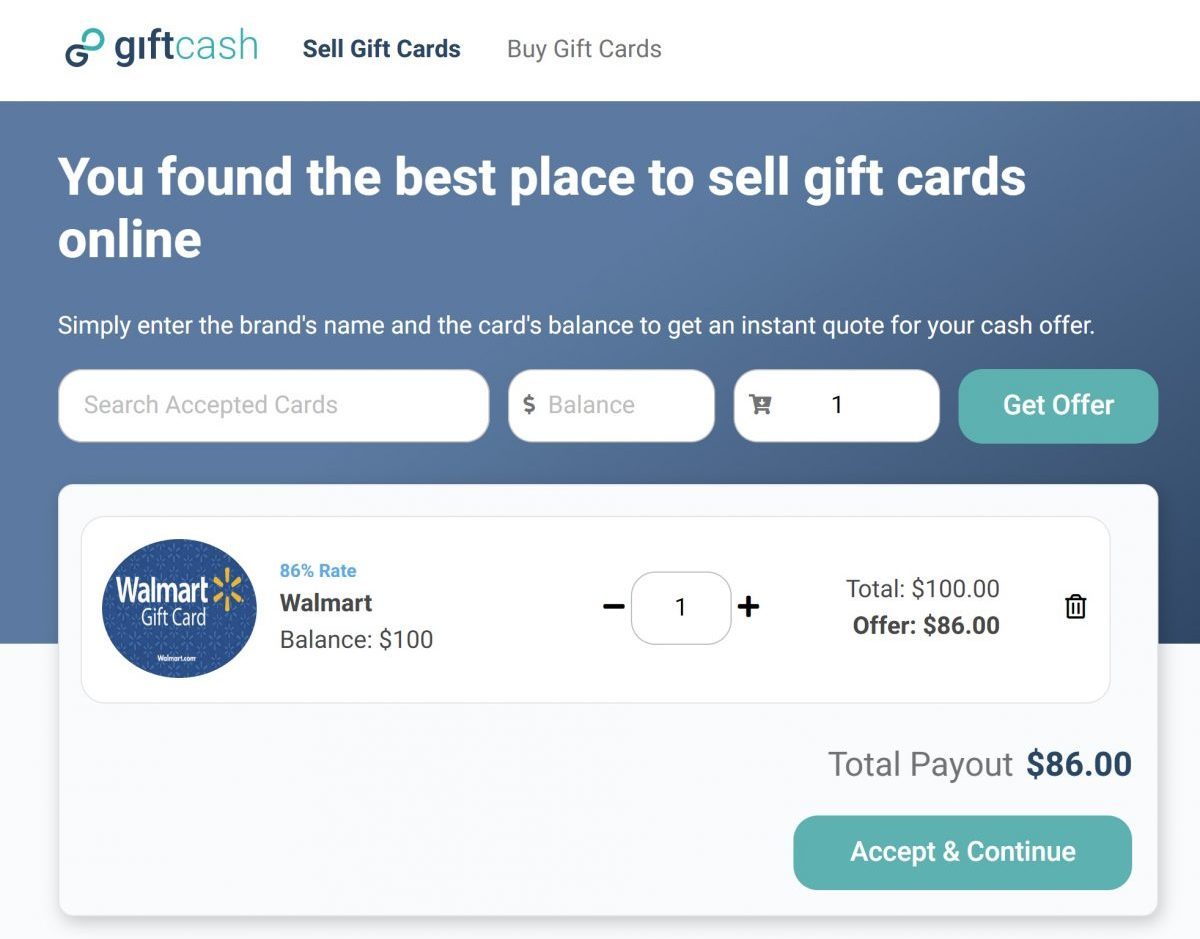 If you value a totally private transaction from start to finish, all while getting the most money possible for your gift card, GiftCash is the best option for you.
Related: 15 Best Cash-Back Apps for Saving Money on Everything You Buy
Best Places to Sell Gift Cards for Cash (Runner Ups)
There's really no need to deviate from any of the three winners on our list. Doing so increases the likelihood you run into one of many gift card-oriented scams. But if you're browser is acting up, you really want to do your due diligence, or you're holding out hope that a different gift card exchange has a hidden better deal, we've found a few other legit apps and websites where you can trade gift cards for cash.
4. ClipKard
If you'd prefer to do everything offline, ClipKard accepts mailed physical gift cards from over 100 retailers worldwide.
Despite the snail mail route, everything works fairly simply. ClipKard sends you a free pre-paid USPS label, you mail the physical card, and within 1 to 7 business days after balance verification, you'll receive either a PayPal deposit or check by mail.
Payouts tend to be lower than their competitors, often in the 70 to 80% cash value range, but they're a good option if you're unsure about entering your gift card number and PIN online.
5. CardSell
There's a lot to be said about simplicity, and the CardSell mobile app offers exactly that.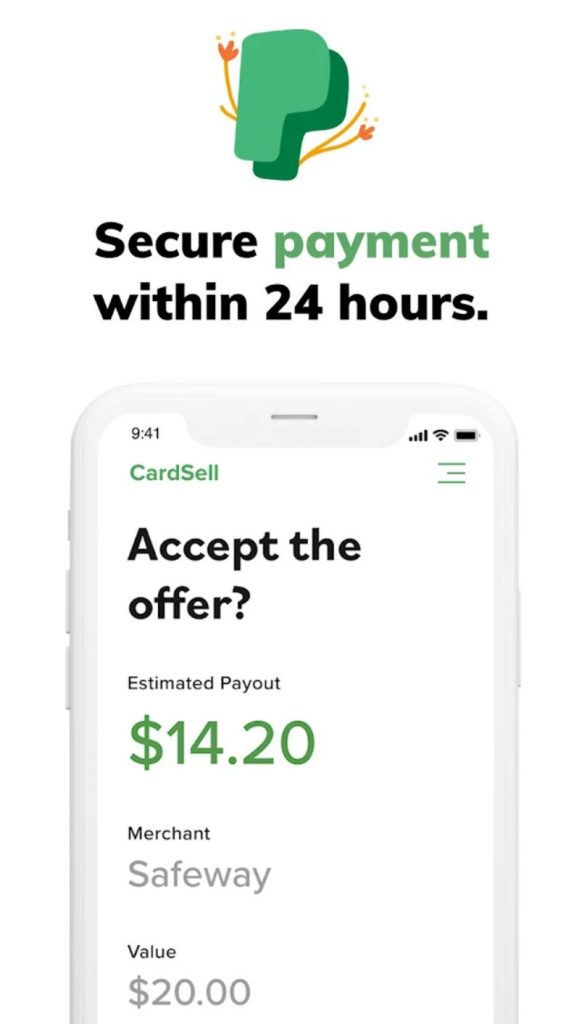 With no desktop presence, you'll only be able to access the platform with a mobile or smart device, but cash offers are semi-competitive and payouts hit your PayPal account in a fast 48 hours or less.
Payouts typically come in around the 50% to 75% of total value mark, so it won't be the highest paying place to sell gift cards online, but if you're looking to unload cards as quickly as possible, this is one of the faster options for doing it.
Worth noting, don't accept the first offer CardSell throws out.
If you decline the initial offer, the app will prompt you to resubmit the card for a +10% payout bonus.
Basically, they're lowballing, but this is an easy hack to get a higher value straight off the bat.
Download:
Top Gift Card Exchanges Compared
Hidden or even totally transparent fees can add up. Here's how much you can expect a $25 gift card to be worth at each gift card exchange (at the time of writing).
$25 Starbucks
Gift Card
$25 Target
Gift Card
$25 Walmart
Gift Card
CardCash
$19.38
$20.50
$21.38
Raise
$20.40
$20.40
$20.40
GiftCash
Not Accepted
$20.75
$21.50
ClipKard
$15.29
Not Accepted
$17.84
CardSell
Not Accepted
Not Accepted
$14.05 (+10% boost)
Other Options for Getting Rid of Unwanted Gift Cards
Despite their ease of use, exchanges aren't the only way to discard or even get top dollar for your new or unused gift cards. Donating, regifting, or returning gift cards are all viable options.
Donate
A near-cash equivalent, many charities would be thrilled to oversee the expenditure of your new or even used gift card codes and balances. Some donations are even tax-deductible, so be sure to ask participating charities for the appropriate paperwork. Some reputable organizations worth looking into:
Regift
Not a whole lot needs to be said here. If you're sitting on a $10 worth Starbucks gift cards you'll never use because fried brown water is of no importance to your life, give it away at your earliest convenience. Zero dollars left your wallet, and the caffeine-addicted friend in your life is a whole lot happier.
Return Them
Perhaps the most surprising method for offloading your gift card, some retailers will actually accept gift card returns, so long as you provide a receipt for the purchase.
While this isn't common, places like Amazon and Shopify will allow you to turn your gift card into cash as if it were any other payment method, so long as you have a receipt and have returned any items that were purchased using the gift card.
Each retailer's return policy will vary, so you'll have to check the fine print to see if your return will be accepted.
Deciding Where to Trade Gift Cards for Cash
Selling gift cards online for cash isn't rocket science. When it comes down to it, staying safe and helping you get the most money for your card is our biggest priority.
As a past semi-professional poker player, my OCD brain won't allow me to do anything other than extract max value from any situation. When it comes to selling my unwanted CVS and Walgreens gift cards, that means getting the absolute most for them. If you've got a few minutes, quickly open each site in a new tab on your browser and see who is offering the best bang for your plastic bucks. If you're flexible and don't mind waiting, always lean towards the top paying option.
If you need an instant cash payout, places like CardCash and GiftCash will better suit your needs.
FAQs