Direct Deposit: What It Is and How to Use It
Advertiser Disclosure
Our readers always come first
The content on DollarSprout includes links to our advertising partners. When you read our content and click on one of our partners' links, and then decide to complete an offer — whether it's downloading an app, opening an account, or some other action — we may earn a commission from that advertiser, at no extra cost to you.
Our ultimate goal is to educate and inform, not lure you into signing up for certain offers. Compensation from our partners may impact what products we cover and where they appear on the site, but does not have any impact on the objectivity of our reviews or advice.

Everyone's favorite day is payday, especially when you use direct deposit.
In our grandparents' days, standing in line at the bank every other Friday while waiting to deposit bi-weekly paychecks was a collective pastime. But now that we're in the 21st century, there's a new tool in town that's become a lot more popular: direct deposit.
Direct deposit has made getting paid a lot easier, faster, and safer than in the past. But you might still be wondering what it is exactly, and how direct deposit works.
Ponder no more. Below is the full scoop on what direct deposit actually is, the benefits of direct deposit, and how to set up direct deposit yourself.
What is Direct Deposit?
Direct deposit is simply a way to get your money automatically deposited into your bank account. This means you don't have to worry about going to your bank and physically depositing cash, checks, money orders, etc. It's all handled digitally, and the money is sent straight to your account ready to use.
Most people are familiar with getting their paychecks direct deposited. After all, over 80% of Americans receive their paycheck this way, according to a 2016 survey.
But you can receive direct deposits from other sources, too. For example, you can elect to have your tax refund direct deposited into your account, and by law, Social Security payments must be made electronically (such as with direct deposit).
Related: Online Banking Pros and Cons: Here's What You Need to Know
How Does Direct Deposit Work?
Have you ever seen the acronym ACH, probably at your bank or credit union? It stands for Automated Clearinghouse, and it's a system for moving money electronically from one bank to another.
The ACH is run by an organization called the National Automated Clearinghouse Association, or NACHA. It started in 1974 and is now one of the most popular and safest ways to move money around. In fact, the ACH is responsible for moving $43 trillion every year between banks.
When you sign up for direct deposit, you're agreeing to accept your payments via the ACH transfer.
Here are the steps that take place in an ACH direct deposit transfer, according to NACHA:
Your employer (or whoever's paying you) puts in an electronic order with their bank to send you a direct deposit payment.
Your employer's bank bundles together multiple orders from various customers and relays them to the ACH at regularly-scheduled intervals (such as once per day, at the end of the day).
The ACH sorts these orders and forwards them to your bank, much like how the post office works.
Your bank takes that order and credits your bank account with the amount listed on the order.
Related: What is a Certificate of Deposit and When Should You Use One?
How to Set Up Direct Deposit as an Employee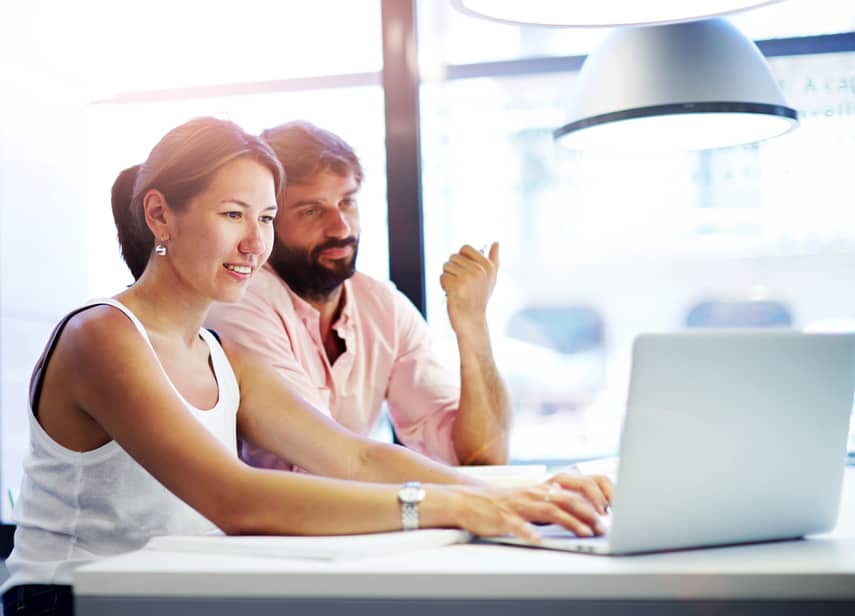 There are a lot of complicated steps going on in the background between the ACH and the two banks. But luckily for you, it's actually a pretty simple process to set up direct deposit.
Get a direct deposit form
Most employers have a form you can fill out to set up direct deposit. Chances are you'll be offered this form when you're onboarding at your new job, but if not, you can check with your employer's HR department to see if they offer it.
If your employer doesn't have a direct deposit form, you may also be able to get one from your own bank. You'll need to submit this form to your employer or whoever is sending you money.
Fill in your information
The direct deposit form generally requires a few things:
Your bank's name
Your bank's address
Your account number
Your bank's routing number
You can find your bank's routing number and your account number by logging into your account online, calling your bank, or looking at the bottom of your paper checks.
Think of the routing number and account number as an address for your bank account. It's where the money will be sent to, so you want to make sure it's correct.
Submit the form to your employer
Finally, give the form back to your employer.
You may also need to submit a voided check with your direct deposit form. To do this, simply tear out a blank check from your checkbook and write "VOID" across it in big letters with a pen. That way no one can use it to write themselves a check from your bank account.
The reason for submitting a voided check is so that your employer can verify the information you've submitted on the form. On the bottom of your check, you'll find a series of numbers. The first nine-digit number is your routing number. After that is the 10- to 12-digit number assigned to your specific bank account.
By providing a voided check, your employer can make sure the information on your direct deposit form is accurate.
It's also a good idea to ask how long it'll take to receive your first direct deposit. Depending on your company's policies, you may have to wait for a pay cycle or two before you receive your first direct deposit. It's a good idea to keep this timing in mind and ask if you'll be receiving a paper check in the meantime, especially so you can make plans to pay your bills.
Related: Money Market Accounts: What They Are and When to Use Them
Direct Deposit FAQs
If the concept of direct deposit is new to you, then you may be asking the following questions about how the process works.
How long does direct deposit take?
The actual process of moving money via the ACH only takes about one day. However, there are several in-between steps that may increase direct deposit time.
For example, your company's accounting department has to get all of your payment paperwork in order before they submit the ACH order. Then, your bank may have its own policies about when ACH funds are made available in your account after they receive them.
Banks generally don't operate on weekends or holidays, so that may delay your direct deposit time further.
To see how long it may take to receive your direct deposit, you'll need to check with your employer and your bank. Then, add the processing time from both of these sources together to estimate the time until your money is accessible.
Is direct deposit safe?
Yes.
The ACH and the organization that runs it (NACHA) all employ heavy safeguards in their businesses. The ACH is one of the biggest payment processors in the world and simply can't afford to lose people's faith and confidence in them.
After all, even the federal government mandates that some government benefit payments, such as Social Security, be paid out electronically, including by direct deposit.
Receiving direct deposits is also safer than the alternative of receiving paper checks or cash. It's easy to lose cash or checks simply by misplacing them or losing them in a disaster like a fire or a flood. They can also be stolen or forged, neither of which are concerns with direct deposit.
What are the benefits of direct deposit?
There are many different benefits of direct deposit.
First, you may receive your payments faster, depending on your and your employer's banks. It will also save you time since you won't have to go to a bank to deposit cash or a check. If you're unable to go to a bank because you're out of town, you won't have to wait until you come back to have the money available in your account.
The second benefit of direct deposit is that there will be an electronic record of the payment so you know exactly when you received the money. The lack of paper and ink makes it a more environmentally friendly option as well.
Finally, you may also be able to split up your paycheck and send it to different accounts for automatic savings. For example, you could specify that 90% of your paycheck goes to your checking account and 10% goes automatically toward your retirement or other savings account.
What are the drawbacks of direct deposit?
There aren't any serious drawbacks of getting direct deposit. However, it does require that you have a bank account, which some people don't have or are unable to get. If you don't have a bank account, you won't be able to receive direct deposit payments.
In addition, some people prefer to receive paper checks and cash because it gives them something tangible to hold on to, or because they don't trust electronic transfers.
Does direct deposit cost me anything?
No. It's free to receive direct deposit payments.
Your employer, on the other hand, may have to pay to send you direct deposit payments. However, this is still cheaper than the alternative of writing you a paper check. The NACHA estimates that each direct deposit payment saves businesses up to $3.15 per payment, versus writing a paper check.
Direct Deposit is a Safe and Convenient Way to Receive Money
Direct deposit has been a huge step forward in banking. It saves people a lot of time, money, and hassle in moving money around between banks. It's also safer and prevents many cases of fraud, loss of money, and heartbreak every year.
If you don't have direct deposit set up with your employer or other payers, we encourage you to give it a try. Your bank account will be glad you did.