S1 EP5: How to Overcome the Fear of Starting Your Own Business and Actually Get Started
Advertiser Disclosure
Our readers always come first
The content on DollarSprout includes links to our advertising partners. When you read our content and click on one of our partners' links, and then decide to complete an offer — whether it's downloading an app, opening an account, or some other action — we may earn a commission from that advertiser, at no extra cost to you.
Our ultimate goal is to educate and inform, not lure you into signing up for certain offers. Compensation from our partners may impact what products we cover and where they appear on the site, but does not have any impact on the objectivity of our reviews or advice.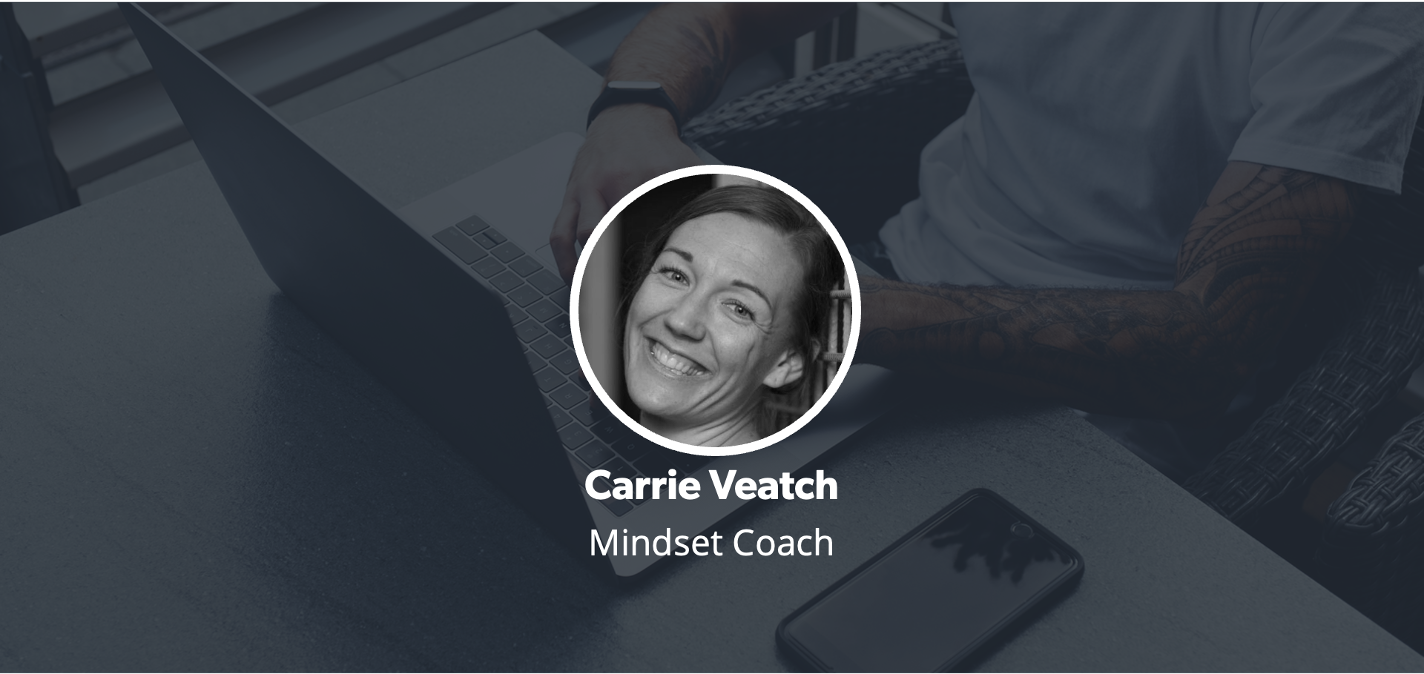 Today's guest is High Performance and Mindset Coach Carrie Veatch.
Carrie helps ambitious entrepreneurs bust through their self-doubt so they can create wildly profitable online businesses. She has a Master's degree in counseling psychology, which led to her working as a therapist before starting her coaching practice at Set Yourself Free.
Carrie now runs two online businesses, including her coaching practice, both built around her core value of freedom – including time freedom, financial freedom, and location freedom. Because of the way she's built her businesses, she's able to enjoy the digital nomad lifestyle she loves. She spent the last 4 years traveling around Asia and I believe is now in Mexico.
In this conversation, Carrie talks all about the mental blocks that hold so many would-be entrepreneurs back and how to bust through them so you can create the freedom-based business of your dreams.
Don't forget to stick around to the end of the episode to hear my key takeaways, thoughts, and action items you can take away from this conversation.
Links and resources:
Carrie's website: Set Yourself Free (Carrie's website)
Related episodes from Carrie's podcast:
Book: The Big Leap by Gay Hendricks (on how to find your "zone of genius")
---
Key Takeaways
Thanks to Carrie for providing so much value and insight on this episode. Here are some of my favorite key takeaways from our conversation and some action items that you can start implementing today.
1. Find your zone of genius.
Your zone of genius is the thing that you're really great at. It's the thing that friends and family always compliment you on or ask for your help with. And it's also the thing that lights you up or that gets you into the state of flow where you lose track of time and hours feel like minutes.
Your business offering sits at the intersection of your zone of genius and what people will pay you for.
Gay Hendricks talks about the Zone of Genius in his book, The Big Leap, which is linked above. The book refers to four work zones: incompetence, competence, excellence, and genius. You can ask yourself these four questions from the book to start brainstorming what falls into your zone of genius:
What do I most love to do? What do I enjoy working on so much that I can do it for long periods of time without getting bored or tired?
What work do I do that doesn't seem like work?
In my work, what produces the highest ratio of abundance and satisfaction to the amount of time spent?
What is my unique ability? What can I do that others are unlikely to be able to do at the same level?
Once you figure out what's in your zone of genius, you can start to brainstorm ways to incorporate it into your business. Working in your zone of genius makes your business more fun and more sustainable over the long term.
2. If you don't have imposter syndrome, you're probably not playing big enough.
Imposter syndrome is defined as a psychological pattern in which we doubt our skills, talents, or accomplishments despite external evidence of our competence.
I found one study that estimates that more than 80% of adults experience imposter syndrome at some point in their lives. Maya Angelou, Paul McCartney, Michelle Obama, and so many other accomplished people have also spoken out about their own feelings of imposter syndrome.
So if you're experiencing doubts about your skills and capabilities, you're not alone.
Carrie mentioned in our conversation that if your imposter syndrome is just there, existing, but not driving the car and preventing you from taking action, then it's not a real problem. It's normal.
But if your imposter syndrome is driving the car and holding you back, that's when you need to address it.
Dr. Valerie Young, the leading expert on imposter syndrome, says that if you want to stop feeling like an imposter, you have to stop thinking like an imposter.
One thing Carrie suggests to help with this is to look for evidence in your favor. Evidence that contradicts the idea that you're an imposter. What training or certifications do you have in your field? What informal training or experience do you have? Have you gotten results for yourself or someone else in the past?
Finding evidence of your skills and abilities helps reframe your successes in a more positive light.
Related Podcast: Jen's Journey from Laid Off and Pregnant to Successful Lifestyle Entrepreneur
3. Go all in for at least 90 days.
When Carrie first said this, I interpreted it as a deadline where if you committed for 90 days and it wasn't working out – whether that's your business or a new service or product offering – then you could quit and try something else.
But Carrie said not to think of it as a deadline, but as a full-out, hard commitment for a minimum of 90 days. And in these 90 days, you're going all out, full-steam ahead with your marketing, selling, networking, and everything you can do to bring in sales.
If you fully commit for 90 days and it's not working, then you can adjust or change directions as needed. But during that 90-day period, you have to give it everything you've got.
4. Learn how to observe and change your thoughts.
In order to overcome your fear of getting started, you have to know where that fear is coming from. The way I learned to observe what was going on in my brain was through journaling. But Carrie mentioned something I'd never thought of before, which is that if you're an auditory person, you can do an audio or video journal instead.
Either way you choose, the first step to overcoming the fear of putting yourself out there and of starting your business is to know what thoughts are holding you back.
Then you can choose new thoughts to work toward believing. For example, one of my current believes is: "If my friends and family see my TikTok videos, they're going to think they're cringey or dumb and I'll feel embarrassed."
What I would like to believe instead is, "If my friends and family see my TikTok videos, they'll think they're great and spread the word about my business because they're rooting for my success."
Or something along those lines.
But as Carrie mentioned, it might be a big leap to go from where you are now to where you want to be. So what you can do instead is use bridge thoughts. That's one or more thoughts that bridge the gap between your current and goal thought.
For me, a bridge thought might be: "If my friends and family see my TikTok videos, they won't care. They'll ignore them and move on."
You can practice believing these new thoughts by, again, looking for evidence. With enough practice observing your thought patterns and implementing new ones, you can shift your entire mindset.
Related Podcast: How 40+ Business Failures Paved the Way for Success
5. Take the path of least resistance.
As Carrie says, you don't have to do the thing that feels massively scary and uncomfortable right now. Start with what feels easier.
One example I'll share from my own life is something that Carrie and I touched on in the show. Creating content on Instagram and TikTok has historically been terrifying for me. And after lots of journaling, I realized the biggest fear I had around it was that people I know – my cousins and extended family, people I went to high school or college with, or the barista at my favorite coffee shop – would see me and think I'm stupid.
So now any time someone that I know likes one of my videos, or follows me, or pops up on my "friends on TikTok" list, I immediately block them.
I'm not proud of this one, you guys! If you know me in real life and I've blocked you on social media, I'm sorry. Eventually, my goal is to get to the place where I don't feel embarrassed about being seen on social media and I embody the thought that Carrie mentioned on the show that people are rooting for and want to see my success.
But for now, I'm meeting myself where I'm at, and I'm taking the path of least resistance, or at least my interpretation of the path of least resistance.
And you can, too.
Related Podcast: How to Launch Your First Online Course in the Simplest Way Possible