S1 EP4: Jen's Journey from Laid Off and Pregnant to Successful Lifestyle Entrepreneur
Advertiser Disclosure
Our readers always come first
The content on DollarSprout includes links to our advertising partners. When you read our content and click on one of our partners' links, and then decide to complete an offer — whether it's downloading an app, opening an account, or some other action — we may earn a commission from that advertiser, at no extra cost to you.
Our ultimate goal is to educate and inform, not lure you into signing up for certain offers. Compensation from our partners may impact what products we cover and where they appear on the site, but does not have any impact on the objectivity of our reviews or advice.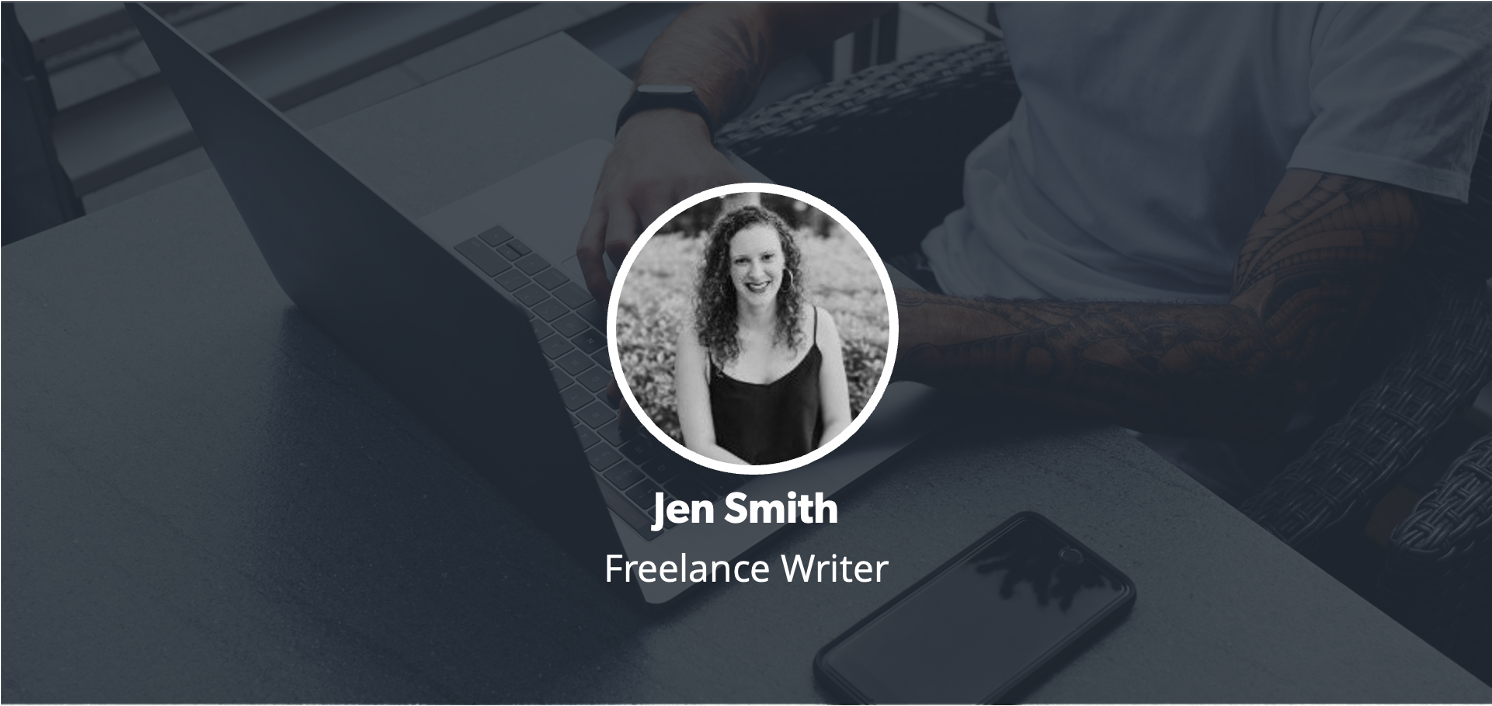 Today's guest is Jen Smith. Jen is co-host of the Frugal Friends podcast, which I highly suggest you check out if you haven't already. Jen and her co-host Jill are so funny, you'll literally just feel like you're having a conversation with two of your best friends. They're amazing.
And on top of having a very successful podcast, Jen has done a lot of other things in her business. She's been a freelance writer and blogger, she's sold online courses, written and sold eBooks, she and Jill host an online summit called The Future of Frugal Summit.
We'll include links for all of those resources and more in the show notes for this episode so you can go and check them out.
There was just so much that I wanted to talk to Jen about on our call because she just has so much experience and wisdom in all of these areas. Some of the things we touch on are:
Jen's story of getting laid off at her job, while pregnant and about to give birth, and how she was able to build her business during that stressful time.
How you can diversify your business while maintaining a simple business model
How to attract the right people to be in your audience (and repel the wrong ones)
Understanding the purpose of every piece of content you create
The number one mindset shift that has improved Jen's life and business the most. (And it might surprise you coming from a frugal living podcaster.)
And of course just so much more that I'll let you find out yourself without rehashing our entire conversation.
Don't forget to stick around to the end of the episode to hear my key takeaways, thoughts, and action items you can take away from this conversation.
Links and resources:
---
Key Takeaways
Thanks to Jen for providing so much value and insight on this episode. Here are some of my favorite key takeaways from our conversation and some action items that you can start implementing today.
1. You can use your network from your day job to build your business.
Jen really kickstarted her whole business by using the connections she made at her full-time job. She was working for a personal finance website, so those connections obviously made sense to build her personal finance freelance writing business.
But even if your job isn't directly related to the business you want to build, you can still use your network. And if you're like me and the thought of being seen or putting yourself out there in front of people you know sounds absolutely terrifying, I get it. I have been known to block people I know in real life who follow my business accounts on Instagram or TikTok.
But it can be as simple as reaching out to your network with an email like, "Hey, I am starting a new business offering ______ services. Do you know anyone who could use my expertise? If so, I'd be forever grateful if you could put me in touch with them or give them my information." Simple and painless. Using your network is one of the fastest ways to grow a new service-based business.
Related Podcast: 7 Things I'm Doing Differently in My Business the Second Time Around
2. 80% of your results come from 20% of your efforts.
Jen mentioned on the show that she reached a point in her business where she was pretty much running four businesses: a live virtual retreat, podcast, blog, and freelance writing. Each one was making money and was profitable and could've been an entire business in and of itself. But she realized that 80% of her business growth was coming from the podcast. So she let go of everything else. – the YouTube and social media following she'd built for her blog, the clients she'd worked so hard to land – so that she could focus on the podcast. And now she's on track to have her most profitable year yet.
So what can you take away from this?
Number one, focus pays off. In the book Essentialism by Greg McKeown, there's a graphic with two circles. The first circle has a bunch of different arrows pointing out of it in all directions. The arrows represent your energy. All the arrows on this circle are short. Because your energy is going to a bunch of different things, none of those things go far very fast. The second circle has one long arrow. This represents putting your energy into one thing. Because in doing so, you can go much further much faster.
Number two, find your 20%. What are the 20% of your efforts that make up 80% of the results in your business? This will obviously look different based on the type of business you have and what stage your business is in. If you're just getting started with a service-based business, for example, then the 20% of effort that will give you 80% of your results might be reaching out to your network to get new clients, like we talked about earlier, as opposed to posting on social media or writing blog posts to bring in cold leads.
3. People resonate with YOU.
This one mostly applies if you have a business where you're the face of the company. If you're a blogger, coach, podcaster, course creator, or anything where you're the front-facing person in your business. People resonate with people. Jen found this out when she and Jill, her co-host, started The Frugal Friends Podcast. They were just trying to be goofy and funny with their "Bill of the Week" segment, and people loved it because they were being themselves.
One place you can apply this to is in how you market your business. What comes most naturally to you, and where do you feel most comfortable being yourself? Is it in writing? Then a blog and/or email newsletter might be your best marketing tool. Is it on video? Then try YouTube, Instagram, or TikTok? For Jen (and for me), it's behind a microphone. So podcasting makes sense.
Like Jen said, try all the things, see what works for you, and when something doesn't work, don't be afraid to let go of it. Contrary to what you might have heard, you don't actually have to be everywhere at once.
Related Podcast: How to Create a Winning TikTok Content Strategy to Get Seen, Heard, and Paid
4. Make sure your content has a purpose.
There are two ways you can approach any content medium, whether it's a podcast, blog, or social media.
The content can BE the product (so you make money through sponsorships, ads, affiliate marketing, etc.) or it can be your top-of-funnel content.
First of all, what's a funnel? Jen was referring to your marketing funnel. So if you draw an upside down triangle, that's your funnel. At the top, you have your blog, podcast, etc. These are the types of content that bring people into your world, make them aware that you and/or your business exist. Then, like Jen mentioned, you can capture their email address and send them a newsletter, updates with new content, etc. You're nurturing that relationship, building trust, proving that you know what you're talking about and what you have to sell is valuable and, eventually, leading them to purchase your product or service.
There's a funnel acronym: AIDA – awareness, interest, desire, action. So that's the kind of funnel that Jen is referring to.
She mentioned on the show that this is how she and Jill use their podcast, The Frugal Friends. The goal is to get people into their marketing funnel so they can nurture that connection and lead them to their paid mentorship or their online summit, which are the main ways they make money in their business.
Now, there's nothing wrong with monetizing your content directly with ads, sponsorships, affiliate sales, etc. That can even be your entire business model as a blogger or niche site creator.
One thing to keep in mind is that it takes more time to monetize a blog, podcast, or your social media directly because you have to build an audience before advertisers will pay you.
The faster way to make money with your content is to use it to drive people to your products/services. Which goes back to something we talked about in the episode with Pete McPherson – having something to sell first, before you start creating content.
5. Try everything and see what you like. And if you don't like it, move on and try something else.
As you can tell from Jen's story, she's tried a lot of stuff in her business. From blogging to selling courses and eBooks to freelance writing, and now podcasting. And one thing that came up in our conversation several times was this idea of: try it. If you don't like it, if it's not for you, then don't try and force it to work. Move on and try something else.
This sounds so simple. And maybe it is for you. But I've definitely found it hard to move on in the past. Especially if I've spent so much time and effort creating a course or a service offering. It can be really hard to throw all that away and change directions if something isn't working for you. But it's what we need to do in order to find the things that do work.
That applies to different social media platforms, types of content like podcasting or blogging, and also the products and services you sell. Give it some time, a few months maybe, and if it's not working or you don't enjoy it, on to the next.
6. You can go fast alone, but you can go further together.
Having a lifestyle business doesn't mean you have to do everything yourself. You can (and at some point, you probably should) hire people to help you. That doesn't mean you need W-2 employees, but when you get to a point where you're profitable and you have money to invest in a team, to hire out the things that you don't want to do or that don't grow your business, use it. Hire people so you can stay in your zone of genius and focus on the things that only you can do.
7. The pie is infinite.
Jen said this is the number one new belief that has most improved her life and her business. And it's the idea of having an abundance mindset versus one of scarcity. A scarcity mindset says things like:
There's not enough to go around
If I make more money, that means less money for someone else.
There's only enough room for one at the top.
And a scarcity mindset says things like:
There's more than enough to go around.
Me making money doesn't take away from anyone else.
We can all be successful.
Your mindset matters because it impacts the way you feel and what you do in your business. If you think there's only so much success or money to go around, then when you see someone else doing what you want to do, you might feel defeated and then not take action because "Someone else is already doing it." Or you might avoid networking with people in your space because you see them as competition. And that can rob you of not only new friendships, but also new opportunities.
Jen said the thing that's most helped her shift from scarcity to abundance-minded is reading books on the subject, which I couldn't agree with more. Two other things that have helped me:
Changing the way I speak. I no longer say things like "I can't afford that." or "I wish I had her success." I try to reframe those kinds of thoughts in a more positive way, like, "I'm choosing to do _____ with my money instead." or "Her success looks great on her, and I know it's possible for me, too."
One exercise that I really like, aside from having a daily gratitude practice (which I also highly recommend) is making a list of things that you want, and making every other item on that list something that you already have. So the first item is something you want but don't have, second is something you want and you do already have, and so on. This exercise is simple, and it's very similar to a regular gratitude practice. But it helps me remember and get into the feeling of actually wanting the things I already have. And that's a more abundant space to be in than wanting what we don't have.
Related Podcast: How to Never Run Out of Ideas for Your Content or Business