Robinhood Review 2023: Pros, Cons, Fees & How It Works
Advertiser Disclosure
Our readers always come first
The content on DollarSprout includes links to our advertising partners. When you read our content and click on one of our partners' links, and then decide to complete an offer — whether it's downloading an app, opening an account, or some other action — we may earn a commission from that advertiser, at no extra cost to you.
Our ultimate goal is to educate and inform, not lure you into signing up for certain offers. Compensation from our partners may impact what products we cover and where they appear on the site, but does not have any impact on the objectivity of our reviews or advice.
Trading stocks can be expensive, with fees adding up quickly and eating into your profit. But the Robinhood app offers commission-free trading and a user-friendly interface. This review explains how the investing app works and if it makes sense for you.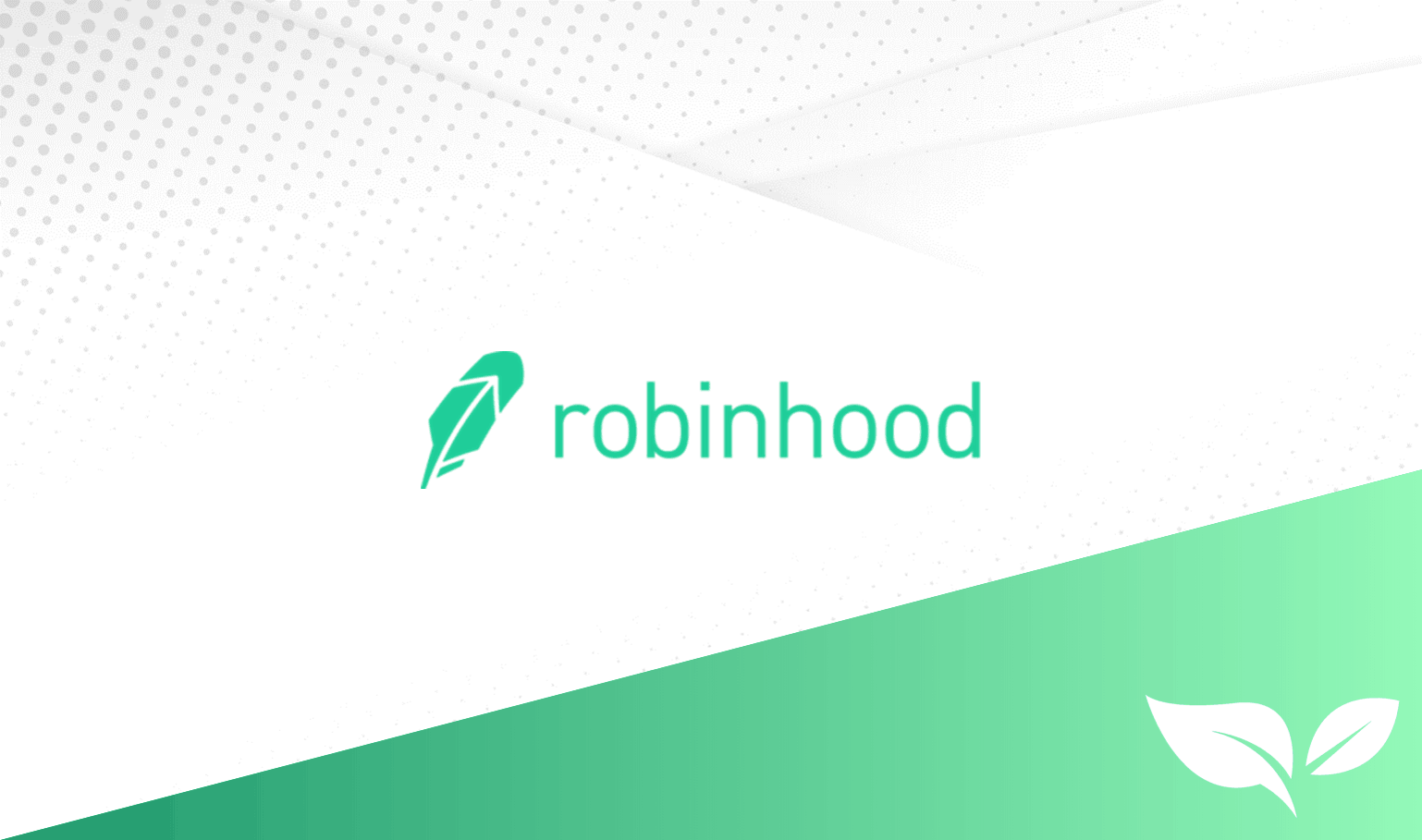 If you want to begin investing, there are a number of different strategies you can use and a number of different platforms, from online to traditional brokerage firms.
With most brokerage companies, you have to pay a commission fee for each trade you make, which can range from $5 to $10 per trade. If you're looking to be an active trader, these commissions can dip into your gains and impact your losses.
Fortunately, there are options like Robinhood, a mobile-focused brokerage company that offers no-fee trades.
What is Robinhood?
Launched in 2013, Robinhood is a commission-free trading app that allows investors to trade stocks, exchange-traded funds (ETFs), options, and cryptocurrency. There is a cash management option, but that's not open to all users; you have to sign up for the waiting list. Additionally, you can't use Robinhood to trade bonds, mutual funds, preferred stocks, or tracking stocks.
DollarSprout Rating
Free stock with new account
Robinhood is a commission-free mobile trading app that lets investors trade stocks, cryptocurrency, options, and ETFs with a $0 opening balance. Its streamlined design makes it easy to use, and no annual fees make it a good choice for new investors.
Show

Hide

more
Pros
Trade with no fees
No minimum balance requirements
Easy, mobile-friendly interface
Trade a variety of securities
Margin trading available
Cons
No retirement or other account types
Can't trade certain popular securities, including bonds and mutual funds
Difficult to receive customer support
There's a no opening minimum for brokerage accounts, but there is a $2,000 minimum for a margin account. This is a regulatory requirement, so it's not unique to Robinhood. The minimum is regulated by the SEC, and belongs to the Financial Industry Regulation Authority (FINRA).
Is Robinhood Safe?
Robinhood is a member of the Securities Investor Protection Corporation (SIPC), which protects its members up to $500,000, including $250,000 for cash claims.
While the company offers commission-free trading, a simple, streamlined mobile app, and no opening balance requirement, users report multiple complaints ranging from poor customer service to frequent outages (including one in March 2020 that is subject to a Securities Exchange Commission investigation) to problems with trades, account closures, and money transfers.[1] They also have more reported user complaints than many of their competitors.
Because they don't provide much guidance or make stock recommendations, and customer reports indicate that support is substandard, it's important that you learn the basics of investing before signing up for an account. Understanding how the stock market works, including the risks, will help you navigate the platform and make informed choices about your trades and investments.
Opening a Robinhood Account
Robinhood is a mobile-focused brokerage, so the best way to get started is to download the app and sign up for an account.
After downloading the app, you'll need to complete an application, which can be done directly in the app. If you're approved, which typically happens instantly, you'll receive an email with further instructions on getting started. If you're not immediately approved, Robinhood will ask for additional information. They'll provide instructions on what you need to send and how you can do it securely, protecting your personal data.
Once that's received, you'll know within five to seven days if you've been approved for an account.
Since there's no minimum balance requirement to open an account, you don't have to save or commit a substantial chunk of your money to the opening deposit. And if you don't have money right away, Robinhood gifts new users a free, randomly chosen stock valued between $2.50 and $225 deposited directly into their account. This free stock means you can begin trading immediately, even without purchasing anything.
You must claim this free stock within 60 days of opening your account.
Related: How to Invest in the Stock Market: A Complete Guide for Beginners
Investing with Robinhood
Robinhood offers four primary trading options: stocks, ETFs, options, and cryptocurrency. Although there are no commissions involved when trading with Robinhood, other fees may apply. Be sure you review their fee schedule so you're not surprised or confused when they appear in your account.
Buying and selling stocks
Stocks are one of the most basic securities you can invest in, and Robinhood is a solid choice for novice investors. They provide a streamlined platform that makes it easy to buy and sell stocks. Open the app, search for the company's name or ticker symbol, and enter the number of shares you want to purchase. You can sell stocks from your portfolio in the same way.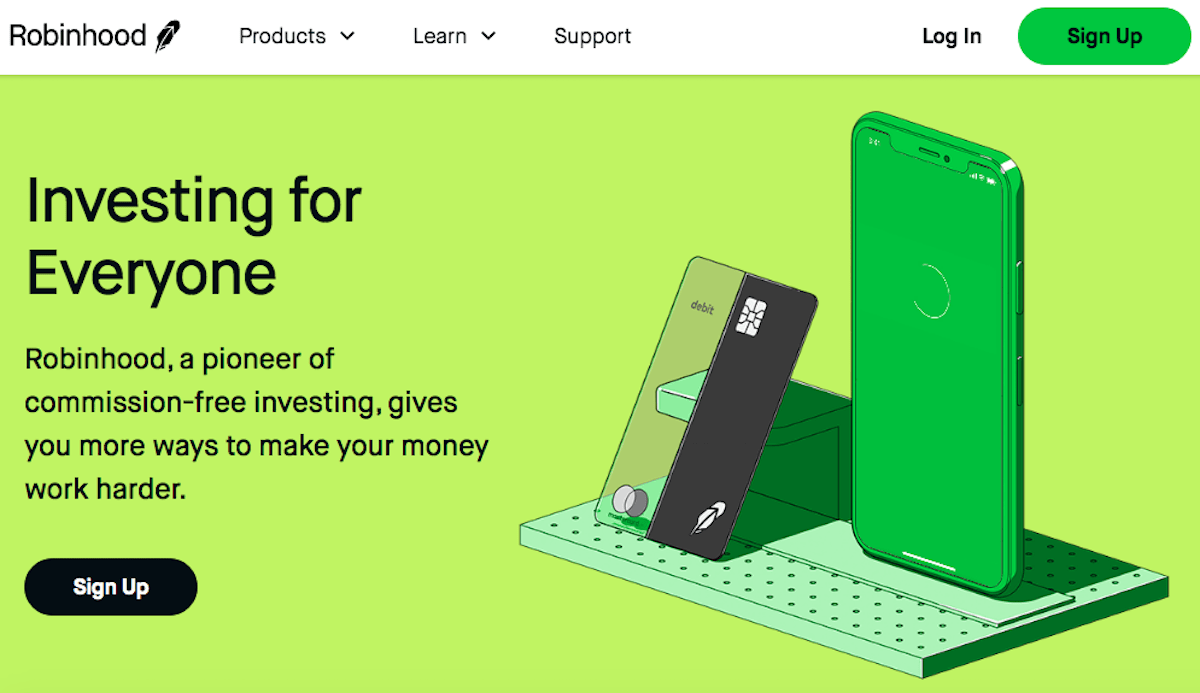 In addition to being a good choice for novice investors, Robinhood is also good for those who don't have a lot of money to invest initially. In fact, you can start investing in stocks with Robinhood for as little as $1.
Robinhood offers approximately 5,000 stocks to choose from and more than 250 global stocks not listed on American exchanges.
Fractional shares
A fractional share is what it sounds like — a piece of a stock. When you buy a fractional share, you're buying a piece of a stock rather than a whole one. Companies like Robinhood offer fractional shares to investors as a way of helping them afford a stock they couldn't otherwise purchase.
For instance, if you want to buy a share of Apple stock but don't have enough money to pay for one full share, you can buy a piece of that stock for an amount that fits your budget. However, if you want to sell your fractional share, you must wait until the company has enough pieces to make a whole stock; these smaller pieces cannot be traded on their own.
Fractional shares are a way to diversify your investment portfolio even when you don't have a lot of money to invest.
Buying and selling ETFs
If you're interested in buying or selling exchange-traded funds (ETFs), you can do that with Robinhood as well. You can buy and sell ETFs in the same way as stocks. Like all of the trading services offered by Robinhood, ETFs are free to buy and sell. However, ETFs charge management fees to the people who own them.
You'll pay anywhere from .05% to 1% or more, depending on the ETF you invest in.
Buying and selling options
Robinhood also allows users to invest in options. Options are a way to bet whether a stock will increase or decrease in value. If, for example, you think a stock that currently costs $10 will fall in value, you can buy an option that lets you sell the stock at $9. If the stock's price falls below $9 before the option expires, you can make a profit.
Buying and selling options with Robinhood is commission-free, and you conduct your trades directly from the app, just like ETFs and stocks. However, investing in options is riskier than stocks or ETFs, so if you have a low risk tolerance, you might not want to take advantage of this product.
Buying and selling cryptocurrencies
Unlike many of its competitors, Robinhood allows users to buy and sell cryptocurrency including Bitcoin and Ethereum. Like other trading options, it's commission-free to buy and sell cryptocurrency and you can do it right from the app.
Should you choose to invest in cryptocurrency using Robinhood, it's important to note that Robinhood Crypto — which oversees the cryptocurrency branch of Robinhood — is not a member of FINRA, the Financial Industry Regulatory Authority. Additionally, investing in cryptocurrency involves significant risk, so if you are risk-averse or don't fully understand the risks, this might not be the best investment option for you.
Review of Robinhood's Features
In addition to trading stocks, options, and cryptocurrency, Robinhood offers a number of other features for its users:
Robinhood Gold
Robinhood Gold is Robinhood's version of a margin account. This means that you can trade with borrowed money, commonly known as "on the margin."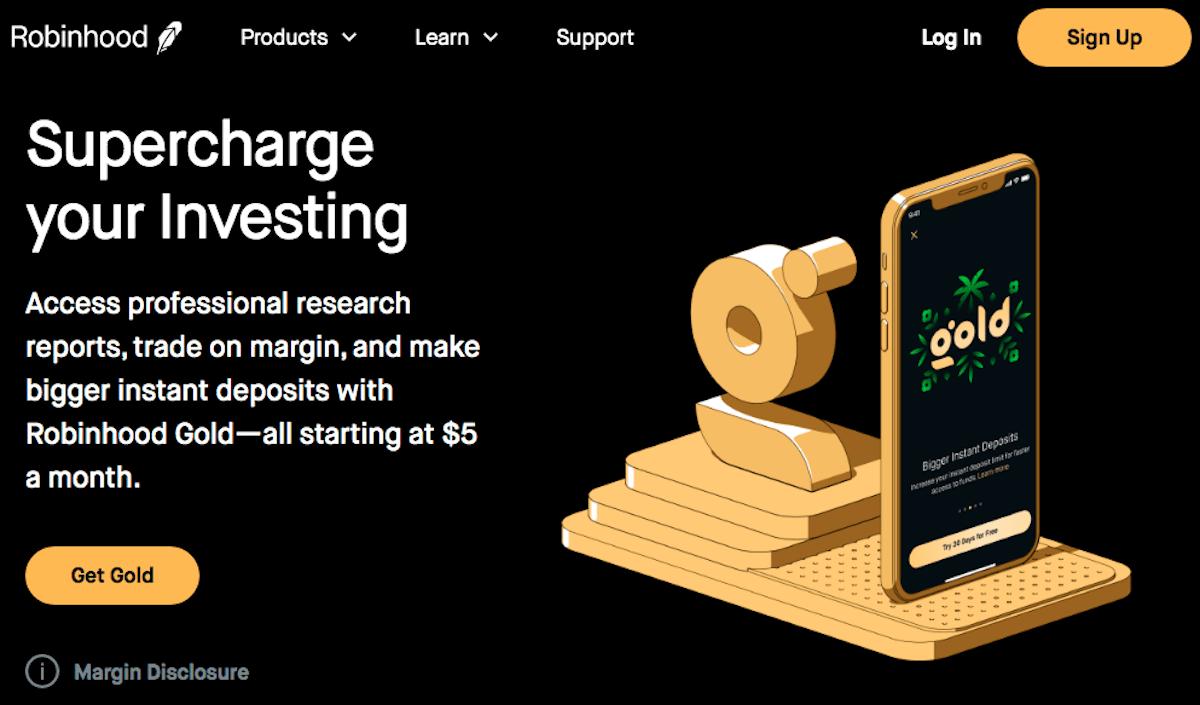 If you want to opt into this service, you can try it free for 30 days. After that, it costs $5 per month. However, the free trial only covers the $5 monthly fee, not the margin interest. This means that if you borrow more than $1,000, you will need to pay the interest. Should you try Robinhood Gold and decide it's not for you, you can cancel it at any time.
As with cryptocurrency and options trading, investing on the margin can be quite risky. It's important that you understand what you're getting into. Robinhood offers an explanation; make sure you read it in full before signing up for Robinhood Gold.
Additionally, in order to have a Robinhood Gold account, you must have a $2,000 minimum balance, per FINRA regulation.
High-yield savings account and cash management
If you have a Robinhood account, you are eligible to join the waitlist for their cash management account. This account comes with a debit card, access to 75,000 ATMs, and 0.30% APY on all uninvested cash in your brokerage account.
You can use this money as you would cash in a regular checking or savings account — to make purchases, pay bills, or even withdraw it. The money is eligible for up to $1.25 million of FDIC insurance.
Related: The Best Online Savings Accounts of the Year
Refer a friend
If you refer a friend who also signs up for an account, you can receive free stocks. This is in addition to what you receive when you open an account.
You can earn up to $500 in free stocks per calendar year. However, as you approach the $500 threshold, you will stop receiving free stocks once the lowest-priced stock in their inventory would put you over. For example, if you earned $495 in free stocks and the least expensive one they have is $6, you will be ineligible to receive it.
It does not impact your friends' ability to earn free stocks.
Instant transfers
Thanks to Robinhood's relationship with a number of national banks, users can transfer up to $1,000 that's instantly available for investing. Larger deposits may take up to five business days to process and become available.
You can transfer up to $50,000 into your account, and you can only transfer money via direct deposits. They do not accept mailed checks.
Robinhood Review Summary
Robinhood is a great way for new investors to build a taxable portfolio of stocks and ETFs. It's also a good platform to learn about trading options and cryptocurrency. The commission-free trades, fully mobile platform, and the ability to buy fractional shares also make it a solid choice for users without a lot of money to begin investing.
The easy-to-use, streamlined app with advanced search functions is great for users who are comfortable with mobile banking.
However, because it's fully mobile, users should be aware of and comfortable with all the problems that might arise with managing their money through an app. Technology outages, poor internet connection, and bugs can also cause issues affecting trades and access to your money. And, given Robinhood's propensity for technological issues and poor customer services, users might want to consider alternatives like M1 Finance or Acorns before making a decision.