CIT Bank Savings Builder Review 2023
Advertiser Disclosure
Our readers always come first
The content on DollarSprout includes links to our advertising partners. When you read our content and click on one of our partners' links, and then decide to complete an offer — whether it's downloading an app, opening an account, or some other action — we may earn a commission from that advertiser, at no extra cost to you.
Our ultimate goal is to educate and inform, not lure you into signing up for certain offers. Compensation from our partners may impact what products we cover and where they appear on the site, but does not have any impact on the objectivity of our reviews or advice.
The CIT Bank Savings Builder Account offers competitive interest rates on cash deposits, but it's not without flaws and better options may exist.

When you're trying to save for a down payment, an emergency fund, or a vacation, every dollar matters. Every dollar gets you closer to your goal.
And while starting a side hustle, getting a second job, or working overtime can help you make more money, sometimes it's nice to find some passive income.
That's where high-yield savings accounts come in. These accounts have higher interest rates and help your money grow faster. If you're serious about your savings, then you should be serious about your savings account.
The CIT Bank Savings Builder Account is a popular savings account, but it requires a hefty balance or monthly deposit to get the full benefit.
What Is the CIT Bank Savings Builder Account?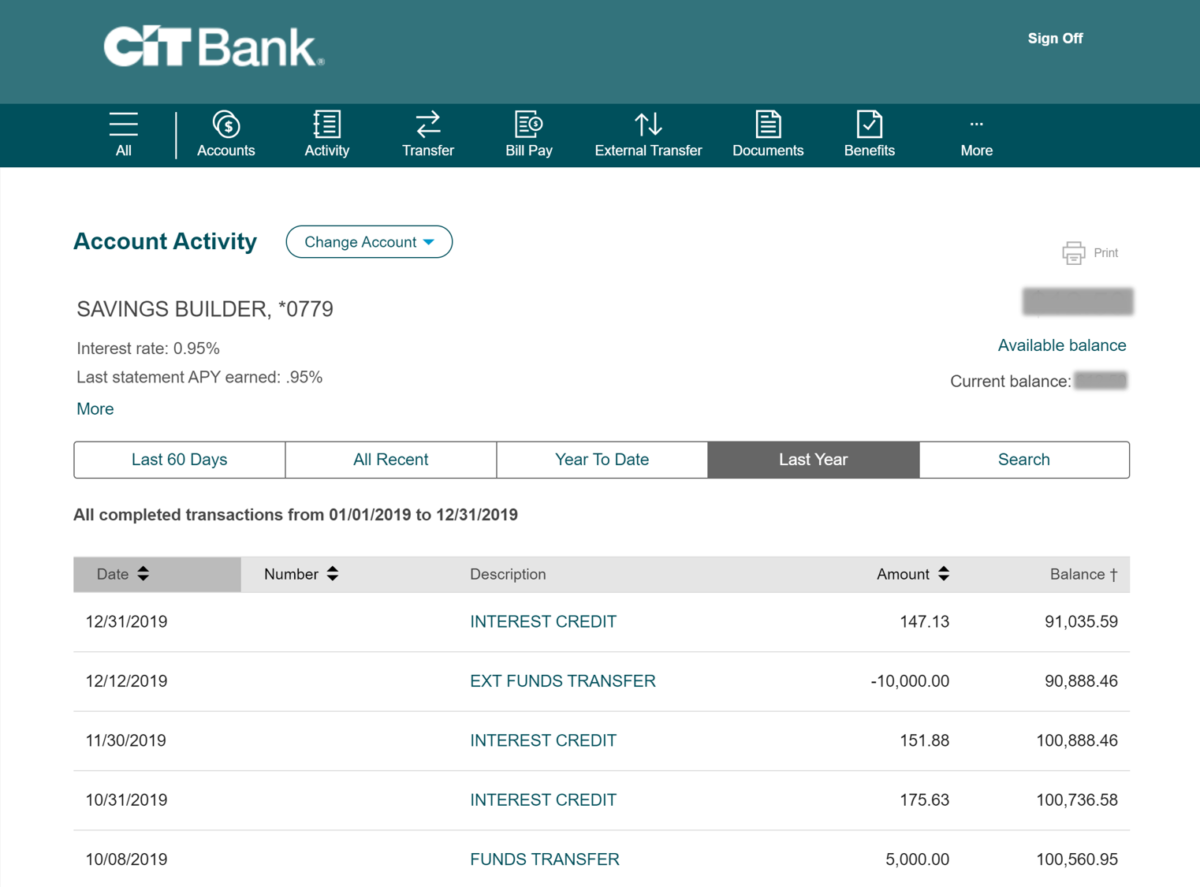 The CIT Bank Savings Builder Account is the bank's best savings account option. It's a high-yield account that provides customers with a .45% APY on balances more than $25,000 or with $100 monthly deposits.
This is much higher than what you'd find at a traditional savings account from a brick-and-mortar bank. According to the FDIC, the average interest rate at a savings account is .06%.
If you have $10,000 in a CIT Bank Savings Builder Account earning .45% APY, you'd earn $45.10 in interest after one year. If that money were in a traditional account, you'd only earn $6.
After five years at a CIT Bank account, you'd have earned $227.45 in interest. You'd only have $30 at a traditional bank — still less than what you'd earn in one year at CIT Bank.
For customers with less than $100 in monthly deposits or $25,000 in savings, the interest rate will be .29% APY.
The account is FDIC-insured up to $250,000, like most types of checking and savings accounts. That means your money is safe with a CIT Bank account.
Also similar to other savings accounts, withdrawals are limited to six per statement cycle.
CIT Bank's Savings Builder makes saving easy. Automated monthly deposits help account holders grow their savings without the hassle of in-person banking. Deposit $100 or more monthly to qualify for the highest interest tier.
Show

Hide

more
Pros
No monthly fees.
Up to 0.80% APY if you meet the minimum balance or deposit requirement.
Can open an account online in 10 minutes or less.
Cons
Must have a $25,000 balance or $100 monthly deposits to qualify for the higher rate.
Drops to 0.33% APY if you don't maintain requirements. 
How Does the CIT Bank Savings Builder Account Work?
The CIT Bank Savings Builder Account is similar to other online-only savings accounts, but there are some discrepancies that potential customers should be aware of.
There are strict requirements. There are two interest rate tiers for the CIT Bank Savings Builder Account. To qualify for the highest tier with the .45% APY, you have to keep a $25,000 balance or make a minimum $100 monthly deposit each month.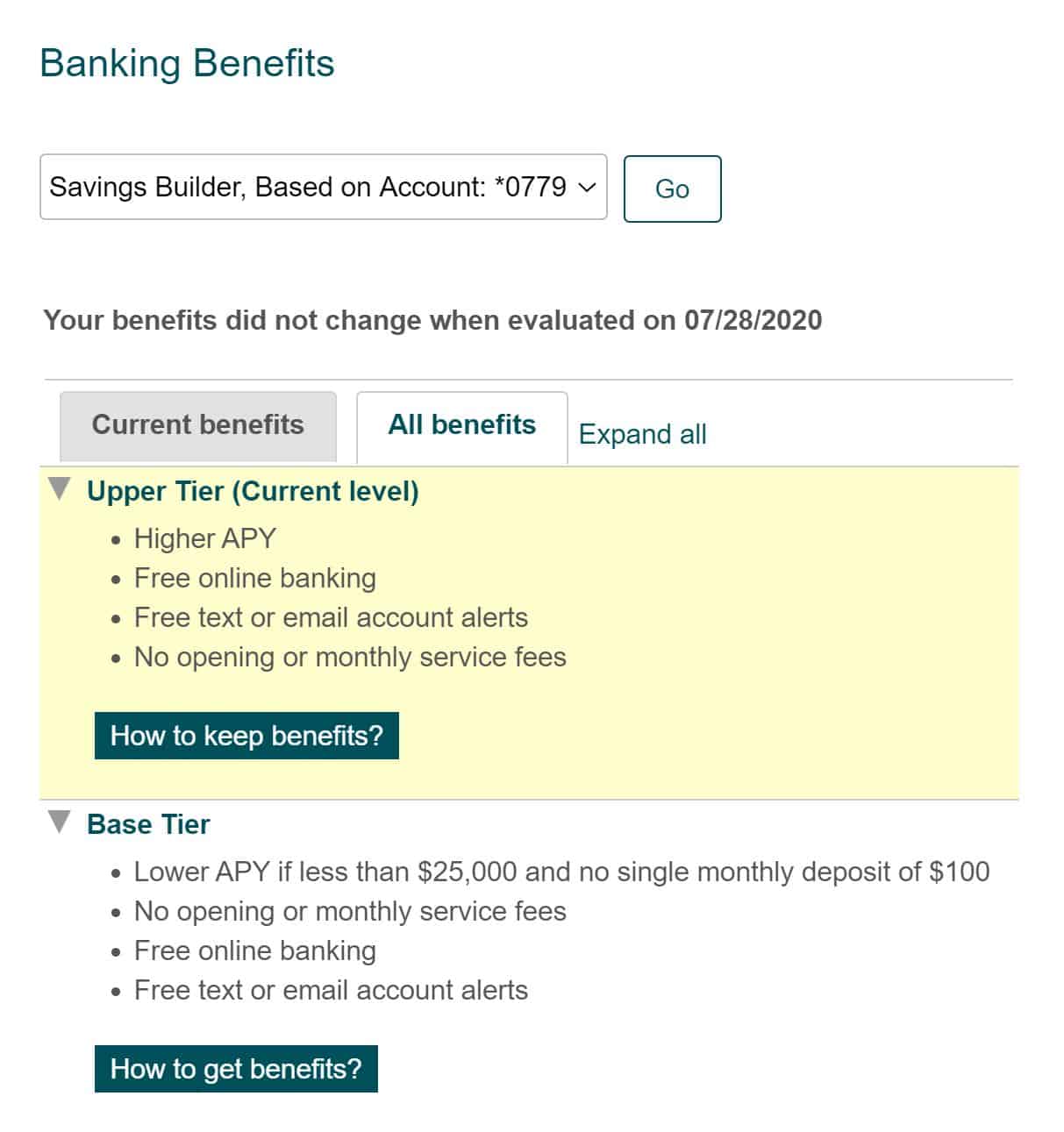 If you don't meet those rules, the interest rate drops to .29%.
The interest rate may change. Consumers may remember that the CIT Bank Savings Builder Account used to have a much higher interest rate. That has since changed because the Federal Reserve cut interest rates several times in 2019 and 2020.
When the Fed lowers rates, banks and lenders follow suit. This usually results in banks dropping the interest rate on savings accounts. That also means that if the Fed raises rates, then banks like CIT may increase rates as well.
CIT Bank seems to have lowered its rates below major competitors like Ally and Capital One. It's almost impossible to say when the interest rate will increase or if it will surpass other online banks.
Advantages of the CIT Bank Savings Builder Account
The Savings Builder Account comes with a couple of solid advantages.
You can open an account online. The CIT Bank Savings Builder Account is online only, so customers don't have to open the account in person. This makes it available to people who live in rural areas or in small towns and don't have a branch nearby.
CIT Bank also has a mobile app where you can deposit checks and transfer money.
No fees. CIT Bank doesn't charge any monthly fees for its Savings Builder Account, even if you don't meet the $25,000 or $100 monthly deposit requirement.
Disadvantages of the CIT Bank Savings Builder Account
This account isn't right for everyone. Here are some downsides to keep in mind:
You need to have a $100 minimum opening deposit. Even though there's no official minimum balance requirement, you do need to deposit $100 to open the account. This can be a struggle for those fresh out of college or living paycheck to paycheck.
Bad customer service reviews. Reddit users complain that customer service is slow and that their phone representatives appear to be understaffed.
Others say that CIT Bank doesn't notify customers when the rate decreases. This can be disconcerting, especially because other banks like Ally do email customers when the rate changes.
CIT Bank Savings Builder Alternatives
For those who want a higher interest rate or need fewer requirements, there are plenty of other banks to check out.
Ally
Ally is one of the top online banks and is known for its high-yield savings accounts. Unlike CIT Bank, Ally doesn't have any minimum balance or deposit requirements for this account.
Ally also lets customers create savings buckets, which are like sub-accounts within one savings account. If you have a few different savings goals, you can create a bucket for each of them so you know how much you have saved for each goal. The maximum amount of buckets is 10.
Capital One
Capital One is one of the most popular online high-yield savings accounts.
Unlike CIT Bank, there are no minimum balance or deposit requirements. There are also no monthly or annual fees.
While Capital One is mostly an online bank, it does have some physical locations. These are mostly in major cities like Chicago, New York, and Los Angeles.
Citibank
Citibank's savings account has no minimum opening deposit and no balance requirement.
However, if you don't have a balance of at least $500, you'll pay a monthly fee. If you can't meet this balance requirement successfully every month, then you shouldn't open the account. You wouldn't earn enough in interest to make up for the fee.
While Citibank has locations in a dozen states, it also offers online access to its savings account.
Savings Builder Review Summary: Who Should Use This Account?
If you're looking for one of the best online savings accounts and meet the requirements necessary for the Savings Builder account, then it may be an appropriate match.
The difference between the CIT Bank Savings Builder account and other high-yield savings account is minimal, even with higher deposits.