Stash Review: Pros, Cons, and How It Compares to Other Micro Investing Apps
Advertiser Disclosure
Our readers always come first
The content on DollarSprout includes links to our advertising partners. When you read our content and click on one of our partners' links, and then decide to complete an offer — whether it's downloading an app, opening an account, or some other action — we may earn a commission from that advertiser, at no extra cost to you.
Our ultimate goal is to educate and inform, not lure you into signing up for certain offers. Compensation from our partners may impact what products we cover and where they appear on the site, but does not have any impact on the objectivity of our reviews or advice.

In this Stash Review, we'll cover the pros and cons of the Stash Invest app and help you decide if this tool deserves a spot in your investment plan.
Almost everyone knows that they should be investing in their future. The problem is that many people have trouble finding extra money to stash away. Even the people that do have the cash to spare aren't sure how to invest their money or are scared that their investments could lose value.
While it's true that all investing is subject to risk, you may be taking a risk by not investing, too. Money in your savings account could lose value thanks to inflation, so doing your best to invest and earn a return on your money is essential to making sure you have enough money in the future.
Stash is an app that aims to make investing easier, less scary, and more fun. You can get started with just a little bit of money and add to your balance over time. You can also choose to invest in just the industries that you're interested in, giving you more incentive to keep up on your investments.
What is Stash?
Stash is one of many investment apps available for modern smartphones. It gives you quick and easy access to your investment portfolio from your phone or computer.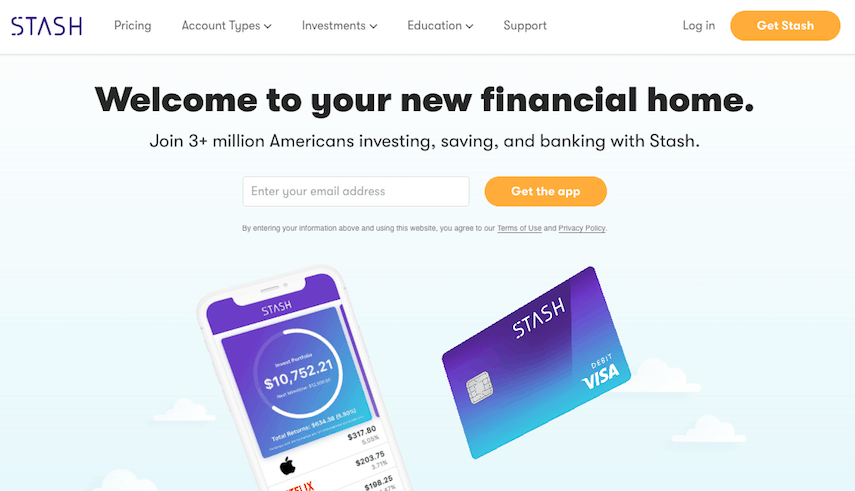 Stash Banking
The app originally launched in October of 2015 and it has grown quickly in the past few years. Since its launch, Stash has amassed more than 4 million users and added support for retirement and custodial accounts. Stash also offers an online banking account.
Stash keeps things as simple as it possibly can for its users. You can link a bank account (i.e checking account) to the Stash app and transfer money to your investment accounts. You can also set up auto-stash to save more without having to manually make transfers.2
Stash Review: How It Works
Stash is an easy-to-use investment app perfect for beginners. Here's what you need to know before setting up your account.
To get started with Stash, the first thing that you have to do is download the Stash app. Stash also offers its services through its website, but the app is the primary way that you'll interact with your account.
Stash login
When you open the app for the first time, you'll be prompted to make an account. Provide an email address and password as well as a few personal details in order for Stash to confirm your identity. You'll also be prompted to enter information for the account you'll use to fund your investments. Save your Stash login information in a safe place.
Once you've handled the administrative bits, answer some questions to set up your investment account. The Stash questionnaire displays a variety of the investment options available through Stash as well as information about them, their potential benefits, and their risks. It also asks questions to help assess your goals and risk tolerance.
Investments on Stash
Based on your answers, Stash will show you a list of investment options. These options are broken down into three broad categories: conservative, moderate, and aggressive. Choose the best investment on Stash that matches your future goals.
The categories correspond to the expected risk-reward ratio of each investment and are designated as your risk profile. Once you select the style of investment you want, you can choose from a number of themes that focus on specific sectors, such as technology, clean energy, or other business divisions that you're passionate about.
Investing with Stash
After you've set up your account and chosen your investments, the only thing left to do is to actually add money to your account. After your initial deposit, you can continue to add money at your convenience.
Stash makes saving fun with a variety of goals and milestones to work toward. If you start by putting $5 in your account, Stash might challenge you to get your balance to $50 or $100. When you meet that goal, Stash will come up with a new one.
Stash also places a major emphasis on education. When you view your current balance and your goals, Stash will show how your money might grow over the next 5 or 10 years and how changing your savings patterns will influence your earnings.
Stash also offers an auto-stash feature where you can set a weekly or monthly transfer to add more money to your investment account and grow your balance even faster.
Related: How to Start Investing with $100
Retirement accounts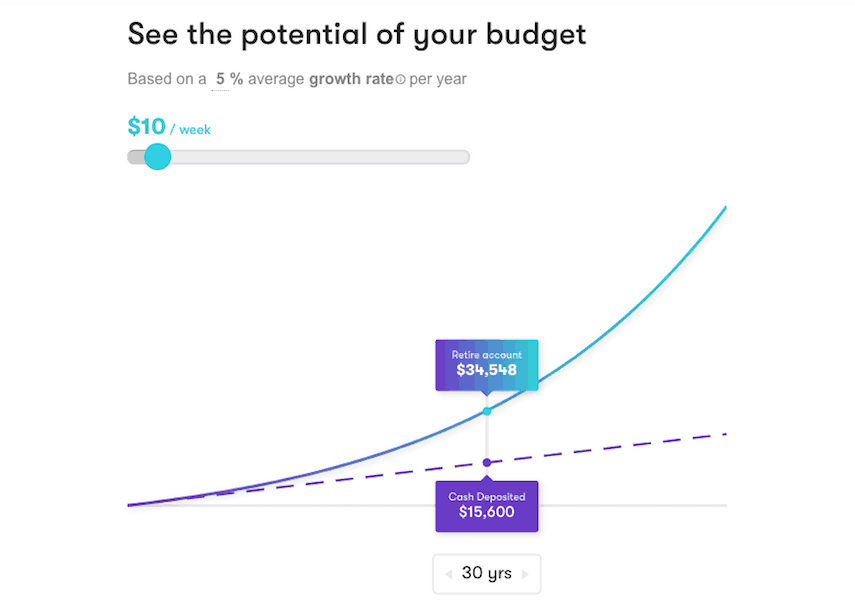 Investing is a waiting game. The old adage that time in the market trumps timing the market still holds true. If you're thinking about the long-term, you might want to take advantage of Stash's retirement accounts.3 This feature offers the same investment services that the standard Stash Invest service does, but with retirement accounts.
You can open either a Traditional or Roth IRA through Stash and use them to save for the future¹. Just remember the restrictions for each account. Once you deposit money, you can't take it out until you turn 59½ without incurring a penalty. Roth IRA contributions, but not earnings, can be withdrawn penalty-free at any time.7
Paying fees
The Stash app has three subscription plan options, with each plan offering its own unique features. All options are available to all customers, regardless of their account balance.
Here's a quick glance at Stash's fee structure.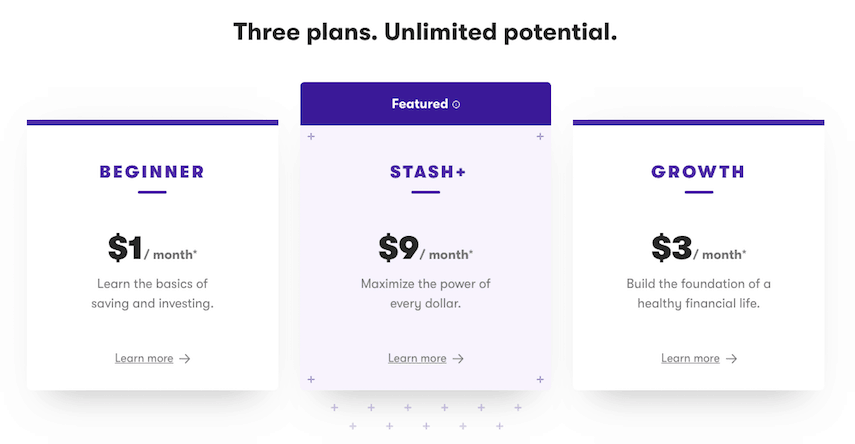 Keep in mind that the fees charged directly by Stash aren't the only fees you'll pay. Stash invests your money in Exchange Traded Funds, which hold a variety of stocks and bonds. ETFs also charge management fees, which can range from .05% to 1% or more of your balance per year.
The ETFs Stash offers charge fees between .20% and .40%, so you could wind up paying .5% or more of your balance each year to use the service.
Related: Qapital Review: Is Automating Your Savings a Good Idea?
Stash App FAQ
Investing is complicated, so it's no wonder that an app designed to help people invest would be a little complicated itself. Here are some common questions about Stash and its services.
Is investing with Stash a good idea?
Many companies and advisors require that you commit thousands of dollars or more before you can invest. At Stas, you can invest with as little as $1 thanks to fractional shares.5
Consider this example: ABC Company costs $100 per share. Rather than investing $100 for one share, you can invest $1 for 1/100 of a share (i.e., invest in less than a full share).
How does Stash make money?
Stash makes money by charging a monthly fee (regardless of account balance) for its services. You pay either $1 per month (STASH Beginner), $3 per month (STASH Growth), or $9 per month (STASH+) to use Stash.4
Is Stash safe?
Yes, Stash is safe to use. Even if Stash goes bankrupt, your investments will be safe and will still belong to you.
The investments in your Stash account are covered by Securities Investor Protection Corporation (SIPC). While such registration does not imply a certain level of skill, it does require Stash to follow federal regulations that protect the investor. Investments are held by Apex Clearing Corporation, a third-party SEC registered broker-dealer and member FINRA/ SIPC.
This is accomplished via the clearing agency used by Stash, Apex Clearing Corp. SIPC protection covers up to $500,000 of any brokerage. This amount includes a $250,000 cash limit. Apex Clearing is a member of the Securities Investor Protection Corporation (SIPC).5 This means your investments in your account are protected up to $500,000 total (including $250,000 for claims for cash). For details please see www.spic.org.
To note, for uninvested funds, a Stash account is enrolled in something called the Apex FDIC-insured Sweep Program. Deposits to the Sweep Program are covered by FDIC insurance up to $250,000 limit per customer at each FDIC-insured bank that participates in the Sweep Program. Once the cash is deposited with the participating banks under the Sweep Program, such cash will no longer be covered by SIPC.
Who should use Stash?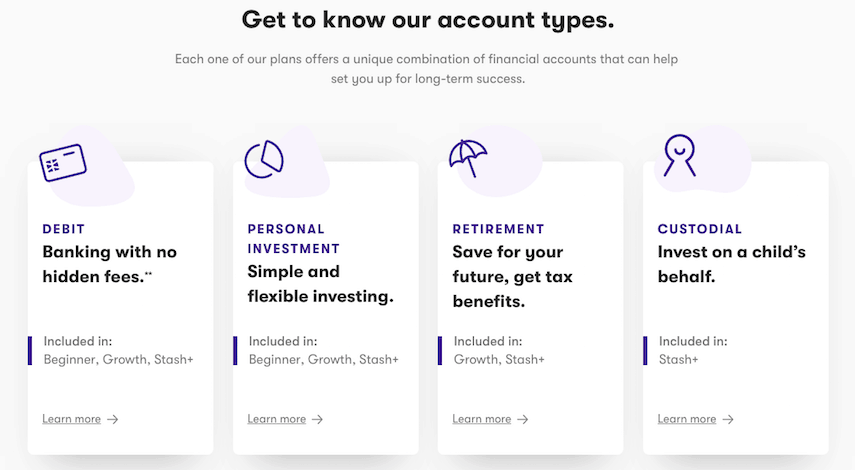 Stash was designed with beginner investors in mind, and it shows. While it's a great way for people to get started, and it offers valuable educational tools, its fee structure and inability to take full control of your investments make it a poor choice for people with more money to commit or a desire to be more hands-on.
Related: 8 Best Investment Apps for Beginner Investors
Stash vs. Acorns
Stash and Acorns both provide a decent opportunity for brand new investors to build a portfolio.
Read our full Acorns review to choose which investment app is best for you.
Stash Review at a Glance
Pros
Choose from 1800 investment themes and single stocks
Support for taxable and tax-advantaged accounts
Full access to educational content
Personalized investment coaching
Cons
Monthly pricing structure (plans starting at $1/month) to keep your money invested
Can only purchase securities from a set list of ETFs and stocks.
Missing features, like tax-loss harvesting, offered by robo-advisors
Best for: Stash is a good choice for young people who just want to get their feet wet with investing. More serious investors who want a hands-on experience or someone who has more money to commit to a full-fledged robo-advisor can get a better deal elsewhere.
$1-9/mo
Monthly Fees
Beginner: $1/mo, Growth: $3/mo, STASH+: $9/mo
How Stash stands out:
Stash is a simple investing app that makes it easy to start putting money to work, even if you're only looking to invest a small amount of money. Stash allows you to invest money online by letting you choose from 1800 stocks or ETFs.
Show

Hide

more
Cons:
No investment management option
Account Types:
Taxable accounts
IRAs
Custodial accounts
| | | |
| --- | --- | --- |
| $1-3 per month | $1-9 per month | $0 per trade |
| Designed for beginners | Beginner-friendly  | Commission free trading |
| Completely automated | 1,800 stocks and ETFs  | Automated rebalancing |
| No account minimum | $1 account minimum  | $100 account minimum |
| $10 signup bonus | $5 signup bonus | No signup bonus |
Stash Review Summary
Overall, Stash is an adequate service that does a good job of helping new investors. It falls short of being a great app for everyone as more advanced investors will want to take a hands-on approach that simply isn't possible with the services that Stash provides.
However, as we wrap up our Stash review, a major bonus is that you can start investing with Stash with just $1.
---
1 Debit Account Services provided by and Stash Visa Debit Card issued by Green Dot Bank, Member FDIC, pursuant to a license from Visa U.S.A. Inc. Investment products and services provided by Stash Investments LLC, not Green Dot Bank, and are Not FDIC Insured, Not Bank Guaranteed, and May Lose Value. In order for a user to be eligible for a Stash debit account, they must also have opened a taxable brokerage account on Stash. Account opening of the debit account is subject to Green Dot Bank approval.
2 The recurring transfers feature is offered by Stash Investments LLC and is not sponsored or endorsed by Green Dot Bank.
3 Stash does not monitor whether a customer is eligible for a particular type of IRA, or a tax deduction, or if a reduced contribution limit applies to a customer. These are based on a customer's individual circumstances. You should consult with a tax advisor.
4 You'll also bear the standard fees and expenses reflected in the pricing of the ETFs in your account, plus fees for various ancillary services charged by Stash and the custodian.
5 For Securities priced over $1,000, purchase of fractional shares starts at $0.05.
6 Before investing in any exchange-traded fund, consider your investment objectives, risks, charges, and expenses.
7All earnings are tax free at age 59½ or older, assuming your first contribution was more than 5 years prior.
This material is not intended as investment advice and is not meant to suggest that any securities are suitable investments for any particular investor. Investment advice is only provided to Stash customers. All investments are subject to risk and may lose value.
Dollar Sprout is a paid Affiliate/partner of Stash. Investment advisory services offered by Stash Investments LLC, an SEC-registered investment adviser.