S1 EP10: How to Design Your Online Course to Increase Your Testimonials (and Revenue)
Advertiser Disclosure
Our readers always come first
The content on DollarSprout includes links to our advertising partners. When you read our content and click on one of our partners' links, and then decide to complete an offer — whether it's downloading an app, opening an account, or some other action — we may earn a commission from that advertiser, at no extra cost to you.
Our ultimate goal is to educate and inform, not lure you into signing up for certain offers. Compensation from our partners may impact what products we cover and where they appear on the site, but does not have any impact on the objectivity of our reviews or advice.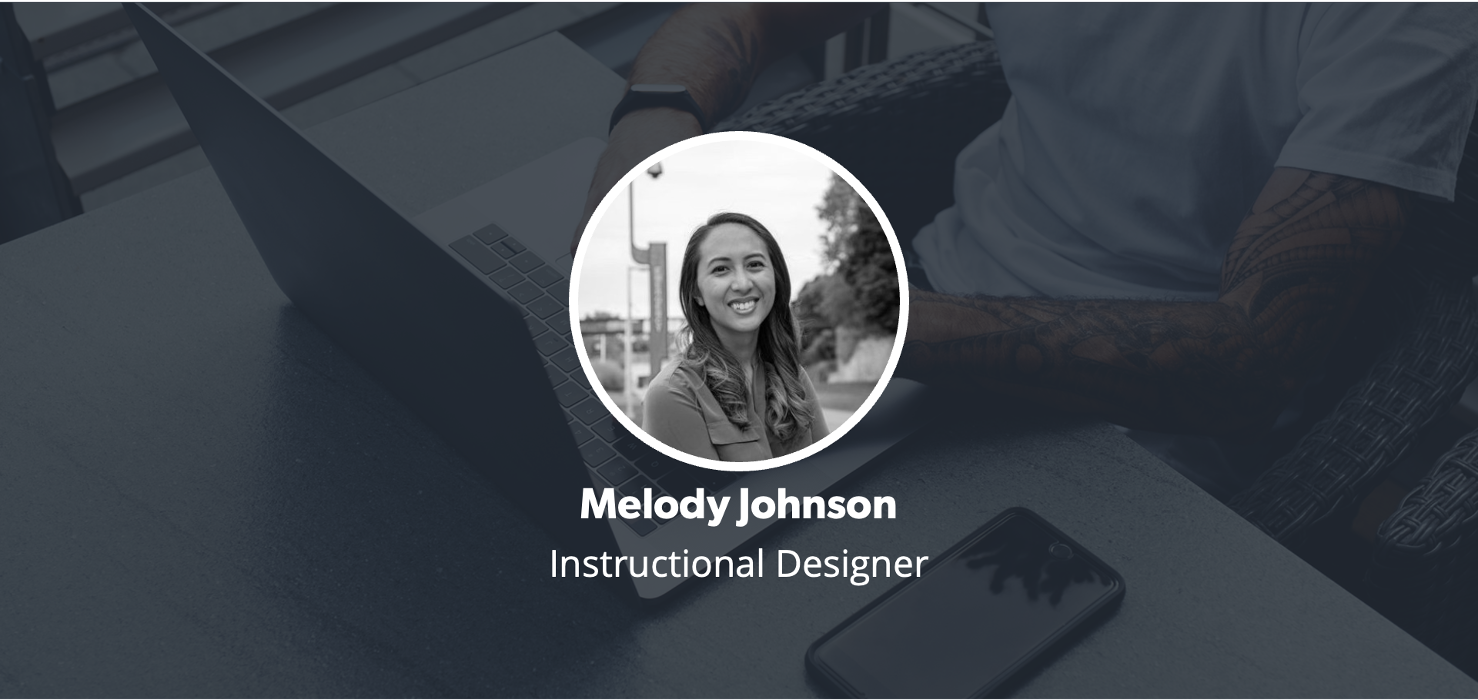 Today's guest is Instructional Designer Melody Johnson.
Melody helps course creators develop customer success strategies that get them more and better customer success stories (AKA testimonials). And you know what they say – testimonials are the best marketing material.
Online courses and memberships can be a great way to build a flexible lifestyle business. We've talked about how to launch an online course in a previous episode with Lexi Merritt.
But what if you've never created a course before? How do you organize and structure your course content to make sure that the course you create gets your students their desired result? The last thing you want to do is waste time creating a crappy course that no one finishes, that doesn't get results for your students, or worst of all, your students complain about and ask for refunds for.
As an Instructional Designer and a Certified Virtual Customer Success Manager, Melody's specialty is helping you get your customers better results. And as I said before, better results equal better testimonials. And better testimonials equals more revenue in your business.
A little about Melody before we jump into the show…
Melody has a Bachelor of Arts in Theater Arts with a concentration in performance and directing. She has a passion for musicals and makes it a point to learn every new Disney princess song. (Me too, Melody. Me, too.) She brings the same sassy theatrical excitement to every client and every project.
Melody also studied early childhood education and taught young children before going on to get her Master's Degree in Instructional Design. She then moved on to corporate training for several years before starting her own business, The Course Consultant, where she helps small business owners create, grow, and scale their online course curriculum.
When it comes to course design, Melody is the real deal, and I'm so excited and grateful to have her on the show today.
Links and resources:
Tool mentioned: Tawk.to (free help desk software)
---
Key Takeaways
Thanks to Melody for providing so much value and insight on this episode. Here are some of my favorite key takeaways from our conversation and some action items that you can start implementing today.
1. You don't need to be an expert on your topic to create a profitable online course.
Of course, you need to know your topic well before you can create a course on it. But as Melody says, you don't need a PhD or any sort of badge or certification in order to create a profitable course.
You can even create a course based on a hobby. Melody shares the example of one of her students who created a membership teaching people how to create beautiful arts and crafts.
2. It's much cheaper to keep an existing customer than to acquire a new one.
If you needed another reason to care about your students' experience of your course than the pride that comes with creating high-quality products that help people, consider this: acquiring a new customer costs 5x more than retaining an existing one.
We're talking about customer acquisition costs. That means any cost that's involved in getting someone to spend money in your business – social media ads, marketing tools, paying a copywriter to help with your sales page or social media manager to schedule your content.
A study by Harvard Business School found that increasing customer retention by 5% can increase profits from 25-95%.
So if you're looking for a cheap way to increase your revenue, the best thing you can do is give your existing customers a great experience so they stick around, buy more of your products/services, and tell their friends.
3. Outcomes > features and benefits.
Melody says regardless of the kind of course you create, it's important to understand the key outcome that you want your students to walk away with. Your goal as a course creator is to help your customers achieve that result.
To do that, you have to look at their journey from start to finish. How can you help them get from where they are now to where they ultimately want to be? That's what customer success looks like.
When you can do this, you'll create students that advocate for your brand and fuel your marketing efforts with glowing testimonials.
So how do you define your course outcome? Melody refers to the Japanese concept of Ikigai, which means "a reason for being." Ikigai includes four components:
What you love
What you're good at
What the world needs
What you can be paid for
This is a good starting point for figuring out what your course topic or outcome should be. To figure out what the world needs, Melody says you have to look at the customer. What questions are they asking? What complaints do they have?
You can find answers to these questions on forums, on your competitors' websites, or by talking to your ideal customer.
4. Every course, module, and lesson should have a specific outcome.
Once you define your outcome, how do you create a course that actually helps your students achieve it?
Melody recommends breaking your course down into the smallest, simplest steps possible. As we covered before, that begins with your course outcome. Once you have a specific goal for your course, the next step is to break that goal into smaller milestones.
Melody uses the example of a course on how to build a profitable freelancing business. If that's the overall course goal, then the first module might be about how to set up your freelance website. And the first lesson in that module might be about how to create your "about me" page.
The goal is to be able to determine whether or not the student was successful at the end of each lesson, module, and course. How do you define success? According to Melody, "You create a curriculum that helps to measure success by creating actionable outcomes that people can accomplish."
5. Your course doesn't have to be all video.
When I created my first course, I thought every lesson needed a video recording because that's how you provide value. But that's not the case.
Melody offers a simple question to help you decide what type of content to create for each lesson:"What does your student need to see and do to feel successful?
Visual aids are most helpful for technical tasks or anything that's a step-by-step process (e.g. setting up a website, creating a budget, designing a Pinterest pin, etc.).
For strategy, theory, and mindset-related messages, you can use audio, workbooks, templates, or something different.
Melody says there's no right or wrong way to teach. The type of content you use depends on your personal teaching style and how it overlaps with your course curriculum.
Related Podcast: How to Create a Winning TikTok Content Strategy to Get Seen, Heard, and Paid
6. Analyze, Define, Develop, Test, Launch
This is the process that Melody uses with her clients. It's an iterative process, meaning that you probably won't go through it just once.
You'll constantly be analyzing your course and the results your students are getting, defining/refining your content, developing new curriculum, testing your content, and launching and marketing to new audiences.
So don't be paralyzed by the idea that you have to create the perfect course on your first round. Melody suggests creating an MVP – a minimum viable product – just to get something out into the world, validate your idea, and see if it's worth building a bigger product or service offering around.
It doesn't have to be complicated. Melody's first digital product was a couple of Google Doc templates that she sold for $19. Eventually, she built an entire agency around the framework she created in those two documents.
Start small. Keep it simple.
7. If a "signature course" sounds too overwhelming, start with a mini-course.
Speaking of starting small, Melody says one of the fastest ways to validate your idea is to create a mini-course.
The difference between a signature course and a mini-course is in the outcome. A signature course has a larger outcome, which requires more content. A mini-course, on the other hand, has a very small, very specific outcome. That means less content and less creation time.
Melody says a mini-course can be as simple as a 10-minute video and PDF handout that's hosted in your Google Drive. It's quick to develop, fast to validate your idea. And if there's enough demand for it, you can always build it out into a larger course or program later on.
An example of a mini-course comes from one of Melody's students who created a course on how to pitch and get booked on podcasts. Again, it's a very specific, small outcome.
The pricing for your mini-course depends on your business revenue goals, current volume of leads (i.e. potential customers), value of the outcome, and how much support you want to provide.
For a mini-course that's completely hands-off – where you provide no personal support to your students – you might charge anywhere from $47 to $97+.
As far as a launch timeline goes, Melody says you can expect to take 3-6 months if you don't have an existing audience. That leaves time for planning, creating your course, creating marketing materials, and launching.
If you already have an audience of ~2,000+, then Melody says 4-6 weeks is probably a realistic planning period. However, you can always choose to launch your course in less time, she says, depending on how polished you prefer to be.
8. Don't "build it and they will come." Sell it and they will buy.
There's a common misconception in the online world that if you create a great course, your customers will find you. Melody says that's not the case.
Market validation is a requirement for validating your idea. Melody gives us two ways to validate a new course:
Presell it. If you have an existing audience that trusts you, you can sell your course first, then create the content later.
Create an MVP. This goes back to key takeaway #7. Figure out what outcome your audience wants, then create a mini-course or the smallest possible product you can to help them accomplish that. And sell it in the simplest way possible. No course platforms needed. No fancy branding and design. Just a course that solves a problem and a way for people to pay.
Related Podcast: 7 Things I'm Doing Differently in My Business the Second Time Around