Barclays Bank Online Savings Account Review
Advertiser Disclosure
Our readers always come first
The content on DollarSprout includes links to our advertising partners. When you read our content and click on one of our partners' links, and then decide to complete an offer — whether it's downloading an app, opening an account, or some other action — we may earn a commission from that advertiser, at no extra cost to you.
Our ultimate goal is to educate and inform, not lure you into signing up for certain offers. Compensation from our partners may impact what products we cover and where they appear on the site, but does not have any impact on the objectivity of our reviews or advice.

In this review of the Barclays online savings account, you'll learn the pros and cons of the account and whether it's the right fit for your financial needs.
Everyone needs a savings account. It's a great place to keep your extra money safe but still accessible in the event that you need it.
Unlike a checking account, a savings account stores your money for long-term goals. This makes the two accounts very different based on your needs for each banking service. Savings accounts should prioritize low fees and high interest rates, but these days, many savings accounts fall short of those once basic benefits.
Barclays Bank is an online bank that offers a savings account that you can use to help further your financial goals.
Barclays Bank Online Savings Account Review at a Glance
Pros:
High interest rate
No monthly fees
No minimum balance
Cons:
Online bank that focuses solely on savings products
Inconvenient withdrawal process
The Bottom Line: The Barclays Bank online savings account is designed for people who already have a primary bank and are looking for an online savings account with a strong interest rate. Consider a different bank account if your needs require a full-service online bank.
Barclays Online Savings Account
The Barclays online savings account is a savings account under Barclays' online banking arm.
When comparing them to their brick and mortar counterparts, online savings accounts tend to excel at a few things. For example, online banks typically offer lower monthly fees and higher interest rates than savings accounts with a brick-and-mortar bank.
The Barclays Bank online savings account follows suit with this pattern offering low fees and a high interest rate. You'll earn a lot more interest with this account than a traditional bank account.
Related: Radius Bank High-Yield Savings Account Review
Drawbacks
The most prominent drawback with Barclays online savings account is that the bank focuses primarily on offering savings products rather than acting as a full-service bank. You cannot open a checking account at the bank, which makes it impossible to do all of your banking in one place.
If your goal is to have all of your accounts with a single bank, you'll have to look elsewhere.
Fees
As previously mentioned, low fees are one of the greatest benefits of online savings accounts in general, and the Barclays online savings account, in particular. There are no monthly fees to keep the account open, no minimum balance requirements, and no hoops to jump through.
Other services, such as external bank transfers, are also fee-free.
Interest rates
The Barclays online savings account pays a high interest rate. It's it a solid place to hold your money if growing your savings is the end goal. Savings accounts offer great guaranteed returns while allowing you access your money as needed.
The account's interest rate is much higher than rates offered by brick-and-mortar banks. It is also competitive with other online banks. The differences among competition vary, but you shouldn't find Barclays online savings account too far off.
It's easy to earn interest by using Barclays online savings account. No interest rate tiers or promotional periods exist, so what you see is what you get. Banks don't like to pay fractions of cents in interest, so the only requirement is to keep enough money in your account to earn at least one penny in interest each statement period.
Related: APY vs. APR: How to Tell the Difference Between Interest Rates
Withdrawal limits
Savings accounts are designed for long-term savings, not regular deposits and withdrawals. To encourage this, federal regulations limit the number of withdrawals allowed in a single statement period.
You may make no more than six withdrawals per statement. Each withdrawal after the sixth incurs a fee.
When banking with a brick-and-mortar savings account, ATM or in-person withdrawals are exempt from the withdrawal limit.
Because the Barclays online savings account is completely online, no in-person or ATM withdrawals can be made, so you're truly limited to six withdrawals per statement.
Related: Best Online Savings Accounts for 2020
Other Things to Know About Barclays Bank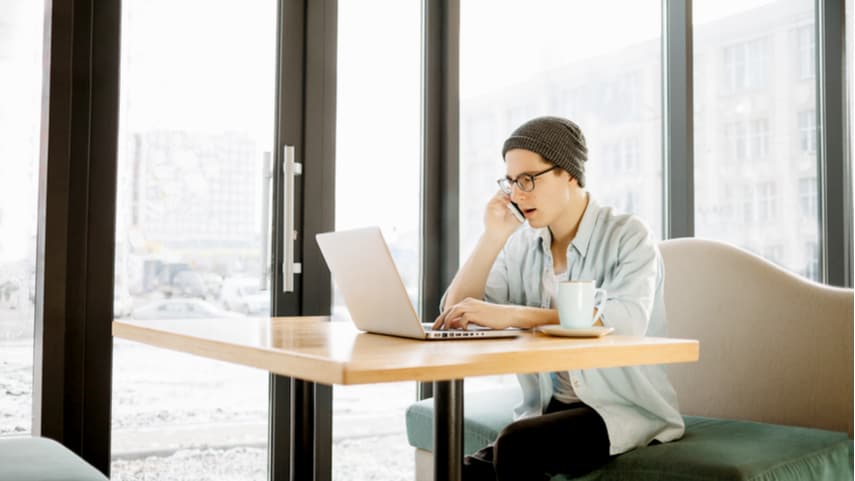 If you want to open a Barclays online savings account, here are some things that you should know about the bank.
Customer service
If you've never had an account with an online bank before, you might be concerned with the quality and availability of customer support.
You can reach brick-and-mortar banks easily by calling customer service, sending an email, or walking into your local branch. With an online bank, however, meeting customer service face-to-face is not an option.
Barclays Bank makes it easy to contact customer service. The bank's phone line is open seven days a week from 8 AM to 8 PM Eastern Time, keeping lines of communication open regardless of your schedule.
If you prefer to get help the old-fashioned way, you can mail a letter to the bank to ask for help.
Other Barclays Bank services
It's important to consider all services offered by a bank and whether or not they meet your needs before you open an account. It's always more convenient when you can do all of your banking in the same place.
This is one of the major drawbacks of working with Barclays Bank. The bank focuses primarily on offering savings accounts and CDs. If you need a checking account or loan, you'll need to work with a different bank.
Many online banks offer a full suite of services, including checking, savings, lending, and investment services. However, the Barclays online savings account is a great addition to an existing full-service bank.
Barclays Bank Online Savings Account FAQs
Here are some common questions you might be asking about the Barclays Bank online savings account.
Is the Barclays online savings account safe?
Worrying about a bank's safety is fair, given the commonality of internet fraud. Rest assured that the Barclays online savings account is perfectly safe.
Banks use powerful encryption to keep your account information — passwords, address, account numbers, and other details — protected.
Is the Barclays online savings account FDIC-insured?
Yes, the Barclays online savings account is insured by the FDIC. The Federal Deposit Insurance Corporation protects deposits at banks in the United States, promising to return any money that is lost if a bank is unable to return your deposits.
Even if Barclays Bank goes bankrupt, the FDIC will reimburse you for any money lost, up to the $250,000 insurance limit.
Does Barclays Bank have an app?
Yes, Barclays Bank offers the Barclays US Savings app, which you can use to view and manage your account from your phone. This includes features such as instant transfers and mobile check deposit.
If you'd rather not install an app on your phone, you can access most of these features through your phone's web browser.
Is Barclays Bank a foreign bank?
Barclays is based out of the United Kingdom. However, that doesn't mean that Barclays Bank is considered a foreign bank.
Barclays Bank Online is the company's American arm, which is headquartered in the United States. You won't have to worry about currency conversion or dealing with complicated tax situations brought on by having an account at a foreign bank.
Related: Salem Five Direct Review: Pros, Cons, and How It Compares to Other Banks
Is Barclays Online Savings Account Right For You?
The Barclays online savings account is a fine account if you're looking for a simple place to store your money and earn interest. If you like your current bank and just want to increase the interest you earn on your savings, this is a good account to open.
Keep in mind that Barclays only offers savings tools. If you're looking for a full-service online bank for various types of accounts, Barclays may not be the right choice for you.