Axos Invest: Is This Robo Advisory Service Right for You?
Advertiser Disclosure
Our readers always come first
The content on DollarSprout includes links to our advertising partners. When you read our content and click on one of our partners' links, and then decide to complete an offer — whether it's downloading an app, opening an account, or some other action — we may earn a commission from that advertiser, at no extra cost to you.
Our ultimate goal is to educate and inform, not lure you into signing up for certain offers. Compensation from our partners may impact what products we cover and where they appear on the site, but does not have any impact on the objectivity of our reviews or advice.

Investing is a notoriously scary thing to do, but it's necessary if you want to grow a nest egg.
The only way to earn enough money to fund your retirement is to save money regularly and invest it wisely.
But most people don't like investing. A 2018 survey from Bankrate found that only 32% of Americans said that stocks are the best place to put long-term investments. About a quarter said cash was the best, and 22% said real estate was the best option.
Many don't invest because they're scared of losing money, but most don't do it because they're not sure how or where to get started.
That's where robo advisors like Axos Invest come in. They're designed to help the average person start investing, even if they don't know the difference between an IRA and RIA.
What is Axos Invest?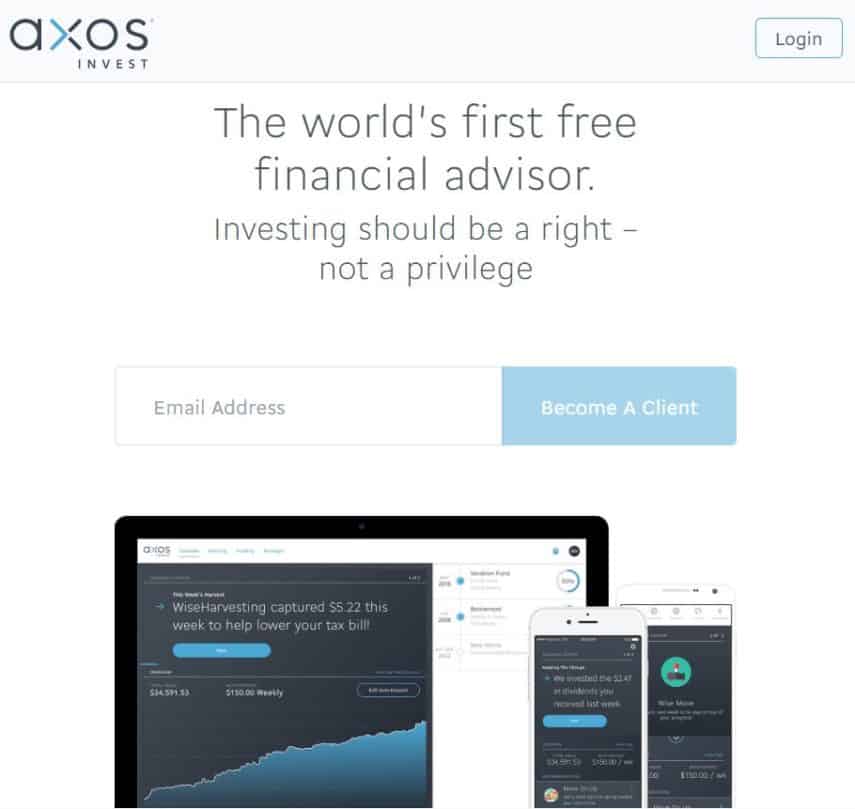 Axos Invest, formerly known as WiseBanyan, is a popular robo advisor. What separates Axos Invest from competitors like Betterment, Wealthfront, or Ellevest is that it doesn't charge any extra fees for its basic services.
If you open a retirement account with Axos Invest, you won't pay any extra fees. Fees on investments can add up quickly and can take a large chunk of investment returns, so a free robo advisor is a huge boon to investors.
To make money, Axos Invest does charge for premium packages including tax-loss harvesting, tax minimizing services, and an automatic deposit service. Users can also create a custom portfolio for an extra fee.
Customers don't have to sign up for any of these premium services to use Axos Invest.
Pros:
No fees
Has an Android and iPhone app
Low minimum to open an account
Multiple types of accounts to choose from
Cons:
Extra services not included with basic subscription
Limited account selection
Premium programs can be pricey and confusing
Can't invest in certain types of accounts
Related: 5 Best Investment Apps for Beginner Investors in 2019
Is Axos Invest Safe?
Axos Invest says it keeps information safe, encrypted, and secure. It doesn't specify exactly what kind of security it uses, but there haven't been any reported data breaches with this robo advisor.
Axos Invest Features and Fees
When you sign up for Axos Invest, they'll ask for your birthday, annual income, and total net worth. This information helps them decide how much you should invest based on your age and income. The robo advisor will provide different recommendations for a 25-year-old making $35,000 a year than a 45-year-old earning $150,000 a year.
Next, the app will ask you to choose a goal or Milestone, such as an emergency fund, a short-term goal like a down payment on a house, or a retirement nest egg.
Once you pick a Milestone, you'll be asked questions about your risk tolerance. This will determine what kind of investments you should have in your portfolio. Someone who's extremely risk-averse will likely have fewer stocks than someone who's more comfortable being aggressive.
Even though Axos Invest will recommend certain funds based on your answers, you can still change that selection before you start investing. This gives you total control.
| | |
| --- | --- |
| Minimum | $1 to open a taxable account, $25 to open an IRA |
| Fees | No extra fees for the basic service. 0.02% or $20 for Tax Protection, |
| Customer Service | Phone or email |
| Types of investments | Taxable accounts and Roth, traditional, and SEP IRAs |
| Tax-loss harvesting | For an extra fee |
Related: Personal Capital vs. Mint: Which Personal Finance App is Right for You?
Axos Invest Advantages
Axos Invest is similar to other robo advisors, but it does have some quirks that make it stand out from the competition.
Different goals
Axos Invest lets people choose different goals or Milestones. Some robo advisors only focus on retirement savings, but Axos Invest lets you choose other goals. If you want to open an account for an emergency fund, Axos Invest will recommend an amount and a suggested timeline.
When you choose a goal, the app will ask when you want to achieve it and how much you want to have. Depending on the goal, it will ask extra questions to help you think about the planning process. For example, if you're buying a house and want to save for a down payment, it will ask how much of a down payment you want to save.
When you pick your goal and how much you want to save, Axos Invest will then recommend a certain mix of stocks, bonds, and cash. They do this based on your goal timeline, which is why it's best to be as accurate as possible.
Low minimums
Some robo advisors have a minimum opening investment of $500. While this doesn't seem outrageous, it can prevent some people from getting started. Axos Invest has a $1 minimum to open a taxable account and $25 to open an IRA. This makes investing seem more realistic and doable for beginners.
Mobile app
Customers can manage their accounts on the go with the Axos Invest mobile app which is available on both iPhone and Android devices. This is handy if you want to check up on your investments and make contributions wherever you are.
Portfolio plus
If you want to have more freedom in your investments, you can sign up for the premium Portfolio Plus package. This includes socially responsible investments, companies that focus on gender equity or technology companies. This can be a good option for the investor who has more experience and knowledge and wants more than the basics.
Axos Invest Disadvantages
Like most robo advisors, there are some things consumers should be aware of before they sign on.
Extra cost to open an IRA
There's an extra cost to open an IRA with Axos Invest, including traditional, Roth, or SEP IRAs. You'll pay 0.02% of the account value or $20, whichever is less, on a monthly basis. This part can be confusing to new investors who don't understand that opening a regular taxable account won't come with the same benefits as an IRA.
The process to open an IRA can be slightly complicated. You have to open a regular taxable account, then add on the extra Tax Protection package and then open an IRA. A taxable account is an account you can use for both long-term and short-term investing. You don't get the tax benefits that comes with an IRA, but you can also withdraw the funds more easily.
Doesn't support all types of accounts
Axos Invest doesn't support every type of available account including HSAs, 529s, or Solo 401(k)s. Many robo advisors have the same limitations, so if you only want an IRA, Axos Invest is still a good bet.
Fee system can be confusing
When Axos Invest says they're a free robo advisor service, that doesn't mean customers won't pay any fees. When you buy an ETF (exchange-traded fund), you're still paying a small fee to the company producing the security. This can be confusing for investors, especially if they're choosing Axos Invest over a competitor.
The different premium services can also be hard to understand since they're all a la carte. This can be complicated, especially if you're not sure what kind of service works best for you. For instance, the Fast Money package lets people choose different deposit schedules that can be based on their paycheck or other times of the month.
Who Should Use Axos Invest?
If you're interested in investing but are too busy or confused to get started, a robo advisor like Axos Invest can help. It's a good tool for beginners because there's almost no minimum deposit requirement and no extra fees.
Customers who use Axos Invest should be aware of their premium offerings vs. their free package. The robo advisor is great for people who want a short-term, free place to store money for both short and mid-range goals.
If you're interested in using Axos Invest to save for retirement, you should pay extra for the Tax Protection package. That gives you access to an IRA, which is a better vehicle than the free taxable account.