Behind the Scenes Look at the 90-Day Freelancer Playbook
Advertiser Disclosure
Our readers always come first
The content on DollarSprout includes links to our advertising partners. When you read our content and click on one of our partners' links, and then decide to complete an offer — whether it's downloading an app, opening an account, or some other action — we may earn a commission from that advertiser, at no extra cost to you.
Our ultimate goal is to educate and inform, not lure you into signing up for certain offers. Compensation from our partners may impact what products we cover and where they appear on the site, but does not have any impact on the objectivity of our reviews or advice.
Note to reader: This project ended up never getting off of the ground, but it taught us a lot about what it takes to make a physical product. This is still something I want to do and we may end up taking a second chance on it at some point.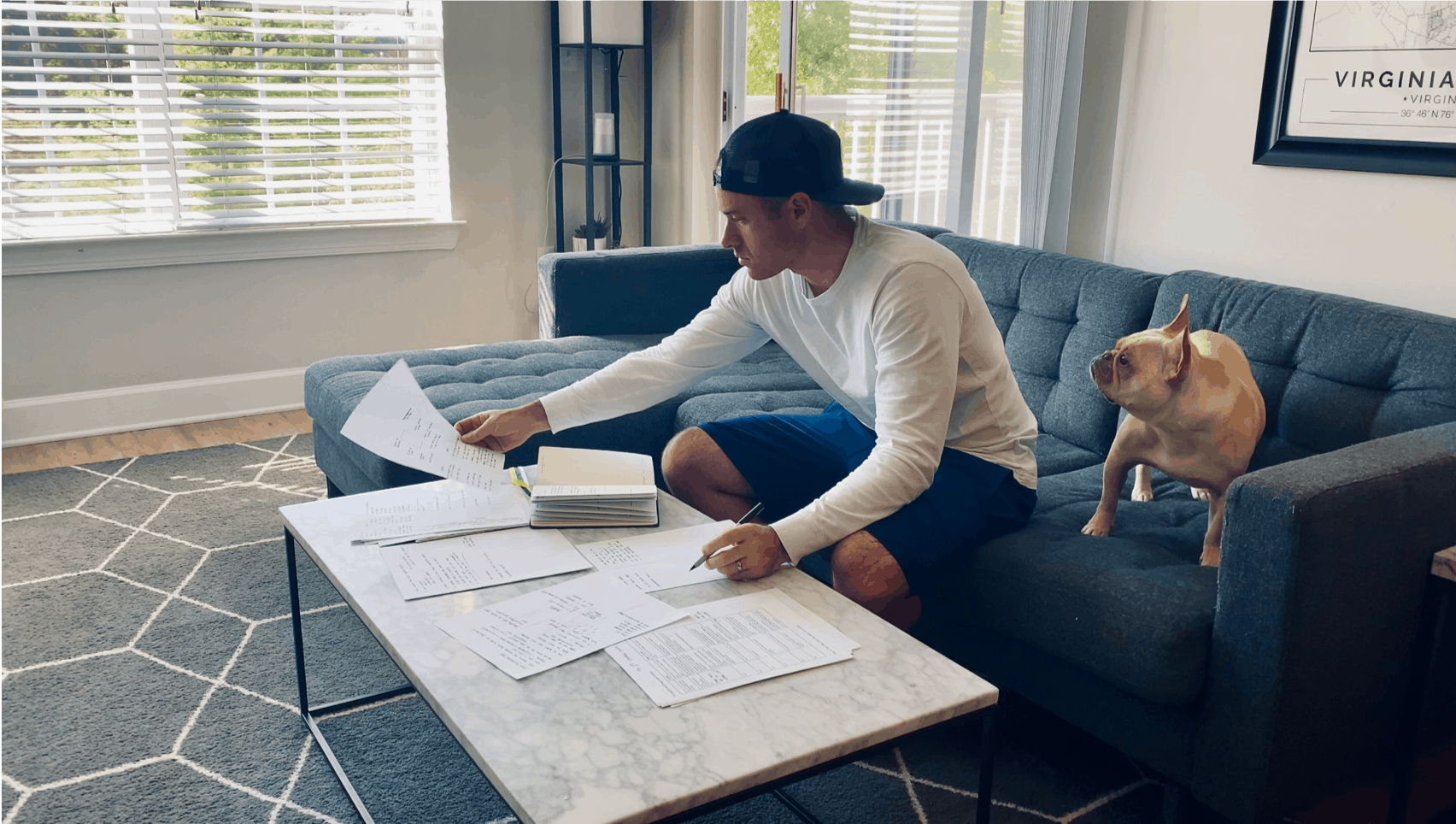 When Ben and I first started our business, we had no idea what we were doing.
We had about 1,000 ideas written down at any given time. We'd wake up, meet in the living room (back when we shared an apartment), have our coffee, then sit down and start working on whatever idea we felt most inspired about that day.
You might be thinking that doesn't sound like the best strategy for building a business. And you'd be right.
There were many weeks and months where we looked back and thought, "What did we even accomplish?" We weren't making (or were barely making) any money, which is kind of the whole point of a business. Without revenue, you really just have a hobby.
We spent so much of our time being busy, working 14+ hours a day. But we weren't being very productive, and we definitely weren't focused on the things that matter most in a business — the ones that bring in revenue.
We didn't know it at the time, but we're far from the only people who venture into self-employment that have this experience.
The Idea for the Freelancer Playbook
We've been in business for over five years now. In that time, we've met a lot of other business owners.
Having a community of fellow self-employed entrepreneurs is great for sharing business highs and ideas. But it's also great for commiserating.
It's through this commiserating that we realized so many people experienced the same problems we did in our business:
Always feeling "busy" but not productive
Not knowing what to focus on or how to prioritize tasks and projects
Unclear of the path forward and how to actually grow a business
Now, before we go on, I want to be very clear about two things:
1. Ben and I have never really been freelancers.
We started our business as a membership site. Then when that didn't work out, we transitioned to a media company.
We did have a handful of coaching/consulting clients in the early stages, but freelancing was never really our business model. Why, then, would we decide to create a planner for freelancers?
Well, a few reasons:
There are already a lot of planners and journals out there for people who aren't freelancers or solo-preneurs. But there are very few planners that address the unique challenges of a freelance business owner.
We love the idea of freelancing. There are over 57 million freelancers in the U.S. for a reason.[1] It's one of the most accessible ways to start an online business because you don't need much to get off the ground — just the skills you already have and clients who are willing to pay you. Which is why freelancing is one of the number one ways we recommend for building a business or making extra money.
Freelancers struggle with these issues the most. At least in our experience, speaking with freelancers we've worked with and those in our community, freelancers seem to have the most trouble focusing on the right things and building sustainable revenue in their business. And it makes sense. As a blogger or affiliate marketer, the money you make isn't directly correlated to the hours you spend working. But as a freelancer, you're often trading time for money, which means the less focused and productive you are, the less you'll make in your business.
So that's what led us to decide on freelancers, but what about the idea for a planner? That leads to clarification number two:
2. Neither Ben nor I have ever really been planner people.
I know that's not a good look for us at first glance, but hear me out.
I've always been a pen-and-paper kind of guy. Both of us have.
When we first started this business, we had a living room full of white boards, easels, and stacks of notebooks on our living room table.
Whenever I have a lot on my brain or a new idea to work out, I sit down with my favorite pen, grab a notebook, and let the thoughts flow from my brain, down my arm and onto the paper.
There's something about physically writing something down — whether it's an idea or a to-do list — that you just don't get with digital tools.
But admittedly, I've never liked planners. I've tried using several of them before, but I didn't like the structure and rigidity of so many planners. It either felt like there was too much stuff that I didn't need or want to use, or it just didn't fit my goals as a business owner.
That's why when we decided to create the Freelancer Playbook, we knew we wanted to make something practical and streamlined. Something that included everything you need to build a freelance business and nothing you don't.
Which is why we co-created the Freelancer Playbook with actual freelancers and planner lovers. We got feedback from our own team of freelancers, created a group of over 200 beta testers, and asked the questions no one had asked them before:
What do you absolutely have to have in a planner?
What are deal breakers for you in a planner?
What have been the most helpful exercises in helping you set and achieve goals in your business?
What do you struggle with the most when it comes to staying organized and being productive in your business?
With all this information in hand, we set out to create the Freelancer Playbook.
Designing the Planner
I am not a graphic designer.
So, naturally, I decided that I was going to be the one to design the entire planner. The cover, the logo, the daily pages, the works.
It felt like the best way for me to understand the problems of the freelancers in our community and incorporate all their feedback. Plus, I'm guilty of sometimes making things more difficult for myself than they probably need to be.
I don't know how to use any of the fancy design programs like Photoshop or InDesign or Illustrator. I'm a PowerPoint guy. So that's what I used to create all the designs.
Before I started sketching out rough drafts of each page, I made two lists from the responses we'd received so far.
On the first list, I wrote what our freelance community wanted this planner to accomplish. Here's the Objectives List:
Help freelancers balance all the areas of their business
Teach freelancers how to not just work "in" their biz, but "on" their biz
Help people create (and accomplish) short- and medium-term goals
Encourage routine introspection
Stay on top of the day-to-day tasks
Etc.
On the second list, I wrote down what kinds of "base" pages we would need. Here's the Pages List:
Daily planning pages
Monthly calendar
Weekly planning page
Backburner pages
How to Use section
Etc.
With both lists side by side, I started connecting the dots and mapping out which Pages were going to be used to accomplish each of the Objectives. In the beginning, some Pages had a bunch of lines (i.e. Objectives) connected to them, whereas others had none. And there were a few Objectives that didn't yet have a home.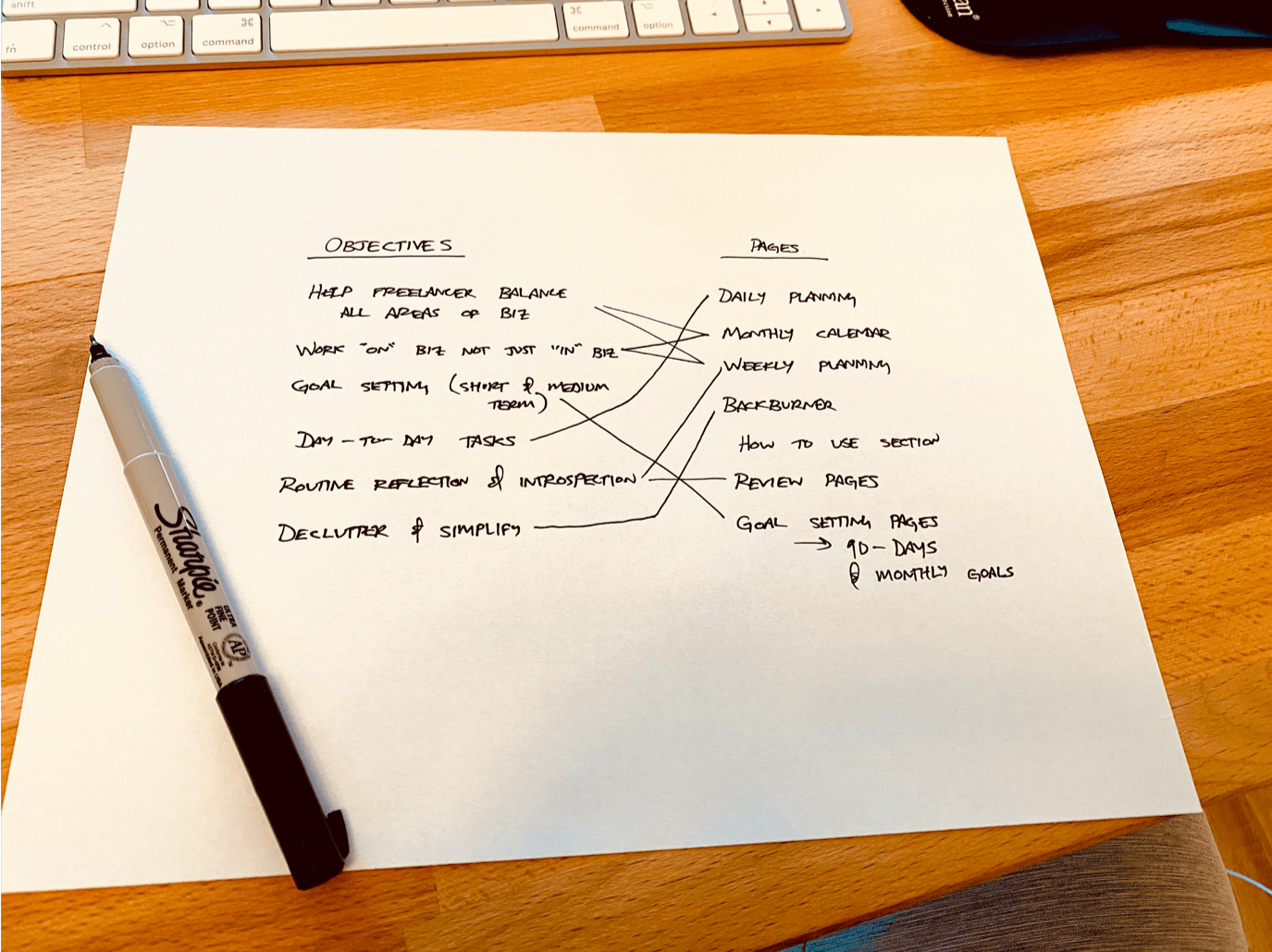 The Sketching Begins
Once I had all of this written down on paper, it was time to start creating. To be honest, I was overwhelmed and had no idea where to start.
After a few hours of accomplishing basically nothing, I decided to focus on just one page at a time. I started with the Daily Planning Page. This was the page people would be using the most often, so it seemed like a good place to start. Definitely smarter than designing all the pages at the same time, which is what I was trying to do before.
Here's how the sketching process worked:
I would draw out a wireframe of how I wanted the page laid out.
I would ask freelancers (either on our team or in our beta group) to point out everything they could think of that was wrong with the design.
And let me tell you, there was no shortage of feedback. I needed it, and I'm thankful to our community for being so generous with their time and providing thoughtful insights.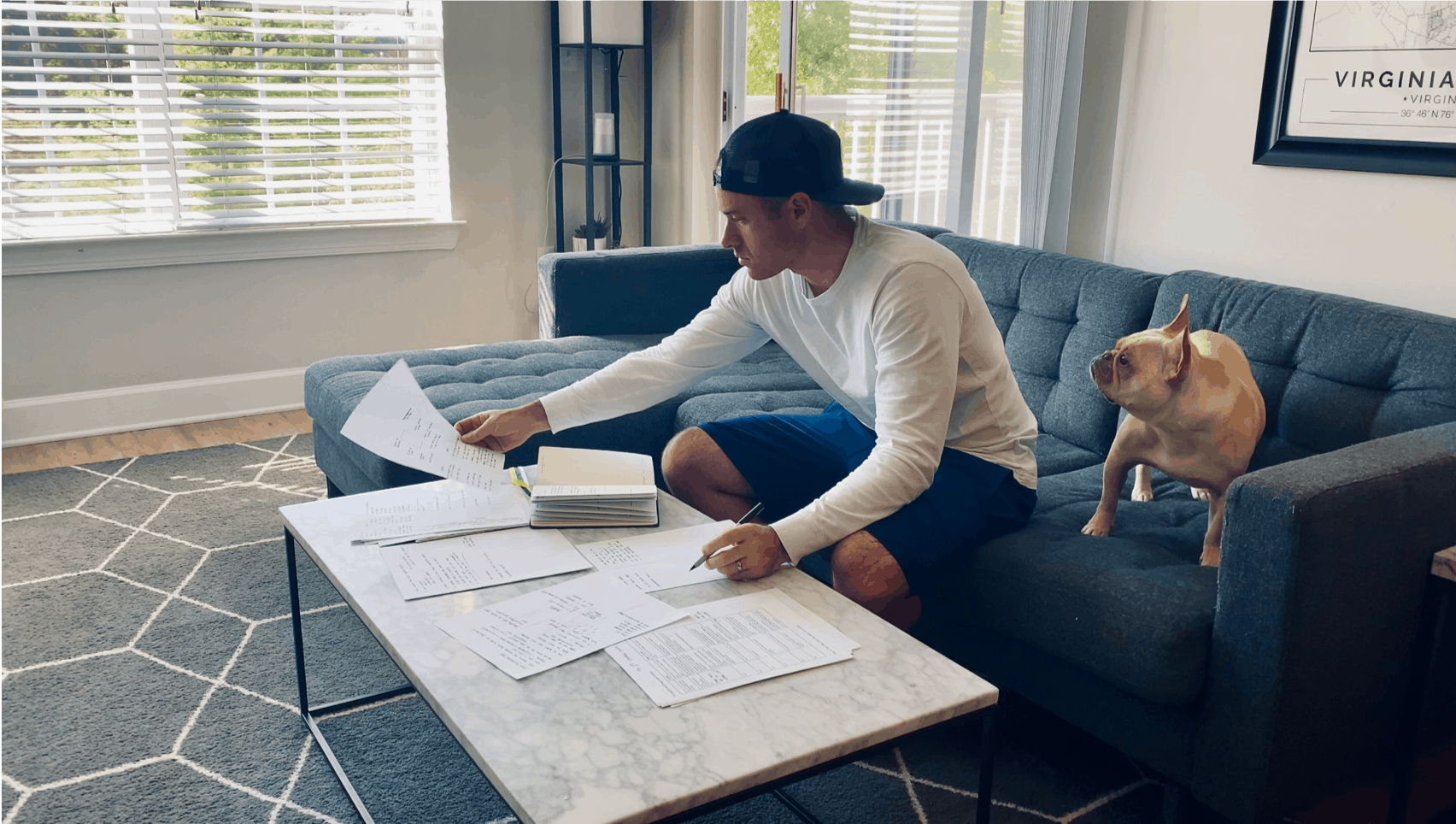 Something I learned: Don't just ask someone what they think about something you're making. Ask them to poke as many holes in it as possible… and keep pressing them until you have a nice list of things that can be better. People are nice and want to tell you that they love what you made, but you need to dig deeper. There is no room for emotions here!
One other thing: It can be physically impossible to incorporate everyone's feedback. Some people want lines in their notebook, some want no lines. One person wants ribbon bookmarks, someone else hates them. At the end of the day, I trusted our feedback group and went with the majority consensus.
Turning Sketches Into Printable Files
I won't lie, this part was a serious grind for me. Mainly because a) I'm not a graphic designer, and b) I was creating everything in PowerPoint.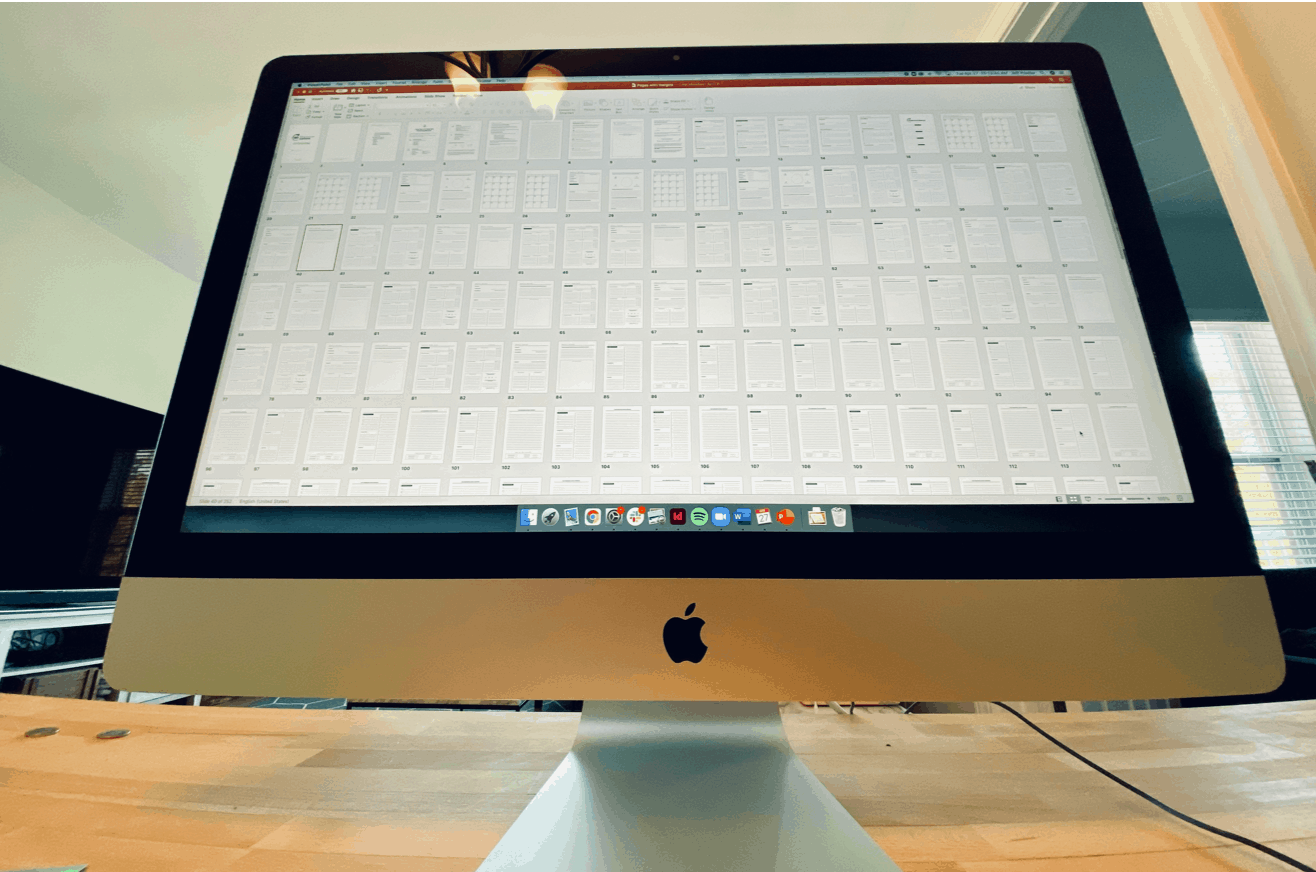 Again, we could've hired a designer to create everything in Illustrator, and I'm sure it would've saved an enormous amount of time. But I didn't want to delegate this part of the project. Part of the purpose of co-creating this planner with our community was that I wanted to be involved, to work directly with the people we were serving. And it felt like the best way to do that was to be the one in the design chair, even if it was a new (and somewhat uncomfortable) role for me.
After each page was made in PowerPoint, I would print it out and see how it felt on physical paper. This led to way more adjustments being made than I expected, but I'm so glad I did it. Sometimes what looks good on a screen simply doesn't translate the same way on a printed page, especially when it's a page that's meant to be handwritten on.
Examples of things I changed after seeing the printed drafts:
Font sizes
Space between lines
Spacing between checkboxes
Most things were minor, but wow they made a huge difference once they were fixed. I'm also realizing as I'm writing this that I might be a little too Type A.
Finding a Manufacturer and Nailing the Specs
We started this process with zero knowledge of how to make a physical product. Ben and I had literally no idea what we were doing.
I figured getting a planner made would be fairly straightforward, but alas, it was not. Before I could even get quotes from manufacturers, I needed to learn all the terminology and decide on the exact specs for the planner.
In this phase, I learned about:
Paper weights
Binding types (smyth-sewn, spiral, wire, etc.)
Cover types (linen, leather, paper, etc.)
Cover printing (emboss, deboss, foil stamping, et.)
Standard black vs. Rich black ink
And much more
I spent hours and hours researching all of this stuff and going back to our group to see what actually mattered to them and what they didn't really care about. (I was glad to hear that I'm not the only paper snob.) We want the 90-Day Freelancer Playbook to be the clear #1 choice of paper planner on the market for freelancers, so I definitely took my time on this to get it 100% right.
Waiting on the Prototype
As I'm writing this post, our first prototype is still being made. It should be here in less than a week. I'm nervous as can be, but I'm also cautiously optimistic that it's going to be awesome. We've been co-creating this planner with our community for months, and we can't wait to share it with everyone and finally see it in use.
Once we get the prototype in hand, the tentative plan is to:
Go through, page by page, line by line, and find any mistakes.
Do a mini photoshoot of the planner for our Kickstarter campaign.
Publish the campaign and get the word out to as many people as possible who might be interested (via email list, ads, our blog, social media, etc.).
If all goes according to plan, we'll launch the Kickstarter campaign in mid-May and (if the campaign succeeds) submit a mass production order for at least 1,000 90-Day Freelancer Playbooks in June!
Getting It Into People's Hands
I can't wait to see how freelancers use The Playbook. There really does seem to be a hole in the market for a planner like this one, and I think the right people are going to get a ton of value out of it.
It's scary to try something so new and different from what we normally do in our business, and it's also scary to share a behind-the-scenes look at how it's going before we know if it'll be a success. That's part of the thrill of documenting it all online — you get to come on the journey with us.
If you're interested in the Freelancer Playbook, you can grab a copy on our Kickstarter Campaign page.