How to Avoid Overdraft Fees
Advertiser Disclosure
Our readers always come first
The content on DollarSprout includes links to our advertising partners. When you read our content and click on one of our partners' links, and then decide to complete an offer — whether it's downloading an app, opening an account, or some other action — we may earn a commission from that advertiser, at no extra cost to you.
Our ultimate goal is to educate and inform, not lure you into signing up for certain offers. Compensation from our partners may impact what products we cover and where they appear on the site, but does not have any impact on the objectivity of our reviews or advice.

Overdraft fees are more than just a pesky nuisance.
In 2017, the 10 largest U.S. banks raked in more than $11.45 billion in overdraft fees from consumers — and that was just among institutions with more than $1 billion in assets.
Part of the reason why banks are collecting so much in overdraft fees is that the policies that govern them can be convoluted and confusing.
In this article, we'll walk you through how overdraft fees work and how to avoid them.
What is an Overdraft Fee?
We've all been there: You're standing in line at Starbucks, you forget how much you have in your bank account, and you make a charge that you don't have enough money for.
In this case, two things can happen.
Your bank can decline to pay the charge, meaning your payment won't go through and the cashier has to sheepishly ask if you have any other way to pay. In this case, even though your bank account balance won't go into the red, the bank may still charge you a non-sufficient funds fee as a penalty.
On the other hand, the bank could allow the charge to go through. In this case, the bank essentially spots you the money, allowing your bank account balance to go negative in return for sending money to the merchant. If this happens, the bank charges you an overdraft fee.
Even though the two outcomes are very different — a declined charge with a positive bank account balance or an approved charge with a negative bank account balance — you'll still be charged a fee.
Non-sufficient funds fees and overdraft fees generally cost the same, about $34 per transaction, so most people prefer to use the overdraft program.
Related: What is a Bank Statement and How Do I Read It?
Overdraft protection law
Obviously, these two scenarios are very different. So how do you choose between them?
Due to the Overdraft Protection Law, the default option is no overdraft coverage. This means that each time you try to make a purchase with your debit card or withdraw money with your ATM card, the transaction will automatically be declined. You'll be charged a non-sufficient funds fee if you don't have enough money.
Instead, banks are now required to get your consent to enroll you in overdraft coverage. If your bank account was opened before July 2010 when the law was enacted, your bank would have sent you an enrollment form to get your consent.
Now if you open a new bank account, they'll provide you with this consent form at the time of enrollment.
The Overdraft Protection Law doesn't cover recurring electronic payments, such as bills you have set up on auto-pay or written checks. If you bounce a check or the auto-draft for your student loan payment doesn't go through, for example, you can still be charged an overdraft fee. In that case, you'll end up with a negative account balance even if you didn't opt in for overdraft coverage.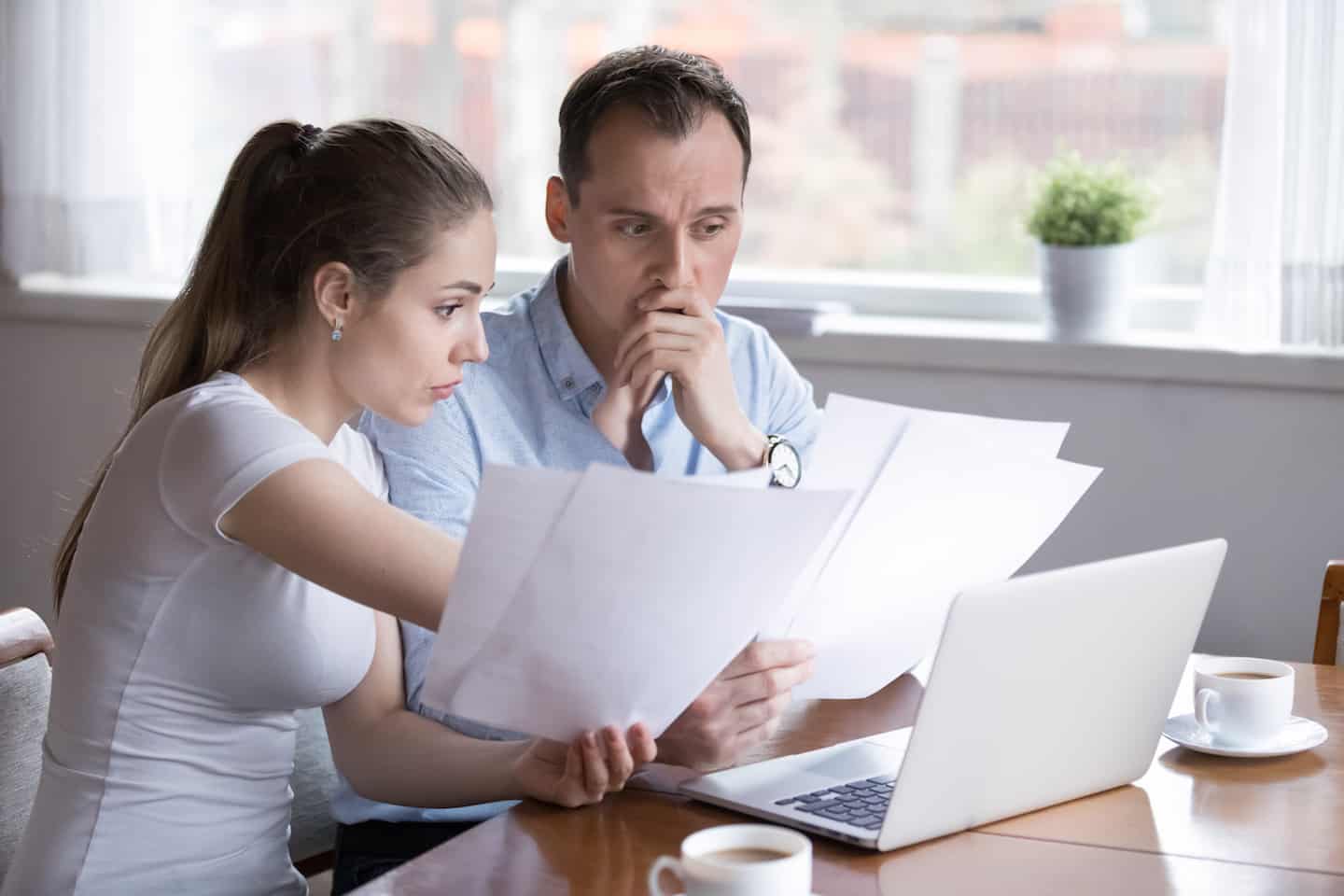 Other Types of Overdraft Fees
Each bank has its own overdraft coverage plan with its own set of fees beyond just the standard overdraft fee. These are some of the common ones you may find at different banks:
Extended overdraft fee
If your bank account balance stays negative for a certain amount of time — typically between five and seven days — some banks will charge you an additional "extended overdraft fee" according to a set schedule.
For example, Huntington Bank will charge you a $25 extended overdraft fee starting on the fifth business day your account is overdrawn. If it stays overdrawn, that $25 charge will be repeated every five business days until you either bring your account balance up or incur four extended overdraft fees.
Overdraft transfer fee
One way to avoid overdraft fees is by linking up to another one of your bank accounts so that money can be transferred to your checking account to pay for the charge. In this way, you're paying for the charge yourself rather than making the bank pay for it.
Even here, some banks will charge you for the privilege of automatically transferring your own money. For example, if you overdraw your account, U.S. Bank will charge you $12.50 to transfer money from your savings account to your checking account, and only in $50 increments.
Overdraft line of credit
Another way to pay for overdraft charges is with a line of credit, similar to a home equity line of credit (HELOC) or a credit card.
For example, let's say you overdraw your bank account by $500. If this happens, the bank will put $500 into a line of credit for you while bringing your account balance back to zero. Then, you would pay off that $500 credit at whatever interest rate the bank is charging.
Related: Direct Deposit: What It Is and How to Use It
How Much are Overdraft Fees?
According to the Consumer Financial Protection Bureau, most big banks charge an average fee of $34 per transaction. Among smaller banks and credit unions, the average overdraft fee is around $31.
In addition, most banks and credit unions have a limit on the number of overdraft fees you can be charged in a single day. Banks will sometimes also waive the overdraft fee entirely if you've only overdrawn your balance by a small amount, typically $5 or less.
Fee Table
Here are the overdraft fees at some popular banks:
| | | |
| --- | --- | --- |
| Bank | Overdraft Fee | Maximum Fee Per Day |
| Ally Bank | $25 | 1 |
| Capital One | $35 | 4 |
| Bank of America | $35 | 4 |
| Chase Bank | $34 | 3 |
| Chime Bank | None | None |
How to Avoid Overdraft Fees
The average American may be paying a lot in overdraft fees, but that doesn't mean you have to. Here are some ways you can avoid them:
Keep tabs on your bank account balance
The best thing you can do to avoid overdraft fees is to simply keep a close eye on how much money you have in your bank account.
You can do this by downloading your bank's app onto your phone. You can also set up alerts through your bank or a second-party app like Mint to warn you when your balance is getting low. Another great way to do this is to make a budget and track your expenses. That way you know exactly how much money you have for each expense category.
Request overdraft fees waived
If you're charged an overdraft fee, you can ask for it to be waived. Your odds of getting overdraft fees waived go up if you've had your account open for a while and rarely overdraft your account. As with most things, it never hurts to ask.
Look for a bank that doesn't charge overdraft fees
Many banks offer free overdraft transfers from your savings account. Of course, that means you also need to keep your savings account balance up in case it's called on to cover an overdraft charge.
Some online banks, such as Chime or Simple, don't charge overdraft transfer fees at all and make it easy to switch banks.
Overdraft Fees FAQ
Let's look at some common questions you may still have about your overdraft coverage options.
Can I opt out of overdraft coverage?
You can opt out of overdraft coverage with your bank at any time by notifying them.
Keep in mind that this means debit and ATM transactions can then be declined, and you may be charged a non-sufficient funds fee. However, checks and recurring electronic transactions can still incur overdraft charges.
When should I consider opting out of overdraft coverage?
If you overdraft your account frequently, it might be a better idea to opt out.
You'll still be charged a non-sufficient funds fee if you try to buy something you don't have money for. However, since overdraft coverage allows overdrawn charges to go through without notifying you of any problems, it's possible to rack up hundreds of dollars in fees before you realize you're being charged.
If you overdraw your account frequently, keep a low balance, or go on frequent shopping sprees, you can save a lot of money by opting out of overdraft coverage entirely.
Related: Where to Cash a Check When You Don't Have a Bank Account
You Don't Have to Pay Overdraft Fees
Paying for overdraft fees doesn't seem fair. Not only do you have to deal with a negative bank account balance, but you also have to pay extra fees when you already don't have the cash.
Now that you know how overdraft fees work, you can choose to avoid them in whatever way works best for you. Whether you opt out of overdraft coverage or find better ways to monitor your bank account balance, overdraft fees can be a thing of the past — if you play your cards right.