LendingTree Review 2020: Pros, Cons, and How It Works
Advertiser Disclosure
Our readers always come first
The content on DollarSprout includes links to our advertising partners. When you read our content and click on one of our partners' links, and then decide to complete an offer — whether it's downloading an app, opening an account, or some other action — we may earn a commission from that advertiser, at no extra cost to you.
Our ultimate goal is to educate and inform, not lure you into signing up for certain offers. Compensation from our partners may impact what products we cover and where they appear on the site, but does not have any impact on the objectivity of our reviews or advice.

Whether you're going to college, buying a car, or purchasing a home, debt is a major part of many people's lives.
The first step to getting the right loan is finding the best lender. You can go to almost any bank and apply for a loan, but you need to get multiple offers to find the best one. Unfortunately, it can be time-consuming and difficult to compare lenders if you have to apply with each bank individually.
That's where LendingTree steps in. LendingTree is a user-friendly loan marketplace that helps people find and compare multiple loan offers at once.
What is LendingTree?
LendingTree is an online marketplace that allows consumers to compare multiple lenders and offers at the same time.
It has information for all kinds of borrowing needs from mortgages, car loans, personal loans, student loan refinancing, and business loans. By providing information from various lenders, consumers can pick the best deal for them.
Pros:
Compare loans from multiple lenders
Apply online
Loan terms may still be negotiable, so you can get even better deals
Apply for multiple different types of loans
Cons:
Aggregates third-part lenders only
Not a complete list of lenders
Searching for a loan may lead to lenders emailing or calling you incessantly to offer loans
Doesn't always provide the best rates
Is LendingTree Legit?
Founded in 1996, LendingTree claims to have served over 100 million customers and saved people over $30 billion in loans.
LendingTree is also accredited with the Better Business Bureau and has an A+ rating. They have a 4.5 Trustpilot rating with over 6,000 positive reviews. Customers say that the process is efficient, quick, and included affordable loans. Negative reviews primarily centered on customer service, including receiving too many phone calls and emails and not always providing the best rate.
Although they share your personal information with potential lenders, they don't sell your data and use SSL and Next Generation Firewalls to protect identifying information.
How Does LendingTree Work?
Getting started with LendingTree is simple. Go to the website and select "Ready to Get Started" to answer a series of questions about the type of loan you're looking for and some personal financial information.
You won't be asked to provide much identifying detail, but LendingTree will need some general info to provide the best offers and options.
After completing the survey, you'll be taken to the Offers page to answer another series of questions, including current address and date of birth, to see the different loan options available to you. At this point, you'll be asked for your email address so lenders can contact you directly.
The third step in the process is choosing your lender. You'll see the offers side by side so you can select the one that best fits your needs.
Fees and Interest Rates
The LendingTree platform is free to use, but once you secure a loan, you'll have to pay fees and interest to the lender. You won't pay anything directly to LendingTree.
Comparing loans
LendingTree is primarily a loan aggregator. Customers will search for a particular type of loan, and the service will show different lenders and their rates side by side.
The comparison function allows users to be specific with the type of loan they're interested in. For example, if you want a home loan, you might be looking for a mortgage to buy a new house, a refinancing loan, or a home equity loan. Once you've chosen the type of loan that you need, LendingTree will bring you to a page with a short survey to answer.
If you're looking for a mortgage to buy a new home, you'll be asked about the type of home, where you're in the buying process, where the home will be, the approximate cost, the size of the down payment, annual income and more.
Different lenders target customers with different financial profiles, focus on specific types of loans, and operate in different areas of the country. LendingTree takes your answers and uses them to match you with lenders that fit your profile.
Choose a lender
Once you've finished the survey, LendingTree will give you a list of the lenders you've matched with. These lenders offer loans that fit your needs and financial profile. They may have similar or different terms so it's important to compare them closely. You should look at the interest rate, loan term, and fees.
The interest rate is the amount of interest you'll pay on the loan each year. The higher the rate, the more the loan will cost and the higher your monthly payments will be. Make sure to compare APRs and not just interest rates, because those will include all fees.
The loan term is how long you'll have to pay the loan back. Loans with shorter terms have higher monthly payments, but you'll pay less interest overall. Longer-term loans will leave more wiggle-room in your budget but will have a higher total cost.
Most lenders charge fees to complete and finalize the loan. You might pay an origination fee, which adds to the initial balance of the loan, an early repayment fee if you pay the loan back ahead of schedule, and other types of fees. Not every bank charges the same amount of fees so compare these before you finalize the loan.
Deciding which loan to choose depends on your budget and what you can afford. In general, you should aim for the lowest rate and the lowest fees.
Types of Loans Available with LendingTree
Through LendingTree, you can search for and find a variety of loan types.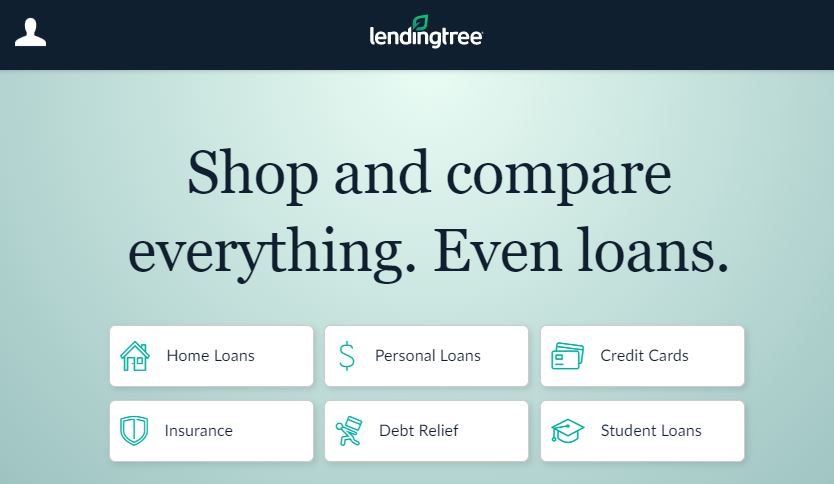 Home loans
LendingTree is most known for its traditional home loan aggregator service, but you can also look for other types of loans including reverse mortgages, home equity, FHA/VA mortgages, and construction loans.
Home loans are available for all residences, including single-family homes, townhomes, condominiums, mobile homes, and multi-family homes. These homes can be used as primary residences, second homes, or rental properties.
Auto loans
You can use LendingTree to shop for auto loans, whether you're purchasing, buying out a lease, or refinancing. Loans are available for cars, trucks, motorcycles, and even boats. Finding and comparing auto loans is similar to shopping for a home loan.
Personal loans
A personal loan is a loan you take out for any number of reasons including:
Paying for a wedding
Planning a vacation
Medical expenses
Home improvements
Whatever your reason is, you can use LendingTree to find a lender for a personal loan. Again, you'll answer a series of questions about your finances so they can find you the best options for you.
Debt consolidation
LendingTree has an extensive debt consolidation section on its website. It provides customers with a variety of lenders and explains the debt consolidation process. There's even a debt consolidation calculator where you can work through a number of different scenarios to decide your best course of action.
View this post on Instagram
Related: 3 Debt Relief Services and How to Choose the Best for You
Student loans
Shopping for a student loan can be a confusing and time-consuming process, but LendingTree can present you with a few different options. You can choose the best one for your needs and see options for new loans or refinancing existing student loan debt.
Business loans
LendingTree lets business owners compare their loan options. You'll have to complete a series of questions like you would for a home or auto loan and provide contact information before you can see the offers.
Credit cards
Like finding a student loan, shopping for a credit card is tedious, time-consuming, and overwhelming. LendingTree's credit card tool lets you sort offers by interest rate, balance transfer options, rewards programs and other criteria.
You can also compare different cards side-by-side. You can even apply directly to the card you want from LendingTree's site.
Banking
LendingTree has a section for finding and comparing different bank accounts for your needs. It can help you find:
Savings accounts
Checking accounts
Certificates of deposit
Individual retirement accounts (IRAs)
Money market accounts
They provide an overview of each type of account, an explanation of how the rates work, and a brief comparison between banks and credit unions. If you click through on each image, you'll come to a chart detailing different interest rates for that product.
If you're unsure of what type of savings account you should be using, LendingTree is a solid resource for getting started.
Other LendingTree Resources
LendingTree has products, tools, and resources beyond just loan comparisons.
Free mortgage calculators
LendingTree has a variety of calculators if you want to know how much your monthly payment will be or how much you can afford. They have calculators for scenarios including:
Home affordability
Rent vs. buy
Reverse mortgage
Home equity
Mortgage payment
The calculators are available for anyone to use, even if you don't apply for a loan through LendingTree.
Credit repair
Fixing your credit is one of the first steps to getting the best rates possible on a loan. If you have bad credit, you can use LendingTree to find a credit repair company that will work with you to improve your credit or work out settlements with lenders.
They also have resources if you want to fix your issues on your own or understand more about the credit repair process. You can search by state and you'll be presented with a list to select from, as well as contact information for each company.
Free credit score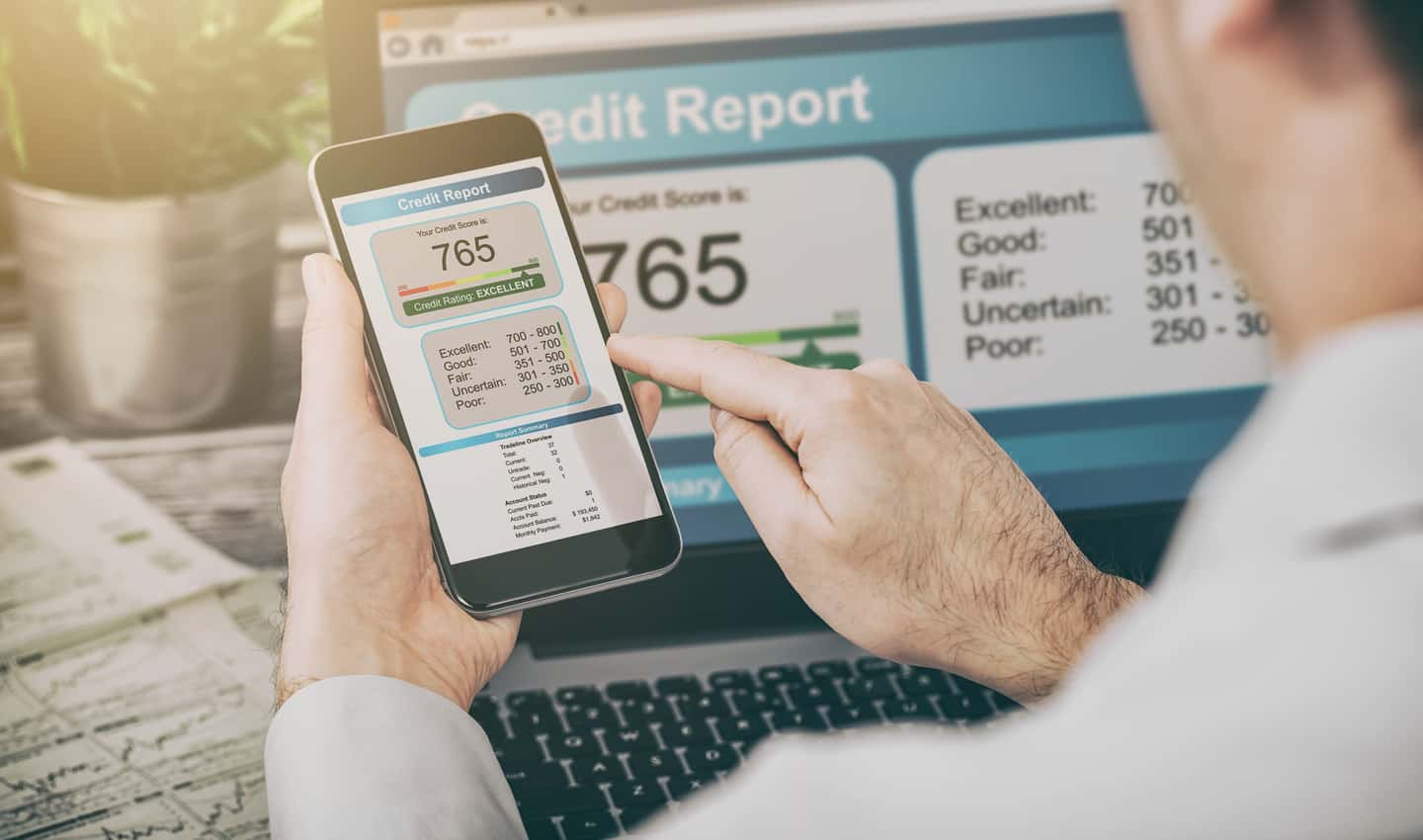 You can obtain your free credit score and report through LendingTree after you register. While it's not the exact same credit score lenders will use when processing your application, it will give you a general idea. LendingTree also provides information to help you understand your credit score so you can improve it.
Insurance
Like finding a loan, users can input basic information into LendingTree to find rates for auto, home, and life insurance, along with insurance bundles. When you use this feature, you have to leave the LendingTree platform to use one of their other brands (QuoteWizard) for insurance quotes and information.
Ratings and reviews
This feature is slightly different than the rest. Rather than comparing loans and offers, you can see actual user reviews of different lenders, allowing you to compare the companies which helps you make a more informed decision. Just because a company offers a great interest rate doesn't mean they're great to work with.
You can search by state, lender name, and lender type.
LendingTree FAQs
Using LendingTree for the first time can be confusing if you're used to applying for a loan directly through a bank or credit union.
How does LendingTree make money?
LendingTree makes money by referring its customers to other companies that offer loans. Every time someone uses LendingTree to find a loan, the lender pays a referral fee to LendingTree. These fees allow the company to make money, even though it doesn't offer its own loans.
Will using LendingTree hurt my credit?
Using LendingTree to get a loan won't hurt your credit. When you search for loans on the site, LendingTree will make a "soft pull" on your credit report which won't affect your credit score.
If you eventually choose a lender and apply for a loan, the lender will make a "hard pull" on your credit. This type of credit check does show up on your credit report and will affect your score for one year. Each hard pull drops your score by a few points, so keep the number of applications to a minimum.
How long does it take to get a loan from LendingTree?
The amount of time that it takes to get a loan through LendingTree depends on both the lender you choose and the type of loan that you need.
Each lender has its own requirements and timeline when it comes to lending. Some might get you the money in a day. Others can take weeks. Different types of loans can take different amounts of time. Applying for a mortgage can be a long process while getting a personal loan can be quick.
For most types of small loans, you can expect to get your loan funded within a week.
Should You Use LendingTree?
If you're in the market for a loan, LendingTree is a good place to start. Its free aggregator platform allows you to instantly compare loans side by side without having to search for lenders individually.
The other tools it provides offer help improving and understanding your finances so when you do take out a loan, whether through LendingTree or not, you can find the best rate and offer possible.