CIT Bank Review: A Premier High Yield Savings Account Worth Using
Advertiser Disclosure
Our readers always come first
The content on DollarSprout includes links to our advertising partners. When you read our content and click on one of our partners' links, and then decide to complete an offer — whether it's downloading an app, opening an account, or some other action — we may earn a commission from that advertiser, at no extra cost to you.
Our ultimate goal is to educate and inform, not lure you into signing up for certain offers. Compensation from our partners may impact what products we cover and where they appear on the site, but does not have any impact on the objectivity of our reviews or advice.

If you've spent any time researching high yield online savings accounts, surely you have come across a CIT Bank review by now (not to be confused with CitiBank).
We've been getting lots of questions from readers about CIT, so we decided to do some research of our own.
Let's take a look and see how CIT Bank's Premier High Yield Savings Account compares to other major online banks.
CIT Bank Review At a Glance
The Pros of CIT Bank:
Savings Builder Boost: Deposit at least $100/month to increase your interest earnings
High interest rates
No monthly fees
Where CIT Bank Could Improve:
Mobile app can be glitchy
Mixed reviews on customer service
The Bottom Line: If your main priority is getting the highest yield on your savings and you don't plan to touch the money often, CIT Bank is a solid choice. Due to the lack of checking accounts available and a poor mobile app, CIT Bank is not a good fit for someone looking for a daily use bank.
Related: Best Online Savings Accounts & Rates
How long has CIT Bank been in business?
CIT Bank is owned by CIT Group Inc., which was founded in 1908 (CIT stands for "Commercial Investment Trust"). The bank currently holds over $30 billion in deposits.
Admittedly, I had never heard of this bank until about 6 months ago. I initially thought it was a spin-off of Citibank, but it turns out they are completely unrelated.
What's the banking experience like?
The Good
Easy web navigation: The CIT Bank website is very simple and straightforward to use. All interest rates for each product are shown clearly, and opening an account only takes a few minutes. Nothing but good things to say here.
Customer service via phone: Even though online banking is accessible 24/7, sometimes you might need to talk to someone on the phone. CIT's customer service phone line is staffed on weekdays from 8 a.m. to 9 p.m. EST. Weekend hours are reduced.
Robust interest rate: The CIT Bank Savings Builder account offers one of the highest interest rates of any online bank. In order to earn the highest tier interest rate, you'll need to maintain a balance of $25,000 OR open an account with at least $100 and maintain a $100 minimum monthly deposit.
The Not So Good
Poorly-rated mobile app: CIT Bank has iOS and Android apps available, though a quick look at the reviews reflects very poor user experiences. This is the biggest drawback I have found with CIT, although if you are using a CIT Bank Premier High-Yield Savings Account as a place to park your savings, the normal online banking functionality should be more than enough. Still, I'd like to see improvements here.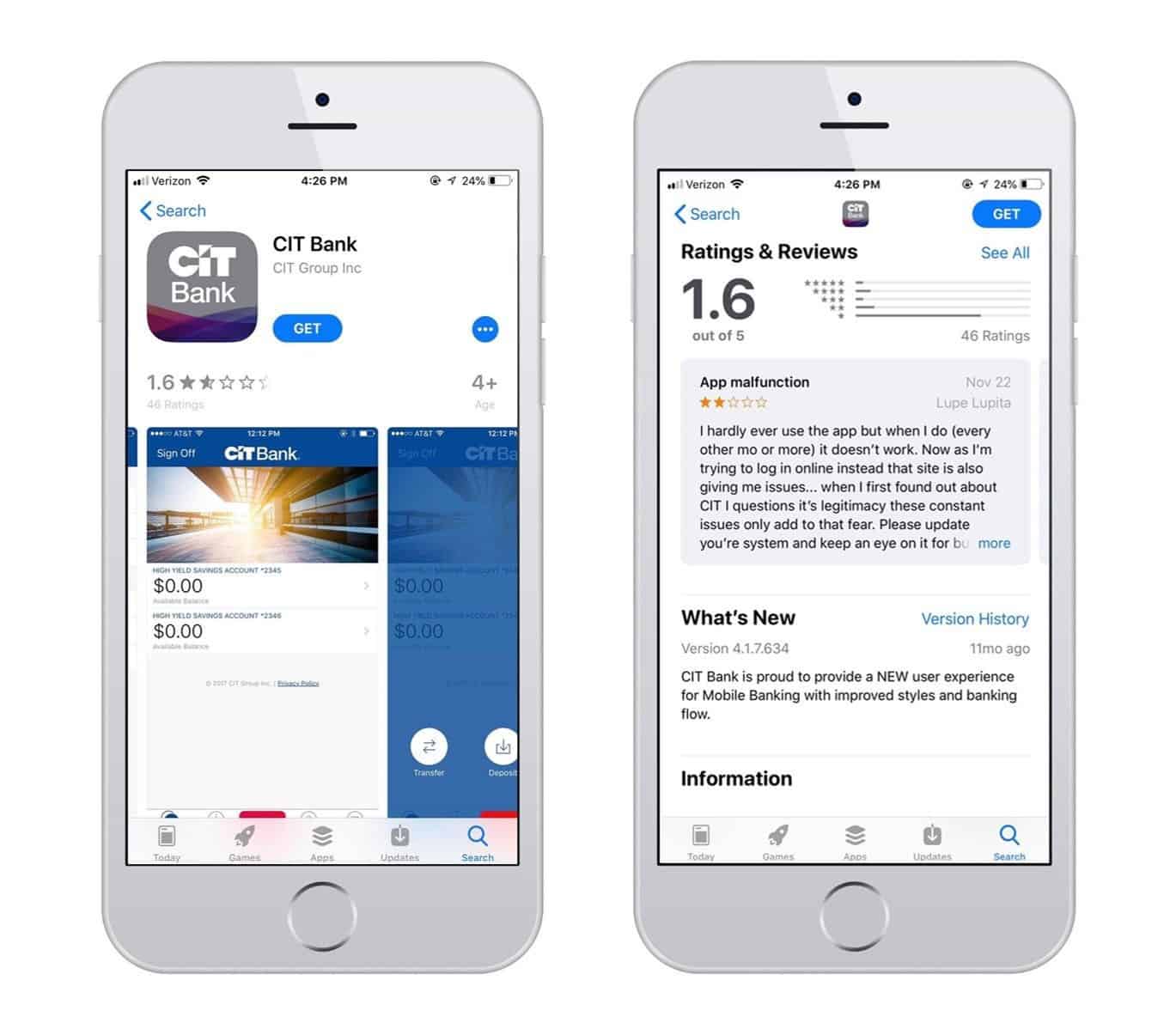 CIT Bank Locations
No brick and mortar CIT Bank locations: This is part of the trade-off with online banks. The reason why online interest rates are so high compared to national averages is because there is no overhead of running CIT Bank branches all over the country. Those savings are passed along to the customer. If you absolutely must have an in-person branch, CIT Bank won't be the best option for you. For most people, though, this is not a significant issue.
Are there any hidden fees?
Here's a rundown of CIT's Fee Schedule: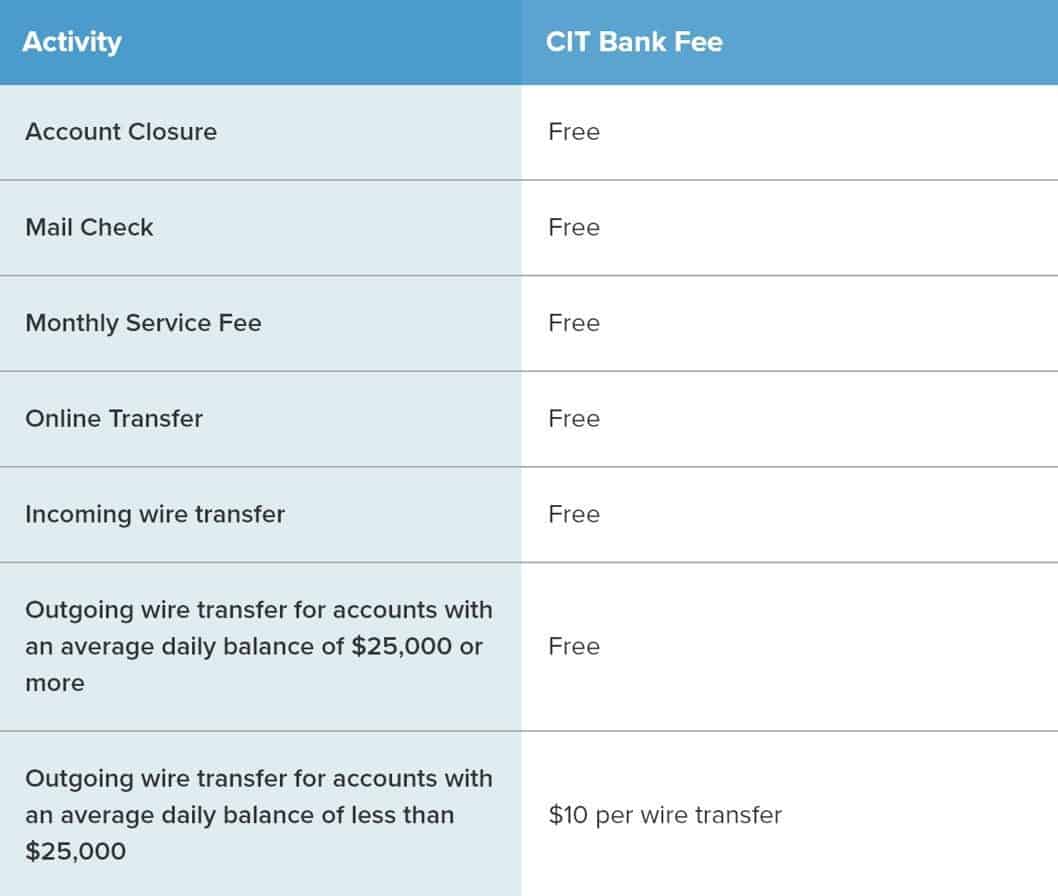 Folks who are always looking for the highest rates will be happy to have another option. CIT Bank is a current standout among the increasingly competitive online high yield savings industry and has shown a pattern of consistently increasing their rates.
If you can handle not relying on a mobile app (which really shouldn't be a problem, since this is a savings account and not a checking account. You shouldn't need to look at your savings account every day on your phone), then a CIT Premier High Yield Savings Account is worth trying out.