40 of The Best Baby Shower Gifts an Expectant Mother is Sure to Love
Advertiser Disclosure
Our readers always come first
The content on DollarSprout includes links to our advertising partners. When you read our content and click on one of our partners' links, and then decide to complete an offer — whether it's downloading an app, opening an account, or some other action — we may earn a commission from that advertiser, at no extra cost to you.
Our ultimate goal is to educate and inform, not lure you into signing up for certain offers. Compensation from our partners may impact what products we cover and where they appear on the site, but does not have any impact on the objectivity of our reviews or advice.
With a six-month-old at home, I feel like every day is a new adventure.
And by adventure I mean, as soon as I figure out one thing, he changes his mind, and I have to relearn what I thought I knew.
Luckily for me, billions of parents before me have dealt with every baby situation under the sun. Some even made innovative products that are great baby shower gift ideas.
If you're making a baby shower gift list, there are a few dozen gifts that are the most practical, unique, and affordable baby shower gifts for any shopper's budget.
Practical Baby Shower Gifts that Every Mom Appreciates
Practical baby shower gifts are the top items on every registry and can often be some of the least expensive. Even if a mom is on her third or fourth child, she's still going to need many of these items, so this is a smart place to start.
1. Gift cards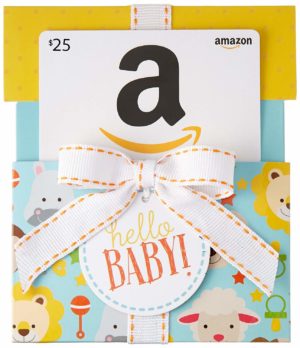 Some of the things you need when bringing home a baby are too expensive for friends and family to buy. That's why gift cards to stores where the mom is registered are the number one baby shower gift.
That's great news if you're shopping on a tight budget because there are lots of ways to get free gift cards to places like Amazon, Target, and Walmart.
2. Diapers and wipes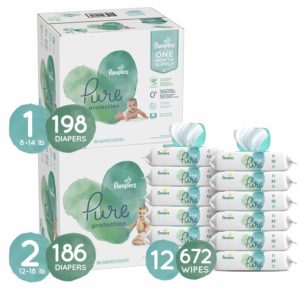 Every baby that enters the world needs new diapers and wipes. Even parents opting for reusable diapers can benefit from new diaper inserts. This is another great gift if you don't have a lot of money to spend because there are plenty of ways to get free baby samples of wipes and free diapers.
A variety pack of diapers and wipes samples can help new parents find their favorite brand without spending hundreds of dollars buying full boxes.
3. Burp cloths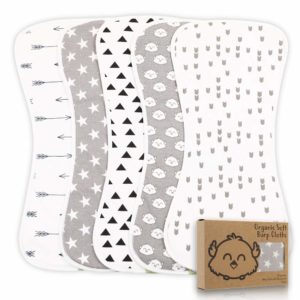 For the first six months of a baby's life, he or she will spit up at least once a day, usually more. Mom and dad will need a burp cloth in every room because you never know when it's going to come up.
When looking for some to buy, the best burp cloths are long enough to throw over your shoulder without falling into anything and wide enough to catch spit ups on the front or the back. You'll also want them to be absorbent and sturdy enough for the many washings they'll inevitably endure.
4. Bottles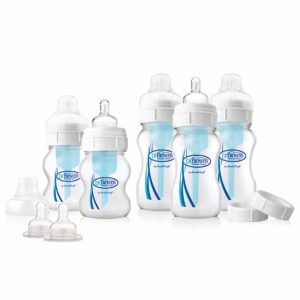 Not all bottles are created equal. What one baby likes, another won't take. So getting bottles as a baby shower gift is a practical way to give new parents a variety of bottle shapes and nipples to try when the baby decides the one he liked yesterday won't work today.
Try Facebook Marketplace or ask your local mom's group to see what other parents like and read lots of reviews before buying them.
5. Seasonal clothes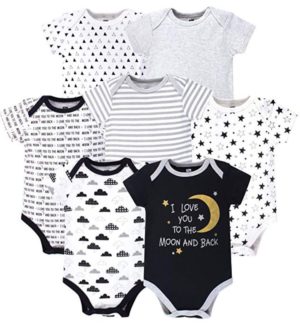 When you're a parent, it can seem like seasons change when you least expect it. When fall comes, mom may realize she doesn't have any sweaters in the baby's right size and when summer hits, she'll find last year's tank tops don't fit him or her.
Save her the stress of rushing to the nearest Target by getting a variety of weather appropriate clothes and accessories based on the baby's age. Thicker materials and sleeves for the size they'll be during the winter and sleeveless, light fabrics for the summer months.
6. Bathtub and toiletries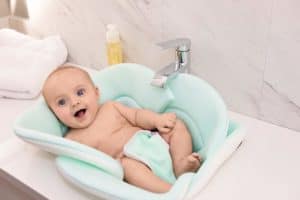 Bath time is an essential, and adorable, part of a baby's bedtime routine. But it can sometimes be a chore for parents. A baby bath pillow is a great bath accessory because it can be used in the sink, making it easier on tired backs. Pair it with some lavender baby bath wash and shampoo, a cute hooded towel, and a wash mitt for a complete gift set.
7. Crib sheets and mattress pads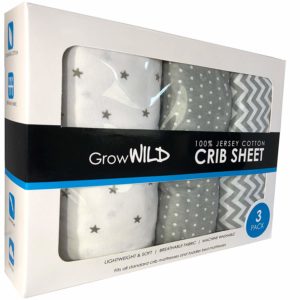 With as much as babies sweat, cry, spit up, pee, and poop, you can never have too many backup sets of crib sheets. Babies love touching and scratching their sheets, so ultra soft and premium crib sheets will feel good and stand up to constant wear.
A second mattress pad is also a thoughtful baby shower gift. It's nice to have an extra around for the nights the baby pees out of their diaper so parents don't have to worry about another blowout or mess without a mattress pad.
8. Pacifiers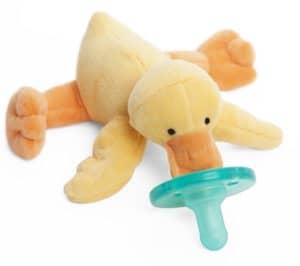 Like bottles, babies can get very particular about their pacifiers. There are many nipple designs and types of pacifiers, so having a few different ones can be a lifesaver. And once the baby does find one they like, they're always losing them.
A favorite among many babies, and one that's hard to lose, is the WubbaNub. It has a small stuffed animal attached making it easy for baby to hold onto and comes in a variety of designs.
9. First aid and grooming kit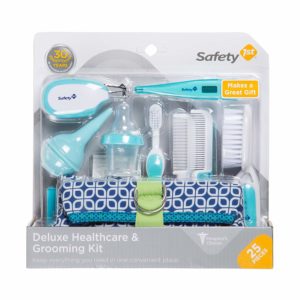 From rectal thermometers to nail clippers made for tiny fingers, parents tend to not have a lot of the first aid and grooming products that work for babies. Instead of trying to buy everything separately, buy a kit that has everything you need and comes with an organized place to store it.
When buying a first aid and grooming kit, look for infant nail clippers, a fine-tooth comb for cradle cap, a rectal or forehead thermometer, and a syringe, bottle, or pacifier medicine dispenser.
10. Baby bouncer or rocker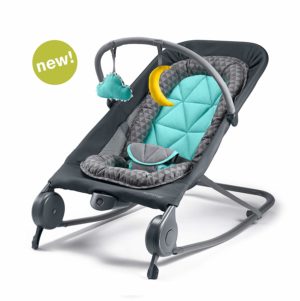 A baby bouncer is salvation for tired arms and gives baby something new to look at while they gently bounce to sleep. Bouncers have a short shelf life so find one that can serve several different purposes.
Related: 40 Mother's Day Gifts that are Affordable and Unique
Unique Baby Shower Gift List
If you're trying to think outside the box or get some laughs with your baby shower gift ideas, there's no shortage of quirky and unique baby shower gifts for mom-to-be. All these are gifts she'll actually use that are still affordable.
11. Pee-Pee Teepees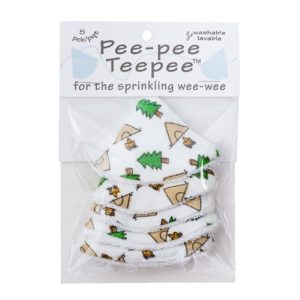 This one is specifically for newborn boy moms. Pee-pee teepees are small, cone-shaped rolls of fabric that help prevent rogue sprays during diaper changes.
There is a learning curve to holding the teepee in place while changing the diaper, but once you get the hang of it, they work like a charm. Especially during dark middle-of-the-night changes.
12. Teething bibs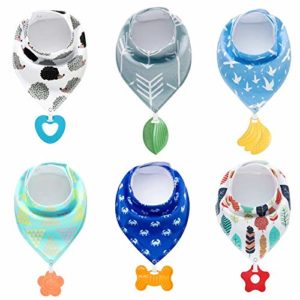 When a baby starts teething, the drool starts flowing. Drool ends up all over the baby's onesie, the parent's shirt, and multiple burp cloths. One way to prevent a million outfit changes is with some teething bibs.
These stylish bibs are especially for drool, go with any onesie, and can even come with a teething toy attached to the end.
13. Snot sucker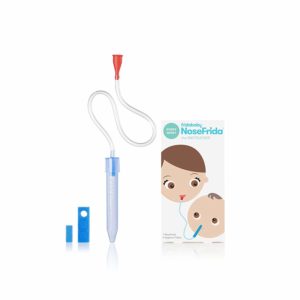 When babies get sick, they can't blow their noses, and snot gets stuck, a nasal aspirator can be really handy. Traditional bulb aspirators can't get everything, especially when the snot is on the drier side. That's why the NoseFrida is a must-have.
The NoseFrida is a life-changing parenting product. It has two tubes and a mouthpiece separated by a foam filter that allows you to suck snot out of the baby's nostrils. It sounds — and looks — weird but with over 6,500 five-star reviews on Amazon, it's clear that it's a far more effective way to suck snot.
14. Nursing scarf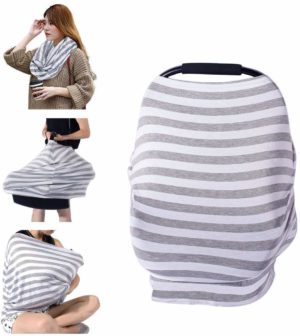 For breastfeeding moms, feeding your baby can be an awkward experience. A nursing cover can free up a lot of that tension and allow mom to nurse privately in a variety of places. And a nursing scarf can have many uses that work long after the baby stops nursing.
A nursing scarf can serve as a nursing cover, providing a private nursing experience and minimizing distractions for baby. It also works as a car seat canopy to help the baby stay asleep while out of the car or protect them from germs while they're in a public shopping cart or high chair cover.
15. A secure swaddle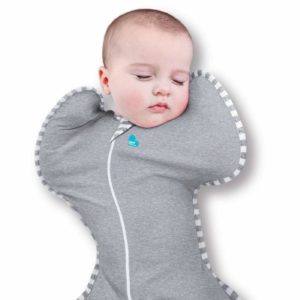 Until a baby starts rolling over, a swaddle allows them to sleep safely and soundly. Babies can easily break out of a muslin swaddle, and some can even break free from velcro swaddles. But a swaddle with a zipper keeps every baby secure.
A slightly elastic swaddle with room for the baby to choose to sleep with arms curled or arms up is a unique yet useful baby shower gift. This swaddle has a two-way zipper allowing for easy midnight diaper changes without disrupting the baby's arms.
16. Sound machine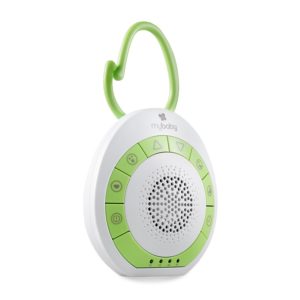 Studies have shown that babies fall asleep better with a sound machine because it emulates the sound of whooshing blood and fluids in the womb. If you know a tired parent, a sound machine, whether for the nursery or a portable one, is a great baby shower gift.
17. Travel baby food spoon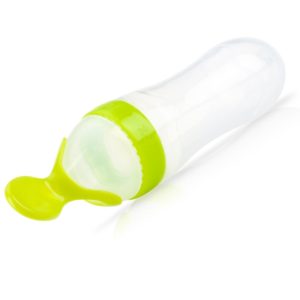 Whether you're making your own baby food or serving up purees with non-resealable lids, you need a place to store uneaten baby food. And when you're on the go, that can be a lot of equipment for a little feeding.
A silicone squeeze feeder makes serving purees at home or on the go quick and easy. Just unscrew the top and pour your puree in, then reattach it and squeeze to dispense the food. When you're done, simply put the cap on the spoon, and it can be stored in a bottle carrier. This is a creative gift for the new parent who doesn't know how messy baby feeding can be.
18. Blowout blocker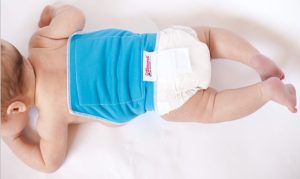 Newborns are notorious for blowouts, but any baby is susceptible for the first 3-4 months. Unfortunately, those blowouts can stain and ruin onesies, changing pads, and anything else they touch.
An ingenious little invention called the Blowout Blocker can protect special and everyday outfits and the fabrics underneath them from being stained. It's especially useful when you're away from the house, traveling in the car, or sitting in a baby bouncer or rocker.
19. Cool mist humidifier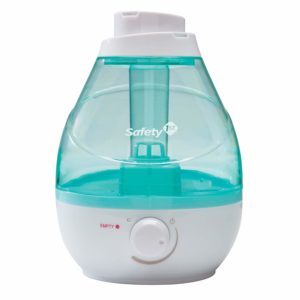 Humidifiers add moisture to the air and help reduce cold symptoms, reduce dry skin, and alleviate itchy eyes in babies. This cool-mist humidifier rotates 360 degrees and is a great gift for a nursery with two children in it.
20. Night light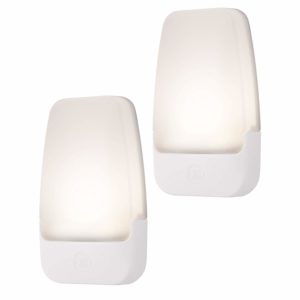 When changing a baby's diaper or getting up for nighttime feedings, it's best to leave the room as dark as possible to not fully wake the baby. But you do need some light, so a nightlight is a great baby shower gift. A small LED night light, with a sensor that goes off at dawn, gives the perfect amount of light to execute tasks at night without disturbing the baby.
Baby Shower Gifts for Mom (Not Baby)
There are a lot of things moms don't think about either because they're up every two hours or they're still figuring out how to keep a small human alive. Consider some baby shower gift ideas for mom that will help keep her comfortable and energized so she can better take care of herself and baby. She'll definitely deserve it.
21. Gift Card to GrubHub or DoorDash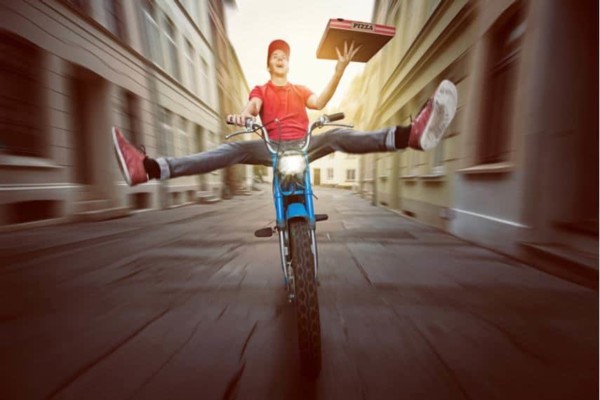 The last thing a new parent wants to do after feeding their infant all day is to cook dinner for themselves. A gift card to a food delivery service is one of the best baby shower gifts for mom, not baby.
Look through the services in your area and choose the one with the best variety of available restaurants or the one that has their favorite restaurant. Make sure to include enough in the gift card to cover the meal, driver tip, and delivery fee.
22. Pregnancy pillow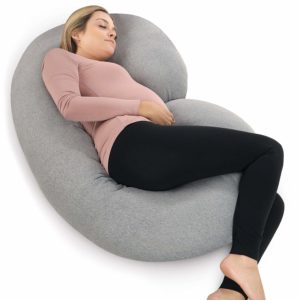 Shortly after the baby shower comes the most uncomfortable phase of pregnancy: the third trimester. Help a mama out with a pregnancy pillow. A pregnancy pillow is ergonomically shaped to support a mom's back, knees, hips, and neck, while adapting around her belly.
23. Nursing tops & bras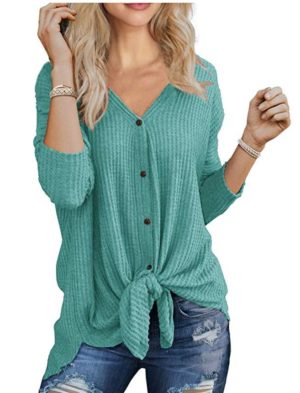 Mom's who plan on breastfeeding will need a new wardrobe of tops and bras conducive to easy access for baby. There are plenty of fashionable nursing tops available. You can choose from a ruffled blouse, trendy pullover, or casual dress all conducive to breastfeeding.
24. Spa gift card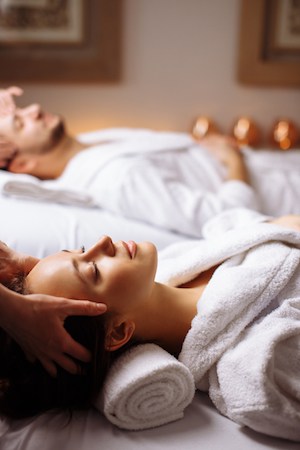 There's nothing better for a new mama than a massage, facial, or manicure and pedicure. You can find great deals on local spa packages and services on Groupon, and when you shop through Rakuten you'll get cash back on your purchase. Offer to babysit while your friend takes some "me time."
25. Water bottle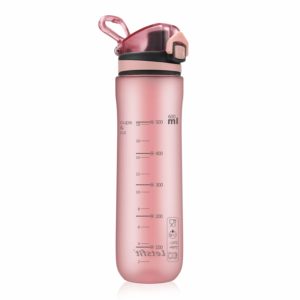 A new water bottle is a gift a new mom may not realize she needs. When breastfeeding, a woman needs to drink up to ¾ an ounce of water per pound of bodyweight. A sturdy water bottle that can take a tumble and not leak is a great gift for any mom.
26. Scented hand sanitizer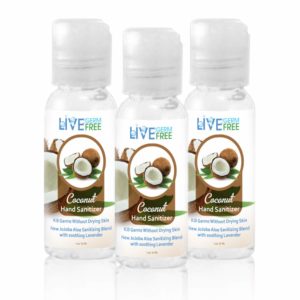 New parents go through a lot of hand sanitizer. Newborns are extremely susceptible to germs and go through 10 to 14 diapers a day. The alcohol in hand sanitizer can dry out your hands, so a good quality moisturizing or alcohol-free hand sanitizer is a great gift.
Babyganics has an alcohol-free foaming hand sanitizer that's good for the nursery, and LIVE Germ Free has travel-sized containers in coconut and lavender scents for the diaper bag and car.
27. Gift card to a cleaning service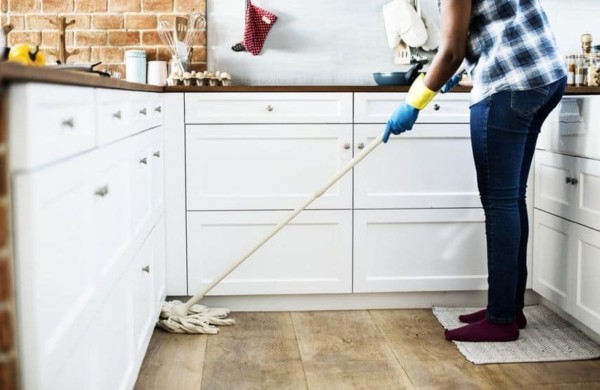 Cleaning is the last thing new parents have the energy for. A gift card to a cleaning service is one of the best baby shower gift ideas you can think of. You can find Groupons for a variety of cleaning services and use Rakuten to get cashback on your purchase.
28. Diaper bag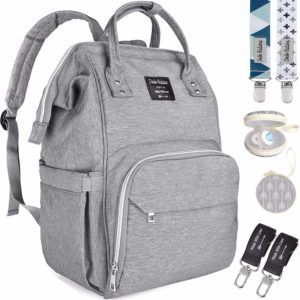 Wherever the baby goes, the diaper bag goes too, so you'll want to have one that's both functional and fashionable.
Backpack-style diaper bags are extremely convenient to keep hands free while the wide opening of tote style bags allow you to easily see and access everything inside. It's nice to have one of each depending on where you're going so you can't go wrong with this as a gift.
29. Snack box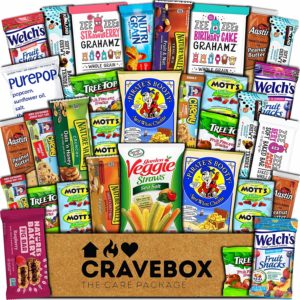 Breastfeeding moms not only need a lot of water, but they also need an extra 450 to 500 calories a day. A snack box is the perfect way to help a new mom get the nourishment she needs and is a unique baby shower idea not many people will think of.
30. Nursing pillow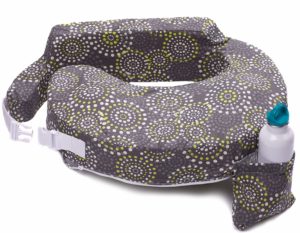 Using a nursing pillow makes breastfeeding so much easier. A simple U-shaped nursing pillow will suffice, or you can get the My Brest Friend. It has lumbar support, a firm, flat cushion, and a pocket for snacks.
Homemade Baby Shower Gift Ideas
If you're crafty, taking the time to put some extra effort into your gift means so much. And DIY doesn't always mean it'll look cheap. Homemade baby shower gift ideas can look premium while saving you money.
31. Coffee gift set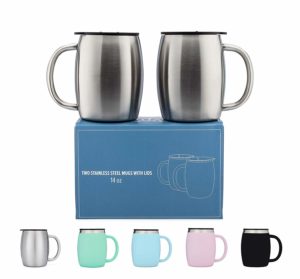 Coffee is a new parent's best friend. An insulated mug with a lid will keep coffee hot no matter how long you get distracted and limit spills even with a grabby infant. Pair that with a bag of their favorite coffee, mocha chocolates, and a latte-scented body butter, and you've got a great baby shower gift.
32. Baby blanket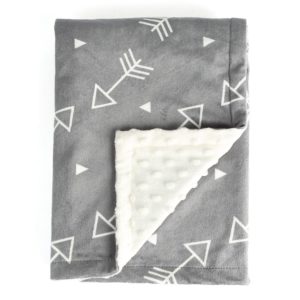 Whether it's for tummy time, to cozy up in the car seat, or to protect a surface you don't want spit up on, there's always a need for another baby blanket. Making a baby blanket can be as simple as sewing two pieces of felt together. If you don't have a sewing machine you can make a no-sew blanket.
If you have extra ribbon at home, try your hand at making a tag blanket. It's a small blanket with ribbons sewn around the edge. It's used as a security blanket and the tags provide tactile play with textures and colors.
33. Nursing pads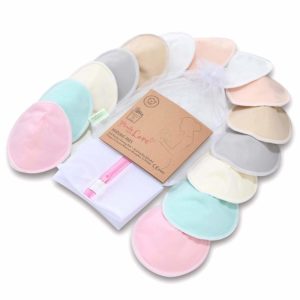 Nursing pads help breastfeeding moms avoid leaks that can ruin a bra or shirt for the whole day. They're expensive but necessary, and moms can sometimes go through multiple pairs in a day. If you're crafty and own a sewing machine, you can easily make some of these small round discs that can save a working mom's life.
34. Pacifier clips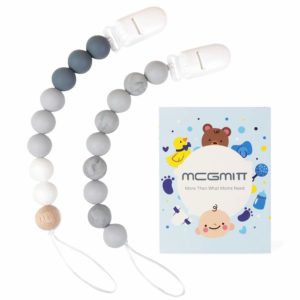 Pacifiers are always getting lost or falling on dirty floors, which is why pacifier clips are such a great gift. There are several ways to make these. You can use a strip of fabric with a clip at one end and a string at the other to attach the pacifier, or you can string large silicone teething beads on a cord and attach the clip to one side.
35. Vouchers for fresh homemade meals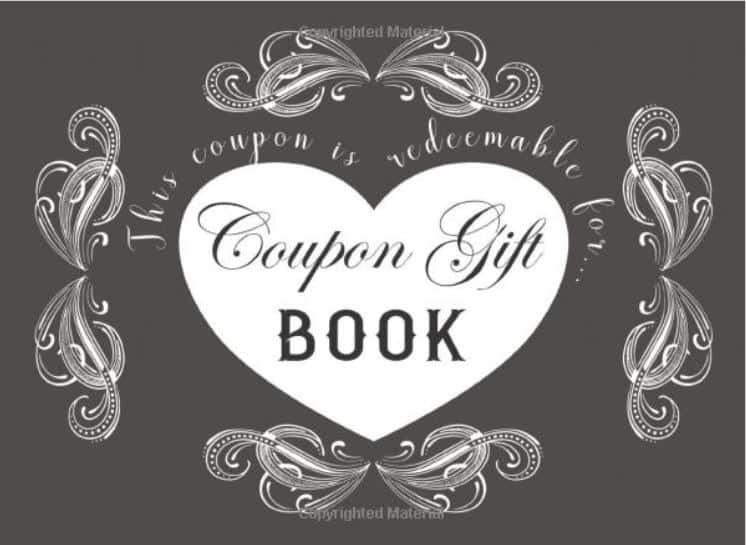 A sweet idea for a baby shower gift is making a meal for the new parents. With family and friends visiting at different times, it's hard to know the days they're going to need the meal the most.
So make a voucher they can "cash in" with 24-hours' notice. You can decorate it to look like an actual voucher or just write it on a card. You'll be providing a home-cooked meal at a time when they need it the most.
Baby Shower Gift Ideas for Guest Favors or Game Prizes
If you're hosting a baby shower, don't forget the guests. Baby shower gift ideas for guests can be simple or fancy depending on the theme of your shower. And don't forget the baby shower gift ideas for games. Winners can take home something similar to guest favors or totally unique.
36. Chocolates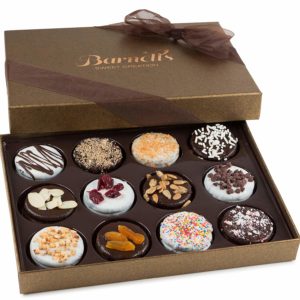 You can get bulk chocolates wrapped in the colors of the baby shower theme. If you're doing games, chocolate is always a favorite for prizes. A nice box of chocolates or artisan chocolate-dipped cookies make a great baby shower hostess gift.
37. Jam or honey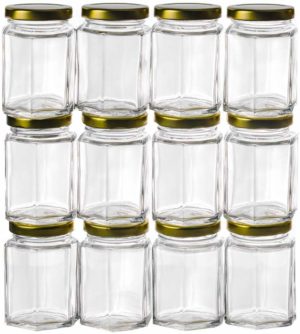 Homemade jam or locally-sourced honey make great gifts for baby shower guests. Get a large bottle, small jars, and print cute tags for each.
For those who don't want to make their own jam, you can buy it premade in bulk and fill the jars yourself. You can even choose the flavor based on the baby's sex. Strawberry for a girl, blueberry for a boy, or apricot for a surprise.
38. Mini alcohol bottles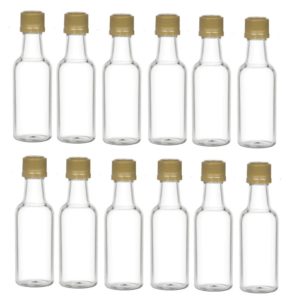 Mini bottles of liquor make a unique and fun baby shower favor when you attach a phrase related to the theme of the shower. Some ideas are "Pop it when she pops!" attached to mini bottles of sparkling wine or "Baby-making potion" attached to any alcohol.
39. Flavored popcorn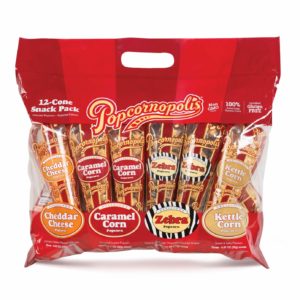 There are so many pregnancy-related ways to play on the word "pop" so giving flavored popcorn as a baby shower favor is a natural fit. Some idease include, "She's gonna pop!," "Ready to pop," and "Popping with excitement."
40. Scented soap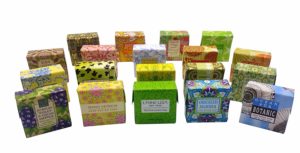 Soap is a classic baby shower favor. Get an assortment of hand or bath soaps, attach a tag that says "From our shower to yours" and a small loofah, and you've got a cute favor that people will love.
You Can't Go Wrong if You Include a Gift Receipt with Your Baby Shower Gift
The best baby shower gifts are those they'll use every day and will remind them of you. Whatever you choose to get your favorite mom-to-be, always remember to select the gift option at purchase and include the gift receipt in your packaging. That way if the parents decide they need something different, they can exchange it easily with no hassle.